There are many fun and stylish options for front door colors for a red brick house.
If you're thinking about a front porch makeover, painting your front door is a great way to make a major facelift.
In this guide, we'll show you 20 of the best colors that will make your red brick house look like the best on the block. Ready to get started? So are we — let's jump in.
Best Warm Front Door Colors for a Red Brick House
Warm, cozy tones can complement the bold red brick on your home.
These shades will be particularly charming during the summer and autumn months.
1. Sunny Yellow
This first color is sure to make your guests smile as soon as they walk up to your front door.
Yellow is known to be a fun color that's often associated with sunshine and joy — but it's important to select the right shade, or else this peppy hue can come across as too aggressive.
Neon yellow will come across as cartoonish, so be sure to take a few samples home to see how the color looks in the light, both daylight and the light cast from your porch light.
2. Burnt Orange
An orange front door has a similar mood impact as yellow and is known to draw attention and create moods of excitement.
If you love hosting dinner parties or sports get-togethers, an orange front door can exemplify the energy inside your home.
Because orange is a similar shade to the red brick on your home, try a few shades to see which pops without totally blending in.
3. Maroon
Maroon is a color often associated with passion and creativity. Painting your front door maroon will hint at the ambition that might be tucked away inside.
Even though your neighbors might not consciously think this, color experts swear that each shade has its own unique impact. Your red brick house will look powerful with a maroon front door.
4. Red
Most people would automatically assume that a red front door would never go with a red brick house.
However, when carefully matching the tones of red against your red brick, be sure it's not an exact match, or it might look a bit muddy.
Adding a contrasting trim in shades of off-white or even painting the window sill the same shade of red can create a cohesive look that's not too matchy-matchy.
5. Peach
Peach can be a sweet shade to paint the front door on your red brick house. This friendly hue can be paired with other shades of pinks, reds, and oranges to create an alluring Ombre effect.
This can hint at a southwestern vibe, creating warmth and coziness while still embracing a soft and welcoming environment.
Best Cool Front Door Colors for a Red Brick House
Hands down, the best shades to complement a red brick house are in the cool-toned family.
This is because of the design concept known as the color wheel.
Red falls on the opposite side of the color wheel from greens and blues, making the contrast distinctive and visually appealing.
6. Sage
To embrace both color and neutral tones, sage is the solution. This soft and savory shade of green looks smart, contrasting red brick. The muted tones in this color create feelings of tranquility and relaxation.
Guests arriving at your home will take a deep breath and feel at ease as they enter your red brick house with this inviting front door color.
7. Eggshell Green
This shade of eggshell green is sweet and hints at springtime and new growth. The brightness of this hue is great for sunny porches and quaint rocking chairs.
It's a color that suggests a feeling of balance, enlivening you and your guests. This shade of green will pair with certain shades of red better than others, so take a few options to test against the color of your home.
8. Navy
Contrast the red brick on your home with an even more vibrant blue. This deep shade is striking and sure to turn heads.
A dark blue front door creates feelings of stability and comfort, making this a good choice for a family home. Paired with a flickering gas lamp and a tall green plant, your front entrance will look grand with a dark blue front door.
9. Teal
This fun shade of teal is a vibrant way to show some personality in your exterior design. Color experts say that teal is dignified and invites feelings of reflectiveness.
If your home is one where you want to create a sense of calm and mindfulness, teal is the way to go. Try a rainbow welcome mat or some twinkle lights to make a magical front entrance moment in your home.
10. Smokey Blue
This mature shade of blue is casual and refined at once. An effortless way to appear posh and put together, a smokey blue front door makes a red brick house an escape from the hustle and bustle of commuting and city life.
Adding vines or colorful seasonal shrubs will accentuate this classic look. Place a bench on or beside your patio to create a spot for quiet contemplation.
Classic Front Door Colors for a Red Brick House
Color can be fun, but sometimes a subtle look is the best way to make an impact.
These classic shades will make the front door of your red brick house look smart and sophisticated.
11. Brown
Brown is a universal neutral shade for your front door because it will complement just about any landscaping design.
Do you have a lush green lawn? A colorful flower garden?
Maybe you live in a drier climate with rocks or sand in the yard? Brown will pair with any of these, making your home look tied together all year long.
12. Beige
If you love the look of lighter shades but aren't ready to go full white and don't love pastels, beige is the answer to your problem. Your red brick house will look effortless and classy with this soft off-white tone.
If your bricks are lighter and have soft shades mixed in, those tones will really pop against the creamy backdrop of this front door.
13. Black
Black is at once both neutral and bold, a great option for the front door on your red brick house because it creates drama without the need for bright colors.
If you're someone who likes darker colors and creating a mood, black is the way to go. Add more intensity with a black wreath or a welcome mat with attitude.
14. White
A white front door is a classic look that stands the test of time. The stark contrast of white against a red brick house is a safe bet if you're not one to try outrageous color schemes.
The white color makes a statement and looks clean and orderly. To prevent the patio from looking too plain, try painting the trim a shade of brown.
15. Dark Grey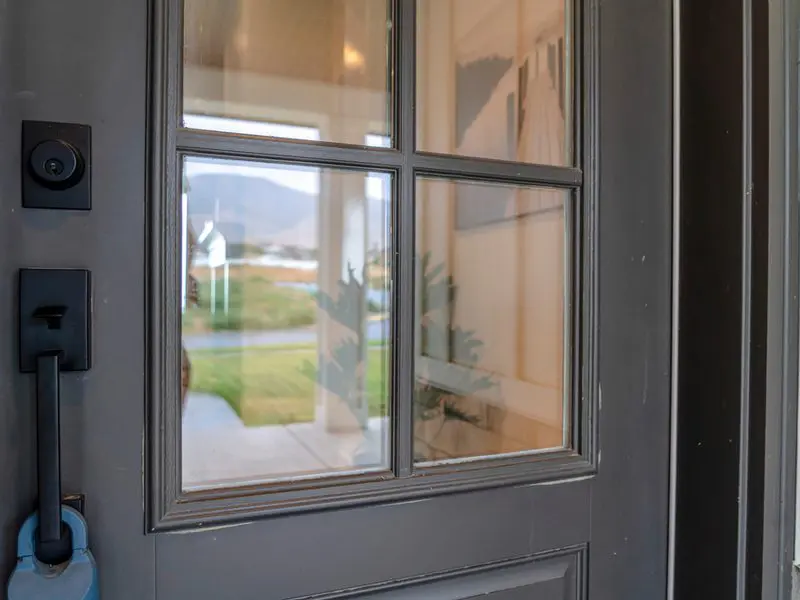 Once again, if you're inspired by moody tones that create drama without drawing too much attention, grey might be exactly what you've been searching for.
This darker shade of grey creates a cozy feeling while drawing your guests inside. To create a nice contrast, adding bright yellow or purple flowers in a planter will really make the grey front door pop.
Most Surprising Front Door Colors for a Red Brick House
These bold shades are sure to capture the interest of passersby.
Especially if your home is in a walkable neighborhood, these stunning hues will impress.
Take a risk and see how it brings the curb appeal of your home to life.
16. Bubblegum Pink
Probably the most surprising from this list, this peppy and light-hearted shade of pink will definitely be the talk of the neighborhood–and that's not a bad thing.
If you're looking for ways to make your home stand out from the rest on the block, a bubblegum pink front door is your ticket. To avoid looking campy, pair this front door color with pink blooms and plenty of white trim.
17. Plum
Sophisticated yet playful, try a plum shade on your front door. Plum offers a shade that's both warm and cool, mixing tones of red and blue.
This color would really pop with a luscious yard filled with trees and flowering green shrubs. Doors with glass inserts look great with plum paint, allowing light to filter through and glow warmly in the evening.
18. Emerald
If your red brick home needs royal treatment, emerald will be an incredible statement of indulgence and celebration.
The impact of shades and paint finish really matter here. Softer shades with texture will downplay the brilliance of this color, while a thick, shiny coat against rich red brick will dazzle guests.
Brass and gold knobs will really pop against an emerald front door.
19. Magenta
A magenta front door hints at a high-spirited vibe inside the home.
Combined with patterns and a variety of plants or patio decor, a magenta door will start the party before your guests even step through the front door.
20. Sky Blue
This brilliant and serene color blue glows in the light. A bright blue front door is friendly and welcoming and will cheerfully contrast against the red brick of your home.
Some plant life added to the patio will make the bright blue look radiant.
Things to Consider Before Painting
Here are a few things to take into account before beginning your front door makeover:
What shade is the brick on your home? Is it a vibrant, new red? Is it a pale shade, aged from the sun? Is there a variety of shades mixed in, such as softer whites and tans?
What color is the patio deck? Will you be repainting it as well? Is it wood, brick, or other?
Are there windows outlining your front door? Will you be repainting the trim around the door and windows?
What color are the fixtures, such as the doorknob and porch light?
Are you repainting shutters on the front of the home?
What colors are included in the landscaping?
Will you be supplementing the design with porch furniture or seasonal decorations?
Like Our Front Door Colors for Red Brick Houses?
When it comes to front door colors for your red brick house, there are many options to choose from.
Deciding what kind of impact you want your curb appeal to have will help you select the right shade for your home.
Don't be afraid to experiment and change it a few times until you feel you've found the perfect color.
Once you've found the right color, adding playful porch decorations such as wreaths and planters will bring the patio to life.
Resources: