You may be familiar with your blues, reds, and greens, but if you've heard about sage, you may have a few questions about this color — especially if you're redecorating your home or planning an event soon.
If you're wondering whether to choose sage in your design and what color goes with sage, this article will help you out and answer related questions.
Sage is named after sage leaves, which explains its gray-green color. It's a more mature, soft green that works well within the home or spaces as it provides a calming, comforting, and romantic vibe.
10 Colors That Go With Sage in 2023
Sage is a beautiful, unique color that can be difficult to describe — it's somewhere between gray and green, with a slight hint of blue. It gets its name from the herb sage leaves, which are a similar color.
Sage is perfect for those who want to add a pop of color to their home without going too crazy, as sage is still relatively neutral. It's also great for those who want to create a more mature and elegant space.
Sage is known for its calming, romantic, and even spiritual effects. Because of this, it's often used in bedrooms, bathrooms, living rooms, and kitchens.
But the colors you choose to pair it with will determine what specific effect it will have or what mood it will convey. We'll describe each of these color pairings.
1. Wood
Instead of just saying "brown," we suggest a wood color specifically because it provides a rustic, earthy vibe that goes well with the natural feel of sage.
This color combination is amazing for those who want to create a space that feels like nature — warm, welcoming, and relaxing. It's ideal for country-style homes or even cabins and lodges.
Light wood with sage looks just as good as dark wood, but they both have unique benefits. Light wood with sage veers more on the cheerful side, while dark wood with sage is more relaxing.
2. Gold
Consider pairing it with gold if you want to add a touch of luxury to your sage-colored space. The element gold has created a high-end and regal symbol for the color.
Gold and sage are a suitable combination for those who want to create an elegant and romantic space, such as for a wedding or formal event. In a home setting, you can use gold in any room, but we recommend it mostly for living and dining rooms.
You can make larger areas like walls and couches in the sage color and then make smaller pieces such as lampshades and pillows fully gold or with gold lining.
3. Navy Blue
Navy blue and sage is another popular wedding color combination because of how well the two colors complement each other. While navy blue is a bit darker and muted than royal blue, it still has that air of sophistication and luxury.
This color combination is perfect for those who wish to create an elegant, regal, and romantic space or dress. In a living room, kitchen, or dining room, you should use navy blue and sage together sparingly because both colors are striking, even on the paler side.
It's best to have a more neutral third color that serves as the backdrop, such as light beige or light gray, and then incorporate elements of both charming colors throughout the room.
You can mix and match pillows, add contemporary art pieces that include both colors, or get a sage and navy blue rug.
4. Dusty Pink
This pastel color is one of the most popular colors to pair with sage, as it gives any space an instant feeling of femininity and romance.
It's perfect for creating a more delicate and dainty space, such as a nursery or little girl's room. You can even use this color combination for a baby shower or bridal shower.
Incorporate dusty pink by adding it as an accent color in a room that's mostly sage – this means you can have dusty pink flowers, throw pillows, or even art pieces on the wall. You can also use a mix of light and dark dusty pink to create more visual interest in the room.
5. Teal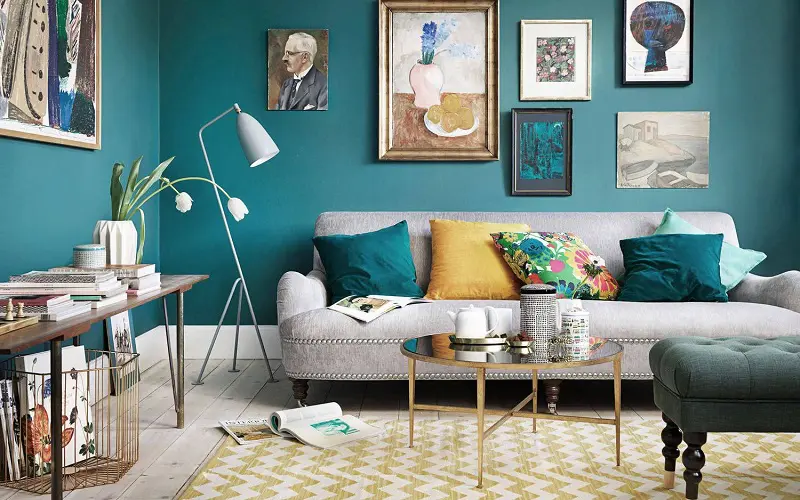 While teal isn't as popular as some other colors on this list, it's still a great color to pair with sage. Teal is known for its calming effects, which makes it perfect for those who want to create a relaxing space.
This color combination is perfect for a bathroom, bedroom, or living room. Like dusty pink, you can incorporate teal by using it as an accent color. However, if it is a light and airy version of teal, feel free to use it for larger pieces, too, such as wall paint or an area rug.
6. Dusty Orange
Dusty orange and sage have a somewhat similar effect as dusty pink and sage, but with a little more pizazz and less softness.
This color combination is ideal for those who want to create a fun and funky space yet still have a feeling of sophistication.
You can incorporate dusty orange into your sage-colored space by using it as an accent color for throw pillows, lamps, wall art, small blankets, and more.
You can also find sage and dusty orange patterned fabrics for window treatments or upholstery.
7. Lilac
Combining purple with sage would be a bit too jarring and perhaps even childish-looking, but lilac — a softer, paler, and more flowery version of purple — is just what you need to incorporate more color without coming off too strong.
Lilac and sage work together well because they're both light and airy colors that convey a sense of nature, but not in a stereotypical way.
This color combination is perfect for those who hope to convey a feeling that's authentic yet still unique, intriguing yet still familiar. Lilac and sage make beautiful weddings, wallpaper, and even fashionable nails.
But in a home, we recommend this color combination most for kitchens and bathrooms. If you're using it for kitchens, make the staple color a very light lilac and decorate the area sparingly with sage-colored accents, such as a vase of flowers or some hand towels.
We recommend using sage as the main color for bathrooms and incorporating lilac through towels, rugs, and small décor items.
8. Taupe
Taupe is the perfect color to convey elegance more vibrantly than beige, gray, or brown — perhaps because it comes off as a mix between the three.
While sage is often associated with nature, taupe takes this further by giving off a feeling of natural luxury. Taupe and sage are the perfect color match for those who want to create an elegant space that's still inviting, warm, and cozy.
Taupe can be used as either the main color or an accent color, depending on what look you're going for. A mature and subtle look will incorporate taupe as the main staple color, while a more funky and cheerful look might call for more sage instead.
9. White
A room that is just white and sage might look strange and sterile, as these two colors are quite bright. However, incorporating white into a sage-themed room is a great idea for those who want to create a space that's airy and ultra-inviting.
A room with sage walls and white furniture would look beautiful, especially when met with other colors to balance out the brightness, such as deep brown or dark beige.
Of course, you may not want to include too much white in your wedding décor if you want the only white item to be the bride's wedding dress!
However, having a few white flowers sprinkled into a sage-themed flower arrangement would also look fantastic.
10. Cream
Last but certainly not least is cream. The color cream does what white wishes it could do alongside sage; it creates a natural balancing act that's hard to look away from.
Cream color is perfect for larger pieces in a sage-themed room, such as sofas, chairs, and even on the walls. Cream and sage together provide a genuinely soothing feel, making them a great pair for cozy living rooms and bedrooms.
You can add additional colors such as dark brown and gold to provide a more dynamic and inspiring look. Either way, you really can't go wrong with this color combination.
Things to Consider
When trying to figure out what color goes with sage, there are a few things you should take into consideration:
The overall tone you wish to create. If moody, choose darker color matches. If light and airy, choose lighter colors to match.
The types of materials you'll be using. If you want a rustic look, consider using more wood accents. If you prefer a luxurious feel, try matching sage with more silk or velvet materials.
The size of the room. If the room is compact, you might want to steer clear of darker colors as they can make the space feel cramped. If it's a larger space, you have more freedom to play around with different colors and materials.
Frequently Asked Questions
Here are a few commonly asked questions about using and pairing the color sage.
What color best compliments sage?
A few colors go well with sage, including but not limited to wood brown, gold, navy blue, dusty pink, teal, dusty orange, lilac, taupe, white, and cream.
Do sage and gray go together?
Yes, sage and gray can go very well together to create a more subdued and calming look. Gray impacts how we see the color sage, given this color a more neutral appearance. If you want to brighten it up, add white to that color combination for some highlighting effects.
What shade of gray goes with sage green?
If you wish to pair sage and gray together, any shade of gray will do. It all depends on what look you're going for and what other colors you'll be incorporating into the design. A light gray will offer a more cheerful look, while a dark gray will convey a more sophisticated appearance.
Is shade green out of style?
No, sage green is most certainly not out of style. In fact, this color has been gaining popularity in recent years as more and more people are drawn to its calming effects. Sage green is a great color if you want to create a relaxing and inviting space.
Can I use sage in my wedding décor?
Yes, sage is a beautiful color to incorporate into wedding décor, whether you use it as the main color or as an accent.
So, What Colors Go With Sage Green?
There are many different colors that go well with sage, depending on your design objectives and personal tastes.
But in general, sage green provides an inviting look that's simultaneously subtle and hard to ignore.
Now that you know what color goes with sage, which color will you select for your next room or event? Good luck choosing!
References: