Are you looking for a new sofa that will blend in with your existing decor?
Of course, there are many colors of sofas on the market. But it is the gray sofas that are becoming more and more popular.
Thanks to the variety of design options and modern aesthetics, you may notice this trend. Also, gray is a universal color that goes with many things.
Finding the right color combinations for your furniture is not always easy. And if you have a gray sofa, it cannot be easy to figure out what goes well with this neutral tone.
Are you furnishing a modern living room or creating a favorable impression in a traditional room?
Don't worry; gray sofas will be the perfect centerpiece for any furniture composition.
We've put together this handy guide to help you find the right combinations. From accent walls to pillows and rugs, learn how to create the perfect look for your home!
We've put together some gray living room ideas.
What Colors Go With Gray Sofa: Combinations List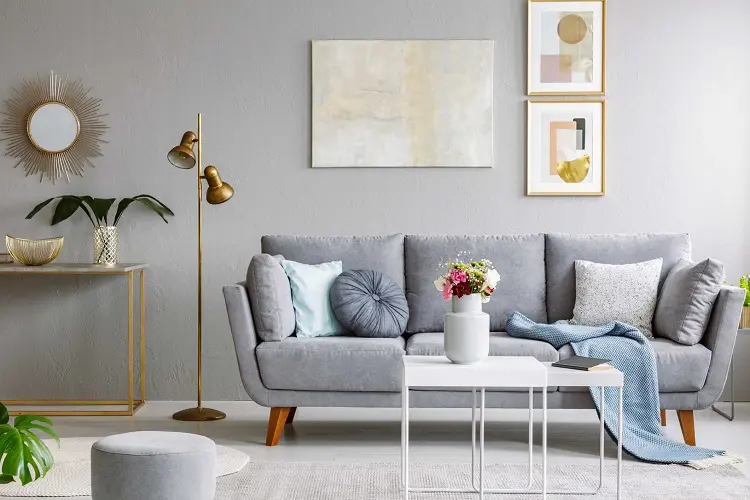 Gray is a universal color. And if you have chosen a gray sofa, you are in luck. You do not need to think about what colors go with a gray sofa. It combines many colors, creating an inspiring atmosphere.
Gray is so versatile that you have an endless choice of shades. You can choose, mix, or even combine different shades of gray.
By combining the right shades and textures in the right amount, you can create a different look and feel in a room.
You can choose neutrals, blues, greens, and warm colors such as reds, oranges, yellows, and pinks. You can even use different colors as accent pieces in the room.
Do you prefer elegance and boldness? Or bright and airy? Soothing or energetic? Warm or cool tones?
Let's take a closer look at what colors go with a gray sofa. We'll give you design tips to bring your dream living room to life.
Gray and Orange
Gray and orange are unexpected but exciting color pairings. You can use it for gray living room ideas. Orange is invigorating and energizing with positive energy.
Gray provides a calming balance. Together they create visual depth and a sense of movement because they contrast.
The contrast between the shades of bright orange and silver-gray relaxes the room. Together, these colors bring light to any living room décor.
And they promote communication in any setting. You won't overwhelm it, creating a modern atmosphere.
Earthy Neutral Colors
Incorporating earthy neutral colors into your home's decor is a great way to pair them with a gray sofa. Among them, we can highlight colors such as:
For example, you can go with colors that go with a gray sofa and tan walls. This way, you can create a more tranquil atmosphere. It will balance the natural shades of color with the more modern look of a gray sofa.
Neutral rug colors are a fantastic choice; they help add texture and warmth to a room. But they also keep the classic style.
With placed shade variations or subtle splashes of earthy in accessories like pillows or curtains, you can create an inviting living room for you and your guests with the right combination of neutral colors!
Gray and White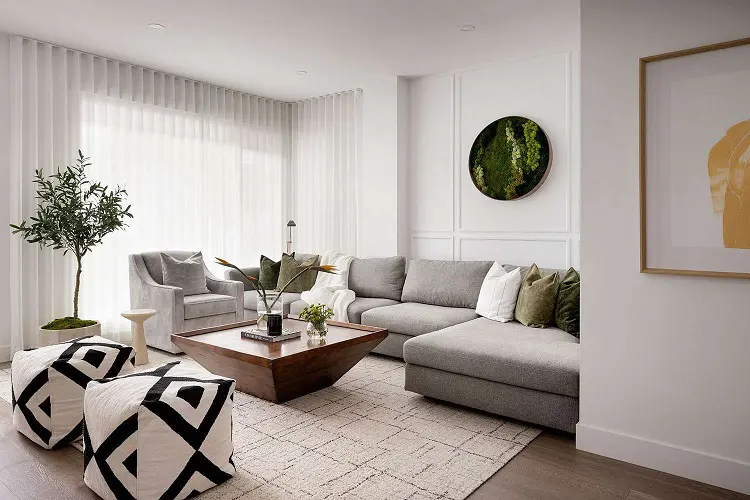 Do you think what colors go with gray? What about the white shade?
Many people mistakenly believe that white does not go with gray. But it doesn't! It goes just as well with a gray sofa as it does black.
Gray and white is an elegant combination that is timeless in colors that go with a gray sofa. You can match this versatile duo to any decorating style. From traditional to contemporary styles, there's a use for everyone.
White walls and trim serve as a clear backdrop for the mid-tone sofa. But light drapery panels add texture and visual interest.
In contrast, use materials such as walnut furniture and accessories. They will instantly warm up an overly cool atmosphere.
Bumblebee Style
When decorating a room with a gray sofa, deciding what colors go with the gray sofa is essential. How about a color palette in bumblebee style?
This minimalistic but upbeat combination includes bold flecks of yellow and black. They add dimension and dynamism.
A soft shade of yellow creates an unexpected burst of cheerfulness. Among the yellow accents, pay attention to the choice:
Decorative pillows
Rugs
Wall art
Drapery
A splash of extra black accents can give a space some definition. And don't think it's boring. It's a fabulous gray living room idea.
If you love the boho-chic style or prefer something more modern, adding shades of yellow and black to a gray sofa will give you a modern space that fits into a modern aesthetic.
Soft Grays and Blues
Gray sofas are a classic way to add texture and sophistication to any living space. But if you want style, you need to know what colors go with a gray sofa.
Do you want to make your home design more effective? To create a relaxing ambiance, utilize light gray and blue tones. It will all draw attention to your gray sofa.
These hues have the power to add visual appeal. In doing so, draw attention to the furniture's slender lines.
Subtle diversity is added by using different materials in the same color scheme. It results in an appealing yet tastefully harmonized appearance.
You can achieve a comfortable and stylish atmosphere by choosing colors and textures. It will elevate the decor of any room.
Plant Life and Sunny Pop
Do you want to create a fun and inviting atmosphere in your home? But you need a gray sofa to take center stage. Then one idea for a living room with a gray sofa is more plants and naturalness.
Complement the room with plants and sunny yellow flowers. Plants will help to refresh the room and give it visual interest.
They will create a captivating atmosphere that everyone will enjoy. At the same time, adding simple, sunny pops of yellow can lift the mood. They will help evoke a sense of optimism and energy in the room.
If you mix these two timeless elements – any living space will turn into an eye-catching paradise.
Natural Wood Textures
Natural wood textures perfectly complement the stylish gray sofa. They balance neutrality with an inviting contrast.
You can use softwood in bookshelves and other pieces of furniture. That way, you'll bring warmth and texture to the monochrome look of the gray sofa.
But what colors of natural wood go with gray? You can choose different shades of natural wood. Deeper tones provide more contrast. Lighter tones draw attention to the furniture while maintaining softness.
Make sure the lighting complements the texture of the natural wood. For example, recessed lighting or lamps that are not too bright will refresh the room.
But they will also allow you to enjoy the beauty of the natural wood against the gray sofa.
Gray and Teal
Giving a home a finished and attractive look can be difficult. One of the most common ways to complete a modern style is to put on a gray sofa.
Gray is a timeless and versatile shade for creating an inviting atmosphere. But for gray to stand out, it needs to be complemented beautifully with accents.
Among the colors that go with gray, we can safely highlight green teal. This brighter color adds depth and dimension to neutral gray. It can provide enough contrast to give your living space a stylish look.
You can use teal accents in eye-catching pillows or rugs. This way, you can create an inviting yet soothing atmosphere. Combining these colors provides the perfect balance and ambiance for any room.
Organic Color Pairings
Can't decide what colors go with a gray sofa? Try combining gray with other organic colors.
Natural colors can breathe new life into a room. Among such colors, we can highlight the following:
They paired with a modern gray sofa can be a complementary color pairing.
When trying new combinations, start small. For example, add accent pillows and bedspreads in one or two of these colors to your living room.
As more comfort is created around a simple gray sofa cloth, the sense of unity of all room elements will grow.
The use of decorative elements of different textures will create a cozy atmosphere. And so you pay tribute to the beauty of nature.
Pastel Pink and Gray
When looking for what colors go with gray, many people think of standard colors. But what if you put a little imagination into it?
How about pastel pink in your room?
The combination of pastel pink and gray creates an elegant yet playful atmosphere. It makes these shades perfect for any setting.
Pastel pink stands out against the neutral gray sofa. And when paired, these two colors create a harmonious, airy, inviting mood.
Add pastel pink accents to the gray sofa if you want to give your living room a soft and modern feel. Choose light pink flowers, curtains, or rugs.
These are all great accent elements to incorporate into your interior design. You can achieve timeless decor with the right balance of these shades in the room.
Dark and Stormy
Do you want to create an atmosphere of warmth and coziness in your room?
Then you can find the perfect balance by using a gray sofa as the main piece of furniture. But gray living room ideas are in combination with darker and stormy colors. Use a second color in the surrounding decor.
Stormy shades can be a great contrast to the neutrality of the gray sofa. Among the various shades, we highlight the following:
deep purple
dark blue
espresso brown
sullen black.
These cool tones will enhance the feeling of depth in the room. They will create an overall atmosphere that is inviting and serene. Whether the interior is elegant or eclectic, combine these shades with other elements.
For example, put dark blue cushions on the gray sofa. It will be ideal if you choose curtains of the same shade. These are sure ways to liven up any space!
Rusty Tones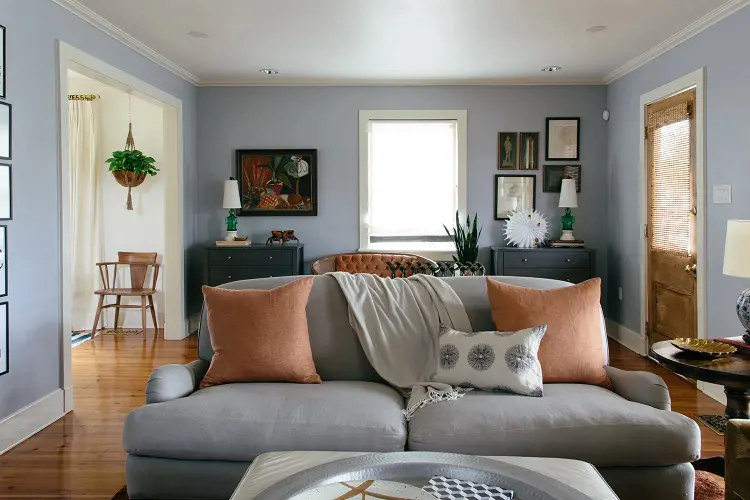 Rusty tones are perfect as colors that go with gray. They are a great complement to gray sofas. All because warm earth tones will add sophistication and style to the room. Among them, designers often highlight the following:
Saturated terracotta tones
Ochre tones
Aged bronze tones.
They can bring out the best in this neutral shade of gray. In doing so, they will add an element of warmth and comfort. Hang artwork with rusty accents. Or decorate your walls with items in these unique colors. In this way, you'll create a truly eye-catching display.
Use rust-colored pillows or bedspreads. It is how you'll highlight specific areas or add depth to the decor when you choose colors that go with gray.
Jewel Tones
The classic gray sofa has a timeless design. It makes it a great base piece for any room. We can safely say precious tones when asked what colors go with a gray sofa.
Use jewel tones to accentuate the sofa's distinctive appearance. They will produce a harmonious appearance that is simple to refresh with accessories and artwork.
Rich hues and attention-grabbing accents, such as sparkling green lamps and deep sapphire pillows, will let this neutral background stand out.
Warm accents and gemstone hues go well together. For example, mix it with cream to warm it and invite any living area.
FAQ
What color accent works best with a gray sofa?
A gray sofa's most harmonious accent colors are pink, dark, and stormy.
Each of these shades will give your living room a unique look. Invest in accessories like pillows or rugs in one of these accent colors to add depth to the design.
Can I mix different shades of gray?
Yes, you can mix different shades of gray as long as they complement each other.
Choose colors with a similar undertone and play with the intensity to find the perfect balance between them. It is a great way to give your living room an updated look and feel.
What colors go with a gray sofa in a contemporary living room?
In a contemporary living room, light colors such as sand and beige create a bright and airy atmosphere.
Rich hues like emerald green or navy blue will contrast beautifully with the neutral gray sofa. You can also use jewel tones to add a touch of luxury.
Conclusion
A gray sofa as the main focal point of your room can open up many possibilities.
Whether you prefer a classic style or something bold and modern, incorporating these shades into your living space will create a beautiful and timeless decor that pays homage to the beauty of nature.
Don't be afraid to experiment! Even if the colors don't work, it will still be fun to discover new ways to make your living space cozier!
Resources: