When it comes to home styles, there are many options to choose from.
We've illustrated the 25 most popular types of homes in America to make your decision a little easier.
Read on to learn more.
Different Types Of Home Styles
American home styles are an interesting mix of modern and ancient architectural elements. There are hundreds of different American home styles, but out of them all, you'll see about 25 styles most often.
From the cozy cottage to the regal Victorian, a trip across the United States will show you a wide range of architectural home styles and design elements.
In this guide, we've included the 25 most popular home styles in America and a description of each one.
If you're thinking about building a house or are looking for a specific home style, this is a great place to start.
Keep reading to discover the 25 most popular types in the nation and what makes each of them special.
25 Popular Home Styles in America
Different home styles are popular in different areas of the country. You're more likely to see a Colonial home in the Northeast, prairie homes in the Midwest, and Pueblo homes in the Southwest.
To get a peek at the diversity of homes in America, let's look at the most popular architectural styles across the country.

1. Bungalow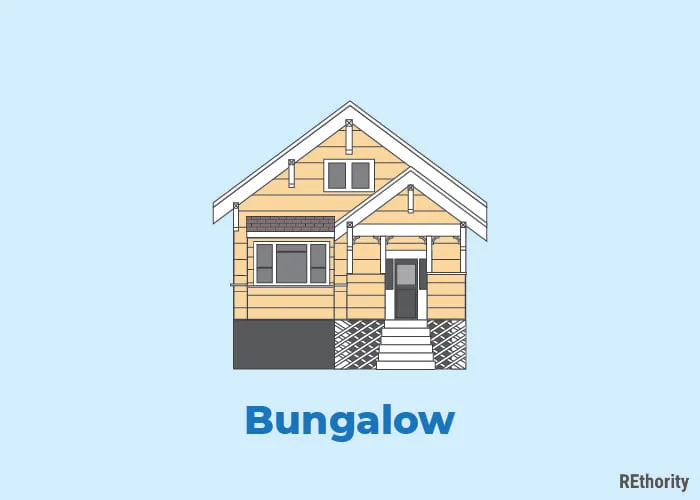 Bungalow houses are typically rectangular with low-pitched roofs. Often, they feature covered porches and are usually narrow one story or one and a half stories.
This is one of the most popular home styles, especially in California and the Midwest. And they are on the opposite end of the design spectrum as Victorian homes.
The Bungalow style hearkens to the Indian bungalow home style, a simple home with a thatched roof. Bungalow houses have a casual look.

2. Cape Cod
Cape Cod houses have a long history in the United States, dating back to the very first houses built here. Originally simple structures with one story, no dormers or elaborate decoration, the first Cape Cods were small homes with shingle, brick, or clapboard sides.
Cape Cod homes can be square or rectangular and don't typically feature covered porches. The roofs of Cape Cod homes are steep and gabled. Today, they may feature more design elements like dormers and shutters around the windows.

3. Colonial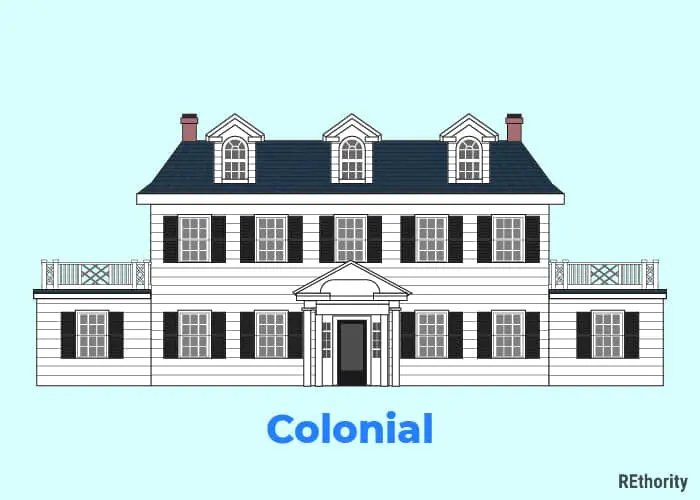 One of our favorite home styles, Colonial houses are also steeped in history. Colonial homes refer to a number of home styles popular during the Colonial period.
The first Colonial homes borrowed design elements from other architectural styles, but always kept things simple. These homes are typically based on symmetrical principles.
They are rectangular, feature double-hung windows, and often house the bedrooms on the second floor. Colonial Revival homes were created in the late 1800s and added more features like cornices and shutters.

4. Contemporary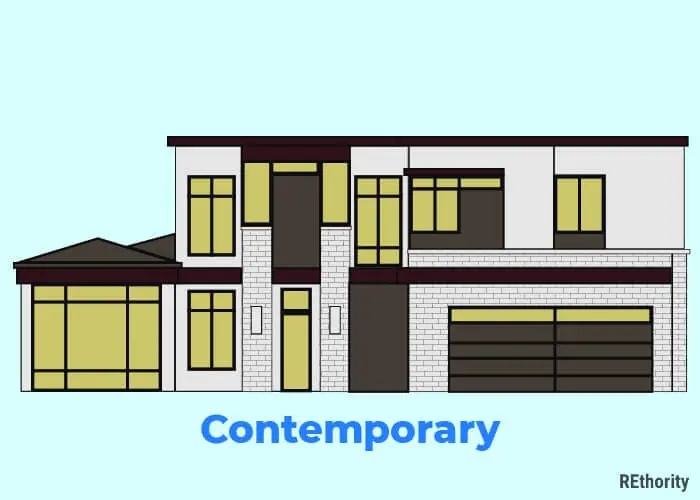 Contemporary homes are popular across America. The main element of this house style is sophisticated simplicity. Contemporary homes are easily recognizable by their clean lines, unique shapes, building materials, and design elements.
They often feature lots of slender or large windows to let in lots of natural light. Many contemporary style homes are focused on bridging the gap between outdoors and indoors.
The first contemporary style homes in the United States were built in the 1950s. Today, you'll find that contemporary houses vary quite a bit. They may have gabled or flat roofs.
Many are built to be energy efficient, and most are one or one and a half stories. Interestingly, contemporary houses are often the homes of villains or the occurrence of scary events in thriller and horror movies.

5. Cottage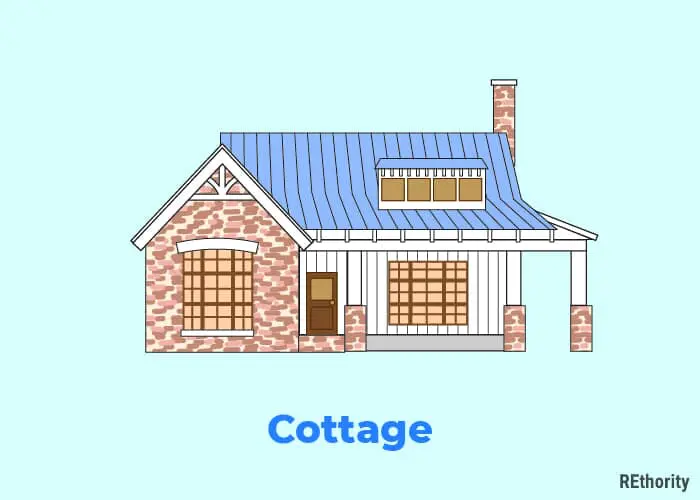 Cottage is another of the most popular types of homes in America. It's also my personal favorite. Cozy, quaint, and unique, what's not to love? The word cotters is the origin of this house style, meaning peasant farmer.
Cottages are known for their small, cozy size with several wood and stone design elements that bring an almost enchanted look to the structures.
Often featuring winding entryways (and curved walkways leading up to the house), interesting colors, and low-pitched roofs, cottages are often included in children's fairy tales.
You'll usually see flower beds and casual gardens in front of cottage style homes.

6. Craftsman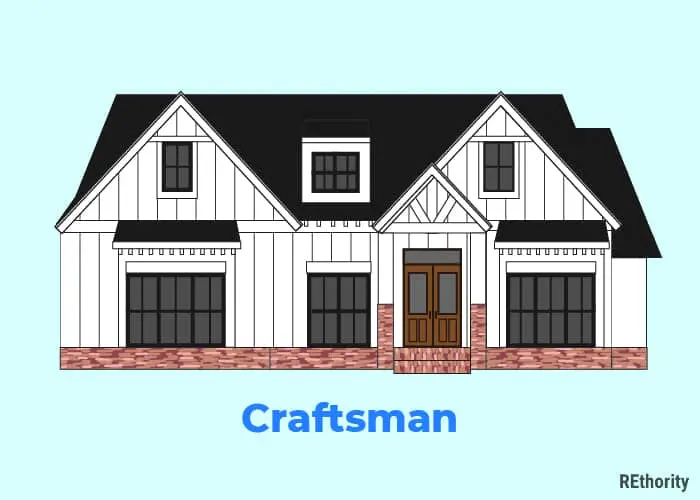 Craftsman style homes are popular across the United States. They became popular in the early 1900s and borrowed many design elements from the smaller Bungalow style.
Designer Gustav Stickley said of the Craftsman style that it is the simplest form of a home, being broad, low, and never ornamental.
Some called the Craftsman style "California bungalow" because it adds elements like a low-pitched gabled roof, wide covered front porch, and overhanging eaves similar to the Bungalow style.
Tapered columns, stucco, wood, and stone are mainstays in Craftsman style homes.

7. Federal
While they're one of the least popular home styles (at least in the Midwest and the City), Federal homes have a formal appearance and are historically significant. They are typically rectangular, feature arched windows on the second story, and elliptical windows around the home.
They have decorative elements that remain understated due to the boxy shape of the house. You'll typically find Federal style homes on the East Coast of the United States, where they have been popular since the 1700s.

8. French Provincial
French Provincial is a popular home style in the United States. Most French Provincial homes are brick, symmetrical, and formal in appearance.
You'll notice a steep, hip roof, balconies, arched doorways, and double windows with shutters on these homes. French Provincial homes usually have two stories.
They are based on chateaus built in the French countryside by royalty. The style became popular in the United States around the 1920s and 1960s.
But the original French Provincial homes were built in the 1600s in France. When you picture a French Provincial home, it's easy to imagine fields of lavender.

9. Gothic Revival
Gothic Revival homes always feature distinctive arched Gothic windows, opulent wood details around the roof, doors, and windows, and highly-pitched, cross-gabled roofs.
Some have wrap-around porches, verandas, and towers that regally rise up from the structure. One example of a Gothic Revival home you'll recognize is the home in the painting "American Gothic" by Grant Wood (1930).
The style hails from European Classical Gothic architecture of the mid-1100s to the 1400s. Today, you'll find Gothic Revival homes mostly in the Northeast of the United States. Many were built from 1830 to 1870.

10. Greek Revival

Greek Revival homes are tall structures, usually two stories, with exterior features like columns, porches that span the full width of the house, and narrow rectangular windows around the front door.
The roofs of Greek Revival homes are usually hipped or gabled with cornices. They are most commonly seen in the South, Northeast, Midatlantic, and Midwest areas. You can also find Greek Revival homes in parts of California.

11. Monterey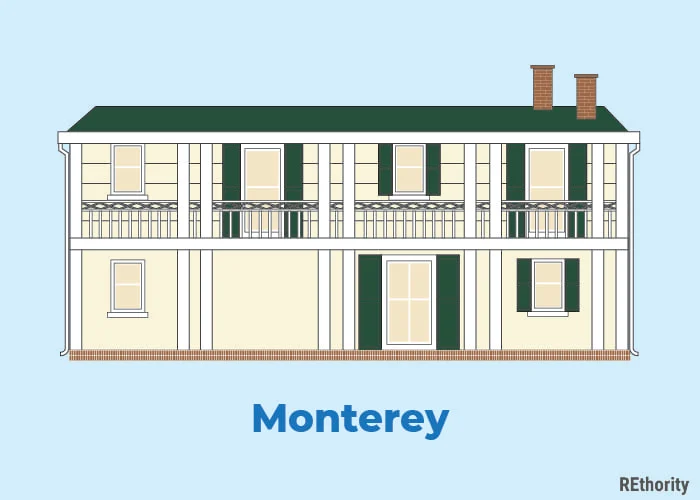 The Monterey style was created by Thomas Larkin, a Boston merchant who eventually moved to Monterey, California in 1853. These home styles are often found in California, and are reminiscent of Old Hollywood.
He envisioned a home that married features from the Colonial house style with a Southwestern Spanish Colonial style adobe brick home. This is the Monterey.
Monterey homes feature a characteristic second-floor balcony, and this second story popularized multi-level homes in the Bay Area of California at the time.
The balcony railings are either wood or iron. Monterey roofs are low-pitched, shingled, or tiled. Exterior walls will be wood, stucco, or brick.

12. Neoclassical
Neoclassical homes can be small cottages or sprawling mansions. Always, they'll feature front porches with Corinthian or Ionic columns that are as tall as the house.
You'll notice elaborate detailing around doorways and windows and an overall symmetry to Neoclassical homes.
They surged into popularity in the late 1890s and began to fizzle out in the United States around 1950. The Parish home from the film adaptation of Jumanji is a perfect example of the Neoclassical style.

13. Prairie
Famous American architect Frank Lloyd Wright is the creator of the flat and broad Prairie house style in the 1890s. It remains popular today in the Midwest. Prairie houses can be either symmetrical or asymmetrical structures.
They feature lots of distinctive horizontal lines, low-pitched roofs, siding of clapboard or brick, casement windows that open outward, and porches that don't extend above the first story. There is usually some type of decoration around the windows and doors.

14. Pueblo
Pueblo houses are based on multifamily homes built by Native Americans and the Spanish Colonial style, becoming popular in the United States around 1900.
The trend spread from Arizona, New Mexico, and California. Today, many Pueblo style houses can be found in these areas. You can recognize a Pueblo house by its rounded walls, square windows, stucco or adobe exterior, flat roofs, and exposed roof beams.
Tile floors are common. At the turn of the 20th century, the Pueblo Revival style became popular and made use of the same warm, earthen materials like stucco, adobe bricks, wood, and concrete. Pueblo Revival homes can have sloped or flat roofs.

15. Queen Anne
The Queen Anne house style is highly detailed and uses a unique mix of materials. It is formal and eclectic, standing out from simpler structures.
This style features dramatic towers, steep roofs, many wings that project outward, covered porches, balconies, and chimneys. They are often two or more stories tall. It's common to see scrolling and fish-scale patterns in wood around gables and porches.
The Queen Anne house style became popular at the end of the Victorian era. They became popular in the United States (in the South and the West) after the Civil War.
A perfect example of the Queen Anne style is the beautiful but creepy Addams' Family House at 21 Chester Place.

16. Ranch
Now onto the most popular home style in America. Ranch style houses were designed in the 1930s in California, becoming popular across the country by the 1950s and 1960s.
They are single-story houses that are long and rectangular in shape. The basis of the Ranch house style is a mixture of Spanish Colonial, Craftsman, and Prairie architecture.
They are moderately sized homes and often feature a pitched roof, wood or brick siding, picture windows, and sliding doors that lead to backyard patios.
Ranch homes exploded in popularity when people began moving into the suburbs. Today, you can find Ranch style homes in every state.

17. Saltbox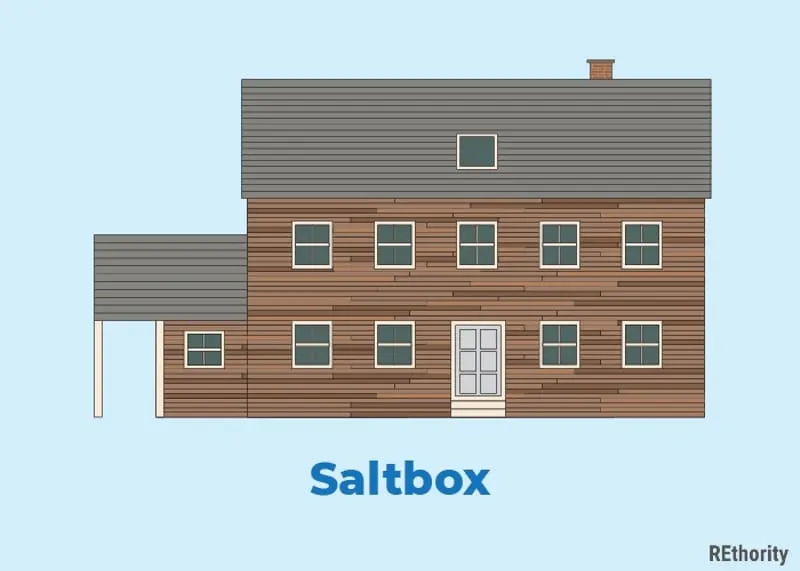 Saltbox homes were designed in early Colonial times and remained popular in New England and the south through the late 1800s.
The uniquely sloped gable roof (giving it a saltbox shape), two and a half stories, rectangular or square shape, single chimney, and large windows are identifying features of saltbox style homes.
When these homes were first designed, the back part of the house was used as a windbreak shed that would always be pointed toward the north. Exterior saltbox walls will be shingles or clapboard.

18. Spanish
The Spanish house style is recognizable by a few different characteristics. There are many variations and revivals of the different Spanish styles, but in general, you'll notice a few common features.
Clay roof tiles, arched doorways and corridors, bell towers, square pillars, decorative windows, low-pitched roofs, stucco walls, and rounded doors and windows are all common to the Spanish house style.
Spanish style houses are commonly found today in Florida and the Southwestern United States.

19. Tudor
The Tudor architectural style originated in England but became popular in the United States in the 20th century.
It's one of the most easily recognizable house styles because of the interesting half-timber wood framing across the house, forming intersections and designs that resemble geometric patterns.
Tudor houses always have steep, multi-gabled roofs and may feature stone or brick exteriors. Tudor houses are found mostly along the East Coast and in the Midwest.

20. Victorian
Victorian houses became popular during Queen Victoria's reign between 1830 and 1910. This style is an amalgam of other substyles, like Queen Anne and Gothic Revival.
The Victorian house style is formal, elegant, and complex with lots of ornate decoration and detailing.
Look for complex trim around the roof, large porches, doors, and windows, bright exteriors, asymmetrical shapes, and interesting roof designs.
Victorian houses can be found across the United States, but were most commonly built in areas where wood was plentiful (like the West).
21. Cabin
A folksy and beautiful style, cabin homes are easy to identify, thanks to their log elements, rafter roofs, and simple rectangular or square shape.
They typically have small, deep windows and may have a compact covered front porch. Cabin homes have a very natural look, rarely using paint to mask the organic beauty of the wood logs.
However, modern cabins may use a wood stain to create a more finished look. The exterior of the homes are not showy by any means, harnessing the rustic and simply loveliness of raw wood, so there are minimal ornamental elements.
And one of the best parts of cabin-style homes, they almost always have a cozy wood stove or fireplace.
22. Farmhouse
Farmhouse style is a classic look for homes, sharing some elements with Colonial homes but offering a more rustic vibe.
They have A-shaped or gable roofs, many windows, vaulted ceilings, and cozy covered porches. Farmhouses are a traditional American style, popular in the south and northeast of the country.
They're often asymmetrical designs like Colonial homes but play around with more colors and materials.
The farmhouse style has been altered recently, creating new subgenres, like classic and modern farmhouses. But the comforting energy and rustic style remain true.
23. Mediterranean
Mediterranean homes are lavish, clean, and modern, with smooth walls, large windows, and refined decorations. The facade is often grand and symmetrical, with a tile roof and stucco exterior.
A significant theme throughout Mediterranean architecture is arching. You'll see arched windows, doors, gates, and more, giving the structure a smooth, fluid feeling.
These properties often have a European-style garden or courtyard with balconies overlooking them. Many characterize Mediterranean homes as a cross between Italian and Spanish architecture, using Spanish materials but Italian designs.
These houses are most popular in warm climates, such as California, New Mexico, and Florida.
24. Romanesque Revival
Another revival style for this list, Romanesque Revival, has a luxurious and commanding vibe. The technique developed during the 19th century and is still more common in European countries but also appears in the US.
These grand homes are usually more like mansions, with medieval elements like thick stone walls, massive columns, and dramatic arches.
These designs are very blocky rather than fluid and soft, giving them that domineering and almost royal presence.
In Romanesque Revival designs, masonry is at the forefront; whether bricks, natural rock, or finished stone, masonry is at the forefront. These houses also include some pops of color, typically green, red, or orange roofs, for a distinct contrast.
25. Rowhouse
Rowhouses are popular in many US states, like New Orleans, Boston, and Baltimore. But you can also find them in many European countries, specifically Ireland, England, and Scotland.
These houses are built directly side-by-side, so they share a wall with their neighbors. Rowhomes are typically two to five stories high and more slender than traditional homes.
In most cases, rowhouses share the same design with their neighbors, except for renovated units. They may have porches or stoops and share many design elements with Federal style homes.
There are famous examples of Rowhouses, like the Painted Ladies in Baltimore, a collection of rowhomes painted in vibrant and cheerful colors.
Which House Styles Are the Most Appealing?
Out of all the American house styles in this list, which ones are the most appealing and stand the test of time?
It's hard to pick a favorite because design is so subjective.
However, the top 6 most popular house styles are Colonial, Ranch, Cape Cod, Victorian, Contemporary, and Craftsman.
With these architectural styles in mind, keep an eye out as you drive around. You may find that there are interesting house styles in your area that you've never noticed before!
We hope this guide provides you with inspiration as you start your house-hunting journey or begin to create your building plans.
Resources: