Welcome to a world where your back porch becomes a haven of tranquility and style! Here, we'll reveal the secrets to transforming your outdoor space into a cozy retreat.
From colorful decor to space-saving hacks, discover simple yet inventive ways to enhance your relaxation. Your back porch deserves to be exceptional!
25 Trendy Back Porch Ideas
Your back porch is more than just a space; it's a canvas waiting to be adorned with creativity and comfort.
Let's unveil a plethora of ideas, from trendy designs to practical tips, to help you transform your back porch into a haven of relaxation and style.
Embrace the potential of your back porch and let the inspiration begin.
1. Evergreen Rocking Chairs for Your Veranda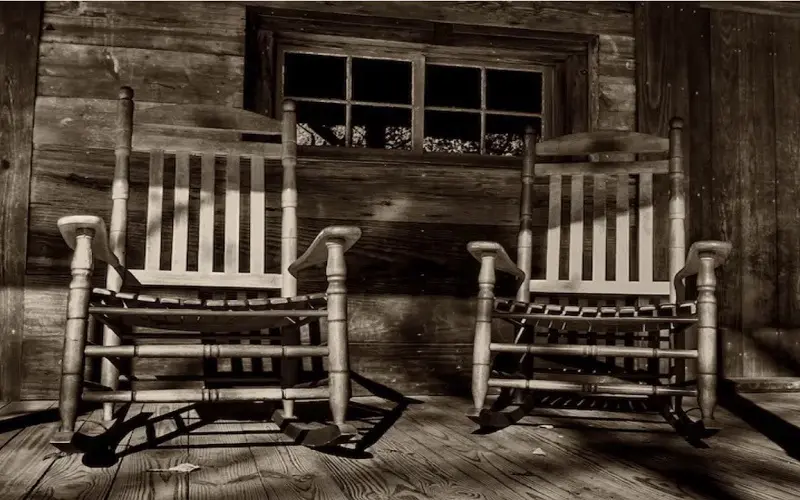 Timeless rocking chairs are fantastic and simple porch ideas. Adding a classic rocking chair to your porch brings comfort and appeal to your outdoor area.
These iconic chairs are a comfortable place to relax. Breathe in the fresh air and admire the scenery in incredible comfort. They withstand the elements while exuding timeless charm.
Are you leaning towards a classic or contemporary style? It doesn't matter! These chairs will create a pleasant and even romantic atmosphere.
Their gentle rocking is perfect for a relaxing afternoon or a delightful evening. You will turn your back porch into a cozy corner of luxury and style.
2. Hanging Swing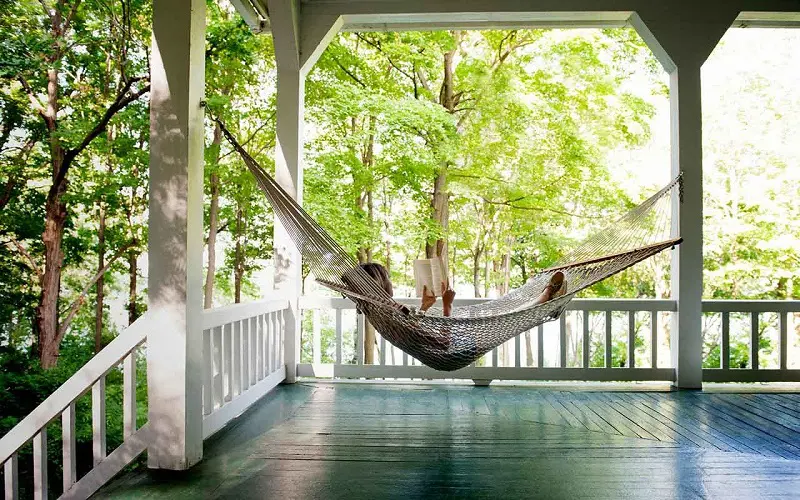 A hanging swing is a fantastic porch idea. It brings a sense of fun and relaxation to your outdoor space. These swings come in various styles.
From traditional wooden designs to trendy hammock-style options, they provide a comfy place to unwind, read a book, or enjoy the outdoors.
Hanging swings are perfect for all ages, making them a family favorite. They can be a focal point of your porch, enhancing its aesthetics while offering a cozy retreat.
The gentle sway of a swing is soothing, making your back porch the ideal spot to kick back and relax.
3. Screened-in Porch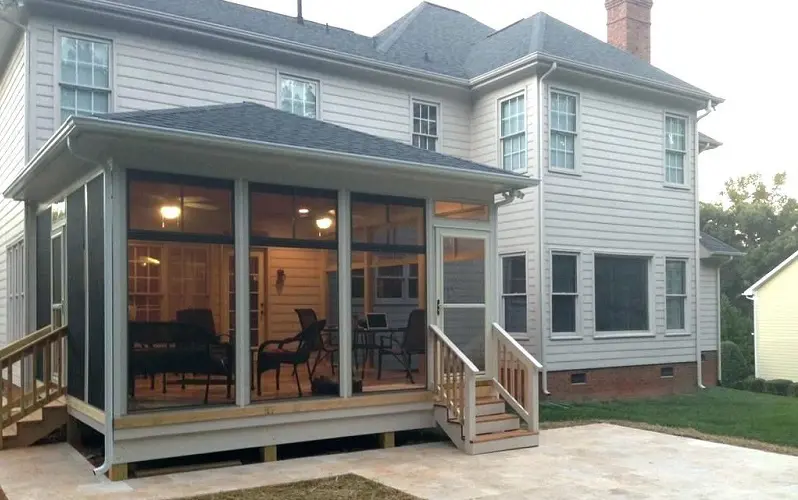 A screened-in porch is a brilliant DIY back porch idea, offering a versatile space. It's like bringing the outdoors inside while keeping bugs and pests at bay.
With a sturdy frame and mesh screens, you can enjoy fresh air and natural light without the annoyance of insects.
Screened porches are perfect for alfresco dining or social gatherings. You can decorate them with cozy furniture, plants, and even lighting.
You can create a welcoming ambiance. So, whether it's a hot summer day or a fantastic evening, a screened-in porch provides a tranquil oasis.
4. Alfresco Eating Spot
Making an open-air dining spot on your rear deck is a great back porch idea for those who enjoy meals outside.
Arrange a comfy table and chairs for outdoor breakfast, lunch, or dinner. It's ideal for having happy get-togethers with family and friends.
Toss in vibrant cushions, pretty tableware, and some potted plants for a nice touch. You can keep dining even after the sun goes down with good lighting.
An outdoor eating spot is a lovely way to relish tasty food. You get to be close to nature and create lasting memories right in your backyard.
5. Cozy Nook
Preventing your yard from becoming a snug nook is a fabulous idea for a small back porch. Add cushioned armchairs to provide a relaxing and comfy place to relax.
Good lighting is essential, allowing you to read your favorite books, enjoy a cup of tea, or simply unwind.
This nook becomes the perfect retreat with the gentle breeze and natural surroundings. Add a small table for your essentials, and decorate with warm colors.
Whether it's a sunny morning or a peaceful evening, you have your cozy nook on the back porch. It offers a haven of comfort, making it a lovely escape for reading and unwinding.
6. Fire Pit
A fire pit is a fantastic and simple porch idea, creating warmth and ambiance on cool evenings.
It offers a cozy gathering spot for family and friends, making your porch a go-to place year-round. You can sit around the fire, roast marshmallows, and share stories.
Various fire pit designs are available, from rustic to modern, to suit your style. The crackling flames provide not only warmth but also a comforting atmosphere.
Whether it's chilly or you just want to add a touch of magic to your evenings, a fire pit on your back porch brings a sense of togetherness and relaxation.
7. Outdoor Kitchen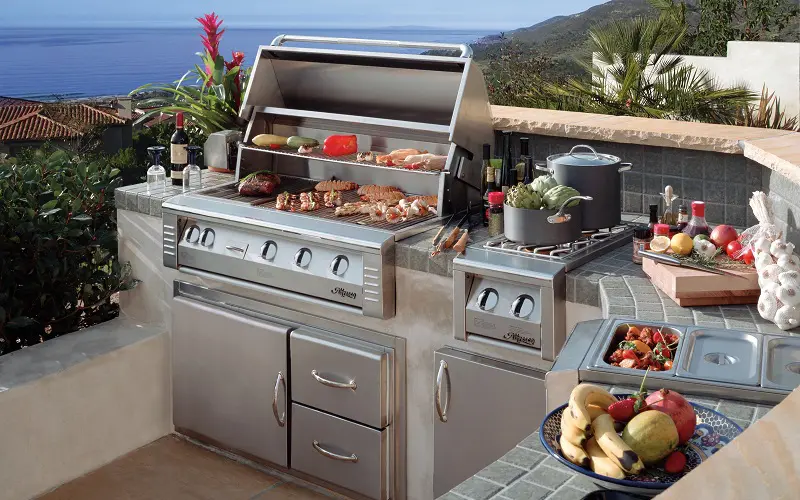 Creating an outdoor kitchen on your back porch is a smart idea. It's great for those who love cooking and entertaining outdoors.
Install a grill, countertops, and storage space to make it easy to prepare delicious meals in the fresh air.
This setup allows you to host BBQ parties, cook for family and friends, or enjoy the pleasure. Add some comfy seating for guests, and you have the perfect socializing spot.
An outdoor kitchen turns your back porch into a culinary haven. There, you can savor tasty dishes and make lasting memories, all while soaking up the outdoors.
8. Mood Lighting
Enhancing your back porch with mood lighting is a brilliant DIY back porch idea. Adding string lights, lanterns, or sconces can transform the space into a warm haven.
These lights create a cozy atmosphere. It's perfect for relaxing, entertaining, or enjoying quiet evenings. String lights can be hung along the railing or ceiling, casting a gentle, magical glow.
Lanterns and sconces add an elegant touch, providing both light and decoration. With the proper lighting, your back porch becomes an enchanting retreat.
There, you will be able to read a book, have a chat, or unwind. It's a simple yet effective way to elevate your outdoor space.
9. Vertical Gardens
Introducing vertical gardens to your back porch is a creative and space-saving idea. These gardens use wall space to grow plants and flowers, adding color and nature to your outdoor area.
You can create a green display with hanging pots or specialized vertical containers.
Vertical gardens not only beautify your porch, but they also improve air quality and have a great small back porch idea.
Whether you have a small or spacious porch, this idea maximizes space. But it's connecting you with the beauty of nature. It makes your back porch a relaxing oasis for you and your plants.
10. Ceiling Fans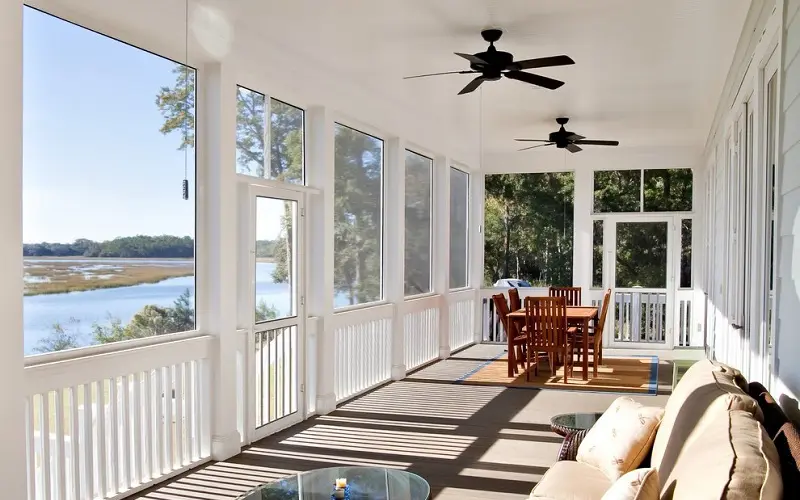 Ceiling fans are a practical addition to your back porch ideas. They offer a dual purpose, helping to keep the air cool and insects at bay.
These fans circulate the breeze, making your porch comfortable even on hot days. They create a refreshing atmosphere for relaxation and gatherings with gentle overhead airflow.
Ceiling fans come in various styles, from classic to modern. It allows you to choose one that suits your porch's aesthetics.
Whether lounging with a cold drink or hosting a barbecue, these fans enhance your outdoor experience. It makes your back porch a welcoming retreat for everyone.
11. Bar Area
A bar area on your porch is fun and functional for those who enjoy entertaining. It's a perfect spot for mixing drinks, serving snacks, and socializing.
You can install a bar counter with stools or a portable bar cart. Stock it with your favorite beverages and glassware for easy access.
A well-designed bar area not only elevates your porch's style, it also enhances your outdoor gatherings.
Whether hosting a casual get-together or a full-blown party, a back porch bar adds a touch of hospitality and flair, making it a popular hub for friends and family to enjoy.
12. Swimming Pool Access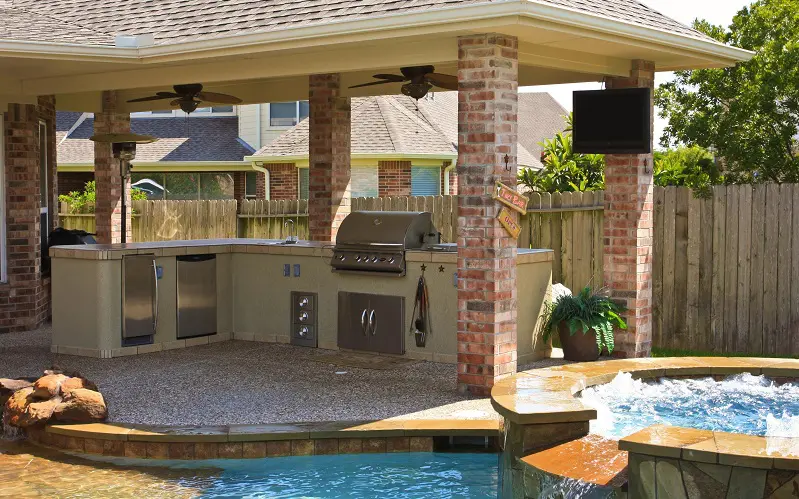 If your back porch is close to a swimming pool, it's a simple porch idea to ensure easy access and create a lounging area.
This setup enhances convenience and relaxation during hot summer days. You can install steps or a pathway leading directly to the pool from the porch.
Arrange comfy lounge chairs, sunbeds, or outdoor sofas nearby to create a relaxing space for sunbathing and poolside fun.
You'll have the perfect setup for family and friends by making the pool and porch seamlessly connected. You can enjoy the water and the comfort of the porch, creating a fantastic outdoor oasis.
13. Hanging Plants
Hanging plants are a delightful idea for a small back porch, bringing glamor and flair. You can make assorted plants and blossoms into ornamental pots.
You may produce a sumptuous and vivid atmosphere. These dangling green beauties not only look eye-catching, but they also give your stoop fresh air and a calm vibe.
Be they colorful florals, cascading lianas, or fragrant herbs, they bring life to your space.
With minimal fuss, you can turn your porch into a peaceful retreat surrounded by the soothing presence of nature. It's the perfect place to relax, read, or enjoy the beauty of a hanging garden.
14. Outdoor Curtains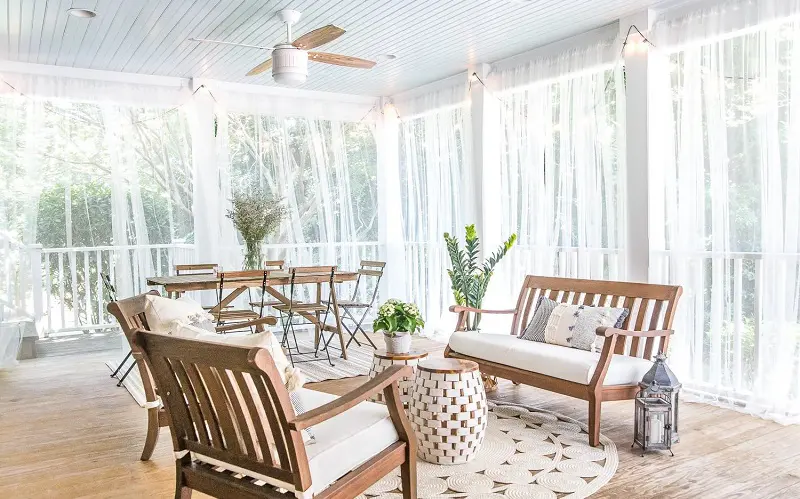 Outdoor curtains are a fantastic DIY back porch idea. These weather-resistant drapes can be a stylish and practical choice.
They offer privacy, shade, and protection from the elements. You can create a cozy and versatile space.
You can quickly draw them for shade on hot days or to block the wind on breezy evenings. With various colors and patterns available, you can match your porch decor or add a pop of personality.
Outdoor curtains are simple to install and can help define your porch area. It makes it a comfortable haven for relaxation or enjoying the outdoor ambiance.
15. Swing Bed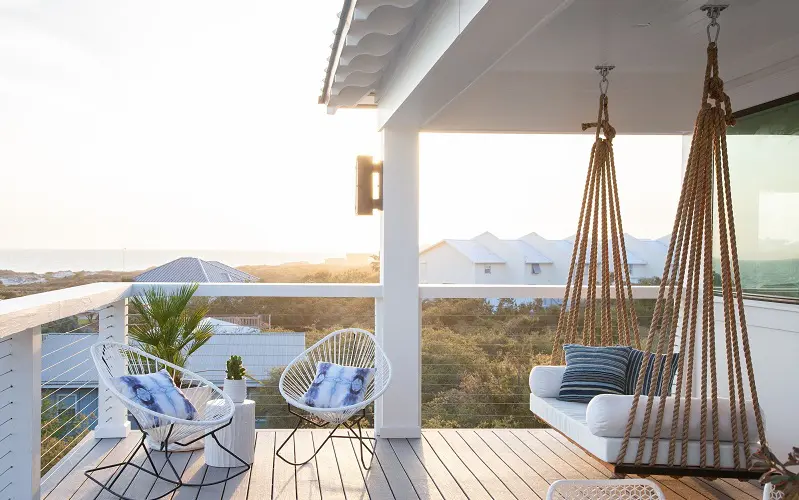 A swing bed is a charming and cozy back porch idea. It's like a blend of a swing and a bed, creating the perfect spot for relaxation.
You can hang it from the ceiling or use a sturdy frame for support. Adding soft cushions and blankets transforms it into a comfy haven.
Swing beds are great for lazy afternoons or starry nights. It offers a gentle sway that soothes your senses.
Whether you're reading a book or napping, this swing bed transforms into a lounge corner. Here, you can relax while enjoying the fresh air of the outdoors. It's an inviting addition to any porch.
16. Cushioned Benches
Cushioned benches are a practical and welcoming DIY back porch idea. They offer ample seating for gatherings, adding a cozy touch to your outdoor space.
Long benches or built-in seating can accommodate family and friends comfortably. These benches are typically equipped with soft, weather-resistant cushions.
It ensures comfort during social get-togethers or quiet moments. You can add decorative pillows for extra style. Plus, they can be customized to fit your porch's layout and design.
Cushioned benches make your porch a versatile spot for relaxation and entertainment. It provides a relaxed and inviting atmosphere for all to enjoy the great outdoors comfortably.
17. Suspended Daybed
A hanging daybed is a creative and straightforward porch concept. It entails suspending a daybed from the ceiling to provide a one-of-a-kind seating choice.
This quiet nook softly sways, creating a peaceful and restful atmosphere. Fill it with soft cushions and throw blankets for added comfort and flair.
The suspended daybed transforms into a cozy retreat for reading or simply resting. Its creative design offers a luxurious and elegant touch to your porch.
It's the ideal focal point for a relaxing retreat or entertaining visitors. It's a unique approach to improving your outdoor living environment.
18. Country Charm Look
Opting for a country charm look on your rear porch is a wonderful concept. It brings a snug and toasty feel to your outdoor area.
You can incorporate natural wood, like wooden furniture or a ceiling, to give off a rustic vibe.
Toss in country-style decor such as vintage lanterns, rugged textiles, and weathered accents to finish the appearance. This style links you to the beauty of nature and the ease of country living.
Whether sipping your morning coffee or having an evening get-together, a country charm-themed porch offers a friendly, down-to-earth atmosphere that makes everyone feel at home.
19. French Doors
Incorporating French doors into your back porch is a clever porch idea. These elegant doors create a seamless connection between your indoor and outdoor spaces.
It allows for easy access and a feeling of openness. You can enjoy the view and natural light, whether inside or out. French doors come in various styles, from classic to modern.
It allows you to match your porch's aesthetics. They provide an airy, stylish transition, making your porch feel like an extension of your living space.
It's a design choice that enhances your home's overall appeal. It creates a delightful flow, perfect for relaxation and entertainment.
20. Water Feature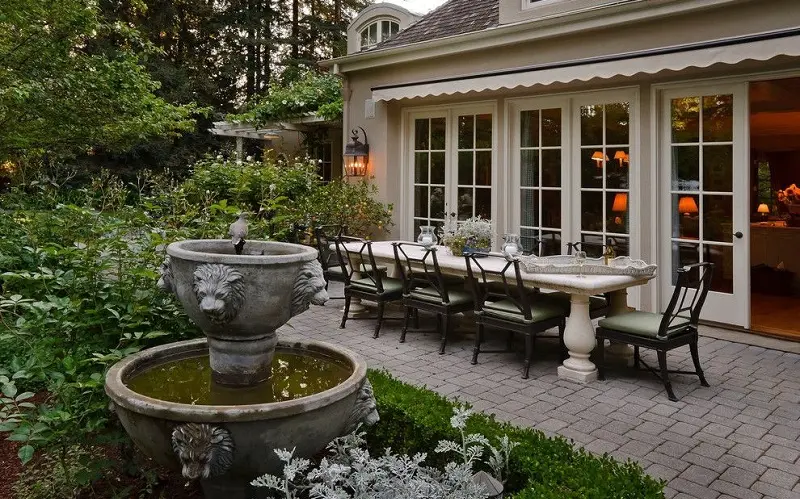 Incorporating a water feature into your back porch is a soothing and inviting idea. Adding a small fountain or water element can create a calming ambiance.
The sound of trickling water is relaxing and can drown out noise from the surroundings. Water features come in various designs and sizes, making finding one that fits your porch's style easy.
They bring a touch of nature and serenity to your outdoor space. You can provide a tranquil backdrop for relaxation or meditation.
Whether reading a book or enjoying a cup of tea, a water feature adds an extra layer of peace. You can create a tranquil atmosphere on your porch, making it a rejuvenating retreat.
21. Outdoor Rugs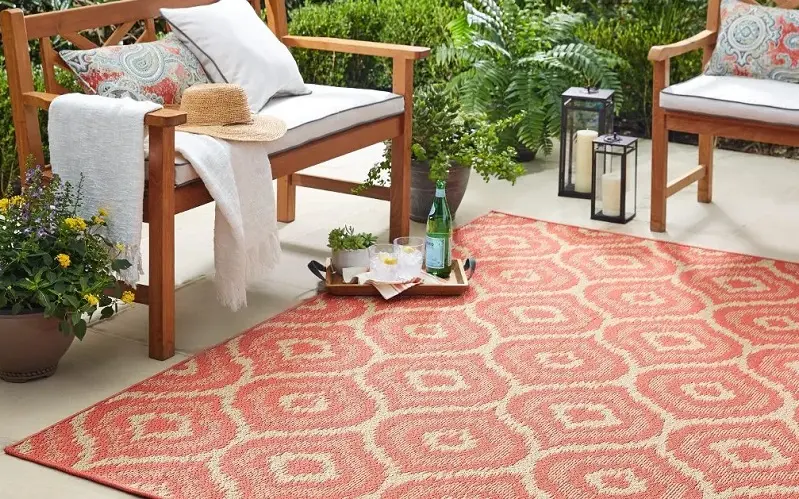 You can add outdoor rugs to your back porch. It's a basic, effective, and innovative concept. These carpets are often made to resist the weather while adding elegance to your outdoor environment.
You may complement your porch décor with a variety of colors and designs. Outdoor carpets provide a welcoming and pleasant surface for bare feet.
It transforms your porch into a welcoming hideaway. They define seating zones, anchor furniture, and protect the floor of your porch.
Whether you have a tiny or large back porch, outdoor rugs are a terrific option. It may rapidly renew its appearance and create a welcoming atmosphere. It will be ideal for relaxing, entertaining, or enjoying the fresh air.
22. Sundeck
Transforming your back porch into a sundeck is a simple porch idea. It offers a dedicated space for sunbathing and relaxation.
You can lay out comfortable loungers, deck chairs, or outdoor chaise lounges for basking in the sunlight. Sundecks often feature a flat, sun-soaked surface, perfect for tanning and unwinding.
This design adds a touch of luxury to your outdoor area, providing an ideal spot to soak up the rays or read a book. You can simply enjoy the warmth of the sun.
Whether you have a small or spacious porch, a sundeck creates a delightful oasis for sun lovers. It makes it a popular retreat for leisure and relaxation.
23. Outdoor Movie Screen
Adding an outdoor movie screen to your back porch is an entertaining idea. It allows you to enjoy your favorite films under the open sky.
You can set up a projector and a screen, creating your own backyard cinema. Invite friends and family for movie nights, or enjoy a film yourself in the fresh air.
Outdoor movie screens come in various sizes and are easy to install. You can turn your porch into a cozy movie haven with comfy seating and some popcorn.
It's a great way to relax and have a unique cinematic experience in your outdoor space.
24. Free-Spirit Porch Magic
Bringing bohemian vibes to your rear porch is a chic and liberating porch idea. This style embraces diverse decor, lively colors, and a chill-out vibe.
Integrate patterned textiles, hanging tapestries, and low-seating furniture with comfy cushions. Mix and match various textures and materials for an inviting, boho-chic appearance.
Toss in potted plants, lanterns, and twinkling string lights to craft a comfy outdoor retreat. Porches with bohemian flair offer a friendly, easygoing atmosphere, perfect for relaxing, reflecting, or hosting intimate gatherings.
This distinctive and artistic style celebrates your uniqueness and transforms your porch into a lively and colorful reflection of your personality.
25. Minimalist Oasis
Creating a minimalist oasis on your back porch is a serene and stylish DIY back porch idea. This design emphasizes simplicity, clean lines, neutral colors, and a clutter-free space.
Choose sleek and functional furniture, like modern seating or a streamlined dining set. Keep decor to a minimum, using essential pieces like a single potted plant or a subtle wall art piece.
A minimalist porch fosters a sense of tranquility and order. It is a perfect spot for meditation, relaxation, or a quiet retreat.
It's an inviting space where less is more, offering a harmonious atmosphere. It's the best for those who appreciate simplicity and a peaceful outdoor haven.
Conclusion
In conclusion, there are many creative ideas for back porch landscaping.
It doesn't matter what you choose: rustic design, water feature, sundeck, or minimalism. There are many back porch ideas for both large and small spaces.
The important thing is to make your porch a cozy and inviting place. It should match your style and preferences.