It's where you rest your back after a hard day's work, where you sit during the family meal, and where you connect with friends during an online session of Fortnite. Whatever your reason, a chair is more than the sum of its parts.
It's a way of life — a function and a necessity that deserves our attention. But before you hit the store, only to become overwhelmed, read our guide. We'll show you all you need to know about the most common types of chairs.
7 Types of Chairs for Your Living Room
Chairs come in various designs, shapes, and sizes, each serving a unique purpose. To get a thorough understanding of what chairs are all about, look at the list below:
Arm Chair
Recliner
Contemporary Round Chair
Loveseat
Bergère Chair
Wingback Chair
Club Chair
Our Favorite Types of Chairs for a Home
You can't underestimate the role of furniture in our everyday life. A home without chairs is just a house. Let's look at the ten types of chairs for your home.
1. Arm Chair
Arm Chair
There's no other chair worthy enough to kick start this list than the classic and iconic armchair. The armchair is an excellent way to stamp your style in your personal space.
These make fantastic accent chairs, providing the platform to express your creativity while offering comfortable seating. Unlike the couch, armchairs are single-seaters and come in various styles, from modern to classic and traditional.
The Lifestyle Solutions Lexington Armchair is a sturdy chair made from 100% polyester fabric, so comfy sitting on it feels like a warm hug. It features Dream Coil Components that offer top-notch durability and comfort.
The Lexington Chair is easy to set up and features a contemporary design that brings elegance to your living room. Even though the back cushion is slightly stiff, the chair offers lots of space, even for large and tall individuals.
The only drawback is the lack of throw pillows which could have further elevated the comfort. Armchairs are excellent accent chairs, and the Lexington Chair is no exception.
When you're ready to buy an armchair, consider setting aside $200. However, these chairs often cost thousands of dollars depending on the fabric and brand.
2. Recliner
Recliner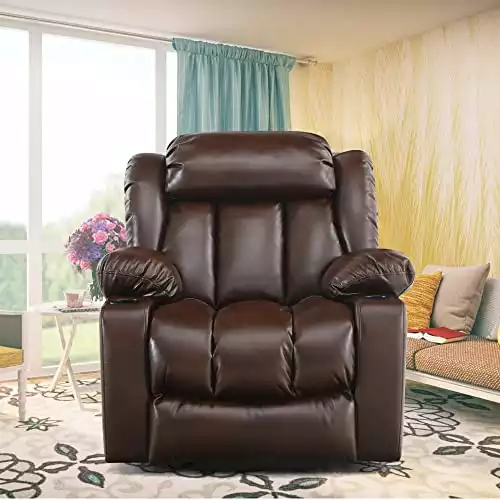 What's not to love about a recliner? These chairs have a modern feel yet have a ton of history — considering Napoleon Bonaparte was the first owner of this chair lounging chair type.
Fortunately, the design of this chair has grown in leaps and bounds since the Napoleonic Era. Recliners symbolize comfort in any home.
It's standard for these chairs to come in cloth or leather upholstery, including manual or electronic features that make you feel comfortable. Recliners come in all shades of the rainbow, including monochrome and camouflage.
Certain recliners like the Harkowon Wide Electric Power Lift offer luxurious and ergonomic facilities to keep you in the chair all day long. The entire chair is leather, with an overstuffed backrest that's incredibly soft, allowing your body to sink into the cushion.
It also has a footrest extension — one of the main features of a recliner that will enable the body to extend and stretch while sleeping, reading, or watching TV.
The standout feature of the Harkowon Recliner is the Power Lift Assistance feature that helps seniors to stand without difficulty. The ergonomic buttons are easy to reach, and the chair reclines up to 160 degrees at the press of a button.
This recliner boasts superior features that include USB charging and cupholders for beverages. Recliner chairs are a favorite for most people because it indicates a time to relax and unwind.
3. Contemporary Round Chair
Round Chair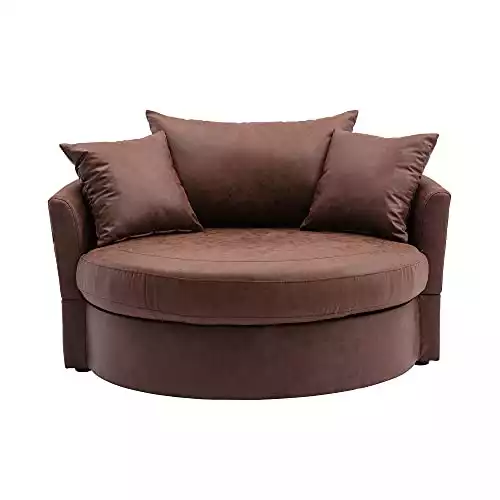 Are you not feeling the look and style of traditional chairs? Look no further than the contemporary round chair. Straightaway, this chair is unlike any other and not easy to find in regular stores.
It often features oversized seats with a 58" width and 30" cushion depth, making it the best chair for snuggling, cuddling, tucking your toes in with a blanket, and reading a book!
The chair's shape and styling make it an exceptional accent piece, and you can find these chairs in faux leather or suede upholstery. The color tone for this chair type is often neutral, although some feature brighter shades that jump out of your living space.
The Godoco Swivel Chair is an excellent example of this chair type and features a curved backrest to help you spread out your frame in relaxing mode.
It's easy to assemble and perfect for small corners in the home. The chair also has a removable pocket for the TV remote or book.
4. Loveseat
The name describes this chair's purpose. The design of most chairs is to seat one person. Still, the loveseat kindles the fires of romance by allowing just enough space for two lovebirds to sit together.
You can find loveseats with plenty of room to sit without touching, but the primary purpose of this seat is love and romance — hence the name. Like most living room chairs, the loveseat has various styles, including classic, retro, and modern.
The chair also uses a wide array of fabrics and is often brightly colored to fan the flames of passion. An excellent example of a loveseat is the ZINUS Lauren.
This chair features durable polyester fabric and special foam cushioning for lumbar support. The weight limit of 500lbs makes it obvious that "two is a company and three is a crowd." Besides, the tool-free assembly ensures one can set it up without breaking a sweat.
The chair is a breeze to clean and maintain using mild detergent and a damp cloth and is versatile enough to suit any living space.
The button tufting and wood accents are a nice touch to elevate your home. The loveseat is a fantastic chair for houses with premium space and an exceptional addition to your living room or bedroom.
5. Bergere Chair
Bergere Chair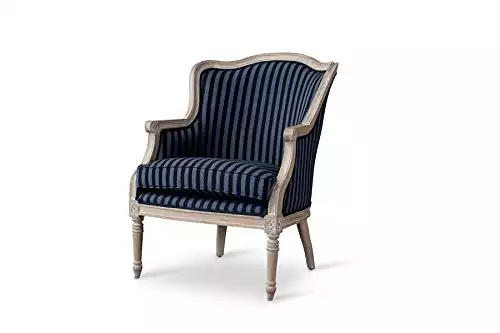 Bergère chairs are suitable for fans of traditional French accent pieces, bringing a touch of royalty to the home. King Louis XIV was a fan of this chair, bringing it into mainstream consciousness.
Bergere chairs often feature an open seat cushion and exposed wooden legs that serve as a platform for the furniture maker's skill. It's an art piece that functions as a seat. Bergère chairs are expensive accent pieces that cost around $500.
However, it isn't uncommon to find such chairs going for thousands of dollars on Etsy and Amazon. The Baxton Studio Charlemagne is a fantastic example of a Bergère chair featuring hand-carved motifs that invite a stately charm.
The wooden components are cedar wood finished in oak with a neutral tone upholstery, making this chair an excellent companion for the fireplace.
Precision craftsmanship is the hallmark of this chair as it invokes the history of its design. Bergère chairs raise the bar of your living room space, complimenting other furniture in the home.
6. Wingback Chair
Wingback Chair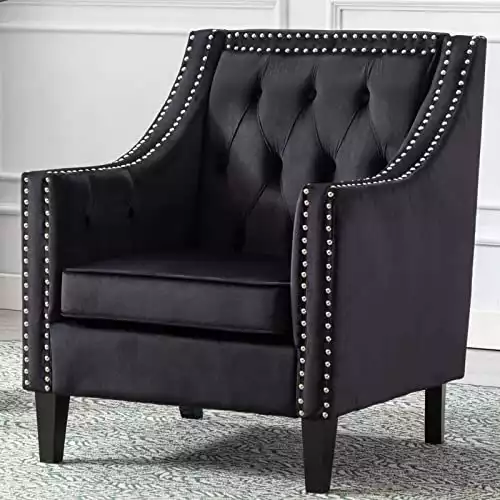 The Wingback Chair is another chair type that provides a hint of luxury and flair to your living space. The chair's main feature is a high back and a set of high sidings at the left and right-hand sides of the sitter.
These sidings look like wings and feel like the chair is about to take flight! Wingback chairs are fantastic furniture for relaxing, reading, and visiting.
Their timeless design ensures they remain a mainstay accent piece no matter the type of home décor. The VESCASA Wingback Chair consists of premium fabric that's easy to clean and comfortable on the skin.
An eye-catching feature is a nail-head trim along the edges that add a sense of style in various home settings. Wingback chairs like the VESCASA are single-seaters that offer great value in the living room or as a side chair in the bedroom.
7. Club Chair
Club Chair
There's so much to a club chair than meets the eye. These chairs feel at home in exclusive gatherings of the rich and powerful for a good reason. It's a chair typically clothed in the most luxurious leather, setting the mood for relaxation and comfort.
When you picture a club chair, an older, rich, powerful gentleman often sits, puffing an expensive cigar or enjoying a rare scotch by the fireside.
The Christopher Knight Malone is the perfect example of a club chair, with carved wooden legs that highlight its elegance. Tufted upholstery and birchwood come together to give this chair a refined, sophisticated appearance.
Things to Consider
Buying a chair for your living room requires choosing pieces that provide comfort and style while staying durable enough to sit with your family and friends for an extended time. Consequently, a few factors are worth considering when finding the best type of chair for your living space.
Frame Material
Solid Wood is often the main material for expensive chairs. However, you can find different materials, including MDF, metal, chipboard, and fiberboard. These materials make the chair more wallet-friendly but can produce toxic substances.
Metal frame chairs are less expensive but make the chair heavier and a challenge when rearranging furniture. Depending on the design, the frame can be completely closed, partially closed, or fully open without upholstery.
Padding
Polyurethane foam is usually the best padding for chairs because it retains shape after extended sitting. This filler is elastic and soft to fill the seat and provide support.
Upholstery
Upholstery is the fabric and face of the chair. It's the first thing that catches the eye when you enter your living space and can feature various textiles and colors.
Velvet upholstery has a silky feel but gets dirty quickly and is hard to maintain. Authentic leather doesn't stain easily, and neither does it retain moisture. It's easy to clean, long-lasting, and expensive.
Frequently Asked Questions
Below are some simple questions about the types of chairs.
What are different chairs called?
The different types of chairs include armchairs, wingback chairs, loveseats, club chairs, recliners, and the Bergère chair.
What is the most common chair type?
The side chair is the most common type due to its versatility in various dining settings and its usefulness as an accent chair.
What type of furniture is a chair?
A chair is a piece of furniture that typically seats a person and comes in various designs and sizes.
What is the best chair for long hours?
A recliner is the most suitable chair for long hours because of its ergonomic features, which include a footrest, USB charging ports, and a massager.
Can a chair be too soft?
A chair can be too soft with excessive padding, which can cause bad posture. The soft chair doesn't have the necessary support for the spine and may restrict blood flow and circulation.
Which Type of Chair Is Right for You?
Chairs provide support and help one to retain proper posture. Sitting places different stresses on the body, and chairs help alleviate pressure, boosting comfort and enhancing productivity.
Moreover, different chair types eliminate back pain and are suitable for seniors. Chairs complete the home and add to the style and personality of the individual.
Buying a chair without planning will cramp your style and overwhelm your living space. Fortunately, the right type of chair will improve the home's overall beauty while helping you relax. Happy decorating!
Resources: