Prepare to turn your living room into a comfortable retreat.
You can achieve exactly that with our collection of 25 contemporary fireplaces.
These fashionable fireplaces do more than simply keep you toasty. They are fashionable statements that set the tone for your home.
25 Modern Fireplace Ideas
We've compiled the greatest ideas to help you express your creativity while adding flair to your house.
From refined and minimalist to rustic and endearing. Learn about the warmth of contemporary fireplace magic!
1. Linear Gas Fireplace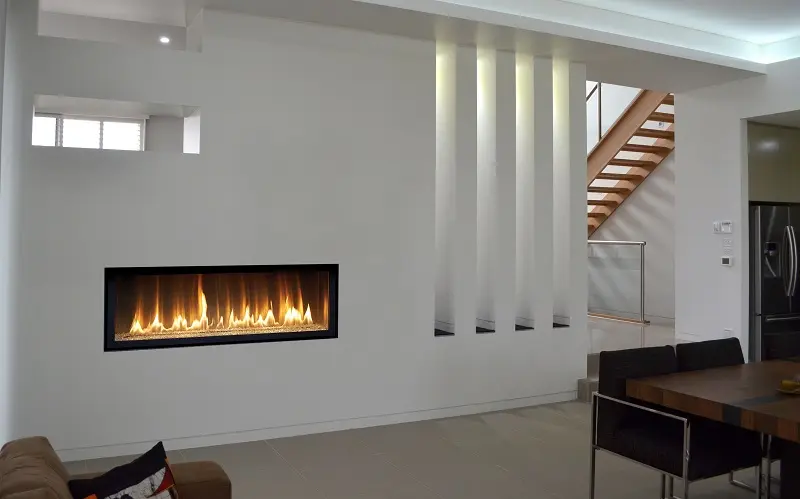 The linear gas fireplace has a chic and elongated fire feature. It brings a sense of simplicity and modernity to any room.
It stretches horizontally, making it a striking focal point for your space. This minimalist fireplace idea is all about clean lines and a sleek appearance.
It makes it perfect for contemporary interiors. With its clean and efficient gas-burning operation, it not only elevates the style, but it also provides warmth and coziness.
The linear gas fireplace is a fusion of form and function. It creates a beautiful ambiance that complements your modern decor.
2. Double-Sided Fireplace
This type is a flexible addition to your home. It serves as both a partition and a source of warmth and beauty.
It is designed to separate two rooms and allows you to admire the mesmerizing flames on both sides.
This unique feature not only enhances the aesthetics of the room, it also creates a sense of openness and connection between the rooms.
Whether in a guest room or a formal one, you can enjoy a welcoming and cozy atmosphere. A dual-sided fireplace is a classy and highly flexible way to add glamor and warmth to your home.
3. Floating Fireplace
A floating fireplace is an exhilarating modern idea. This distinctive structure creates a striking focal point in a room.
It brings an element of weightlessness to the room. It gives the impression that the flames are magically suspended.
This innovative styling not only enhances the aesthetics of the interior, it also creates a homey ambiance.
A suspended fireplace brings an introductory flavor to your place. It gives the impression of a modern art installation. It invites conversation and adds to the charm. Because of this, your lounge with a fireplace becomes exceptional.
4. Wall-Mounted Electric Fireplace
A wall-mounted electric fireplace is like a piece of art. It's slim and clean, perfect for making your space cozy.
You can hang it on the wall, just like a picture. It gives off warmth and looks nice. There is no need for a real fire, which can be messy.
With this, you get the beauty of a fire without the work. It's simple to install, too. Just plug it in and enjoy.
Plus, it's safe for kids and pets since it doesn't have real flames. So, if you want a pretty and easy way to warm up your room, this fireplace is a great choice.
5. Concrete Fireplace
The concrete fireplace is a remarkable combination of industrial and modern architectural elements.
With this interesting fireplace idea, you can add a powerful and contemporary touch. It emanates strength and durability since it is encased in concrete. This one-of-a-kind design also functions as a heating source.
It's also a strong statement item that looks great in modern settings. The rough and textured surface of the concrete offers a compelling visual contrast. However, it creates a welcoming atmosphere.
It combines form and function, displaying a combination of elegance and roughness. For those looking for a stylish, urban design and a pleasant environment, the concrete fireplace is a bold option.
6. Peninsula Fireplace
A peninsula fireplace is a unique and captivating addition to your home. It's a three-sided fireplace, which is not a small idea.
You can enjoy it from different angles in the room. This design not only provides a source of warmth, but it's also a centerpiece that enhances the aesthetics of your space.
You can be in the living room, dining area, or another part of your home. But you can savor the cozy ambiance and enjoy the mesmerizing flames from various perspectives.
The peninsula fireplace creates a sense of openness and connection. You can light the fire and get a touch of modern elegance. It makes it an excellent choice for those looking for both style and functionality.
7. Bioethanol Fireplace
A bioethanol fireplace is an eco-friendly and hassle-free modern fireplace idea. It operates using bioethanol fuel, which is a clean and sustainable option.
What's great is that it doesn't require a chimney. It means you can easily install it in any room without extensive renovations.
The bioethanol fuel burns cleanly, producing real flames. It adds warmth and charm to your space. These fireplaces come in various styles.
From wall-mounted to tabletop, they are versatile and stylish additions to your home. Bioethanol fireplaces offer a guilt-free way to enjoy the cozy atmosphere of a fire.
8. Freestanding Fireplace
A freestanding fireplace is a versatile and eye-catching fireplace idea. Unlike traditional fireplaces, it stands independently and doesn't require a built-in structure.
This flexibility allows you to place it wherever you like. You can make it a contemporary focal point in your space.
With various design options, it complements your interior decor with a cozy atmosphere. It's a stylish way to enjoy the warmth and ambiance of a fire. It gives your room a touch of sophistication and comfort.
9. Double-Height Fireplace
A double-height fireplace is a grand and attention-grabbing feature. It extends from the floor to a soaring, double-height ceiling.
This interesting fireplace idea makes a bold and majestic statement in spacious areas. It adds warmth and serves as a striking centerpiece in your room.
The towering flames and impressive design create a sense of grandeur. It makes your space feel luxurious and inviting.
A double-height fireplace is a remarkable architectural element, blending form and function. You can elevate the aesthetics of your home, ensuring it becomes the focal point and heart of the room.
10. Black Steel Fireplace
A black steel fireplace is a sleek and elegant addition to your living space. Its minimalist fireplace idea adds a touch of sophistication and style to the room.
The deep black finish not only enhances its modern appeal but also creates a striking contrast with its surroundings. This fireplace serves as a functional heat source and a tasteful decor piece.
It makes it perfect for contemporary interiors. The clean lines and bold color exude a sense of understated luxury.
It transforms your space into a cozy haven with modern elegance. A black steel fireplace is a statement of refined design. And it complements your decor effortlessly.
11. Inset Fireplace
A recessed fireplace is a seamless and small fireplace idea. It is meant for building into a wall or closet. This way, you create a harmonious and cohesive look.
This type of fireplace has a clean and discreet look. You can easily blend it into the design of the room. Thanks to its concealed installation, it does not protrude into space.
It saves useful floor space while providing a cozy atmosphere. Recessed fireplaces come in a variety of styles.
It makes it easy to find the right one for your interior. This choice provides both warmth and aesthetics. It gives your home a sophisticated and timeless look.
12. Corner Fireplace
A corner fireplace is a smart way to maximize space efficiency. Instead of placing the fireplace against a flat wall, it fits snugly against a corner.
It saves space and provides visual appeal. This design option not only adds warmth. It turns an often-unused corner into a cozy focal point.
You can choose from a variety of styles of corner fireplaces. It allows you to find the right design option.
With this arrangement, you get the best of both worlds. It is a functional heat source and an attractive element.
13. Glass-Enclosed Fireplace
A fireplace with a glass screen is a modern and interesting fireplace idea. It has safety and the ability to observe the flame.
This modern fireplace design encloses the fire area in glass. You create a protective barrier that allows you to enjoy the dance of the flames. It provides a clean and elegant look by eliminating sparks and embers.
It makes it a safe option for homes with children or pets. The glass enclosure adds elegance to the decor of the room. You provide both warmth and stylish aesthetics at the same time.
It is the perfect choice for those who want to experience the coziness of a fireplace. At the same time, you have added security and a chic, uncluttered look.
14. Recessed Fireplace
A recessed fireplace is a modern fireplace idea. It seamlessly fits into your wall or a specially created niche.
It's all about a streamlined and flush look, which means it doesn't stick out in your living space. It creates a clean, unobtrusive appearance, making it ideal for contemporary interiors.
You build the fireplace into the wall. It saves space and adds a touch of sophistication to the room. Whether in a living room or a bedroom, a recessed fireplace provides warmth and an elegant look.
It gives a neat and stylish ambiance to the home. It makes it a great choice for a minimalistic and clutter-free look.
15. TV Above the Fireplace
A TV above the fireplace is a trendy combo. It merges a sleek, modern fireplace with a wall-mounted TV.
You can create a contemporary media center. This smart arrangement optimizes space and transforms your living room into an entertainment hub.
You can enjoy the warmth and cozy ambiance of the fireplace beneath the TV. And you can watch your favorite shows or movies.
It's an efficient way to declutter your room, keeping your TV and fireplace in one convenient location.
This dual-purpose system not only provides maximum functionality, but it also adds a stylish and sophisticated look to your home. You combine modern design with comfort and entertainment.
16. Stone Fireplace Surround
A stone fireplace surround is a lavish choice for a contemporary look in your home. You can use either natural stone or engineered stone.
Both offer a touch of luxury and elegance. Natural stone gives it a rustic and earthy feel. Engineered provides a clean appearance.
The stone surround adds a timeless and stylish touch to your fireplace. It makes it a beautiful focal point in your living space.
It not only provides an aesthetic upgrade but also radiates warmth and coziness. This fireplace idea is an ideal blend of modern design and classic charm. It offers a rich, textured ambiance for your home.
17. Minimalist Steel Frame Fireplace
The minimalist steel frame symbolizes the simplicity and clean lines of modern design. This fireplace stands out with its sleek steel frame.
It emphasizes this minimalist fireplace idea. The casual design draws attention to the flame. Its simplicity adds elegance to the décor.
You can easily fit it into different interior styles. This fireplace is not only visually appealing. It provides warmth and coziness.
It makes it a great choice for those looking for a harmonious blend of style and functionality. This fireplace exudes modern sophistication and comfort.
18. Geometric Fireplace
A geometric fireplace is about making a bold and artistic statement in your home. It features various shapes and patterns in its design.
It sets it apart from traditional fireplaces. Geometric lines, angles, and forms come together. You can create a unique visual appeal, adding a touch of contemporary artistry to your space.
Be it triangles, hexagons, or other shapes, this small fireplace idea will become an eye-catching focal point. It radiates creativity and modernity.
It's a source of warmth and comfort, and it's a stylish expression of your individuality. A geometric fireplace is an exciting way to showcase your design sensibilities. It makes your home truly exceptional.
19. Hidden TV and Fireplace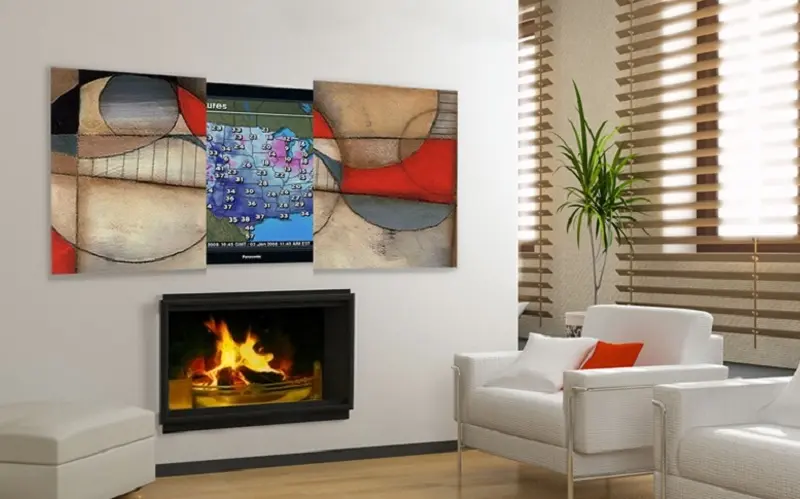 A hidden TV and fireplace combo is a clever space-saving solution. It conceals the TV behind a retractable panel above the fireplace, so you can make it disappear when it's not in use.
This dual-purpose installation maximizes the functionality of the living room. It allows you to enjoy the fireplace's warmth without the TV's distraction.
When it's time to watch your favorite shows or movies, the TV seamlessly appears. It provides entertainment and convenience.
This design choice is practical and adds a sleek and tidy look to your room. It's an elegant way to keep your space uncluttered and create a seamless blend of style and comfort.
20. Vertical Fireplace
A vertical fireplace is a modern fireplace idea that can transform your space. It stands tall, drawing the eye upward and creating a captivating focal point.
This design choice adds a sense of grandeur to your room, making it feel more open and spacious. The vertical lines of the fireplace not only catch attention.
It also emphasizes the height of your space, making it visually engaging. Whether in your living room or bedroom, a vertical fireplace offers warmth and a touch of modern sophistication.
It's a unique way to add style and drama, making your home feel more inviting and impressive.
21. Outdoor Fireplace
Extend your fireplace design outside with an outdoor fireplace for all-year pleasure. This contemporary fireplace isn't only for indoor fireplace ideas.
It's intended to add warmth and flair to your outdoor living space. An outdoor fireplace becomes the core of your outdoor area, providing an inviting mood whether you have a patio, deck, or backyard.
It lets you appreciate the beauty of open flames while keeping warm on frigid evenings. It may be used for family gatherings or a peaceful evening by yourself.
This extension to the outside space provides a comfortable refuge. No matter the time of year, you can unwind and enjoy the outdoors.
22. Glass-Ember Fireplace
A glass-ember fireplace is a captivating and contemporary choice. It goes beyond traditional logs. Instead of wood, it features glass embers or crystals.
It creates a unique and visually appealing effect. The flames dance among the glistening glass, offering a modern twist to the classic fireplace.
This design not only adds an artistic touch to your space, but it also emits a mesmerizing glow that's both relaxing and stylish.
Whether in your living room or bedroom, the glass-ember fireplace provides an extra layer of elegance and charm.
It's a trendy way to enjoy a fire's cozy warmth while appreciating the dancing glass's beauty. It makes your home feel both inviting and sophisticated.
23. Freestanding Suspended Fireplace
A freestanding suspended fireplace is an interesting fireplace idea. It's not bound to a wall or the floor, making it a unique and captivating centerpiece in your space.
This innovative fireplace dangles from above, providing warmth and a sense of intrigue. It's a bold statement piece that defies traditional fireplace conventions.
But it adds a modern touch to your decor. The suspended design allows you to enjoy the cozy ambiance. This freestanding, suspended fireplace becomes a focal point.
It's not just for its warmth but also for its extraordinary and attention-grabbing presence in your home.
24. Linear Fire Table
Enhance your outdoor space with a stylish addition—the linear fire table. It's a contemporary and functional choice that combines modern aesthetics with practicality.
This table features a linear fire pit in the center. It offers warmth and an inviting atmosphere for your outdoor gatherings. It's not just a source of heat.
It also serves as a beautiful centerpiece. The linear design adds a sleek touch to your outdoor decor.
You make it an excellent choice for both style and functionality. You can create a cozy and elegant outdoor retreat with a linear fire table.
25. Custom Fireplace Wall
Elevate your living space with a custom fireplace wall tailored to your preferences. This personalized design combines a modern fireplace with shelves, storage, and integrated lighting.
It's not just about heating; it reflects your unique style and needs. The bespoke shelving provides space for displaying decor.
Storage keeps clutter at bay. Integrated lighting adds ambiance and highlights your wall's beauty.
It's a smart way to maximize space and create a chic and functional focal point in your room. This minimalist fireplace idea allows you to express your individuality.
Conclusion
In conclusion, modern fireplace designs offer a world of possibilities to enhance your living space.
From sleek and minimalist options to bold and unconventional choices, there's a fireplace style to suit every taste.
Embrace the allure of modern fireplace magic and make your living space cozy and stylish.