Do you want to spice up your living room, bedroom, or dining room décor? There are several types of accent chairs that can be an excellent way to brighten up your living space.
Accent chairs not only look great but also serve a practical purpose. These stand-alone pieces can bring out other elements in a room, such as an accent color, and bring the style together.
They come in several styles, including:
Modern
Cottage
Contemporary
Bohemian
Industrial
Mid-Century Modern
Glam
Rustic
The 12 Best Types of Accent Chairs for Your Room
Here are the main types of accent chairs to add to your bedroom, living room, or dining room in 2023.
1. Slipper Chair
Slipper Chair
Despite the name, slipper chairs don't resemble footwear. Slipper chairs are armless upholstered chairs with short legs, causing them to sit closer to the floor.
This type of accent chair emerged in the 18th century when they sat in women's dressing rooms. The slipper chair gets its name from Victorian upper-class women putting on silk slippers while sitting in it.
The best part of a slipper chair is that it doesn't take up much space in a living area while providing a comfortable place to sit. Slipper chairs are usually upholstered and feature a wide rectangle for seating with another rectangular back.
2. Barrel Chair
Barrel chairs are similar to slipper chairs, though the back piece wraps around, creating the two arms. The back may have a curve or be rectangular, though it's always one continuous piece that makes the armrests.
Like slipper chairs, barrel chairs are low-sitting and don't take up too much space in your room. The back and arm combo support make it a comfortable chair to sit in or even curl up to read a book.
3. Balloon Chair
Balloon Chair
Balloon chairs are a unique style of accent furniture that features a rounded back, hence the name. Usually, these chairs have a deep seat. Like barrel chairs, balloon chairs often continue from the back to the arms, though they're typically different sizes.
You can find some balloon chair styles with a footrest to kick back and relax. There are other frameless balloon chairs you can mount from the ceiling. The style, material, and color options for this chair style vary, making it easier to find one that suits your space.
4. Wingback Chair
Wingback Chair
Wingback chairs are stylish furniture that has been in libraries and formal rooms for centuries. Aptly named, wingback chairs feature a tall back with winged sides.
This is a classic chair style, sure to add a dash of elegance to any living area. One important thing to note is that wingback chairs can be pretty bulky, so ensure you have enough space before purchasing one.
Place a wingback chair at a desk, by the fireplace, or even use it for your dining room table. Although this type of chair is known for its use in formal settings, there are modern versions that look nice in a relaxed living room.
5. Oversized Chair
Oversized Chair
Oversized chairs are padded accent chairs larger than a standard chair or recliner. However, they are smaller than a loveseat or couch. These chairs are expansive and cozy, with overstuffed, thick, and plush seating.
However, their large size may make it challenging to fit in some rooms. If you have room for it, an oversized chair can be one of your home's most comfortable pieces of furniture.
These chairs come in various structures and upholstery materials, like cotton, leatherette, synthetic fabrics, etc. Many oversized chairs include a footrest, and some come with matching pillows for added comfort and style.
6. Egg Chair
Egg Chair
Egg chairs are another accent chair with a distinctive curved layout. There are usually two parts to an egg chair; the outside is in an oval, egg-shaped frame, while the inside sometimes has separate cushions that connect to the armrests.
There are even some such chairs that hang from the ceiling. Egg chairs can be extremely cozy, with the egg-shaped outer layer wrapping around to embrace you.
These chairs are common in bohemian and modern rooms. One of the most popular egg chair styles has a rattan outer layer with plush cushions on the inside. This type of chair first emerged in the 1960s and inspired several other styles.
7. Parsons Chair
Parsons Chair
Parsons chairs provide a unique blend of functionality and style. They're armless, feature a tall back, and come in several types of upholstery, colors, and finishes.
Additionally, these chairs are compact and easily fit in almost any space. One key feature of this accent furniture is how easy it is to pair it with nearly every style of décor in your living room, dining room, or bedroom.
This type of chair emerged in the 1930s from students at the Parsons School of Design. Although you can place a parson chair in nearly any room, they look lovely around a dining table.
8. Papasan Chair
Papasan Chair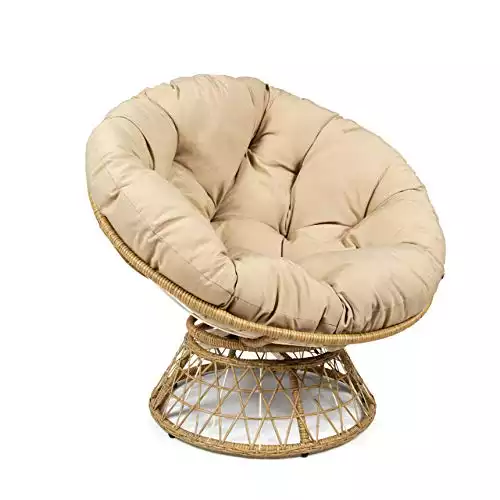 Papasan chairs are similar to egg chairs, though they sit lower in a dish shape. Few accent furniture types are as unique-looking as a papasan chair. These furniture pieces feature a sturdy (typically rattan) frame and a cozy, rounded cushion that fits inside.
Papasan chairs were trendy in the early 1970s, though they're still an excellent choice for adding comfortable seating.
Because they don't take up a lot of space and offer a cozy place to sit, they're still widespread in dorm rooms. However, Papasan chairs look great in living rooms or bedrooms and fit in many styles.
9. Club Chair
Club Chair
Club chairs are comfortable, roomy armchairs with deep seats and a sometimes oversized design. Typically, such chairs have either fabric or leather upholstery to provide maximum comfort.
Traditional club chairs have arms, though you can also find them in armless styles. They look great in a reading nook or accompanying your living room sofa. This elegant accent furniture gets its name because of its original popularity among gentlemen's clubs.
Their deep-set design and plush seating allowed men to sit back and relax with a drink, and soon the term "club chair" took hold. However, club chairs are timeless pieces that never seem to go out of style.
10. Chesterfield Chair
Chesterfield Chair
Chesterfield chairs offer elegance in any room you place them in. They have a classical style, though they complement less formal furnishings. This chair style features a wide outer frame with arms that curve in a downward, tucked-under design.
Typically, the inner back part of the chair is tufted, though other areas may have tufting as well. Chesterfield chairs go back nearly 200 years, first emerging in England and crafted with handmade leather.
These are the ideal furniture pieces to add a hint of coziness, elegance, and glam to your décor. Now, you can find this style in several styles, upholsterings, and colors to suit your style.
11. Convertible Chair
Convertible Chair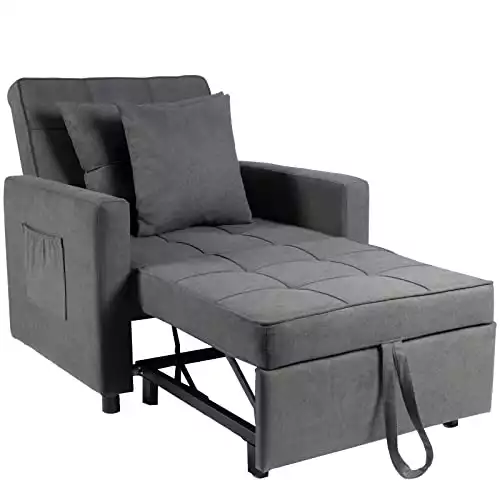 You may have heard of convertible couches, but did you know you can find convertible chairs? Like other similar types of furniture, convertible chairs, also known as sleeper chairs, are a type of chair that you can convert into a bed.
Typically, this chair is made of wood with four legs. Usually, the backrest and cushions are removable. Convertible chairs offer extra functionality that most accent chairs don't.
This type of furniture is ideal for small spaces because you can use it as additional seating for get-togethers and turn it into a bed for guests who spend the night. Convertible chairs come in various styles, including traditional, contemporary, and bohemian.
12. Armchair
Arm Chair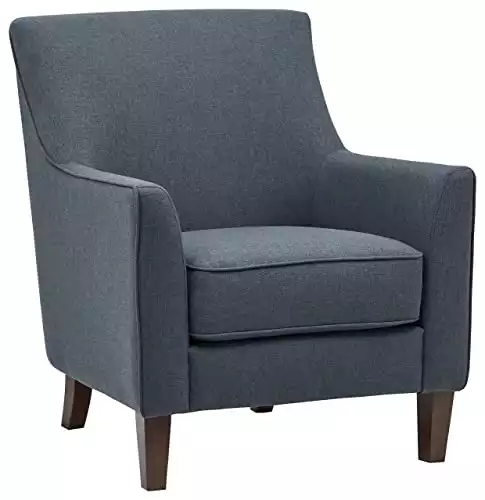 Lastly, we have the armchair, arguably one of the most popular accent chairs on the market now, though it emerged in the 1830s. Not only do they look stylish in nearly every room, but they are built with upholstered material and with comfort in mind.
Additionally, you can find armchairs in several different shapes, sizes, colors, materials, and upholstery. This chair style gets its name from the armrests built to support your arms while you sit comfortably.
Traditionally, armchairs come with a sofa and have the same style, color, and fabric as the couch. However, you can purchase armchairs as accent chairs that aren't necessarily an exact match to your other furniture.
Things to Consider
Choosing the right accent chair for your living space can be challenging. With so many shapes, styles, and colors, you may struggle to match your accent chairs with new furniture.
Here are some things to keep in mind:
Choose an accent chair that matches the style of the room. For example, an egg chair looks great in a bohemian-style room but may not fit others.
Aim to find a chair that is comparable in height to your couch. It doesn't need to be perfect, but similar proportions help keep it from clashing.
Identify the purpose of the chair. For example, will you read in this chair or want it for décor?
Keep in mind the overall size to ensure it fits in your room without crowding it.
When picking a color, you can try to match the color of your couch or accent colors in the room.
Just because you want an accent chair to spice up your décor doesn't mean it can't also be comfortable.
Frequently Asked Questions
Here are the most frequently asked questions regarding types of accent chairs.
How do you choose an accent chair for a living room?
Before you decide on the accent chair you want for a living room, identify the chair's purpose, style, color, and materials. Also, take note of the size of the space where you'll place the chair.
Do two accent chairs have to match?
There are no rules for pairing accent chairs, so you can choose what you like. You may select a similar style, color, or material to keep your room more uniform, but this isn't a requirement.
How do you pair couches and accent chairs?
The best way to make couches and accent chairs fit seamlessly together, choose chairs that are proportionately similar to give a balanced look. Measure the height of the two pieces, how wide and deep they are, and the size of the arms.
Is an accent chair necessary?
Accent chairs aren't necessary, though they're a phenomenal way to give your room more character. If you feel something is missing in a room, an accent chair may be the finishing touch to bring it together.
Are accent chairs comfortable?
There is a misconception that accent chairs are more for look than comfort. Although this may be true for some, several accent chairs look beautiful while providing extra comfortable seating.
Which Type of Accent Chair Will You Pick?
Accent chairs can be a great piece of furniture to tie a room together and provide extra seating for guests.
Choose 1-2 accent chairs in similar proportions to your couch or other furniture that fit the style of the room and are comfortable to sit in. They come in several styles, shapes, colors, and patterns.
Resources: