Whether you are building or renovating a home, knowing the different baseboard styles available helps you better design your rooms.
Read on to learn the various types of baseboards, their features, and when to use them.
What Are Baseboards?
Whether you've heard it called floor trim, baseboard trim, base molding, or baseboard molding, you're familiar with these floor-hugging bits of trim.
Baseboards are small lengths of material that are installed horizontally at the points where a building's floor meets the wall.
With the right style of baseboard in a home, you probably won't notice it much because it will seem to "blend" with the rooms.
But if a style that is incompatible with the home is used (or if there are no baseboards at all), you'll quickly detect that something is off.
Baseboards are a small detail that packs a big punch in terms of design and function. That makes choosing a new baseboard style a decision worth paying attention to.
Why They Are Used
Baseboard molding styles may not seem like a big part of a home's aesthetic appeal and design, but they indeed are.
Along with other interior details like crown molding and hardware, the right baseboards styles give a home a finished, unified look.
But looks aren't everything. They also serve an essential purpose. Baseboards cover and "seal" the gap where the flooring meets the bottom of the wall.
These gaps are necessary because they allow for normal movement (expansion and constriction) of the floor and wall without causing damage.
If you're looking to update or DIY install new baseboards, you've come to the right place.
We'll show you the different baseboard styles and materials available, share some modern baseboard ideas, and give a few pointers to help you choose the right kind for your home's interior design and budget.
4 Popular Baseboard Styles
Baseboard styles should mimic or compliment a home's architecture and interior decor style. There are 4 different baseboard profiles (general shape and cuts) to choose from.
Different types are suited for various architectural and interior design styles: An old farmhouse, Victorian home, modern home with high ceilings, small apartment, and even new construction houses.
Let's look at the different baseboard styles, trim profiles, and everyday materials. We'll also cover the type of home each style is intended for.
Three-Inch Stepped Baseboard Molding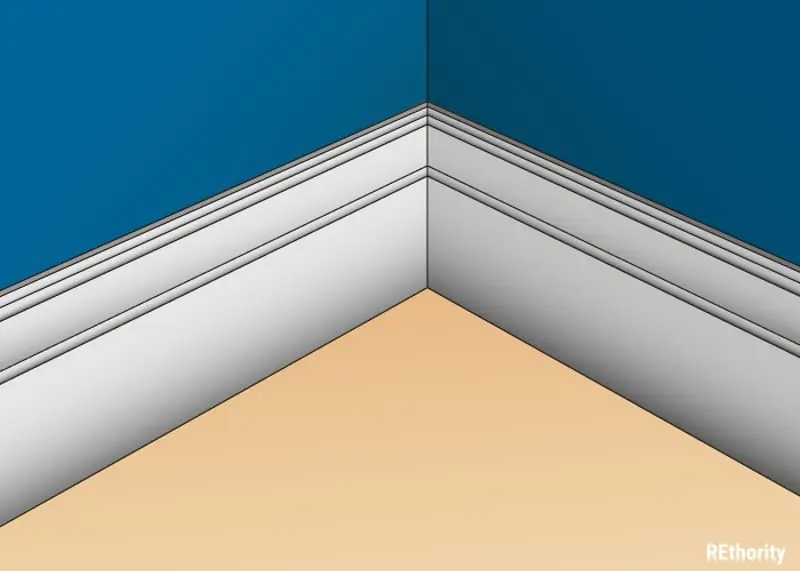 Features
Three-inch rounded baseboards look best in newer or modern homes because they're on the shorter side (about 3″ tall). They don't add enough detail or interest to large, older, or traditionally decorated homes.
For the most cohesive look, install them along with "matching" rounded or stepped crown molding of a similar height and depth.
Use quarter round or shoe moldings to cover any gaps where the baseboard meets the floor, or just to add visual interest to the bottom area.
Also called three-inch molding, stepped molding, or rounded baseboards, this is the style used in modern construction most of the time. Each piece of the trim is around 3″-3 1/2″ tall and 5/8″-7/8″ thick.
The top of the trim has a gently sloped or stepped shape to help it cleanly meet up with the wall. This baseboard style is meant to fade into the background of a home's interior, which explains its enduring popularity.
It is not a statement piece and won't fit well in an older house, one without crown molding, or a home with intricate, ornate architectural details.
Flat Baseboard Molding (Apartment Wall Molding)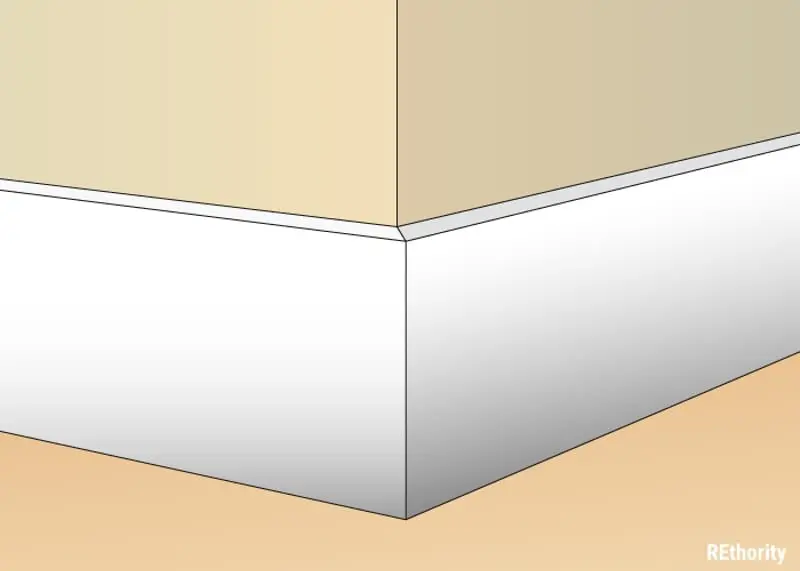 Flat baseboards are precisely what they sound like: Flat pieces of trim with no curvature or rounded edges. Their height can be around 3 1/2″ (mid-height) to 6″ (tall).
Features
Flat baseboards look best in homes with a modern, minimalist, or luxury style
Don't use in homes with ornate crown molding or lots of architectural details
Consider taller styles of flat baseboards in either a contrasting color to add interest to bare areas, or in the same color as the walls to make the walls seem taller
Taller styles are available but used much less often. The back of each flat trim piece contains deep grooves that enable it to flex and fit flush against the wall.
"Removing crown moldings and raising baseboards offers a more custom look. Installing a minimum six-inch-tall baseboard using a flat edge, instead of the standard four-inch, gives a higher-end, finished quality to any residence." – Interior designer Lucinda Loya
You'll see flat baseboards in many types of modern houses and buildings, sometimes with crown molding and sometimes without it. Because it has such a simple, understated look, it's hard to go wrong with flat baseboards.
However, it can look under-done or out of place in homes with ornate trim in other areas or detailed architecture. If you're installing flat baseboards, you don't necessarily need crown molding to provide balance.
Flat trim can give a home or room an ultra-modern, minimalist look, especially if the walls and boards are painted white, and you select a very tall trim (around 6″ and up).
Mid-Sculpted Baseboard Molding
Mid-height sculpted molding, or baseboards, strike a balance between two other types: Stepped baseboards and tall sculpted baseboards. They're a little more detailed without being ornate.
Features
Mid-height sculpted baseboards look best in homes with high ceilings or semi-formal design
Try staining or painting this type of trim a lighter color than the walls or floor to put the spotlight on the curves and profile of these baseboards
Always use in conjunction with crown molding – matching or similar
You'll see curved, cut, scalloped, or stepped edges at the top of this trim that recede back to meet with the wall. This style of baseboard needs to be installed along with crown molding to make sure the room has a balanced look.
Because it's a little more formal than the other styles we've looked at so far, skipping crown molding can make those higher areas look bare in comparison.
Sculpted mid-height baseboard trim pieces are usually 4″- 5 1/2″ tall and 5/8″ thick. That's quite a bit taller than standard rounded or stepped trim.
So it's an excellent option for homes with higher-than-average ceilings (to ensure they're not too "crowded" with the crown molding) or interiors with a semi-formal design.
Tall Sculpted Baseboard Molding
Tall sculpted molding is the same thing as mid-height sculpted molding. It's just taller.
This kind of baseboard trim is most often used by adventurous types who want to create an exciting, unexpected focal point in a room or home.
Features
Taller baseboard molding is perfect for large, expansive homes with high ceilings and lots of wall space
It's a great fit for formal homes or those with ornate, detailed architectural styles
Skip the crown molding if you don't have high ceilings or your home is decorated simply
Tall baseboards are the most expensive style, primarily if hardwood materials are used
It's also commonly used in luxurious homes decorated in a traditional style. It's more noticeable than other trim types because it's just so out of the ordinary. This style stands out!
We're used to seeing baseboards that are anywhere from three to five and one-half inches or so. Taller baseboard molding measures from 5 1/2″ to about 8″ tall, and from 5/8″ all the way up to 1″ thick.
On top of the size, this style features the same kind of sculpting and tapered detail as mid-height baseboard molding. This makes it even more visually appealing.
4 Common Baseboard Materials
When you settle on baseboard styles, you'll need to determine what kind of material you'd like your trim to be.
Things to consider:
Color. Is it able to be painted? Is it pre-painted, or will you have to prime and paint yourself?
Stain. If you'd like it to match hardwood flooring, can you stain the material?
Durability. Will it need to be replaced again soon? Is the material sturdy?
Price. How much can you afford to spend on trim for each room in your house?
Preference. Are you open to other materials, or focused on wood baseboards only?
MDF (Medium Density Fiberboard)
Features
Least expensive material – expect to pay around $0.65-$0.90 per foot
You can paint, but can't stain this kind of material to match your flooring
Somewhat durable, but not as durable as wood or plastic
The least expensive option, Medium Density Fiberboard (MDF) is commonly used for baseboard trim. MDF baseboards are made of hardened mixture wood fibers and resin.
It's molded or sculpted by the manufacturer into the shape needed for trim. The material cuts with ease because of its uniformity and makes edges sharper and more precise. You might also hear this material referred to as composite.
Plastic (Vinyl, Polyurethane, etc.)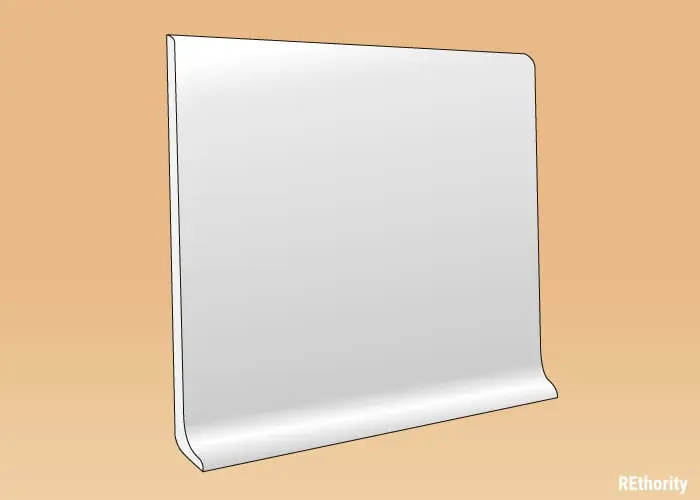 Features
Medium-high cost material – expect to pay around $1.80-$8.00 per foot, depending on trim height
You can buy pre-painted or paint yourself
Won't need to be replaced, won't rot, crack, or swell – extremely durable and tough
While it doesn't sound as appealing or natural as hardwood or softwood, plastic (usually vinyl or polyurethane) baseboard trim is a cost-effective material that lasts forever and can be painted just like wood.
Inexpensive Softwoods (Pine, Poplar, etc.)
Features
Medium cost material – expect to pay around $0.85-$2.25 per foot, depending on trim height
Paint or stain this trim to match your flooring, or choose pre-primed and painted moldings
Quite durable, though not as sturdy as hardwood
If you'd like to see real wood grain pattern but don't have room in your budget for hardwood baseboards, softwood is likely your best option.
It's less expensive than hardwood, durable, and often comes pre-primed and painted.
If you've ever shopped for "real wood" trim at places like Lowe's and Home Depot, you've likely seen pine baseboards.
Hardwood (Cherry, Mahogany, etc.)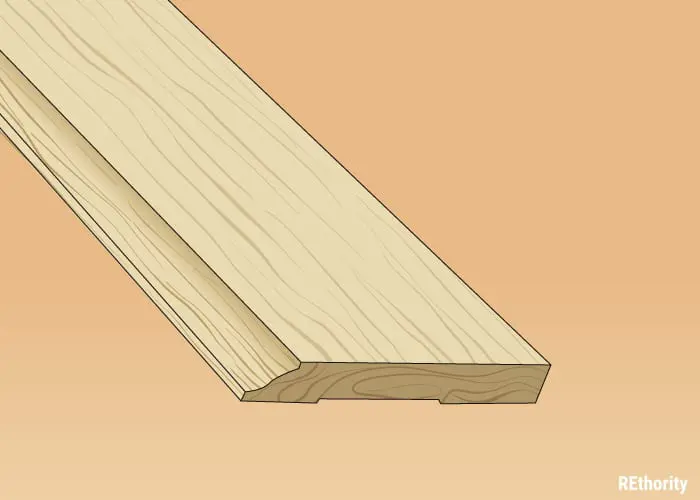 Features
Most expensive material – expect to pay around $2.80-$7.00 per foot
You can stain this trim to match your hardwood flooring
Extremely durable and sturdy, though susceptible to moisture and cracks
The most expensive option, hardwood baseboard molding, is used less often.
This material is unique and attractive, especially if the trim has been specially cut to showcase the grain pattern of the wood used.
Solid cherry, mahogany, and walnut are popular hardwoods used for baseboard molding.
What is the best type of baseboard?
The best type of baseboard is hardwood, like maple or oak. You can stain these surfaces to match your home's other wood design elements and furniture. Hardwood is more expensive than other options, but they're durable, look great, and stains well to suit your style.
To save money, consider choosing jointed pine or MDF. You can stain jointed pine but must paint MDF to complement or contrast your wall colors.
What is a modern baseboard?
While stylish baseboards have rounded tops that taper into the wall, modern baseboards stand out more. They have flat surfaces that blend in with the wall and make each room seem larger than it is. You can paint your baseboards the same color as the wall to give the illusion of more space.
However, the shadow of the flat top gives dimension to your walls.
To highlight the modern aspect of your room, install taller flat baseboards at least six inches high. The flatness of the baseboard makes the space seem more significant, and the height makes the walls seem taller.
What size baseboards are popular now?
Many sizes of baseboards are popular now. The option you choose depends on your room size and design style.
The most common sizes are 3.25 inches and 5.25 inches. If you have taller ceilings, you can find 7.25-inch baseboards to maintain an aesthetically-pleasing proportion for the room.
Baseboards up to five inches tall typically come in one piece, while taller options have a base and separate top taper.
Baseboard is usually 5/8-inch thick, so it doesn't stick into the room too much. It comes in 16-foot strips you can cut down for your walls, angled to meet perfectly in the corner.
What type of baseboards is in style?
The most popular baseboards are round or stepped. The top edge of the baseboard rounds back to taper into the wall. It has a short profile and doesn't take attention from the rest of the room's aesthetic while adding simplicity to tie the design together.
An eight-foot wall will have baseboards ranging from three to five inches tall, maintaining the overall proportions of the wall. If you have ten-foot ceilings, you'll want taller baseboards that range from five to seven inches tall.
Which Baseboard Style Will You Pick?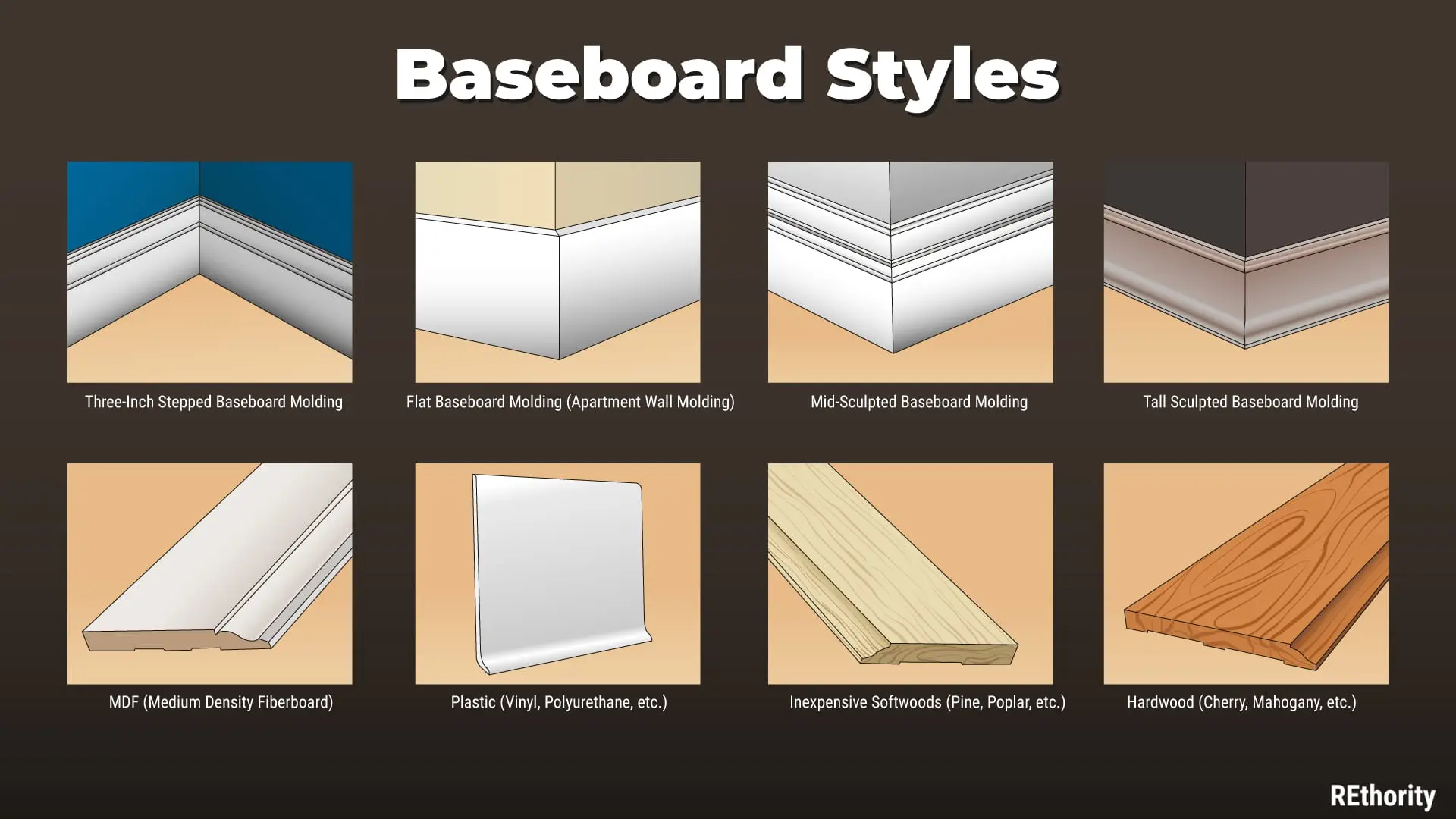 The baseboards and trim in a home don't always command attention or appreciation. Still, they're an essential part of creating a cohesive, united feel in any interior space.
Settle on the baseboard style you like best (rounded, sculpted, short, or tall?), work out your budget and color preferences, and use your answers to figure out the best material to use for your project.
The right baseboard trim will update your home and add visual interest in unexpected places. Even better?
Appealing baseboard styles may even add value to your home!
Resources: