Maybe you've heard of Divvy Homes. If so, you've heard about fractional homeownership.
But what benefits does it offer, and why would you want to consider this investment?
Read on to learn more.
What Is Divvy Homes?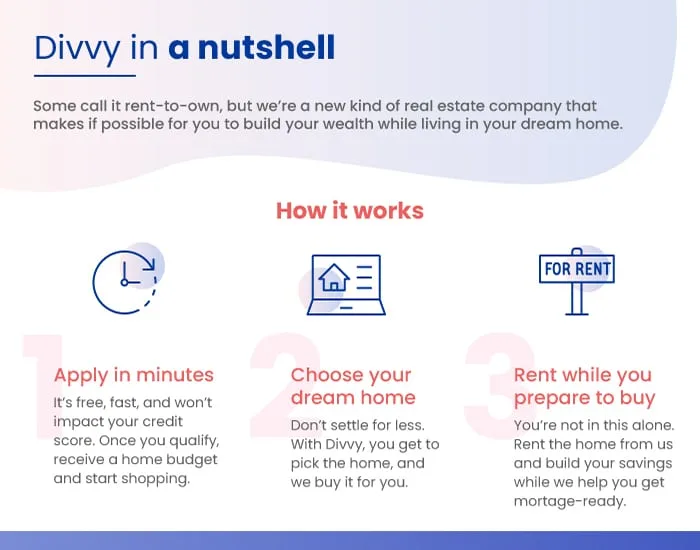 The opportunity to own a home is financially out of reach for millions of Americans.
Experian, one of the three consumer credit bureaus, found that 16% of Americans (that's nearly 53 million) have credit scores below 580.
That would prevent them from getting approved for a mortgage. Instead, they become long-term renters, which currently account for more than 36% of all households.
Divvy Homes is on a mission to change the way this works through fractional ownership. In a nutshell, they act as a non-traditional lender, financing an otherwise unqualified buyer.
Their vision: "Instead of paying rent every month, getting no closer to homeownership, we'll offer tenants the opportunity to build their credit scores, earn equity, and eventually get approved for a mortgage by using a modified rent-to-own arrangement."
Divvy Homes partners with people who want to become homeowners but are unable to get financing.
They allow renters to choose a home they'd like to one day own, make a small down payment, move in, and make monthly payments.
All of this is done so that the buyer can earn equity in the home over a few years. Within about three years, the renters ideally will have bolstered their credit scores, earned equity in the home, and become eligible for financing.
This enables them to get a mortgage and own the home they've been "renting." There's a little more to it, so let's take a look at how the process works, its pros and cons, and whether it's right for you.
How It Works
First, a renter applies to Divvy supplying financial and personal information. Once they're accepted, they start looking for a home they're interested in buying in one of the cities Divvy Homes operates in.
Right now, Divvy covers Atlanta, Cleveland, Dallas, Memphis, Phoenix, San Antonio, St. Louis, and Tampa. The renter is free to choose the home they want within their area.
Divvy real estate agents and customer support staff guide the renter through this process, helping with everything from the home search to final negotiations with sellers.
Once the renter has found a home they want to buy, Divvy asks them to pay at least a 2% down payment. Everything else is covered by Divvy Homes. This includes the:
Remaining purchase price
Closing costs
Taxes
And insurance
The renter can then move into the home and begin making two monthly payments: Rent and an equity, or "savings" payment. Divvy holds onto the savings payments they receive from the renter.
At the end of the process, they give it back to the renter to serve as their down payment.
As long as all other requirements are met, the renter can now qualify for a mortgage and can take over ownership of the home.
Divvy Homes Applicant Requirements
What kinds of applicants does Divvy work with?
Divvy is careful to work with reliable applicants who are likely to make payments on time and eventually qualify for a mortgage.
Their screening process is not as strict as a traditional lender, but they do ensure that applicants meet the following requirements to be considered.
Credit check
Income verification
Background check
Proof of down payment
Two months' rent
Photo ID
Credit Check. When you apply with Divvy Homes, the first thing they'll do is run a "soft" credit check that doesn't hurt your credit score.
If you're applying with someone else (a co-applicant), they'll also be subjected to a soft credit check.
When the Divvy team looks at your credit report, they're looking for your debt-to-income ratio, how responsible you are with using credit, any missed payments or loan delinquency, past foreclosures, evictions, or bankruptcies, and your overall FICO score.
If your credit report doesn't contain all the information Divvy needs to proceed, they'll let you know and may need to run a "hard" credit check (which can impact your credit score) to uncover the information they need.
Income Verification. Divvy looks at your income to determine your eligibility. They want to see that you and any co-applicants are receiving enough income to cover the monthly payments on the home.
They're also screening you to ensure that you're likely to be ready to qualify for a mortgage within a few years. You'll prove your income by showing any documents you have.
These are W2s from employers, bank and direct deposit information, pay stubs that extend back a few months, and your most recent tax returns.
One of the reasons some people have difficulty getting approved for a mortgage is that their income is hard to prove. Many times, this income is from a small business, self-employment income, or contractor income.
Divvy says they may ask for additional financial information and documentation if this is the case for you, but you won't be automatically disqualified.
Background Check. You will be subject to a background check, which Divvy will run to take a look at your history as a renter. Part of the background check is a criminal history check.
Past convictions don't automatically disqualify you. The team individually examines every case to determine if you'd be a good fit.
Proof of Down Payment. Divvy wants you to be able to show that you can cover the down payment of at least 2% of the home's overall value.
If you're looking at buying a $200,000 home, the down payment amount you'd need to have in cash at your disposal would be $4,000.
This is significantly lower than the typical required down payment (on average, it's now about 7%) when you get a mortgage from a lender.
Two Months' Rent. This is a new requirement that Divvy put in place. You'll need not just the 2% down payment, but also the first two months' rent amount.
While this may hamper your ability to move forward in the Divvy process, the team says, "we anticipate this additional requirement to be temporary."
Photo ID. To prove that you are who you say you are, they'll ask you for a government-issued, valid photo ID. That includes a driver's license, military ID, or passport.
How Is This Different From a Mortgage?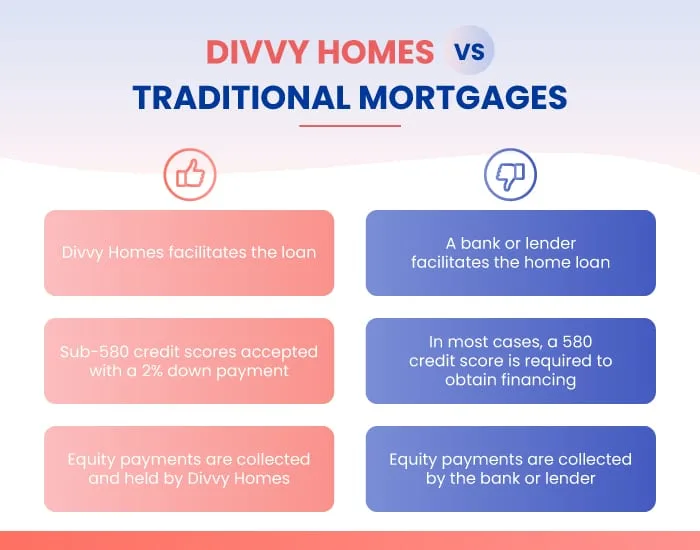 While the renter will make monthly payments and earn equity in the home while they live there, the Divvy process is much different from getting a mortgage from a lender.
Once a renter is approved and finds the home they want to buy, Divvy acts as the lender. So the renter doesn't have to meet the stringent requirements of mortgage lenders to get into the house.
Divvy actually pays for and initially owns the home, accepting a 2% down payment and monthly rent plus equity payments from the renter.
Those equity payments are held by Divvy so they can be used as an official down payment at the end of the process when the renter can qualify for a mortgage on their own.
With a mortgage, you immediately own the home. With Divvy, you're a renter until you've saved enough cash for a down payment (through the monthly equity payments) and raised your credit score enough to get a mortgage.
What's the Catch?
Divvy Homes helps renters become homeowners and only asks them for a 2% down payment and on-time payments in return. So, what's the catch? There doesn't seem to be one.
Divvy Homes is clear and upfront about what they do, and there are tons of reviews and comments from former renters they've helped become homeowners online.
There is an important point to take into consideration: the double monthly payment required of renters. If your credit score is already low, you don't have any room for error.
Your score can really be tanked by missing even one of the monthly payments. Keeping up with market-rate rent can be challenging, especially with an additional monthly equity payment to make each month.
Divvy is out to help renters become homeowners, but they're not a charity. They have the right to evict tenants who are late making payments three or more times in a year.
From the Divvy Homes FAQ page: "If you have more than three late payments over 12 months, Divvy has the right to evict you from the property even if you are current."
The Outlook for Fractional Ownership
As home prices continue to rise and more Americans struggle to qualify for a mortgage through traditional lenders, many experts think we'll continue to see companies like Divvy Homes popping up to provide a hand-up for renters who want to become homeowners.
Connie Loizos at TechCrunch interviewed Divvy's founders. They spoke about the future of fractional ownership, noting that the business model makes sense.
And in our current housing market with rising home prices, there will be plenty of Americans who are glad to accept the help and get one step closer to ownership.
But some aren't as optimistic about the growing shift toward rent-to-own arrangements that rely on the renter being able to raise their credit score, manage existing debt, and keep up with "steep" monthly payments in the process.
Sarah Mancini, a lawyer with the National Consumer Law Center, isn't convinced fractional ownership is a good idea and says alternative home buying arrangements like Divvy offers will never be able to "fix" someone's inability to qualify for a mortgage within three years.
Is It Hard To Get Approved for Divvy Homes?
Divvy specifically works with those who have low credit scores and are not currently eligible for a mortgage.
While there are stipulations to the program, which include debt to income ratio, proof of down payment, and income verification, approval is much easier to get than what you will find at a traditional bank or lending company.
It is vital to note that you must pass a background check for acceptance into the program in addition to credit checks. If there are extenuating circumstances, it's best to disclose those ahead of time for the best chances of approval.
How Long Does Divvy Take To Approve?
The length of time that it takes for a person to receive approval through Divvy will depend on the individual's circumstances.
Initially, Divvy will pull your credit report and look for specific items. At the same time, they will review all of your application materials, including W-2s, proof of income, verification of down payment, and other vital items.
If Divvy doesn't see what they need on the initial credit report, they will pull a more comprehensive one to locate the additional information. Depending on the situation and materials needed, the process can take as little as one week or a month.
Will Divvy Affect My Credit Score?
The level at which Divvy will affect your credit score will depend on whether the company can uncover the necessary information through a soft credit check.
Divvy will first try to locate everything they need by using a soft check to decrease the chances of your credit score taking a hit.
Unfortunately, there are situations in which the company can't locate the necessary information via a soft check. In this instance, the company will have to conduct a hard check to uncover the data they require for approval. A hard check will significantly impact your credit score compared to a soft check.
However, it's essential to remember that the overall goal of the Divvy program is to help you elevate your credit score and obtain a mortgage independently. Therefore, even if your score goes down, it will begin to make its way back up rather quickly with the program's setup.
Is Divvy Worth It?
For those who dream of home ownership but feel that it's too far away, Divvy is absolutely worth it. The number of people that are unable to acquire a mortgage due to a low credit rating is astronomically high.
Divvy works directly with the customer to create a rent-to-own plan that allows them to pay a monthly rent payment and a specific amount to a savings account.
Over time the customer will be ready to take on a mortgage on their own and will be able to reside in the house of their choosing while they get to that point.
Once the mortgage is in place, they will become the sole owners of their own piece of real estate and be able to continue putting down their roots.
Final Thoughts
Whether you like the idea or think it's best to stick with a traditional lender, the fact remains that the home buying and mortgage industry have been ripe for disruption for a while.
A shifting housing market may be pushing those changes along at a faster pace, motivating companies like Divvy to stop waiting for change and to instead, create it.
While this model increases costs for the buyer, it also opens a door that was previously closed. We don't think this should be your first stop when buying a house, but it's an interesting offer to consider.
Resources: