Contrasting colors can add a little style to your living spaces, but the wrong combination can have the opposite effect.
You may find yourself wondering, "what color pillows are for a brown couch?" If so, read on to learn more.
Huge Selection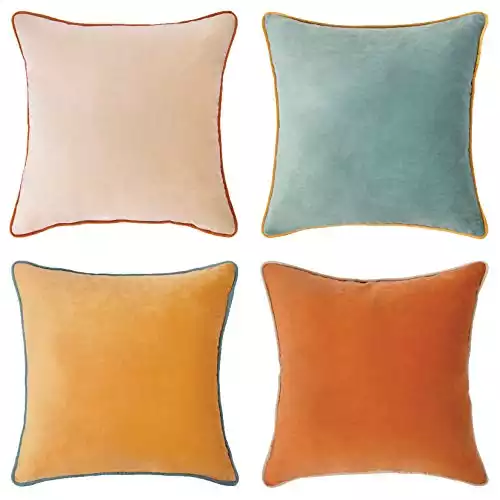 What Color Pillows for Brown Couch?
To find the right color pillows to pair with a brown couch, you'll need to use a trusty color wheel.
This tool displays every color in a natural wheel of hues, helping you locate complementary and secondary colors.
Of course, if you're unfamiliar with color wheels and how to use them, this tool may not offer much help. Fortunately, we've got the lowdown on which colors pair best with brown!
What Colors Go Well With Brown Upholstery?
There are quite a few colors that go well with brown upholstery.
Let's explore them now to discover which options might suit your preferences and style!
Orange
Brown is essentially a darker shade of orange. Consequently, bright orange pillows tend to complement brown couches. But, of course, the precise shade of orange that suits your brown couch best depends on the shade of your couch!
For example, light brown upholstery tends to pair well with dark orange pillows. Alternatively, dark brown couches look stunning when outfitted with bright orange pillows.
You can also choose mixed-color pillows for brown couches, so long as those mixed colors complement the primary color (brown) and the accent color (orange).
An excellent example of creating a blended and complementary color scheme for a brown couch would be adding red and orange pillows.
These two vibrant colors are both warm colors, and they can enrich the welcoming and relaxing aesthetic of a brown couch.
Red
Mahogany brown is a shade of brown that's notable for its red undertones. If your living area features many pieces of wooden furniture, you might want to pair that brown couch with red pillows and throws.
Overall, warm tones like red, orange, and yellow-gold can help bring out the natural splendor of wooden accents and furniture.
If you're looking to make your living area an engaging area that's perfect for conversation, you may want to choose warmer colors for your accents, including your throw pillows.
Be sure to experiment with various shades of red if choosing it as your primary complementary color for a brown couch.
Pinks, oranges, and golds pair well with bright reds and crimson hues, so don't hesitate to find a warm and welcoming style that fits your preferences!
Blue
Though it may not seem like an obvious choice, blue pillows can pair quite naturally with brown couches. The key is to ensure your chosen shade of blue complements the brown of your upholstery.
For example, a dark brown couch might look a little childish or cartoonish if paired with bright blue throw pillows. However, it can look welcoming and stylish if it's outfitted with muted blue cushions or pillows with hints of pastel turquoise.
Light brown couches also tend to work well with light blue or muted blue pillows. However, wandering into grey territory is tricky. Grey throw pillows are an excellent neutral addition to brown couches, but too many of them can result in a drab aesthetic.
Purple
Darker shades of violet and purple also tend to complement brown couches. If your living area naturally has darker shades of color (such as purple, black, or brown walls and accents), purple throw pillows could be the ideal choice for your couch.
Of course, purple on its own can be somewhat dull. However, adding gold, green, yellow, or red touches can add intrigue and interest to otherwise plain throw pillows.
Besides, purple has long been associated with royalty. If you choose purple pillows, don't be afraid to embrace a luxurious ambiance.
These pillows could make great matches for gold-colored floor lamps or candle holders, and they're bound to add a little mystery and romance to your living room setup.
Teal
Teal and blue-green shades tend to pair well with brown hues. It's also worth noting that blue and green colors are associated with productivity, intelligence, and growth. As such, they make fantastic accents for rooms that double as studies or offices.
Like other colors that complement brown, it's crucial to consider shade when choosing the right accent pillow. Dark brown couches can pair well with dark teal pillows, but they may clash with bright teal throws and cushions.
However, light brown couches can also benefit from darker teal and seafoam green throw pillows. In this instance, it's almost always better to go with a slightly more subdued, darker hue than a brighter one.
Similar colors, such as turquoise, can also pair well with brown couches. However, if working with blue cushions, you may want to pair them with yellow-green ones instead of red or orange. Blue is a cool color that can easily clash with warmer colors.
Yellow-Green
The final complementary color along the color wheel is yellow-green. However, this shade may be unappealing for some, which can make it challenging to choose attractive pillows and cushions.
Fortunately, brassy shades of gold and brighter yellows (without a greenish tint) tend to work well with brown upholstery. As such, you can choose metallic gold throw pillows or brass-colored yellow pillows to complement your brown couch.
Of course, if your living space already contains quite a few green accent pieces, you may want to draw attention to them by using a green-yellow throw pillow. Chartreuse accent pillows work best for this color scheme.
Notably, a satin chartreuse pillow can add a little light and interest to an otherwise simple brown couch.
It's a complementary color, and choosing a metallic material (such as satin) could bring a stylish pop of color to an otherwise neutral room.
Frequently Asked Questions
Below you'll find answers to some of the most frequently asked questions about pairing colored pillows with brown couches.
What Pillows Look Good on a Brown Couch?
Almost any pillow can look good on a brown couch. However, some of the most complementary colors to pair with brown include orange, red, yellow-green, purple, and teal.
How Do You Decorate a Couch With Brown Pillows?
Decorating a couch with brown pillows means ensuring that the hue of those pillows pairs well with the upholstery color of the sofa. Brown pillows tend to work best with orange and red fabrics.
What Color Carpet Goes Best With a Brown Sofa?
Neutral-colored carpets tend to go best with brown furniture. Light grey or cream-colored rugs help brown sofas stand out. However, darker carpeting, such as chocolate or mocha-brown, can also pair well with brown furniture, including sofas.
Does Grey Go With Brown Furniture?
Natural colors often complement one another, and both grey and brown are neutral. Therefore, grey can pair well with brown furniture.
What Color Goes Best With Brown?
Brown is a darker shade of orange or red. As such, it pairs well with bright red and orange hues. However, it also pairs well with the complementary colors for orange and red, including yellow-green, purple, blue, and teal.
Huge Selection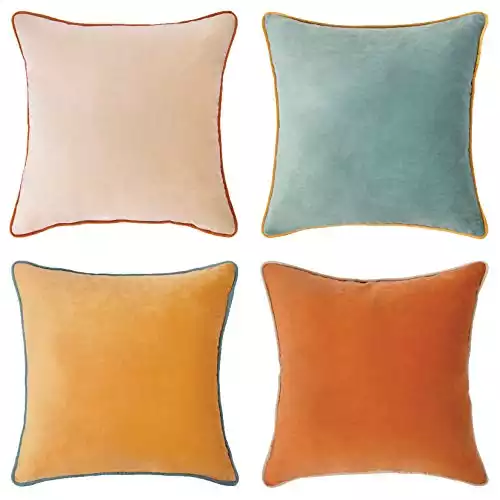 So, What Color Pillows for a Brown Couch?
The best color pillows for brown couches tend to be those that are complementary with the color brown. Some of the best examples include orange, blue, red, green, and purple.
Naturally, the best color, shade, and precise hue for your pillows depends on your preferences and chosen color scheme.
Resources: