Looking for small bathroom storage ideas? You're in the right place.
We've rounded up 15 unique storage ideas, shown you why we love each one, and given you a few things to consider before updating your bathroom.
Looking for Small Bathroom Storage Ideas?
We've brought you bathroom ideas, mirror idea, and even shower inspiration.
And we're not going to leave out small bathroom storage ideas. If you've ever lived in a small space, you've probably spent time pondering how to store your stuff.
It can be surprisingly difficult to fit all your essential items into the room without ending up with a cluttered mess.
We are here to help—keep reading for 15 ways to achieve both style and function in your bathroom.
15 Unique Small Bathroom Storage Ideas
Bathroom storage can be a head-scratcher, but there are solutions out there that can make your bathroom both functional and beautiful.
1. Organize Your Drawers
Avoid the trap of throwing items into your drawers and closing them away.
An "out of sight, out of mind" mentality will only contribute to a cluttered feel in a small bathroom. Instead, invest in simple, solid-colored drawer organizers.
Our Top Pick
These will keep your essentials organized and will help you determine what items should be in your drawers. Before you start organizing, it is helpful to manage everything that will need a place in your drawers.
For example, you might end up with a small pile of hair ties or a stack of cotton balls. Once it is all in front of you, assign each item to one compartment in your drawer organizer.
2. Store Items in Clear Jars
Store your items in clear jars to create a clean and open feeling in your small bathroom.
Clear jars, especially ones made of glass, will help you avoid a cluttered look in your bathroom. Choose multiple sizes to ensure that you have an appropriate size for each item that needs storage.
Our Top Pick
Dedicate each jar to one specific item, such as cotton balls, Q tips, or makeup remover pads. Once you place your items in the jars, stay consistent. The visibly well-organized storage will help your bathroom feel cleaner and less cluttered.
3. Roll Your Towels
Rolling your towels will help address the challenges of linens in living spaces without a dedicated linen closet.
The propensity of traditionally-folded towels to unfold can make any room feel extremely cluttered, even if it is well-organized underneath that disheveled exterior.
Not only do rolled towels look clean and organized when stacked on top of one other, but they will also take up less space in your bathroom.
Rolled towels are also much easier to rifle through without unfolding them all, helping you avoid a messy pile of clean towels on your shelf.
4. Store Your Linens in Baskets
Use baskets to store linen products, such as hand towels, washcloths, and shower towels.
If you are lucky enough to have shelving in your small bathroom, baskets are an excellent option to maximize the use of your space and contribute to your décor.
Our Top Pick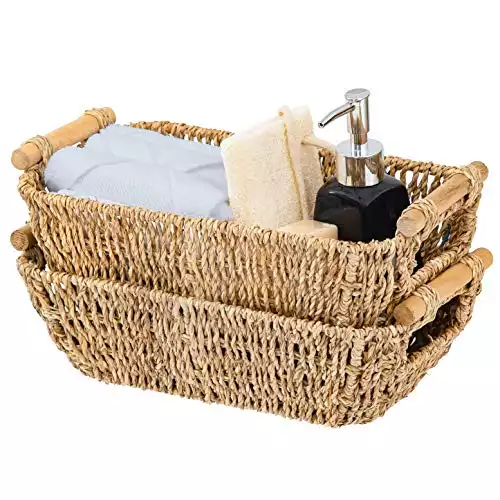 As we mentioned earlier, rolling your linens is the way to go when storing them in your small bathroom. Roll them up and stack them in your baskets for a look that is both organized and functional. No more unfolded mess!
5. Store Your Rolled Towels on a Wall Shelf
Another great storage option for your rolled towels is a wall shelf designed for this purpose. Rolled towels look neat and put together, so storing them on the wall will not take away from your décor.
Our Top Pick
Getting your towels off the shelves, out of containers, on the wall will save you storage space in a small bathroom. There are many styles of wall shelves explicitly designed for this purpose.
Like the one pictured above, some provide individual spaces for large, rolled towels. Others are best-suited for hand towels or to store rolled towels of all shapes and sizes together.
6. Store Items on an Above-the-Toilet Shelf
A standing shelf that sits above your toilet is a popular option in small bathrooms.
These shelves nearly always provide at least three frames to store your items, giving you plenty of additional space in your small bathroom.
Our Top Pick
Some will even incorporate bathroom-specific storage, such as a dedicated toilet paper roll holder or place for small linens.
Choosing a standing above-the-toilet shelf is a perfect option for renters or others who are hesitant to hang shelving on the walls of their rented space.
A standing shelf can provide shelving in your small bathroom without mounting anything on your walls.
7. Use a Toilet Paper Holder With Additional Roll Storage
If you do not have a toilet paper holder fixed to your bathroom wall, consider purchasing one that provides space for additional rolls of toilet paper.
Our Top Pick
These come in all shapes and sizes, so you should be able to find one that fits appropriately in your bathroom, regardless of size.
People love these toilet paper holders because they provide an organized way to store your excess rolls without taking up any precious storage space in your small bathroom.
You will also never have to worry about running out of toilet paper, as long as you keep your toilet paper holder well-stocked.
8. Hang Your Toothbrush on the Wall
Save space on your sink or counter by hanging your toothbrush on the wall. These wall-hangers come in many different designs, ranging from a modern aesthetic to kid-friendly options.
Our Top Pick
Choose one that fits your style and clear up that counter space. If you don't love the idea of having your toothbrush out in the open of your bathroom, you can stick these wall-hangers on the inside of your medicine cabinet.
Placing them inside a cabinet door will give you the benefit of a clear counter while also tucking your toothbrush away from the rest of the bathroom.
9. Utilize Nooks and Crannies for Shelving
Install shelving in any areas of your bathroom where they will fit. Many small bathrooms, especially in older living spaces, contain small nooks and crannies that seem like wasted space.
Utilize this space by installing simple shelves wherever you can. You might look at a space and think to yourself that nothing useful will ever fit on such a cramped shelf, but that is not usually the case.
If your shelving is deep and narrow, you can use baskets or small containers that slide off the shelf to access items inside. Even if you can store one single towel or piece of décor, the shelf will contribute to your bathroom.
10. Use Extra-Small Mason Jars to Organize Your Medicine Cabinet
Use extra small mason jars to store items inside your medicine cabinet. Medicine cabinets can quickly become cluttered and filled with mess.
Instead of placing your items haphazardly on the shelves, use small mason jars to store objects such as band-aids, Q-Tips, Floss Sticks, or whatever else takes up space in your cabinet.
An added benefit to organizing your cabinet in this way is that it will force you to take a good hard look at what you are keeping in your medicine cabinet.
Most of us are guilty of saving old medications that expired years ago or hanging onto the leftovers of something that we just no longer need.
Use this as an opportunity to (safely) dispose of old medicines cluttering up your bathroom storage spaces.
11. Store Cleaning Supplies Inside Buckets or Baskets Under the Sink
Easily save space by storing your cleaning supplies inside a bucket or basket under your sink.
Keeping your cleaning supplies under the sink is a popular option but can sometimes result in a big pile of difficult-to-reach items in your cabinet.
Our Top Pick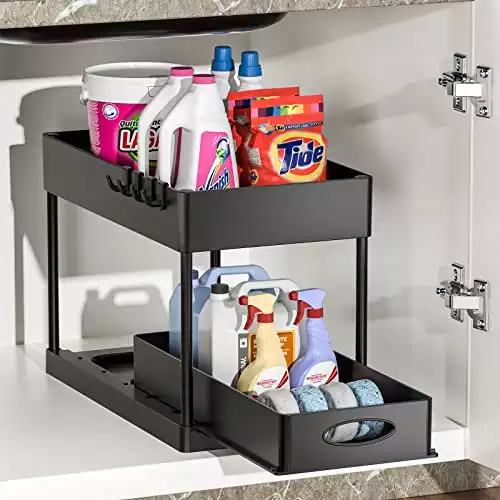 You can keep your cabinet organized by placing your cleaning supplies in a basket or bucket that you can easily remove when you need the items inside.
12. Use a Lazy Susan Inside Larger Cabinets
Invest in a lazy susan. A lazy susan is a flat shelf that spins, giving you easy access to anything stored in this space.
While maybe not traditionally found in bathrooms, a lazy susan can help you organize your more extensive areas, such as the cabinet under your sink.
Our Top Pick
Combine this storage idea with some of the others that we mentioned here to maximize your space. For example, use clear glass containers or mason jars to organize the items that you place on your lazy susan to turn your previously cluttered space into a clean and well-organized cabinet.
13. Hang Brooms and Mops Behind Your Door
The wall behind your bathroom door is a great place to store brooms, mops, and other cleaning supplies with a long handle. These tools are out of the way of your living space but remain easily accessible when you need them.
Our Top Pick
Don't worry about clutter because these items will only be visible when the door is closed, and therefore the room is at its most open. If you are comfortable installing hooks on the wall, you can easily find hooks that will work in any home improvement or superstore.
If you have tiled walls or do not want to affix anything to your walls permanently, you can purchase adhesive "grab" hooks that will clasp the handles of your brooms and mops to attach them to the wall.
14. Hang Multiple Towel Bars
Hang multiple towel bars above one another to maximize your wall space and provide a place for your used towels.
Small bathrooms often lack sufficient space to hand your hand towels, so they end up taking up space on your counters or other surfaces.
Our Top Pick
Hanging multiple bars can help you get those wet towels off your surfaces and hanging up to dry. When you hang the towel bars, make sure that your towels will not hang directly on top of one another.
Not only will this delay the drying process, but they will also be annoying to get to when you need to use them. You can purchase a double towel rack or buy two separate ones and measure out the distance yourself.
15. Install a Shelf in Your Shower
Install shelving in your shower to store in-shower toiletries, such as shampoo, conditioner, or soaps.
These items often end up on the floor or the bathtub ledge, but they will look much nicer and be more functional on a shelf that you can easily reach when showering.
Our Top Pick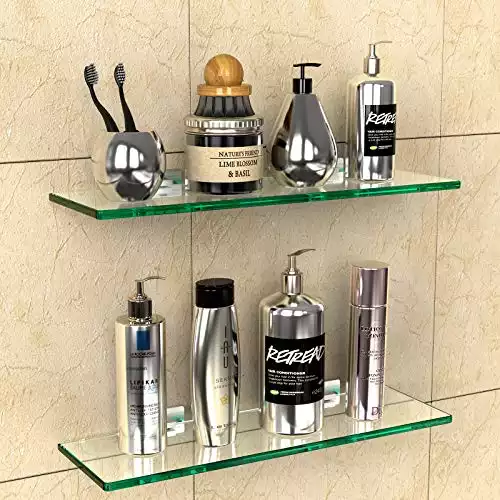 You can consider a permanent shelving option, such as the one pictured here, or purchase removable shower shelves.
Popular options include shelving that sticks to the shower wall with suction cups or with adhesive pads. If you purchase a temporary shelf, be sure that it can hold the weight of whichever products you plan to store on it.
Things to Consider
Before you get started organizing your bathroom, ask yourself the following questions:
What atmosphere do I want to create in my bathroom? Are you looking to create a relaxing atmosphere or declutter your space?
What type of décor and style do I like best? Do you love the look of modern and minimalistic designs, or are you more of the funky, eccentric type?
Which items do I really need in my bathroom? When you have a small bathroom, it's time to throw away or donate anything that is not contributing to your space.
Do I currently have any "dead" space in my bathroom? Meaning, do you have any area that you could use for storage but instead sits empty and underutilized?
Which Small Bathroom Storage Ideas Will You Use?
Now that you know how to store your items functionally and stylishly, it's time to get organized.
Get started by choosing your favorites small bathroom storage ideas and considering which items will best fit in each one.
Your bathroom makeover will be complete in no time at all!
Resources: