Something you'll always find in bathrooms is tile, whether on the floor, walls, or both.
Tile is a perfect material for areas of your home that experience a lot of moisture because it doesn't absorb water allowing mold to grow.
9 Main Types of Bathroom Tile in 2023
Choosing the right style for your bathroom is a huge decision.
You want to create a space that you'll love, and design a room with a style that isn't too niche to negatively affect resale value.
Whether you love to make a bold statement with your rooms or foster a calm feeling surrounded by natural materials, you'll find something on this list to love.
To start, natural stones like marble, travertine, and slate are never out of fashion. They help you create beautiful and functional spaces with classic or modern styles.
Two tile trends; terracotta, and wood-plank tiles lend to soothing, nature-scape spaces. You'll find some surprises on our list like Victorian-era throwbacks, checkerboard patterns, and bold colors.
1. Marble Mosaic
A look that never goes out of style is marble mosaic tiles. This trend for bathroom tile in 2022 is sure to continue to be on point in any home. You can find marble mosaic tiles in a variety of shapes, styles, colors, and patterns.
Fitting a marble mosaic into a bold color scheme or neutral pallet is no trouble. Mosaic means that small pieces (usually 2X2 inches or smaller) arrange into a repeating pattern.
Marble Mosaic
You'll find hexagons, herringbone, and other shapes. Marble mosaic tiles make an excellent accent in smaller spaces like bathrooms. Use it on half of the wall or a shower floor.
These tiles have more grout space than larger tiles making a better slip-resistant surface. While marble is classic, you can make some space in your budget by using porcelain or ceramic mosaic tiles also.
2. Checkerboard Tiles
You may think of grand entryways and sweeping staircases when you picture a checkerboard tile floor. But you can put some visual interest into a smaller space with a checkerboard floor too.
Create a retro style with black and white tiles. Or, you can achieve a softer feel with colors that don't contrast sharply like beige and olive green. A checkerboard floor is an excellent way to blend traditional and contemporary styles.
Creating a checkerboard tile floor simply takes two colors of square tiles. You can adjust the size of the tiles to fit the space. If your bathroom is small, scale down the tiles to match the room.
3. Penny Round Tile Floors
Penny Round Tile
Achieve a vintage look with penny-round tiles. This style arrived in homes during the Victorian Era, which happens to be when residential bathrooms became more common. This style is as old as indoor bathrooms themselves.
The classic penny tile floor is black and white. You can also find fun and quirky designs consisting of elaborate patterns, color contrasts, and even incorporating words spelled out in tile. Penny tiles make excellent bathroom floor material because they add texture and visual interest.
More grout lines on a tile floor make it less prone to slipping. Don't worry about choosing penny tiles if you're self-installing your floor. They come in 12-inch sheets of connected tiles and they price you by the sheet.
4. Wood-Plank Porcelain Tiles
Wood-Plank Porcelain Tile
Making indoor spaces look more natural is definitely in style for bathroom tile in 2022. A look that is never off-trend is hardwood flooring. The best way to get a wood-grain look without sacrificing the water-resistant qualities of tile is to use wood-plank porcelain tiles.
They look great and function perfectly on the floor and walls. Two important factors affect the final look of wood-plank tiles. These tiles bow in the center when manufactured. This isn't a problem on its own.
However, to get a hardwood floor look, you need to lay the tiles in an offset pattern like real wooden planks would. The installer must be able to use a 33% offset pattern to end up with a floor that doesn't feel rippled.
5. Porcelain-Backed Marble Tiles
Marble Tile
Marble is a timeless and elegant material for any area of your home. Porcelain-backed marble tile offers the regal effect of marble with the affordability and sustainability of porcelain. It makes an economical, yet beautiful alternative to solid marble tiles.
Another benefit to these tiles is that they're lighter than solid marble. Both materials are very durable, so you don't sacrifice in that area by choosing this composite material.
The tile surface is marble bonded by a unique epoxy to a porcelain backing. It's slip-resistant and the color won't fade from the marble.
6. Large-Format Wall Tiles
Large Tiles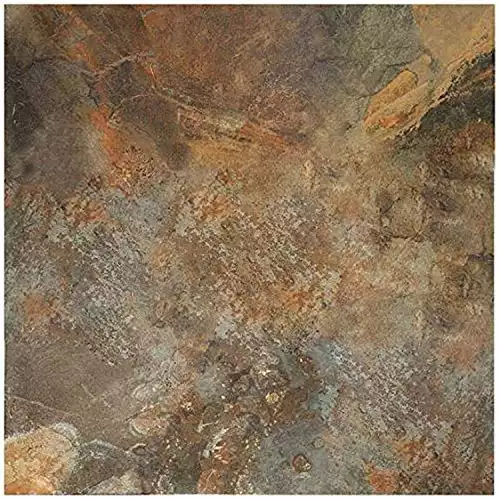 Large-Format tile never goes out of style, especially in spaces that tend to be smaller, like bathrooms. They help create openness in the room design when you use them on the walls, floor, or both.
Large tiles need fewer grout lines which visually enlarge your space and require less scrubbing to maintain. A large-format tile is any tile that is 12-inches wide or larger. Many tile producers make tiles in 16, 18, and 24-inch variations.
You can find whopping 36-inch tiles too. You have several options for the type of material for your large-format tiles. Porcelain is the most popular.
You can also find natural stone, ceramic, and glass tiles. Large-format tiles pair well with small mosaic tiles to create unique designs. One caveat to large tiles is a higher installation cost. These huge pieces require back buttering.
That means you must spread the entire back of the tile with adhesive. It increases your material cost but prevents lippage- when one corner of a tile sticks up higher than the tiles around it.
7. Terracotta Tiles
Terracotta Tiles
Terracotta is unique among tile materials. It's monocottura, meaning it gets fired only once and isn't glazed like other ceramic tiles.
Due to how it's made, terracotta is more absorbent than other types of tile. It's more fragile too. Manufacturers make each tile very thick to balance the fragility. You'll have to seal terracotta tiles after installation but before grouting to prevent staining.
These tiles can create a beautiful Southwestern style in your bathroom. Terracotta is a natural material, and tiles are typically handmade. That leads to lots of color variations to create a rustic feel.
Variations in tile thickness also mean they need back buttering to make the surface level.
8. Rustic Stone Tiles
Rustic Stone Tiles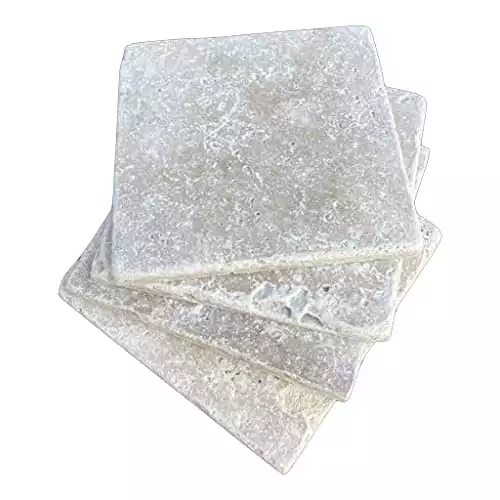 Another way to bring nature indoors or create a rustic look in your bathroom is to use rustic stone tiles. Several types of stones give you many options for creating a unique, natural look.
An ever-popular bathroom tile material is travertine. These tiles consist of a type of limestone that forms inside hot springs. Natural holes in the stone need epoxy or grout filling so the tile is water-resistant. The colors are soft and earthy for a natural, relaxing atmosphere.
Another excellent choice for rustic stone tiles in your bathroom is gauged slate. It's available in an array of natural colors like blue-gray, blue-green, red, gold, and purple.
Natural stone tiles vary in price depending on size and finish. They can be tricky to install, so make sure your contractor has experience in working with this material.
9. Bold Colored and Patterned Tiles
Bold Colored Tiles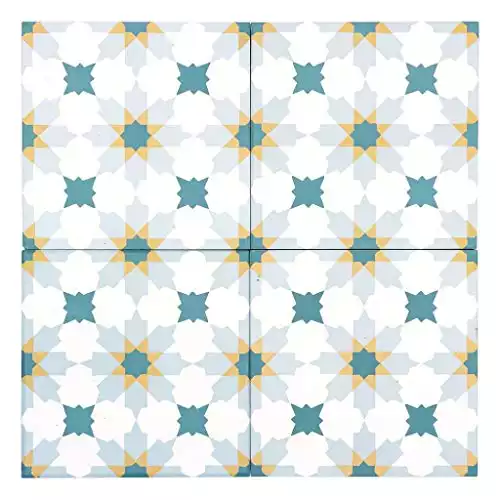 One way to express your personality and create an invigorating space is to use bold colors and patterns in your bathroom.
You'll likely use a mix of colors and materials from this list. You can create a retro space with penny tiles on the floor and glass tiles on the walls.
Or, indulge in a bright color pallet and geometric shapes for a modern look. Because the possibilities are as varied as the designers who implement them, the cost of bold-colored and patterned tiles varies widely.
Things to Consider
A bathroom remodel is a huge undertaking that affects your experience living there and the resale potential.
Consider the market in your area. Some trends such as bold colors or niche mosaic patterns may turn away prospects upon resale.
Consider your budget. Tile typically makes up about 8% of the cost of a bathroom remodel. Natural stones may seem out of your price range at first glance. But it may be an area worth splurging a little to get the look you want. Mix tile types to cushion your budget too. Or consider the porcelain-backed marble.
Are you going to DIY your bathroom? Some tiles mentioned on this list require special skills or experience working with the material to get it right. Perhaps you can do most of the work and hire a tile installer to ensure a perfect finish.
Frequently Asked Questions
Coordinating your tile with paint and fabric is part of the overall style for your bathroom.
Here are some questions about other bathroom trends this year.
What tiles are popular in bathrooms?
You'll find a variety of styles popular for types of bathroom tiles.
You'll be on trend with vintage penny-round tiles or checkerboard tiles. Or, create a rustic, natural space with terracotta or stone tiles.
What color is in for bathroom tile?
All-white bathrooms seem to always be on trend.
But we also see warm neutral color schemes trending. Soften the brightness in your bathroom with taupe, beige, and other natural stone colors.
What is the most relaxing color for bathrooms?
Bright, bold bathrooms that invigorate the senses are one trend this year. However, many designers are looking to create a soothing space.
Do that with contrasting dark colors like in a checkerboard tile floor.
You can also use warm neutral colors to promote tranquility. A rustic space tiled in travertine or terracotta will make a relaxing atmosphere.
What are the latest trends in bathrooms?
Add internet to your bathroom tile with fluted finishes.
Take the elegance of your marble backsplash to the next level by using fluted tiles the same color as the rest of your tile.
Also, compliment all the hard surfaces in your bathroom with soft textiles.
What are the most popular types of bathroom tiles?
Porcelain is the most popular material for bathroom tiles because it's durable, affordable, and easy to clean.
Natural stones like marble, travertine, and slate remain popular for bathrooms for their beauty and durability.
Terracotta is a natural material trending for bathrooms for creating natural-looking and Southwest-style spaces.
So, What Are the 9 Main Types of Bathroom Tiles?
The list has brilliant variety so you can find what fits your personality and space.
Classic looks like marble mosaics, checkerboard tiles, and penny-round tiles help you fuse historic styles with a modern flare.
Rustic stones like terra cotta and travertine can join wood-plank tiles to create a soothing, natural space. Large-format tiles help you open up a small space and add visual interest. Happy tiling!
Resources: