A new shower curtain completes the look of any bathroom, but it's important to know the difference between different shower curtain lengths. Read on to learn more about the different lengths and when to use each.
Shower Curtain Lengths: A Summary
Shower curtains generally come in three standard size options that fit most homes. However, you can also find specialty sizing options to fit taller, narrower, or wider than average showers.
The most common shower curtain lengths and sizes that you'll see at your local homes supply or DIY shop include:
70 x 70 inches

70 x 72 inches

72 x 72 inches
In this guide, we'll discuss how to choose the best length of shower curtain for your bathroom.
What Are the Different Shower Curtain Lengths?
Most shower designs meet certain size specifications to make it easier for homeowners to outfit their bathroom. Manufacturers can also standardize accessories such as rods and curtains with standard shower sizing.
The standard shower size in any home or apartment is 36 X 36 inches, though you can sometimes find 32 X 32-inch options. A shower-tub combo unit will usually measure either 36 x 48 inches or 36 x 60 inches.
Walk-in showers are generally 36 x 42 inches or 48 x 48 inches in size. Most shower curtains come in one of three size options to fit a standard shower unit. You can find curtains for typical standing showers measuring 70 x 70 inches, 70 x 72 inches, or 72 x 72 inches.
These curtain sizes will also fit a shower-tub combo up to 60 inches long. An extra 10 to 12 inches at the edge give you some leeway when pulling the curtain closed.
You don't need to stretch the curtain taut to get a seal along the walls of your tub. Instead, it retains an attractive, flowing appearance while giving you plenty of space to move. What's more, a wider curtain may allow for a curved shower rod.
Non-Standard Sizing
Walk-in showers often require specialty sizing, as they tend to have a wider entrance than other shower styles. Most walk-in shower designs require a curtain that measures at least 78 inches across.
Extra-tall showers also require specialty shower curtains if you want full coverage. You may have to use a curtain longer than the standard 70 to 72 inches.
Though they may be harder to find, you can purchase shower curtains measuring 84 inches to as long as 96 inches. A standard shower curtain might be too long or too wide for smaller setups such as stall showers.
In this case, you will need a curtain that's both longer and narrower than average. The standard size curtain for a shower stall measures 54 X 78 inches.
RV units also require non-standard shower curtain sizes. The shower in an RV is often far smaller than those found in a home to help save on floor space. You'll usually need a curtain measuring around 60 x 64 inches for an RV shower.
Measuring Your Shower for a Curtain
The size of your shower should be your most significant consideration when looking at shower curtain lengths. You need to carefully measure the dimensions of your shower to choose a curtain that's just the right size for your space.
Measuring Width
The easiest way to measure your shower is to start with the width. Using a measuring tape, determine the distance from wall to wall.
If you have a prefabricated shower, make sure to measure between the unit's walls instead of the room's. Whatever measurement you find, add about a foot in length to determine the width of the shower curtain you need.
It's a good idea to buy a shower curtain with plenty of extra material so that you don't have to pull it taut. The curtain will look better when closed and give you more space when in use.
Measuring Height
It can be more complicated to determine the height of a shower curtain than the width. In most cases, you don't want to opt for a curtain with complete coverage from floor to ceiling.
Doing so may cause the material to drape over the floor, leading to mold, mildew, and other health risks. Instead, allow for extra space both above and below your curtain.
A gap above will allow for healthy airflow and plenty of light, while extra room underneath will keep your floor safe from moisture-related issues. You should aim to leave around a couple of inches free above your curtain for a shower rod and rings.
There should also be at least three to five inches of space below the curtain. When measuring, make sure to subtract this area from your floor-to-ceiling total to find the ideal shower curtain length for your setup.
The Different Types of Shower Curtains
In addition to shower curtain length, it's also a good idea to consider factors such as construction and materials when choosing a shower curtain.
Cotton Shower Curtains
Our Top Pick
Cotton shower curtains are one of the most popular styles amongst homeowners, as they're attractive, affordable, and relatively easy to clean. Cotton shower curtains are also durable, as a sewn hem protects their edge.
If you opt for a cotton shower curtain, keep in mind that it will absorb water instead of repelling it. You should always make sure the length of the curtain leaves plenty of clearance space at the bottom to avoid water collecting.
You should also ensure that your bathroom space is well-ventilated to prevent mold and mildew from building up on the curtain itself. You can help to reduce moisture issues by installing a plastic, polyester, or vinyl liner behind cotton shower curtains.
Doing this protects the material against water droplets and directs them back into your shower or tub basin. Always make sure to leave the curtain on the outside of the tub. The liner should rest on the inside.
Vinyl Shower Curtains
Our Top Pick
Vinyl shower curtains are another affordable and cost-effective choice. They come in a wide variety of colors and designs, with some even boasting clear sections to allow more light to penetrate.
Vinyl curtains naturally repel moisture, and they're easy to clean with just a simple wipe down. You don't have to use a liner, either. However, not everybody likes the thick plastic aesthetic of vinyl curtains.
You can find vinyl curtains in a wide variety of size options. If you can't find the correct length for your shower, it's easy to trim a larger curtain down to size. As long as you're careful to keep an even edge, you won't even notice the adjustments that you make.
Microfiber Shower Curtains
Our Top Pick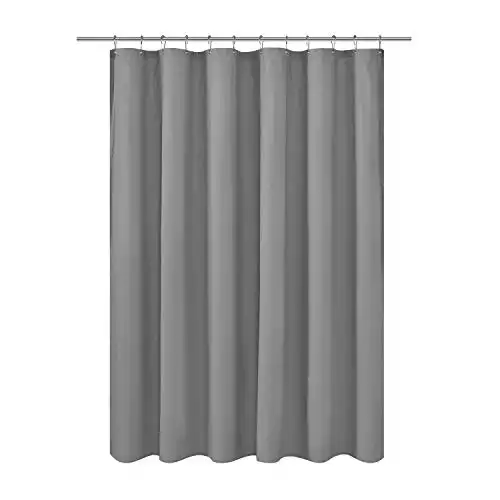 Microfiber shower curtains are quickly gaining popularity as an alternative to more traditional cotton varieties. Unlike cotton, the water that microfiber wicks away evaporates quickly. You're less likely to see moisture-related issues around your shower.
Microfiber curtains can add a touch of class to any bathroom. Thanks to their heavyweight design, they hang elegantly, and the material is luxuriously soft.
While microfiber can be harder to clean than cotton or vinyl, most shower curtains are machine washable. The main downside for most homeowners is that microfiber can be pricier than other materials.
Hookless Shower Curtains
Our Top Pick
If you have limited space available, a hookless shower curtain may be the best choice for your setup.
You don't have to account for hooks or rings when determining height, as this type of shower curtain hangs directly on the rod. As a result, you can use this curtain style in showers with limited floor-to-ceiling space.
Things to Consider
When finding the right size shower curtain for your tub, there are a couple of considerations to keep in mind.
Consider getting a sheer shower curtain if your shower is dark or unlit. Some vinyl options are entirely see-through to allow plenty of light to shine through.

If your bathroom has poor ventilation, it's best to opt for a mold-resistant curtain made of vinyl or plastic.

Always protect cotton curtains with a plastic liner. Microfiber curtains can also go longer between washings with a liner.

Consider the rest of your bathroom décor when choosing a curtain and find something that aligns with your style. The shower curtain is a focal point of any bathroom and shouldn't clash with other accessories.
Frequently Asked Questions
Here are some of the common questions that homeowners frequently ask about shower curtain lengths.
What is the longest shower curtain?
Standard shower curtains are either 70 inches or 72 inches in length. If you have a taller shower, though, you can find specialty sizing options to fit your setup.
You can also find shower curtains that deviate from the standard width of 70 or 72 inches. Extra-wide shower curtains can cover up to 144 inches of space, while extra-narrow shower stall curtains are 54 inches wide.
Do shower curtains come in longer than 72 inches?
You can find shower curtains longer than the standard 72 inches that fit extra-tall showers. Many people opt for specialty curtains with a length of 84 inches, but you can find options as long as 96 inches if necessary.
How far should my shower curtain be from my floor?
If your shower curtain touches the floor, it can transfer water to your bath mat or tiles and encourage mold buildup. It's best to keep your curtain at least three to five inches off the ground for health and hygiene reasons. For a standard 72-inch curtain, you should fix your rod around 75 to 77 inches above the floor.
How do I extend the length of my shower curtain?
If your shower curtain is sitting just a little bit too high, it's easy to adjust the length without any DIY or sewing skills. Simply use strings, chains, or ribbons in place of shower rings to adjust the length as necessary for a cheap and straightforward solution.
Can shower curtains be cut?
If your shower curtain is too long for your bathroom, you may be able to cut it to size. Lay the curtain out flat, ensuring there's no bunching that could lead to an uneven cut. Then, using a pair of scissors or shears, cut in short, smooth motions for a straight edge.
Cutting your curtain only works with plastic and vinyl options. If you try cutting the bottom off a cloth curtain, you will destroy the hemline, and the fabric may unravel. In this case, you may have to break out the sewing machine to adjust the hem of your curtain.
So, What Are the Different Shower Curtain Lengths?
You can find shower curtains in three standard length and size options, including 70 x 70 inches, 70 x 72 inches, or 72 x 72 inches.
There are also many specialty sizing options for shower stalls, walk-ins, RVs, and more. With some precise measurements and careful planning, it's easy to find the perfect shower curtain length for your bathroom.
You Might Also Like: