Whether you are on a budget or just want to refresh a room, room dividers can help.
Surprisingly, nearly any material can be used to divide a room. To jump-start your inspiration, we've compiled our best ideas.
Read on to see our favorite room dividers.
Why Use Room Dividers?
Room dividers are an easy an affordable way to refresh your home. They are perfet for creating separate spaces in your living room or home office, or for designating areas in a studio apartment.
Use them to create designated areas in a large room, like a private reading nook. They can also be used in place of French doors between alcoves. Or, simply use them as home decor to accent a space.
20 Coolest Room Dividers in 2023
The best part is, you can rearrange them on a whim! We've broken down 20 stylish types of room dividers and how you can use them to make over your space.
1. Three-Panel Room Divider
Our Top Pick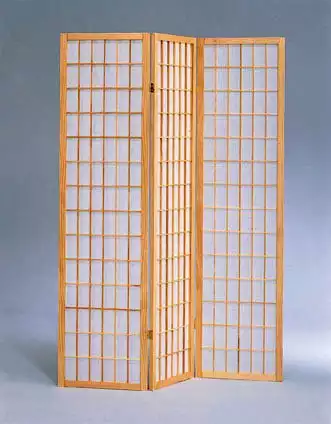 The most common kind of room divider is a standing three-panel screen.
This works perfectly to create a small changing area in your bedroom or closet. If you need to move it, it easily folds flat. Add an egg chair, plant and throw blanket to create a stylish vignette.
2. Three-Panel French Door Divider
This style is the same as a basic 3-panel room divider, but instead of a basic screen it features curtains like you'd see on French doors.
This can be ideal to change up the fabric color and pattern in your desired room.
3. Shoji Screen Sliding Door
Crafted from wood and translucent paper, Shoji screens lend Eastern style to your home.
This sliding door design easily turns one room into two. It offers privacy while still offering a light, open feel. To clean a Shoji screen, you can easily dust it with a dry cloth.
4. Multi Panel Standing Shoji Screen
Our Top Pick
If you don't want the permanence of creating a sliding door, a freestanding room dividing screen offers the same effect.
Choose from a 4-panel room divider, 6-panel room divider, or any number of panels needed for your space. Made from wood and rice paper, they are lightweight and can stretch the length of your room.
5. Bamboo Room Divider
Our Top Pick
Another way to create Asian style is with a bamboo room divider.
This three-panel folding screen easily lends decor or creates privacy in your home. It is easily styled with Oriental furniture or any other type of decor.
6. Hanging Privacy Screen
Instead of a folding room divider, a hanging privacy room divider can separate a space without adding bulk.
This slim geometric design offers modern style hanging from above.
7. Ceiling-And-Floor Mounted Privacy Screen
Like the hanging room partition, this single-panel style is anchored from the floor and ceiling to stay put.
Using an ultra slim silhouette, it makes the most of small space. This is a great way to create separate areas in a living room or studio apartment.
8. Built-In Bookcase
Our Top Pick
Build-in open bookcases can double as decor and wall dividers.
By only placing some objects on the shelves, it creates separate spaces while still keeping the floor plan open. This is a great way to separate between the living and dining room, for example.
9. Freestanding Storage Unit
A multipurpose shelving unit creates a little more separation than the open bookcase idea. It also offers lots of additional storage for unsightly items concealed by sleek drawers.
Also, this freestanding style is easy to put together on your own, and you can always move it if need be.
10. Overhead Track Curtain
Our Top Pick
Curtains are another way to create privacy that is easy to open and close.
This overhead track design creates hotel-room luxury right in your own bedroom. Choose a sheer curtain to create subtle separation or blackout curtains to sleep in your own cozy world.
11. Rope Curtains
Our Top Pick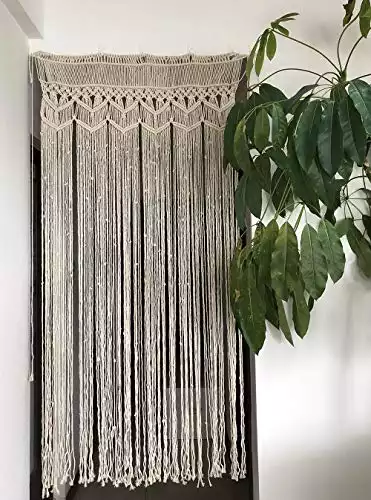 While these trendy rope curtains don't offer much privacy, they add stylish decor and separation between rooms.
This is a great way to create a space in a kid's room, studio apartment, or game room.
12. Wicker Room Divider
Our Top Pick
This multi-panel room divider screen is made from a dark wicker to offer lots of privacy.
The rich design is ideal for traditional decor in a bedroom, living room, or library.
13. Shutter Room Divider
Our Top Pick
These solid wood panels in a vintage whitewash create a Farmhouse shutter aesthetic.
This light and bright design is great for a bedroom or even a bathroom. Use this type of screen room divider to create a private oasis in the tub.
14. Window Room Divider
Our Top Pick
With shutter panels on the bottom and windowpanes on the top, this whitewashed design completes the farmhouse look.
Fabric behind the panes creates privacy with a vintage look. This type of style is perfect for an entryway or laundry room.
15. Photo Frame Three-Panel Screen
Our Top Pick
This unique idea turns a privacy screen into a chic gallery wall.
Each pane fits a different photo, so you can display 15 family pictures while separating your space. Plus, a rustic and aged effect lends Farmhouse style.
16. Organization Room Divider
Our Top Pick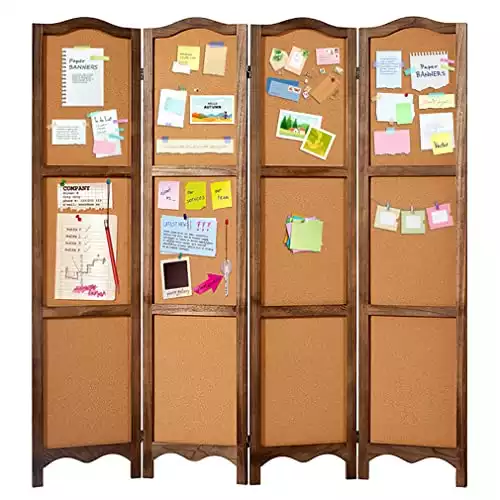 Like the photo screen, this three-panel divider does double duty. It also offers place to hang photos or notes.
Perfect for a teen's room or home office, you can change up the display every day.
17. Artwork Privacy Screen
Another great idea is to choose a folding privacy screen that also doubles as art.
This displays graphic flowers that will add a dose of decor to any room. Modern styles are great for teen rooms or a contemporary apartment.
18. Mural Privacy Screen
Our Top Pick
An even bigger statement than an artwork room divider is a full-scale mural.
Instantly turn any room into a tropical vacation. This is great for day to day or parties. It can double as a fun photo backdrop.
19. Aluminum Outdoor Privacy Screen
Our Top Pick
Room dividers aren't just for your interiors. Create a changing space by the pool with a large three-panel privacy screen.
This design appears to have a woven look but is made from aluminum for durability and weather resistance.
20. Solid Wood Outdoor Privacy Screen
Our Top Pick
If your style is more traditional, wood privacy screens feel right at home outdoors. Use several of these two-panel styles to create a cozy cabana or private changing area.
This is also a great way to create a makeshift fence along the side of your yard. Keep nosy neighbors from peeking over!
Want More Room Dividers Ideas?
We listed our favorite options from around the web, but don't settle for our recommendations.
Go online and search for the best selling and most unique room dividers there are!
Resources: