Just because your living room doubles as a playroom doesn't mean it has to look like one.
These living room toy storage ideas are both practical and esthetic, so you don't have to sacrifice your style and comfort for the tots.
16 Living Room Toy Storage Ideas We Love
Whether or not you have a dedicated playroom, toys somehow always end up in the living room.
Children gravitate toward the life of the house, and what better place to construct a masterful map of subway lines than across the living room floor?
Controlling the chaos of the toys is even more difficult when the playroom is the living room.
These solutions prove that you can share the living room with the little ones and still maintain your style – just watch out for that small Lego on the rug!
1. Storage Cubes
Storage cubes are versatile, can match any décor, and are easy to keep organized.
Match the storage cubes to your living room's color scheme and style to downplay their functionality, or get contrasting colors to turn them into a fun focal point of the room.
Our Top Pick
The beauty of storage cubes is that they are so easy to customize for each situation. For easy access, place the cubes on the lower shelves of a bookcase, or put them on a higher shelf to keep the toys out of reach.
Store them in cubby units, on standalone shelves, or as baskets on the floor. You can use collapsible cubes which makes it convenient to store the extra ones when they're not in use, cubes with lids to keep the messes contained, or mix and match styles.
As a practical tip – label each box with the category of toys inside to keep them organized and make cleanup a breeze.
2. Ottomans With Storage
Let your furniture do double duty. You have furniture in the living room anyway – put them to work as toy storage.
Use a large ottoman that opens up for internal storage to keep the toys hidden out of view – and in style.
Our Top Pick
Storage ottomans come in all shapes, sizes, colors, and fabrics to match your sofa, rug, and other furnishings. The best part, though, is putting your feet up when the easy toy cleanup is done.
3. Oversized Trendy Baskets
Large toys and stuffed animals are big and bulky, and it can be hard to find a way to store them inconspicuously in your living room.
One innovative solution is to use tall baskets or fabric hampers that match the color scheme of your room.
Our Top Pick
Cleanup is a cinch with baskets – just toss the toys in. The downside is that it's easy to become disorganized, and it's hard to reach the toys on the bottom, so it's best to use the baskets for large toys that won't get lost in the shuffle. They're ideal for a stuffed animal collection.
These baskets can hold a lot of toys and are easy to move around, so you can display them in the corner or hide them behind the sofa when the company comes. Look for ones with a cover if you want to keep the contents hidden from view.
4. Dressers and Furniture Units
Who says toys have to be kept in toy boxes? Think out of the box and make use of the furniture you already have. Aside from clothing, people use low dressers to store linens, tablecloths, and cutlery.
Our Top Pick
But dressers and armoires also make excellent toy storage units.
It's easy for kids to see the toys in each drawer, and you can use drawer dividers or small boxes to keep the contents organized in each one.
The best part of using a dresser for storing your toys in the living room? The drawers hide the mess inside.
5. Modern Open Shelving
Don't need to hide the toys? Proud of the toy collection? Show them off on open shelving. This is an excellent option for children's books too.
Our Top Pick
Use a modern, rustic, or traditional bookcase, depending on the rest of your living room's décor. Store large and bulky toys on their own, and keep smaller toys grouped in boxes on the shelves for the most practical and aesthetic look.
6. Small Baskets for Small Toys
You can store small toys, a collection of similar items, or baby toys in pretty baskets that match your room's style. You can find baskets in every color and fabric, from cloth to canvas to tweed, and they are so versatile.
Our Top Pick
Choose baskets that blend in with the décor and can be left out in the open. Then, leave them on the floor, on a shelf, or in the space under the coffee table.
7. Fun Boxes
Don't be boxed in by traditional storage boxes. Use unique and creative containers to keep the toys organized and add a point of interest to your room.
Our Top Pick
Our Top Pick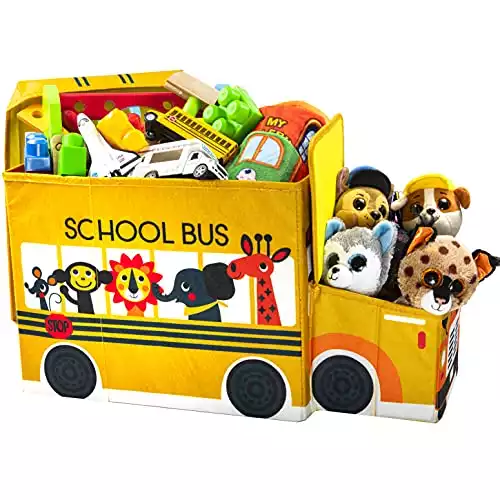 Boxes like these aren't meant to be hidden away – they are both fun and functional.
To create more visual interest, use boxes of different colors, shapes, and sizes.
Arrange them in a creative display or stack them up to conserve floor space.
Designate a different color or design for each category of toys. These boxes are perfect for storing small toys such as cars, blocks, and figurines.
8. Storage Chests
Storage chests are just mature toy boxes. These furniture pieces come in every style to fit seamlessly into your living room.
Whether you use a traditional chest, an antique from Grandma's attic, or a modern, minimalist design, it will do a fantastic job of storing your toy collection.
For safety reasons, especially for small children, make sure the chest can be easily opened from the inside and won't spring close on little fingers.
9. Sit on It
A couch with storage underneath is a clever way to keep toys out of sight. You can also use a daybed with under-bed drawers as a couch in your living room.
Our Top Pick
Both of these will give you lots of storage capacity without sacrificing any space in the room.
10. Coffee Table Creativity
Save on space by using your toy storage solution as a coffee table. Use a unique and interesting large box or container with a lid as both a place to store your toys and as a coffee table.
Our Top Pick
Just make sure your coffee isn't on top when the children make a beeline for the dolls.
11. Built-In Unit
If you're building a unit for your TV, make the most of the space you have and maximize all the storage you can get.
A built-in unit is designed for storage – and the perfect place to store the toys. Who needs that much space for DVDs anyway?
12. Window Seat Solutions
Whether you have a built-in window seat under an oversized picture window or a standalone bench, don't let the space underneath it go to waste. It's the perfect place to get some extra storage.
Our Top Pick
If you're shopping for a window seat, look for one with pull-out drawers rather than one large compartment.
It will be easier to access the toys – and can be used even while someone is sitting on the bench.
13. Monochromatic Storage
Do you have too many toys to hide them cleverly in an ottoman or a few pretty baskets? You can embrace the playroom in your living room while keeping it stylish and adult-friendly.
Our Top Pick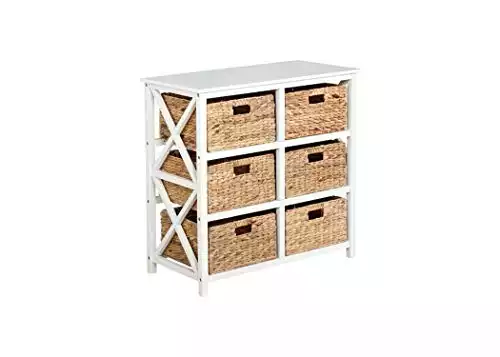 Use the same storage container for all toys for a clean, streamlined look.
Stick to one neutral color that blends into the rest of the room's décor. Try to avoid using primary colors which will make it look more juvenile.
Keep the toys in boxes with covers to keep them looking neat and avoid a messy overflow of toys.
14. On the Wall
When space is limited, look vertical. Wall space is often under-used, and high shelves are perfect for storing toys that you don't want the kids to reach themselves, such as art supplies, delicate tea party sets, and expensive dolls.
Combine shelves with other living room toy storage ideas. If you have a dresser against a wall to store their larger toys, you can install shelves above it to keep the overflow.
Or display the kids' book and doll collection on a wall shelf above a display of creative storage boxes.
15. Stuffed Animal Bean Bag
Do you have an extensive collection of stuffed animals? Stuffies might be your child's best friend, but they take up a lot of room. An easy and fun solution is to use them to stuff a bean bag chair.
Our Top Pick
You can buy an empty bean bag sack or make one yourself as a DIY project with fabric that matches your living room décor. Fill the chair with the stuffed animals and get a new seat in the room as a bonus.
16. Hide It Out in the Open
There are days that you just have to smile, embrace the mess, and hide it behind a pretty and decorative room divider. Sometimes, no matter how smart and organized you are, the toys will just outnumber you.
Open up the divider, kick up your feet, and enjoy the evening. Tomorrow the living room will be the playroom again.
Things to Consider
Whether you're using bookcases, bins, boxes, baskets, or buckets to store the toys in your living room, keep the following points in mind:
Keep your budget in mind. If a built-in storage unit isn't feasible, consider getting two bookcases with doors. While you may not be able to buy a new sofa with built-in storage, an ottoman or smaller furniture piece may work.
Keep it simple. The storage solution has to be practical for your lifestyle, even if it sacrifices the style of the room. The toys should be easy to access and simple to put away. Don't keep the toy baskets on the floor if the baby will constantly tip them over.
Embrace your style. At the end of the day, it's your living room, your home, your children, and your toys. If you want a bright orange toy box next to your purple recliner – go for it. The best design is the one you love.
Safety first! Make sure that the toy storage is safe for your children, particularly when using furniture and storage units that were made for other purposes. That may mean checking for traces of lead on the antique painted chest, harnessing units to the wall, and ensuring children can't get trapped in large storage boxes.
What's Your Favorite Living Room Toy Storage Idea?
Finding the right toy storage system for your living room doesn't have to be a costly or overwhelming project.
You can compromise and work together to find a solution that accommodates the kiddie stuff and your home design style.
Determine how many toys you have to store in the room and how much space you have to work with. A few pretty baskets or attractive boxes in the corner of the room may be all you need.
When all else fails, though, bring out the room divider.
Resources: