Moving container companies are a relatively new concept that makes moving a breeze.
You choose your timeline and control some of the costs. But do they actually save you money? Read on to find out.
What Are Moving Containers?
No one really enjoys moving. Sure, going to live somewhere new is exciting, but the actual physical act of moving all of your stuff is, to put it mildly, a real pain.
Of course, there are some ways to make it less of a hassle. One of those ways happens to be by using moving container companies.
The concept of moving containers is really quite easy to grasp. Essentially, they are residential-grade shipping containers that are dropped off at your house.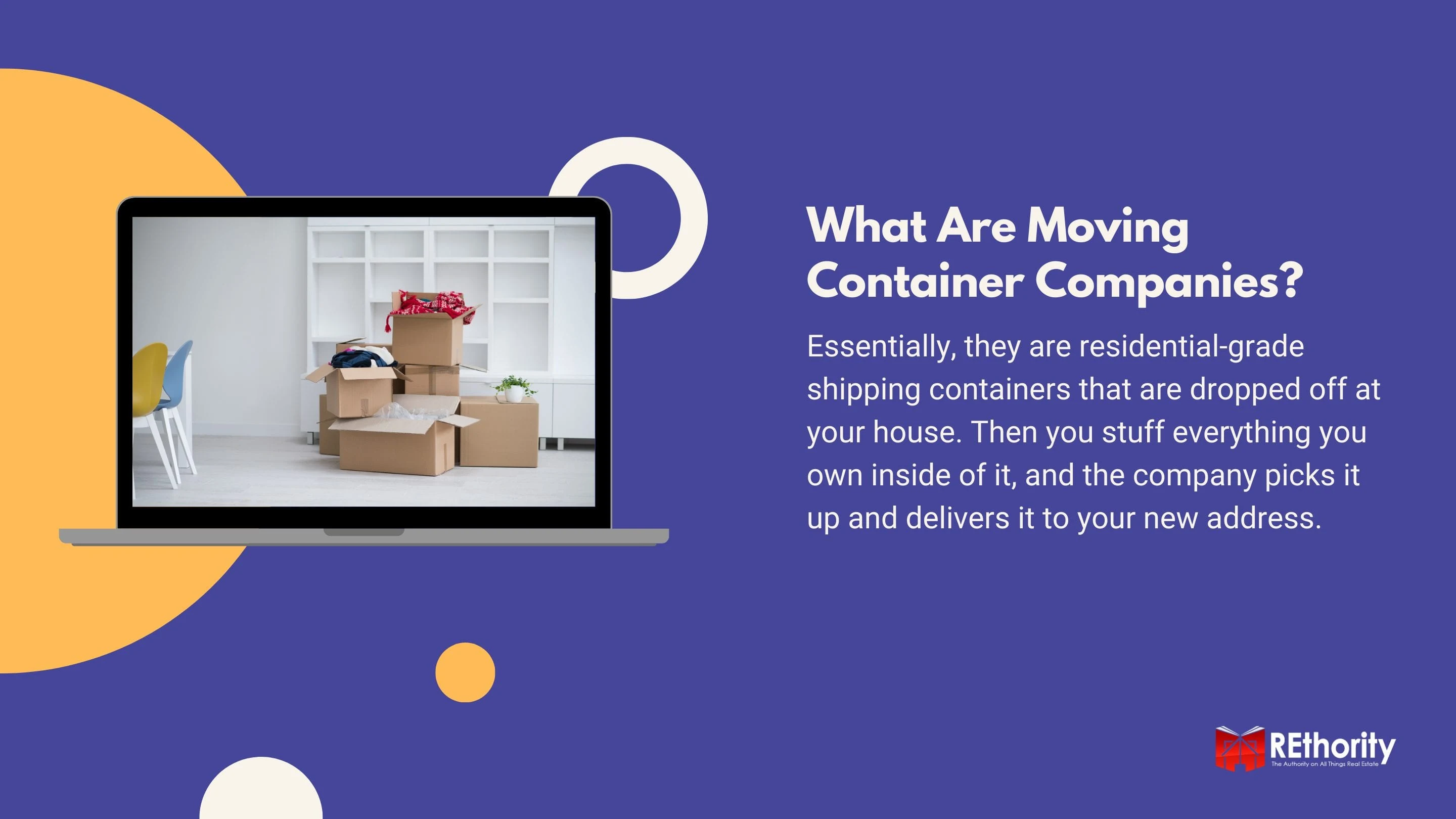 Then you stuff everything you own inside of it, and the company picks it up and delivers it to your new address. They'll even store it for a while if you need it. Simple, right?
Of course, there are a few things to consider when thinking about using a storage container for your next move, such as:
Moving Container Considerations
Does your old home or new home have room to park the container?
What is your delivery time frame?
Do you have friends or family that can help pack and unpack the container?
Do you need insurance?
This concept is simple, but it does require some planning. Fortunately for you, we've done the hard work for you with our complete guide.
Read on to learn how a moving container company can help save you time and money.
What Moving Container Companies Provide
There are a lot of moving container companies out there, and each one has different policies and procedures. But in general, you can expect standard services to include:
What Moving Container Companies Do
Transportation of your container door to door
One month of container storage
Any toll or fuel costs
Security lock for container
Cost of a Moving Container
If you've priced out moving companies, you know that they're going to cost you a pretty penny. One of the things people like about moving containers is how much cheaper they are.
The price, of course, depends on how much you have to move and how far you need to move it.
And if you need them to store your container for a while, there are some additional costs involved with that.
However, these costs are offset by the fact that you're not paying labor costs for movers.
According to Moving.com, the ballpark costs to use a moving container company are:
Moving Container Company Costs
1 bedroom home: Between $100 and $3,200, depending on how far you're planning to move. Long-distance moves will cost more.
2-3 bedroom home: Between $300 and $4,900, again depending on how far you need to move.
4-5 bedroom home: Between $800 and $6,700, depending on how far you need to move.
It's our opinion that you'll get the most bang for your buck if you are moving a one to two-bedroom home locally or if you're moving a larger home farther but need the container to be stored for a while during the move.
To check out prices for yourself, take a look at a moving calculator to get an idea of what might work best for you.
Additional or Unexpected Costs
When using a moving container company, the quoted price for the container is fairly straightforward. What you might not take into consideration are a few of the extra fees that can get tacked on.
Before you sign on the dotted line, make sure to ask about:
Container Cleaning Fees
If you want to avoid paying a fee to clean the container, make sure to remove any debris left over after you move all your stuff out.
Parking Permits
Depending on where you live and what the parking situation is, a moving container can require more than one parking spot. In that case, you'll need to check with your local government about a parking permit for the container.
Especially if it needs to be on the street. Also, if you live in or are moving to a neighborhood with an HOA, you'll need to ensure the use of a moving container is kosher.
Load and Unload
You aren't allowed to leave a moving container unattended on your street for very long (in places like San Francisco or Boston, for example).
So you may need to ask the driver to stay as you load and unload your things. Of course, this means the driver simply stays by the truck and doesn't help you. But there might be a fee for this from the container company.
Equipment
You may need dollies and hand trucks to help you move your things, so make sure to ask if any of these are provided. Or, at least, ask what the fee is to rent one from the container company.
You should also ask about moving blankets, pads, and straps for your move. Some companies provide them, but some will charge a fee.
Weekend Pickup and Delivery
It really shouldn't be a surprise that if you want to move on the weekend, then you're likely going to pay more. Ask about that if your schedule simply won't allow for pickup or delivery during the week.
Storage
Moving containers are a great option for long-term storage, and rates are normally really competitive with storage units, so keep that in mind if you think you may need to keep the stuff in storage for a while.
Guaranteed Delivery
If you want to ensure that your container is delivered on a certain day at a certain time, then you'll probably pay extra. Ask the moving container company if they offer guaranteed delivery and how much it'll cost you.
Valuation coverage: Usually, a moving container company will increase the level of coverage they offer for an additional cost (though some don't offer anything beyond the basics).
Just keep in mind that any damage to your stuff from loading and unloading it won't be covered, even if you buy additional coverage.
The Moving Container Timeline
Logistics are a big deal when you're looking to move your entire household from one place to another. If you're considering using a moving container company, then there's a general timeline for this kind of move.
A typical container move looks like this:
Two months before your move: Schedule your moving container and find some help. If you can't bribe friends and family with pizza and beverages, then now is the time for you to hire some professional moving help.
Two weeks before: Make sure you have all the supplies for your move that you may need. These include packing materials, boxes, pads, straps, and blankets. There are plenty of places to buy packing materials. There are also many places to find things, such as moving boxes, for free.
Moving day: Make sure the moving container company has a place to drop off your container. Then, you have three days to load it and get it picked up
If you need additional storage or have special requests surrounding delivery, then you need to make sure that's arranged when you order your moving container.
It's not a bad idea to make a moving checklist to ensure you have all your bases covered. A move is a big undertaking, after all!
How Containers Stack Up
At this point, you're probably wondering if you'd be better off hiring a professional, full-service moving company. But there are things to consider if you're looking for a less DIY experience.
In this case, movers are probably what you're looking for. But if you're unsure, there are some key differences between these two options. Here's how they stack up:
Time for Prep
When you hire professional movers for your move, all your stuff will need to be ready to go when they arrive. With a moving container, you have more time to pack up things even once the container arrives.
In fact, unless you pay for the driver to stay as you load and unload, you should have about three business days to load up your container. This is a much more generous window than you'll find with professional movers.
Price
A professional moving company usually does an in-home estimate that can have a large variance when it comes to the final price.
With a moving container, the fees are usually at a flat rate based on the size of the container you get.
Storage
Storage is really where moving containers are heads above the competition. With a professional mover, you usually only get storage-in-transit, and fairly hefty fees can be associated with more long-term storage.
With a moving container, storage rates are very competitive, and you can have your storage container delivered, partially unpacked, stored again, and then delivered again as many times as you want.
Labor
When you choose a moving container, there's no labor included.
Sure, it's not hard to hire help on your own, but when you go with a professional mover, you can pay them to load, unload, and even disassemble and reassemble your furniture and electronics, though an extra fee may apply.
Delivery
When it comes to delivery windows, moving containers have a much more precise delivery window than a moving company.
Materials
A professional moving company often includes blankets, pads, straps, and dollies in the price of your move. A storage container company often doesn't include these extras.
Insurance
If you're looking for additional insurance, then a professional moving company is more likely to offer it. Many moving container companies only offer basic coverage of your items.
The Best Moving Container Companies
If you're sold on the idea of a move with a storage container company, what now?
With so many moving container companies out there, which should you choose? Well, we've done the hard work for you. Below, you will find our top picks.
PODS
This is the moving container company most people think of first because it was one of the first. PODS containers are portable metal units for all kinds of moves, from local to cross-country.
You can even use them only for storage. All the units are durable and weatherproof and come in various sizes so that you won't pay for what you don't need or worry about the number of containers you need to order.
To get a quote from PODS on a moving container, you'll need to call. When compared to other moving container companies, some have complained that PODS have longer transit times and lack the ability to track your shipment.
---
ReloCube
U-Pack offers the ReloCube. It's one of the fastest-moving container companies out there, but also one of the most expensive.
They offer one weatherproof standard-size container that they claim on their website is 305 cubic feet. This should be enough to pack up one room in your home.
So, it's possible that you might need several ReloCubes in order to move your entire household. But you'll only be charged for the containers you actually use, so that's a positive.
You can use the estimator tool on their website to determine how many containers you think you may need. Conveniently, each container fits in one standard-sized parking spot.
---
U-Haul
U-Haul is the name for DIY moving services. You've probably used a U-Haul rental truck once or twice back in your college days! This is consistently one of the most affordable moving container companies out there.
They also give you the option to transport the container yourself and reserve it online, but there are a couple of things you should be aware of if you do choose them.
First, their containers are made of plywood, so they aren't weatherproof. They do include a weatherproof cover that can be removed, but that might be a concern for some people.
They also only offer one size of container. So you may need more than one to get everything you own moved. Tracking your container isn't possible, either.
This means you have to trust their reputation in the moving industry to make sure your stuff ends up where it should.
---
1-800-PACK-RAT
Consistently ranked among the best moving container companies out there, 1-800-PACK-RAT offers competitive prices and multiple container sizes to help you customize your move.
Their containers are weatherproof and sit off the ground on aluminum slats, so you don't have to worry about your stuff getting wet if it rains.
Plus, reserving one of their containers guarantees you 30 free days of storage, either at their storage facility or on your own property. The only drawback to 1-800-PACK-RAT is their limited service area.
As of the time of writing, they are only available in 29 states. So, make sure it's available both where you currently live and where you're moving to.
If you're making a cross-country move, you'll need to ensure their service is available in both your old and new home locations. If offered in your area, it's definitely a great option for local moves, too.
---
Which Moving Container Company Will You Choose?
Moving is a process that starts months before you actually pack up your belongings. Your best bet is to price out different options, including container companies, to see which fits your budget and expectations.
Remember, using a moving container company has its definite advantages, but it's also a DIY endeavor.
So remember that you'll need to make sure to have the help you need! If you want a full-service move, then it may not be the right choice for you.
Resources: