Planning a move this year? Moving is a fact of life, but that doesn't make it any less stressful. There's so much to plan and figure out. How many boxes will you need?
How far is the journey from your current home to your new home? How much does it usually cost to hire movers to take care of the loading, transportation, and delivery of your stuff?
How many movers will you need? Thankfully, good moving companies can take care of all the details for you. You can relax and prepare for the move and everything that follows.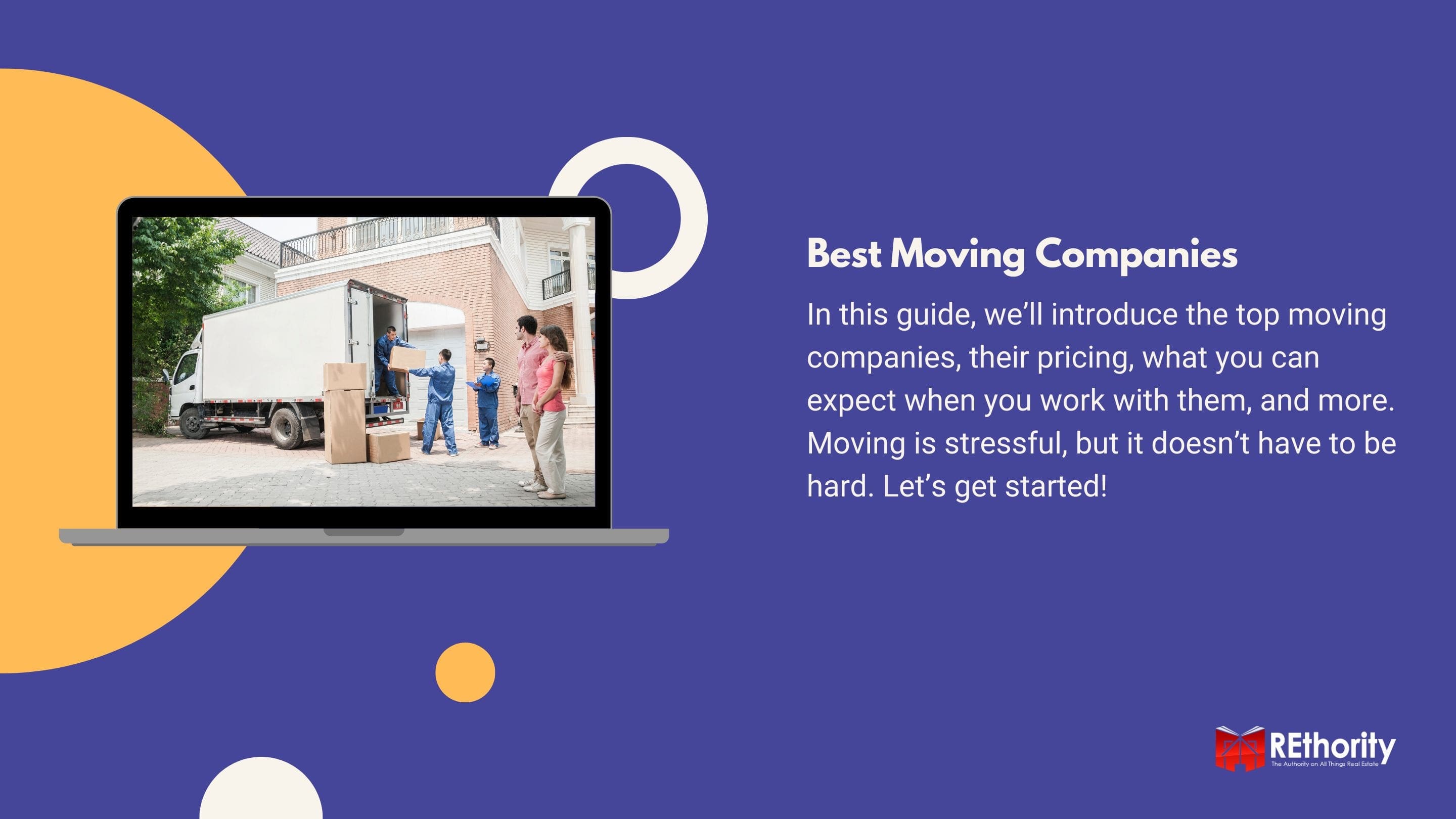 It's never too early to start planning and come up with a list of resources. We've got the answers to help you find the best moving companies that are around today.
In this guide, we'll introduce the top moving companies, their pricing, what you can expect when you work with them, and more. Moving is stressful, but it doesn't have to be hard. Let's get started!
What Kind of Moving Company Do You Need?
First things first – are you planning a local move or a long-distance move? That's going to be a significant factor in how you choose your moving company. What's the difference between local moving companies and long-distance moving companies?
Local
Local moves are relatively short-distance – usually under 50 miles – and you pay by the hour. Paying an hourly rate works for local moves because it doesn't take very long to load, transport, and deliver your items.
What else factors into how much you'll pay a local mover? The size of the crew they have to supply to handle your move is one part.
Smaller houses and apartments may only require a 2-person crew to handle the move, while larger homes may require a team of 4 or more movers.
Long-Distance
Long-distance moves (also called cross-state, interstate, or intrastate moves) are a little more complicated. These moves are not typically charged by the hour.
This is because of the lengthened time it takes to move your items from your current residence to your new home.
What else factors into how much you'll pay an interstate or intrastate moving company? Factors include the volume and weight of your items and the total mileage of the shipment from point A to point B.
Another factor is the location your items leave from and the location they'll end up in. Some states' rates are much higher than others, so make sure to check with your moving company to see how they'll price their services.
Full-Service
Full-service moves are a great option if you're busy or just don't want to deal with the hassle of the move. Full-service moves cover everything – your moving supplies, the packing, all moving labor, transportation, delivery, and unpacking.
Choose this option if budget is not a concern, and you don't want to deal with the details of moving. From what we've seen, this is the most popular type of service. After all, why over-complicate things?
Packing
Packing services are the next tier of moving options. With packing services, you will purchase your own moving supplies (packing materials, tape, boxes, etc.).
But your moving company will be responsible for safely and carefully packing it all up for the move.
You might need a packing service if you plan to rent a truck or already have one and just need help getting all your stuff into manageable boxes for the move.
Specialty
Specialty items require special consideration and treatment during a move. If you need bulky, heavy, or substantial items moved, you'll want to consider hiring a moving company with specialized training in handling these kinds of things.
Pianos, antiques, and large furniture might require specialty moving services. Which companies offer these kinds of moving services? We'll look at that along with pricing and other benefits as we examine the top 5 moving companies in the U.S.
This Year's Best Moving Companies
Here are our picks for the top-rated, most trustworthy moving companies in the United States. These professionals are ready to assist you with your move.
Most offer full packing services to make this milestone even easier for you. Here are the top 6 best moving companies!
1. Atlas Van Lines
About the Company: Atlas Van Lines is one of the largest household goods movers in the United States. Their network includes more than 430 agents, who operate the trucks and warehouses.
They provide free quotes and stand out with their commitment to excellence, high standards of service, and well-regarded reputation.
Services: Local, long-distance, military moves, corporate relocation, auto transport, government moves and packing & storage.
Pricing: Pricing is not listed on the company website, but you can expect to spend between $1,000 and $7,000, depending on your move distance and amount of belongings moved.
Website: Atlasvanlines.com
2. American Van Lines
About the Company: This family-owned and operated, award-winning moving company does most of its business in Florida, North Carolina, and Texas.
They provide free estimates but no online quotes. It's been in business since 1995 and was named Overall Best Movers by Consumer Affairs in 2020.
Services: Local moving, long-distance moving, military moves, corporate moving, international moves, full moving services, packing services, specialty moving services.
Pricing: Pricing is not listed on the website, but average rates range from $1,200 for a local move and upwards of $4,000 for a long-distance move, depending on the distance and other factors.
You must pay a 50% deposit and have a 3,000-pound minimum to reserve a move. According to Consumer Affairs, charges $2,500 for a one-bedroom cross-country move.
Requires 50% deposit

Requires 3,000 lb. minimum
Website: American Van Lines website
3. Colonial Van Lines
About the Company: Colonial Van Lines specializes in long-distance moves, but they can help with local moves under 50 miles, too.
They're an award-winning moving company that handles 12,000+ moves per year and has been in business for nearly 50 years. They have a moving app to help you track their moving service progress during your next move.
Services: Full-service moves, packing services, specialty moving services, long-distance moves, local moves, assembly/disassembly, corporate relocation, short-term storage, long-term storage.
Pricing: You must pay a 50% deposit, but unlike American Van Lines, there is no minimum weight to schedule a move. Expect to pay about $2,500 to move a 1-bedroom cross-country.
Website: Colonial Van Lines website
4. Moving APT
About the Company: "America's Number One Interstate Movers," Moving APT is a moving consultancy company that connects you to top-rated movers across the country, depending on where you are and where you're moving.
All movers who work with Moving APT have liability insurance, provide their own tools and equipment, are licensed, provide specialty moving services, and discounts for military service members, seniors, and disabled individuals.
Services: Local, intrastate, and interstate moves of all weights, volume, and distances.
Pricing: Moving APT says, "A local move costs $1,250 on the average while a long-distance move of 1000 miles in the distance costs $4,980 on the average. These are the typical estimates based on two to three-bedroom moves of 7,500 pounds in weight."
Website: Moving APT website
5. iMoving
About the Company: iMoving is a comparison-shopping website for moving companies that allows you to browse different companies to see how they compare in terms of pricing, services, and overall value.
iMoving works with moving companies across the United States so you can link up with the right movers no matter your location. Talk about hassle-free services!
Services: iMoving movers offer all moving services, from full-service moves, packing services, local moves, and interstate moves. Some movers offer specialty moving services for large, antique, or heavy items that require special care.
Pricing: With iMoving, "Local moves cost about $1,200. Interstate moves cost around $5,000, on average."
Website: iMoving website
6. Empire Moving Group
About the Company: Empire is a national moving company based in Boca Raton, Florida, that manages long-distance, cross-country, local, commercial, and corporate moves.
They are a full-service mover with additional services available outside of the typical pack, load, unload, transport, and delivery.
Services: extra furniture protection, building, and floor protection, auto transport, furniture assembly/disassembly.
Pricing: Empire charges about $3,500 for a 1-bedroom cross-country move. We didn't see any information about a required deposit or weight minimum. Pricing varies based on the services you use during the move.
Website: Empire Moving Group website
Average Moving Company Pricing
You can expect a local move to be much cheaper than a long-distance move, no matter which moving company you work with.
If you hire a moving company to load your already-packed items, transport them, and unload them at the new location, you can expect to pay anywhere from $700 to $2,000 for a local move.
With the same tasks, you can expect a long-distance move to cost you anywhere from $4,200 to $8,000, depending on the distance traveled and the volume of items your moving company will be handling.
If you take advantage of packing services, those typically cost anywhere from $25 to $35 per hour. If you can pack your items yourself, you'll save a lot of money.
To save money while you move and work with a moving company, do as much of the work yourself as possible. That means getting your own supplies, finding free or cheap moving supplies when possible, packing your own items, packing efficiently, and unpacking the items yourself when the mover unloads them at your new residence.

Move less items overall to reduce the amount you pay a moving company. This can be fewer items or getting rid of some of your heaviest, largest items.

Have a yard sale, sell items online, or give items to a local charity or thrift store to reduce the amount you'll pay a moving company to move your items.

Look online for moving organization tips to help you quickly spot items for different rooms, items you're likely to need first after the move, etc. to keep everything streamlined. [/su_box]
It's harder to determine a precise quote for a long-distance move because anything over 50 miles is considered a long-distance move.
Moving 75 miles away will be on the lower end of the pricing scale while moving cross-country will be at the high end.
Choosing the Best Moving Company
As you look at the different moving companies and their pricing, services, and policies, you'll see that some provide exactly what you're looking for, and some have additional services that you may not need.
In terms of choosing the best moving company, you're considering not only an affordable company, but also that has positive customer reviews, is licensed and insured, and experienced with your type of move.
Which Moving Company Is Right for You?
If you're moving an antique piano, you'll want to look at companies that offer specialty moving services (every company on our top 5 list does).
Moving can get very expensive, so looking for companies that don't require an upfront deposit can be helpful. If you're moving out of a small home or apartment, make sure the company you select doesn't have a weight minimum that you may not be able to meet.
We know that moving can be stressful and hope our list is helpful as you choose the moving company that will be the best fit for your upcoming move.
You Might Also Like: