Looking for lawn edging ideas? You're in the right place. And you're also on the right track.
A lush, green lawn makes any home more attractive, and beautiful lawn edging easily adds a finishing touch that really pops.
15 "Edgy" Lawn Edging Ideas
Many people don't think about their lawn edging beyond keeping the weeds trimmed and ensuring nothing's overgrown, even though a well-edged yard can take a home from attractive to a showpiece.
If you'd like to make your yard extra eye-catching, here are 15 ideas for ways to use lawn edging to create a polished look.
1. Log Roll Edging
Our Top Pick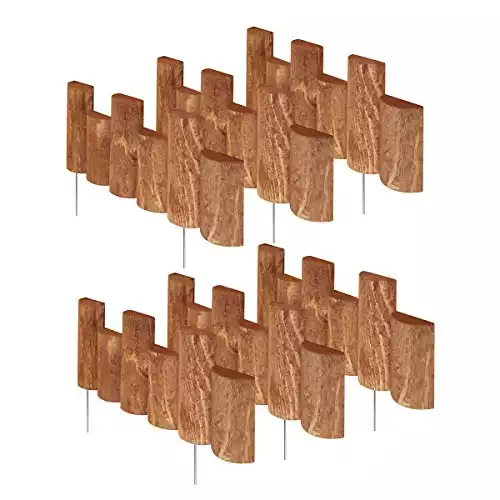 Log roll edging makes a terrific lawn edging when the transition goes from flat grass to ornamental grasses, flowers, or a higher level. Roll edging stands taller than most stone or brick materials.
The height serves to draw the eye up toward whatever's behind it, making it great as a border between grass and a tall flower bed.
Most log roll edging comes in a long strip of fully round or half-round logs connected with a flexible backing material. The flexibility makes it easy to work with, and since the strips come in varying lengths, you can purchase what you need without a lot of waste.
2. Layers for Dramatic Effect
Whichever material you prefer to use at the edge of the grass, you can add layers to the edgework to create a beautiful look. A simple stone edging leads to gravel and flowers and provides more interest than stones used alone.
A second edging material next to the stone leads the eye to the next feature, and it doesn't matter if it's a sidewalk or patio instead of a colorful flower bed.
Extra touches like this show your pride in the state of your yard and can make mowing easier with its clean line between grass and stone.
3. Natural Shapes and Curves
Every lawn edging doesn't have to be a precise line. If you prefer a more natural look, you can create a border between grass and flowers by keeping an inch or two of dirt from the flowerbed bare and allowing the blooms to hang over into the yard.
This natural look works best with wildflowers and tall, ornamental grasses that will cover the edge of the yard and create a rough border that brings to mind a rustic cottage in the country.
If other parts of your yard have sharper edges, a natural wildflower border can complement the look and soften the lines.
4. A Stone Garden Border
When your grass meets a walkway, you have choices about whether to leave the edge bare or add a strip of something ornamental. Small stones make an attractive edging strip to separate the lawn from a sidewalk or any concrete or stone barrier.
The stones soften the edge and add interest to what would otherwise be a simple curved line.
A strip of stones can separate the yard and garden areas even without a walkway between them and can be natural gray or multicolored and ornamental. Another option is to use a layer of stones that leads to a thin strip of mulch or soil that creates a flower bed border.
5. Metal Strip Border
Our Top Pick
A low metal fence border might not seem like one of the most exciting lawn edging ideas, but it can be the right choice when you want the focus to be flowers or ornamental foliage instead of the border itself.
Colorful flower beds or other garden features that deserve the spotlight don't need a fancy border or lawn edging separating them from the grass.
Let your flowers and other features shine by using a small and barely noticeable metal border. This type of edging still creates a line between the two areas without calling attention to itself.
6. A Soft Edge
Bricks, stones, and wood borders create a manicured look for lawn edgings, but sometimes you don't want anything taking away from dramatic landscaping.
Grass that ends in a soft edge against soil and mulch lets the landscaping shine. The height differences between the stones and flowers draw the eye, and a fancy border would only distract from that.
A soft edge gives the area a natural look that seems less deliberate and looks perfect in a backyard or garden space.
This type of lawn edging is easier to maintain when there's a minor height difference between the levels, especially when the garden feature is slightly lower than the yard itself.
7. Soil or Mulch Edging
Sometimes all you need to create an attractive lawn edging is a little space between the grass and the flowers or sidewalk it meets.
A thin but visible strip of soil separating the lawn from the vibrant flowers presents a pleasing border between them without cluttering the area. If you'd like lawn edging ideas that don't require you to purchase border materials, using a strip of soil as a line of demarcation is an option suitable for every budget.
You can still have this look while using mulch to keep the dirt moist in your flower beds. Stop the mulch short and leave a dark strip of soil between it and the grass.
8. A Brick Mowing Strip
Our Top Pick
A strip of bricks set even with the lawn creates an attractive lawn edging that helps make mowing easier. Flat borders set level with or slightly below the grass ensure a mower can roll over them without damaging the blades.
Mowing strips like this ensure you won't have to trim weeds around the border the way you do with above-ground edgings. Bricks work best when you set the border around straight lines and angles rather than curves or irregular shapes.
Bricks come in so many shapes and colors that you can find a style that matches your yard and garden décor, so don't be discouraged if the traditional red brick isn't to your taste.
9. Natural Stone and Flowers
Some lawn edging ideas that don't require straight lines involve flowers to add excitement to a border. Multicolored tulips can provide a colorful pop in a strip at the edge of a yard, especially when they're leading to a pond or water feature on the property.
Large stones separate the tulips from the water in another layer that keeps the look natural but dramatic and more relaxed than pavers, bricks, or a geometrical border. The flowers and rocks flow from the grass to the water and make an already lovely spot more beautiful.
10. Curved Black Bricks
For a more precise edge, curved bricks separate the grass from shrubs and flowers. Instead of rectangular bricks set at angles with grout between to form curves, you can purchase bricks and stones pre-shaped to create seamless curves and angles.
Bricks designed for this purpose come in several colors, but black adds a finishing touch that will stand out even more bordering a lawn next to light-colored flowers, concrete, or a white or light-colored home. Black also adds a nice touch near dark red brick.
11. Stone Wall Lawn Edging
Natural stone is always a popular choice for lawn edging ideas, garden décor, and front of house landscaping.
A low border built from natural stone makes a lovely barrier between grass and shrubs, flower beds, or rock gardens filled with smaller, ornamental pebbles.
Short rock walls create a height transition when used to border flower beds, and low walls complement tall blooms without taking attention away from them.
You can use mortar to hold stones in place once you've created the look you want, though shorter walls might not need anything more than careful placement to create a stunning lawn edge.
12. Ornamental Grasses
If you like the way a natural edge looks but want something a little less chaotic than flowers or shrubs, ornamental grasses can work well. You can leave a strip of soil as an edge between the lawn and the ornamental grasses, or they can butt together.
The taller grass will hang over the edge and create a natural, soft border.
To achieve this look, choose grasses that drape and stay under two feet tall instead of tall varieties like pampas grass. Some of the best choices for this look include Japanese Sedge, Japanese Forest Grass, Blue Fescue, and Umbrella Grass.
13. Rustic Flat Stones
Flagstones left with their rough edges create a natural border against the grass. If you want stone edging but like the look of raw stone, this type of lawn edging should fit the bill.
Flat stones mortared together without a smooth and rounded or straight edge bring to mind a cottage in the country.
A rough flagstone walkway or platform with no other edging probably won't appeal if you prefer a manicured look or a smooth edge, but it can be perfect in a lawn and garden space with a mix of textures and lines. Try it in a small area to add some rustic charm.
14. Flat Wooden Fencing
Our Top Pick
A low wood fence made from flat panels creates an attractive border between grass and taller flowers. Wooden border fencing is similar to log roll edging but consists of flat panels and slats instead of rounds and half-rounds.
Since you can choose from several types of wood, you can achieve any look you want. Treated cedar and redwood are two of the most popular choices.
But you can paint the wood any color that fits your outdoor décor. Wooden fence lawn edging also comes in different styles, from flat squares to a border that looks like a miniature picket fence.
15. Pavers and Mulch
Identical paving stones and mulch used throughout your yard create beautiful edges between the grass and trees, shrubs, rock gardens, and flowers.
Pavers and mulch achieve a classical look that gives any yard, no matter how big or small, the appearance of being kept by a top-notch gardener.
By using the same lawn edging ideas around every element in your yard, you'll create a sense of formality and tidiness.
The symmetry throughout the space will enhance any natural features or ough-hewn stone edges carefully placed in the yard or garden for maximum impact.
Things to Consider
When you're looking at photos and lawn edging ideas for inspiration, remember that your lawn doesn't have to look like anyone else's and should reflect your sense of style and comfort.
Too many different types of edging will make your lawn look cluttered, but don't be afraid to try two or three that complement each other.
Straight edges and smooth curves in one part of the lawn can set off a more natural, rough edge in an attached garden or another part of the landscape.
You can start with a simple line of soil between the grass and walkways or garden spots to see if you like it before investing in purchased lawn edging.
If you want to use landscaping bricks but can't find the color you want, try spray painting the bricks on top of a tarp. Painting the bricks before you place them works better than painting the completed border.
You can also paint or stain wood edging any shade you want, while stones look better left their natural shade.
The most budget-friendly border idea is a natural line between grass and the next part of the yard.
A metal or plastic border strip pressed into the ground to help create the edge also makes an inexpensive option until other materials are within your budget.
What Are Your Favorite Lawn Edging Ideas?
The hardest part of creating a border could be narrowing down which materials you want to use and which look you want to achieve.
We hope these lawn edging ideas give you some inspiration to find a look you love in your yard and garden space.
What is the best lawn edging to use?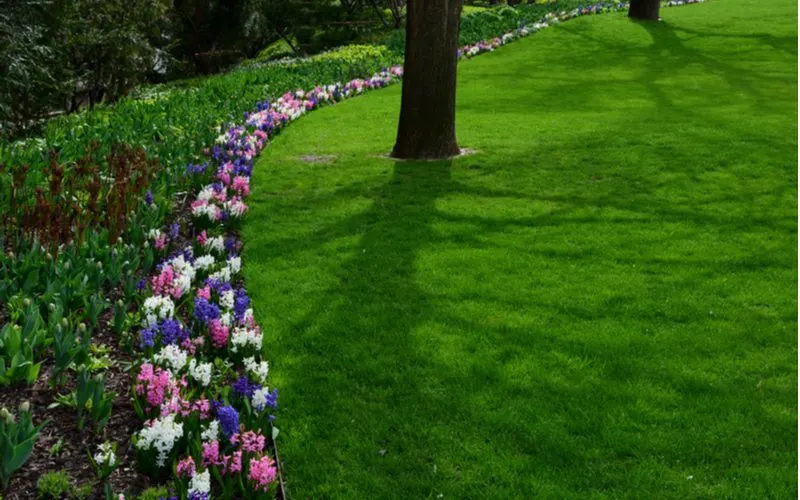 The best lawn edging is made of plastic or aluminum. Both are pliable (which is great for corners), easy to use, and affordable to buy. But keep in mind that if it's not installed right, either material can look cheap and may uproot itself from the ground over time.
What is the cheapest lawn edging?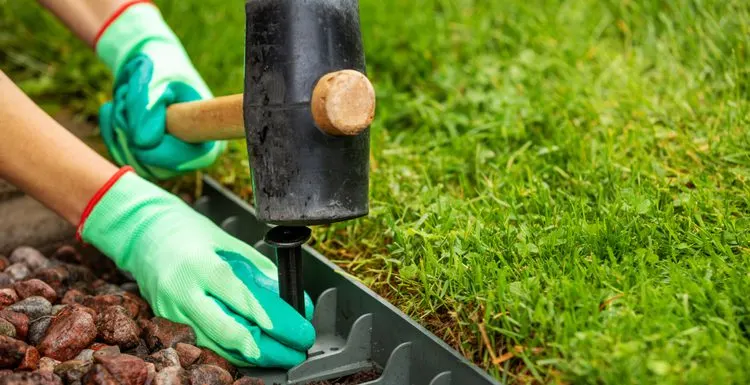 Plastic is the cheapest lawn edging you can buy. It's widely available at almost all big box retailers, and is extremely easy to install. While it doesn't look high-end, if it's done right, it can still add significant curb appeal to a home.
What can I use to border my lawn?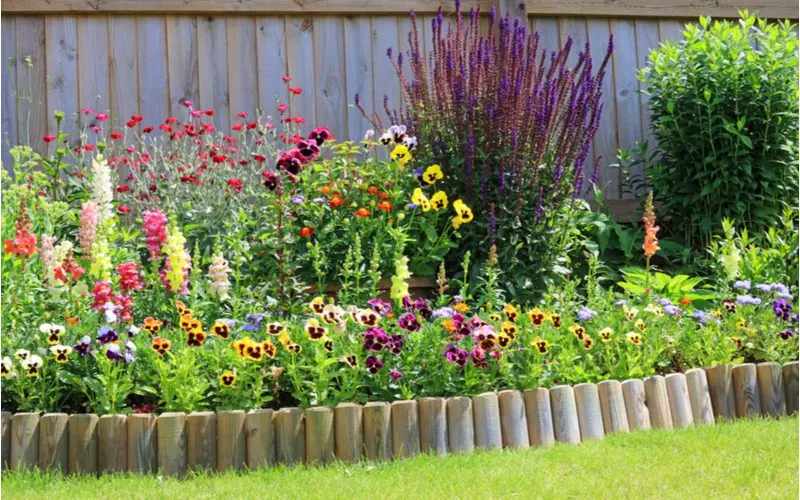 One of our favorite lawn borders is log roll edging, which is made to look like logs turned on their side and buried in the ground. It's not harmful to the environment, looks nice, is relatively inexpensive, and adds significant curb appeal to any home.
Resources: