What's the perfect way to end the evening?
Relaxing in a hot tub, of course! It's one of the best and most luxurious ways to relax after a long day.
But many people need to realize how important it is to know the dimensions and layout of a hot tub before buying one.
Knowing the size, shape, and other parameters, such as seating arrangement, is very important when choosing the perfect hot tub for your home. All because you need the best possible relaxation after a hard day's work.
This blog article will look at all aspects of hot tub dimensions.
We'll help you determine everything from the optimum position for your body while you relax in the chair to getting the most out of the jets and hydrotherapy functions.
Whether you are looking for a hot tub for yourself or your spa, we can help!
Armed with this knowledge, let's dive into the specifics of the different types of hot tub dimensions!
Standard Hot Tub Sizes and Dimensions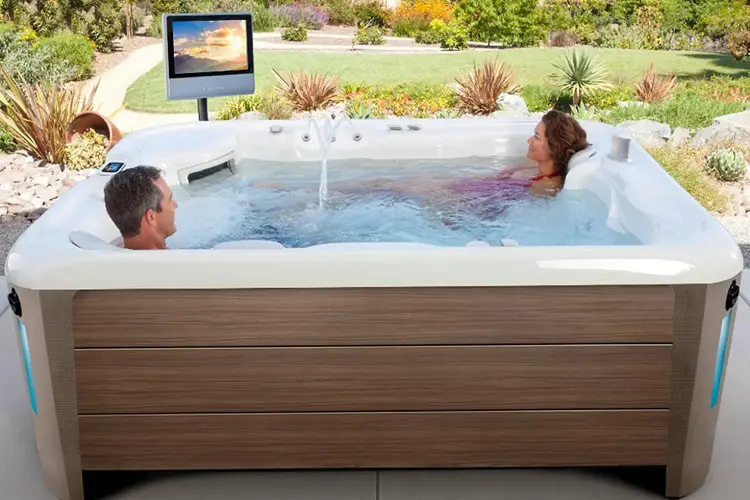 Hot tubes come in different dimensions and sizes. This variety makes it possible to find something to suit every taste.
You can fit a standard hot tub perfectly in almost any space. You can count on them for about 4-7 people.
If you have a small backyard or deck, a standard-sized hot tub can provide the perfect amount of relaxation and luxury with minimal impact on your budget.
On the other hand, you may want to entertain a large group. Then we recommend looking at larger hot tub dimensions.
You can find a lot of bigger models on the market. They are spacious enough to accommodate 7+ adults comfortably. At the same time, they only take up a little space in the yard.
Whether you are buying a small hot tub for privacy or a larger one that will gather friends, knowing the dimensions of standard hot tubs is essential to make an informed decision on which one will best suit your needs.
Let's take a closer look at the three types of hot tub dimensions:
Small Hot Tub Sizes (Compact)
Many people are not ready to buy a hot tub because of limited space. Fortunately, small-sized hot tubs are available on the market.
In this way, everyone can enjoy the relaxing effects of this appliance. But the hot tub only takes up a little space.
The compact hot tub models come in all shapes and dimensions. They offer many different functions. These include massage jets and even aromatherapy options.
If you have long wanted to buy a hot tub, do not despair. They won't be conspicuous and won't become a big fixture on your property. There are many options.
Medium Hot Tub Sizes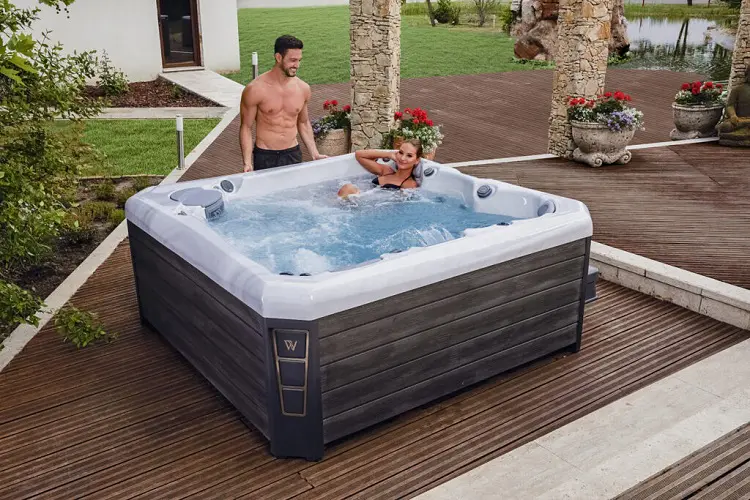 Do you want to experience total relaxation in a hot tub?
A medium-sized hot tub is ideal for you.
But do you want to have hot tub dimensions and not waste a lot of space in your backyard or patio?
A medium-sized hot tub is a great way to incorporate therapeutic benefits. You can have hydrotherapy anytime, anywhere, right in your backyard!
These hot tub dimensions have enough massage jets. There is enough space for bathing for 4-6 people at a time. But they are of moderate size for easy installation and use.
A medium-sized hot tub bath can give hours of relaxation under the gentle hum of water bubbles. And this option is suitable for absolutely every member of the family.
Large Hot Tub Sizes
Installing a large hot tub in your backyard will add an extra level of relaxation and luxury.
Hot tub dimensions range from a capacity for six people to full-blown swim SPAs. So you'll have plenty of options. You'll get the most out of your outdoor oasis.
Plus, you'll reduce your energy bills by investing in a bigger hot tub. All because you will have higher efficiency.
The hot tub dimensions will last many years with the right filter and maintenance plan. It will provide you with comfort and soothing relaxation all year round.
It is critical to balance the desired dimensions of the hot tub with practicality. There should be enough space around it for sitting, walking, and safe operation.
There is a distinctive feature for larger hot tubes. There are more waterfall jets. And there are other therapeutic features, such as light indicators and aromatherapy.
A large hot tub is an excellent option if you have enough space. It can be a great way to turn your outdoor space into an inviting meeting place.
How Does Shape Impact Size
You have already realized that hot tubs come in different dimensions.
But understanding the influence of shape on size is critical when choosing.
As a rule, rectangular hot tubs offer more space than round ones.
Square hot tubs are ideal for maximizing the seating capacity. But you might need help with placement because of the unique four-sided design.
When choosing a hot tub's dimensions, you should consider the number of seats and nozzles. Larger hot tubs often offer twice as many seats and jets. It is due to the increased surface area.
With the variety of choices on today's market, finding a hot tub can be tricky. That's because you need to find the perfect one for your preferences.
How Big Hot Tub Do I Actually Need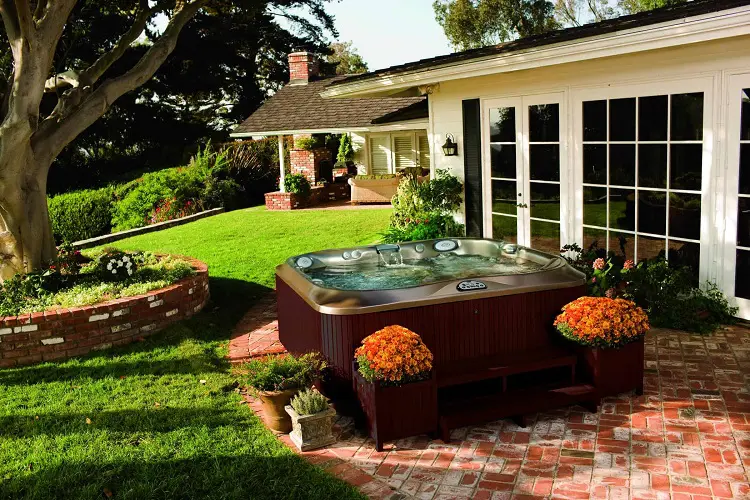 When buying a hot tub, an important step is understanding how big a tub you need.
Do you want to make sure you get what's right for you? You probably do!
A great hot tub is only good if it has room for your family or friends. Take a few important things into consideration:
The size of your backyard.
The number of people who will be using the hot tub.
The size of the room once installed.
Any special needs you may have.
Do your homework and study the different models. Only then will you be able to choose your hot tub dimensions.
It will suit you both from a practical and an aesthetic point of view. With the proper knowledge, choosing the ideal hot tub size will be a pleasant and easy task!
Once you have chosen a hot tub, you can proceed with the installation. Most hot tubs with different dimensions require professional installation.
This way, you can ensure safety and durability. Your hot tub dealer should be able to provide you with the necessary instructions.
With some planning, you'll soon be ready to sink into your hot tub and enjoy the relaxation you've been dreaming of!
How Easy Is It to Install a Hot Tub?
Installing a hot tub can be a complicated simple process. It is usually handled by a professional in their trade.
Depending on the hot tub model, you may need to build or level a base before installation. If you plan to install in the ground, remember that this is an intensive job.
Depending on the hot tub's dimensions, it requires extra preparation and effort. For above-ground hot tubs, however, the process is generally easier.
Remember to read the instructions carefully before starting work. Be sure to pay attention to all safety warnings.
When your hot tub is ready, all you have to do is fill it up! Make sure the water temperature in your hot tub is set correctly.
Add chlorine or other chemicals to keep it clean and safe. Ask your dealer if you need to know which product is suitable for your hot tub dimensions.
Once you have taken into account the hot tub dimensions and the instructions, you will soon be able to relax in your hot tub. Enjoy a luxurious bathing experience!
FAQ
What should I consider when buying hot tubs?
When choosing a hot tub, it is crucial to consider the size of your hot tub. But also keep in mind the shape and size of your outdoor living area.
In addition, hot tubs require professional installation and assembly. This way, you can ensure safety and durability.
Can I install a hot tub myself?
Yes, you can install hot tubs by yourself. But we recommend hiring a hot tub installer. A hot tub salesperson can provide you with the recommendations you need.
This way, you will be able to use the hot tubs successfully.
What size is the hot tub best for my family?
The hot tub size, for you and your family, depends on the number of people who will be using it. And it's also essential to pay attention to the shape and size of your outdoor living area.
Researching the size and features of your hot tub ahead of time will help simplify choosing a hot tub. You should also ask your hot tub retailer for advice on the size and installation of your hot tub.
Conclusion
When choosing a hot tub for your home, it is vital to consider dimensions.
Hot tubs come in different shapes and sizes. Each has its advantages, space, and features.
Also, understanding what size hot tub you need is critical when choosing one that will fit your outdoor living area and aesthetically.
Professional installation and fitting are essential and should be taken into consideration. A little research, and you'll be ready to enjoy an incredible hot tub experience in no time!
Resources: