Ever heard of a granny pod?
These tiny accessory dwelling units are gaining traction as home prices climb and parents downsize.
Read on to learn how these homes offer big living from a tiny space.
Why Buy a Granny Pod?
Granny pods are small accessory dwellings that allow aging parents to live independently on the same property as their adult children.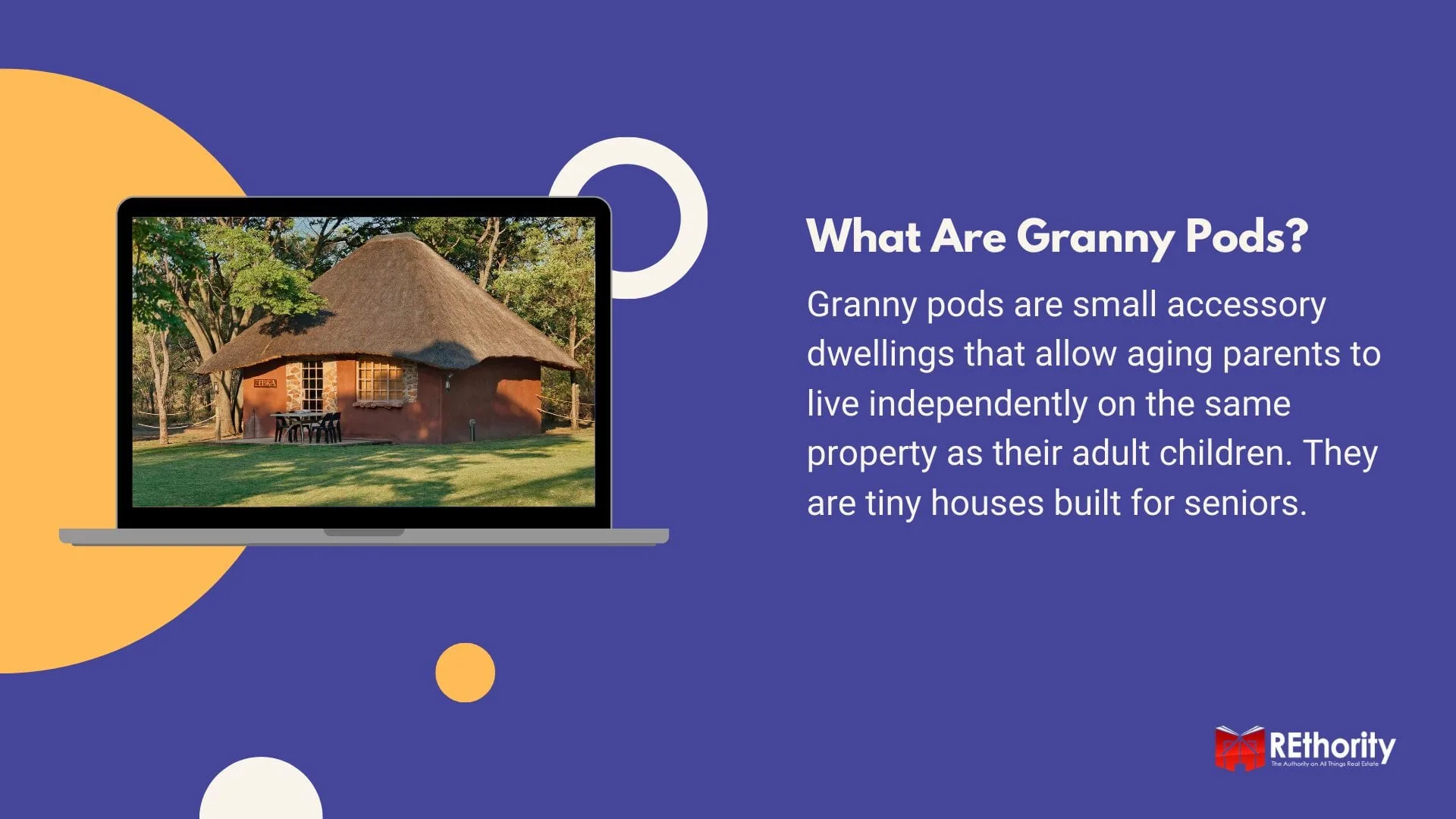 They are tiny houses designed for seniors and offer all the comforts of home close to their families.
Many have additional features that make them safer for adults with mobility or vision problems.
Granny pods are sometimes called:
Secondary suites
Mother-in-law apartments
Accessory dwelling units (ADU)
They're a unique solution for seniors who don't feel comfortable living alone but want to maintain their independence. Or, for those wanting to downsize their home.
They also provide a viable option for seniors who can't afford to live in long-term care facilities. By adding a granny pod to the backyard, adult children and their families can be close by.
If you're considering buying a granny pod for a parent or just want to learn more about these units, keep reading. This guide covers everything you need to know about granny pods.
We'll cover everything, including pros and cons, average cost, where to buy them, where they're allowed, and special features.
What Is a Granny Pod?
Granny pods are among the many types of tiny houses (dwellings with less than 1,000 square feet). Typically, these dwellings will have anywhere from 300 to 500 square feet.
Because they are built or placed on a family member's property, granny pods usually connect to and use the main house's sewer, water, gas, and electricity.
Granny pods are very simple structures. Their small size is another reason they're a good fit for mobility-challenged adults.
Inside a granny pod, you'll find:
Bedroom/living room
Bathroom
Kitchenette
Granny Pods vs Tiny Homes
While granny pods seem simple, there's a lot of thought put into the details. These units usually incorporate universal design, making them accessible for everyone regardless of age, disability, or size.
Universal design examples might include:
Doorways at least 36 inches wide
Ground-level entry with no steps
Single story
Light sensors
Soaking or walk-in tubs
Hands-free faucets
Door levers instead of handles
The units are designed to be as comfortable and home-like as possible while increasing accessibility. At the same time, they reduce the amount of space a senior has to navigate and walk through to complete daily tasks.
These include bathing, preparing meals, checking the mail, or getting into bed. Depending on the medical needs of a person living in a granny pod, additional features and devices can be added for safety and health.
We'll talk more about these additional features below under Granny Pod Safety Features. Next, let's look at some of the benefits and drawbacks of buying or living in a granny pod.
Pros and Cons
While many like the idea of a granny pod to keep loved ones close and ensure their safety, there are a few drawbacks to buying or living in one. We'll look at the pros first.
Pros (Why You Should Buy One)
Help in Case of an Emergency. With a granny pod on the property, someone is close to monitoring the health of the parent. Should an emergency occur, they can quickly get help.
Increases Access to Social Support. Living in a unit near family members increases seniors' access to social support from family. That's important because adequate social support improves quality of life and reduces depression and anxiety.
Increases Independence. As important as social support is, most of us crave some independence, whether we're 8 or 80. A granny pod offers the perfect compromise for a parent who likes to maintain their own home or is reluctant to move into a long-term care facility.
Maintains Privacy. Whether you're the parent or the adult child, we all need our privacy at times. That's a challenge when living together in the same house. In fact, research finds that 45% of Americans 55 to 65+ currently live with their children. Granny pods provide the benefit of togetherness while allowing more privacy for both parties.
Increases Accessibility. As mobility decreases, the areas an aging adult can safely navigate may get smaller. The small size of granny pods and built-in accessibility features make it easier for seniors to get around and enjoy their home, not just parts of it.
More Affordable Than Long-Term Care. While it's not exactly cheap to buy or build a granny pod, it's a much more cost-effective option than spending $5,000 to $7,000 per month on long-term assisted living facility care.
Allows Seniors to Keep Pets. Long-term care facilities don't allow residents to keep pets, but living in a granny pod means seniors can keep their furry friends. Having to rehome a beloved pet to move into a care facility is emotionally difficult, and this option ensures it doesn't have to happen.
More Time with Grandchildren. Spending time with grandchildren has been proven to increase lifespan, improve cognition, increase activity levels, and decrease the risk of depression. Moving into a granny pod close to the main house creates endless opportunities for seniors to spend time with their grandchildren.
Improves Property Value. With multigenerational living becoming more common in the United States, adding a granny pod is a major selling point. It can increase your property's value by 45% to 100% of its construction cost.
Potential for Rental Income. If your parent decides the granny pod isn't right for them or moves out of the unit for any reason, you may be able to rent it out (if local zoning laws allow it).
Cons (Why You'd Avoid One)
Higher Utilities. Sharing water, sewer, gas, and electricity with the main house means these utility bills will increase. Be sure to plan for these increases, so they don't come as a surprise.
Expensive to Buy or Build. Granny pods save money in the long run compared to the cost of assisted living facilities, but they still require a large upfront investment.
Local Rules May Not Allow. Lots of areas do allow granny pods, but some have strict rules governing their use or don't allow them. It's important to contact local departments to determine if granny pods or accessory dwelling units are permitted in your area.
Lack of Nursing Care. If your parent needs additional care, you'll have to hire home health services to come in. That can get expensive and may rival the cost of long-term care facilities.
May Remove Social Supports. If your parent was involved in a senior center, church, or book club near their home, moving into a granny pod (if you live far away) can remove these important social supports. In this case, encouraging them to get involved in similar local activities can ease the transition.
Granny Pod Safety Features
Granny pods are built to be accessible, but some have additional safety features that can give both parties peace of mind.
If you're looking at granny pods and safety is a primary concern, look for models that incorporate or add the following safety features.
Smart Systems
These automated systems make life easier for seniors and ensure safety. HVAC, lighting, and locks can all be controlled remotely or automatically with smart systems installed.
This makes it easy for you to double-check that the doors are locked at bedtime or that the air conditioner is set to a comfortable temperature on a very hot day.
Health Monitors
Built-in monitoring technology can track movement, caregiver arrival and departure, and even vital signs. These monitors include ankle-level cameras that still allow privacy while notifying you or emergency services of a fall.
Some technologies automatically notify emergency contacts if there is a change in normal activity or if a caregiver fails to show up.
ADL Assistance Fixtures
For residents who need help with Activities of Daily Living (ADLs), adding fixtures like ceiling lifts and special walk-in tubs keep seniors independent in their own home.
24/7 Emergency Assistance
Living on your property puts your loved one close to you, but what if you're not home or they can't contact you in an emergency?
Some units come with 24/7 emergency assistance that is voice-activated to ensure help is always available.
Floor and Wall Lighting
Special lighting that focuses on the walls and floors of the unit can help prevent night-time falls.
Pressurized Ventilation
Immunocompromised residents can't take the risk of being exposed to airborne pathogens. Pressurized ventilation systems can keep outside air out of the unit.
Evernest and The MEDCottage Granny Pod are examples of units that provide these important safety features.
How Much Does a Granny Pod Cost?
The cost of buying a granny pod varies widely because different sizes, features, and materials factor into the final cost. Our research found that most granny pods cost between $40,000 and $125,000.
The median price for a finished granny pod is $52,000. Fully outfitted pods containing monitoring equipment and safety features are on the high end of the pricing scale, closer to $100,000-$125,000.
Prices Vary by Features
Basic finished models without extras are on the lower end of the pricing scale, ranging from $40,000-$60,000. You can purchase prefabricated granny pods, renovate an existing building or tiny house into one, or build your own.
Prefabricated units are the easiest option, but they are also more expensive. You'll need to pay for delivery and installation if you choose this option.
Renovating an existing one-story structure (shed, garage, tiny house) into a granny pod takes more work than buying one, but it's not as expensive, and you can customize features for your loved one.
Building a granny pod can be done "from scratch" or from a build kit. These kits come with pre-cut pieces, so all you have to do is assemble it according to the instructions. This is the most affordable option, but it takes about two weeks and two adults to complete the build.
Some granny pod companies allow you to rent the unit for as long as you need it. Evernest, for example, rents their units in certain states for $2,000/month.
Where to Buy a Granny Pod
As we explained earlier, granny pods are a generic term for a living space in your backyard. However, there are a few companies that make these structures with seniors in mind.
Evernest: For Health and Safety Monitoring
Evernest is known for specializing in granny pods, and their expertise really shows. In fact, they're one of the only manufacturers that specifically designs pods to make living safer for seniors.
From health monitoring technologies that alert caregivers to problems, vital signs, and activity levels to smart controls throughout the units.
Evernest units are 320 square feet with high ceilings and lots of windows. They come with:
Full health and emergency monitoring technology
ADL assistance (ceiling lifts, bathroom fixtures, etc.)
Smart HVAC, lighting, and locks for safety
24/7 voice-activated caregiver access
Pricing is not included on the website, but Evernest says it is the "affordable senior living solution."
Boxabl: For Fully Loaded Units and Fast Installation
Boxabl sells unique units that are bug, mold, water, wind, and fire-resistant. They arrive flat, and installers simply "unfold" the house to set it up. The Casita unit is 20×20 and comes fully loaded with:
Full kitchen
Bathroom
Large living room
LED lighting installed
Washer and dryer
Electrical wiring and plumbing
The Casita starts at $49,500 for everything above and as low as $250/month if financed.
Elder Cottages: For More Square Footage and Accessibility
Elder Cottages designs one and two-bedroom granny pods. Their units are ADA compliant and easily accessible by wheelchair.
They've been in business since 1979 and have a lot of experience creating these small, efficient homes for seniors. Each pod (568 square feet up to 947 square feet) comes with:
Full kitchen and bath
Customizable floor plans
Plumbing and wiring installed
Ability to take apart and relocate
Elder Cottage units are available in 13 states, from Maine to North Carolina. They cost $44,960 up to $59,350, not including the cost of delivery and installation.
Are Granny Pods Legal in My State?
It's essential to make sure granny pods (accessory dwelling units) are allowed in your area before moving forward with a purchase. Some states allow them under certain circumstances. Others amended zoning laws to exclude them.
For example, Virginia, California, and New York have changed their zoning laws to allow ADUs, so long as they are medically needed and temporary structures without a permanent foundation.
Common Granny Pod Restrictions
These are the most common restrictions for granny pods and ADUs in general, but remember, not all states have any type of restriction in place:
Must Meet Building Codes: Local and state codes applying to manufactured or mobile homes will apply to the structure, and it must be up to code
Need Demonstrated: Approval for building an ADU may rest on a need being demonstrated in the form of a doctor certifying that the resident has an impairment that prevents or limits daily activities
Temporary Status: The structure should be in place only as long as it is needed and cannot be placed on a permanent foundation
Proper Permits Obtained: Local or state-required permits may be required to move forward with building or installing the ADU
Size: The size of the structure must meet local or state rules for ADUs; could limit length, height, or square footage
To find out what the rules are in your area, check the Accessory Dwellings website.
Frequently Asked Questions
What is the average cost of a granny pod?
Our research found that the average cost of a granny pod is between $40,000 and $125,000, with a median price of $52,000. However, your cost will vary greatly based on the size, options chosen, and location.
Can I put a granny pod in my back yard?
Yes. In many states and cities, you can put a granny pod in your backyard. With the rise of land prices and the resulting squeeze on affordable housing availability, many municipalities are changing their laws to allow ADUs. However, laws are all city and state-specific. So be sure to check with your local code enforcement office before building.
Can you buy granny pods?
Yes. It's almost always more economical to buy a prefabricated granny pod than to build one. The key benefit of a prebuilt granny pod is the great deal of technology that's added to each unit. Anything to make Granny more comfortable, right?!
Is a Granny Pod Right for You?
Granny pods seem to be growing in popularity in the United States, and as our elderly population increases, they may become even more common.
When a senior reaches the age where mobility or health concerns become an issue, granny pods provide a more independent option than moving into long-term care facilities.
Being close to family, living in a home-like atmosphere, more easily navigating the home, and saving money compared to care facility fees are all benefits.
However, if falls are common, intensive, round-the-clock care is needed, it's difficult to come up with the money to purchase, or local rules don't allow granny pods, this may not be the best option for you.
For seniors who want to increase their independence and well-being while ensuring they stay safe and always have family nearby, granny pods are a great option.
Resources: