Are you searching for tiny house plans? If so, you're in the right place. Our complete guide covers where to buy plans, their costs, and tips for stretching your dollar as far as possible.
Looking for Tiny House Plans?
Think the tiny house life might be for you? A good place to start is deciding whether to build or buy a tiny house. Building a tiny house requires designing or buying tiny house plans.
But your plans have to be well-designed, accurate, and priced within your budget. A quick Google search will return thousands of tiny house plans, but beware.
Not all of these building plans are worth the price (even if they're free). Some are flawed designs that can bring construction to a screeching halt midway through.
Finding and buying tiny house plans is easier when you have a list of trustworthy sources to compare prices and features.
In This Guide
In this guide to tiny house plans, we've done all the research so you can find out:
Whether you should build or buy a tiny house

Choosing between custom or stock tiny house plans

Where to find free and paid tiny house plans

How much tiny house plans cost
Start with deciding whether you should buy plans to build your own or opt for a finished tiny house.
Should You Build or Buy Your Tiny House?
Would you rather build or buy your tiny house? Building one is a labor of love that takes a little time and benefits from previous construction experience.
It's also less expensive and provides more customization opportunities. While it seems much easier to buy a finished tiny house, there are a few important things to consider.
Buying a Tiny House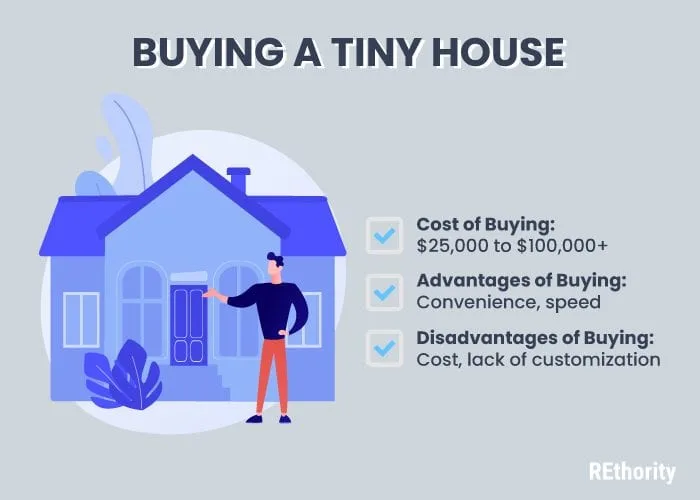 Buying a tiny house may be convenient, but it is also the most expensive option. Expect to spend between $25,000 and $100,000 to buy a completely finished tiny house.
Luxury tiny houses can be as much as $150,000. If you're buying a prefabricated tiny house shell (just the framing and basic structure), you'll pay anywhere from $17,000 to $40,000.
If you go this route, you'll still have to finish the structure with walls, flooring, cabinetry, plumbing and electrical, utility hookups, and all interior work. You'll also need to buy compact kitchen appliances.
Expect to spend several thousand to finish the tiny house if you've purchased a shell.
Cost of Buying:

$25,000 to $100,000+

Advantages of Buying:

Convenience, speed

Disadvantages of Buying:

Cost, lack of customization
Building a Tiny House
Building a tiny house with the help of tiny house plans is not quite as convenient as buying one finished, but it's certainly more affordable and customizable.
When you use tiny house plans to build your own house, you're in the position to make any changes you want. You can cut costs where it's appropriate, build at the pace you want, and add any extras or additional features you like.
Building instead of buying creates significant cost savings. Instead of spending a minimum of $25,000 up to $100,000 to buy, you can spend about $5,000 up to $35,000 to build your own.
If you're worried that building your own tiny house will take too much time, you'll be glad to know it only takes a few weeks to complete a tiny house build.
Overall, if you can follow instructions and know-how to use basic tools (or can get someone with experience to help), building a tiny house using quality plans is by far the best option.
Cost of Building:

$5,000 to $35,000

Advantages of Building:

Affordable, customizable

Disadvantages of Building:

Takes longer, more effort required
Where to Find Tiny House Plans
Finding tiny house plans that meet your criteria can be a little overwhelming. There are so many options online that it's hard to know where to start.
Fortunately, there are a few stand-out companies in the industry that offer quality tiny house plans. It's a good idea to start with those and see if you can find plans you like.
Some tiny house plans are created by award-winning designers and well-known experts in the tiny house field. These designs are typically available for download for a set price.
Other designs may be offered for free, but are usually incomplete and require more construction experience. We include both paid and free tiny house plans below.
1. Tumbleweed Tiny House Company
Jay Shafer, the founder of Tumbleweed Tiny House Company, is considered the father of the tiny house movement. It's hard to get more credible than that!
Tumbleweed offers tiny house on wheels (THOW) plans, finished houses, and tiny house building workshops. You'll need a trailer as the foundation to build a Tumbleweed tiny house on.
Check out their website to see both of the tiny house plans they have available right now: Cypress and Elm. They regularly offer discounts on tiny house plans as well.
Cost:

$759 (Elm and Cypress models) + $24.95/ea. for dormer and stair plans

$100 off + free dormer + stair plans w/code "100offplans"

Benefits:

Reliable company, plans tested by engineers and architects, 30-day satisfaction guarantee
2. Tiny Home Builders
Tiny Home Builders offers tiny house on wheels (THOW) building plans in multiple designs and sizes. Their models include The Element, Simple Living, Tiny Living, Tiny Retirement, and Backyard Studio.
They range in size from 96 to 260 square feet. Keep in mind that you'll need to purchase a trailer as a foundation to build any of these tiny houses.
They offer these trailers for sale on the website as well. Buying a trailer gets you free Simple Living house plans, construction and towing guide, workshop access, and more.
Check out the website to see the tiny house plans. Keep in mind that The Element is the roomiest option, while Tiny Retirement offers single-level living with no loft for those who don't want to climb a ladder to get into bed.
Cost:

$147 (Backyard Studio); $197 (Simple Living house); $347 (The Element, Tiny Living, Tiny Retirement

Benefits:

Multiple size options for most designs, THOWs for easy mobility, construction guides available, purchase custom trailer directly from the website
3. Vina's Tiny House
Vina Lustado's tiny house designs are inspired by Japanese and Scandinavian architecture. She is the owner of Sol Haus Design, where she creates custom tiny house designs for clients.
You can purchase 3 of her stock tiny house plans on her website: The Light Haus, Sol Haus, and Sol Pod. Vina's tiny house plans are designed to be off-grid, so keep that in mind as you browse her plans.
The tiny house plans are available for download as a PDF that licenses one build. You're able to print the plans up to 3 times. Check out the website to view Vina's available tiny house plans.
Remember that these plans don't include step-by-step building instructions, so if you're inexperienced, you'll need some extra help. You can purchase plans for the Light Haus (292 sq. ft.), Sol Haus (236 sq. ft.), Sol Pod (190 sq. ft), or a custom tiny house.
Cost:

$295 (Sol Pod); $399 (Light Haus and Sol Haus); $595-$895 (Custom)

Benefits:

Affordable plans, created by a designer, reviewed by engineers, designed for off-grid living
4. The Tiny Tack House
Chris and Malissa Tack designed a 140 square foot tiny house on wheels (THOW) built on a 20' by 7' trailer. This makes it easy to move around.
This design is currently the only one they offer, but it includes dormers and lots of windows (11) and a skylight to let in plenty of natural light. This tiny house is more of a rustic style.
The PDF will be sent to your email after purchase. The plans also come with a materials list and building tips to make the project easier. You can also find great tips on the Tiny Tack House website.
Check out the website to see the plans. We love how affordable the plans for this 140 square foot tiny house are!
Cost:

$175 (Tiny Tack House plans)

Benefits:

Very affordable plans, designed by 3D designer, built on a trailer for mobility,
5. Architectural Designs
Architectural Designs is a great tiny house plans destination if you're not 100% sure what you're looking for yet. You can browse designs from more than 200 different designers and architects to find something you like.
Some of the designs feature actual client photos so you can see the finished product. Connecticut-based Architectural Designs has been around for almost 50 years and is an award-winning family-owned business.
You can find everything from simple homes under 200 square feet to luxury tiny homes on the larger end. Any design can be customized and modified to fit your criteria.
Check out the website to start browsing tiny house plans. You can filter your search by square footage, bedrooms, features, style, and more.
Cost:

Varies by designer, but around $700

Benefits:

AD is a Best of Houzz winner for seven consecutive years, features hundreds of designers by different architects, multiple price points, quality designs, custom options
Free Tiny House Plans
If you're looking to find tiny house plans for a smaller budget, or just want to review plans without committing to any cost, check out these free tiny house plans.
1. Tiny Home Builders
Tiny Home Builders offers paid tiny house plans (see above), but they offer two free building plans as well. They accept donations to charity in exchange for the free plans.
If you're doing research and want to try a few construction projects to brush up on your skills, the free plans are great options. Start with the free plans for a ModernDog dog house (one day project) or kid's tiny house (several day project).
Cost:

Free, but $5 -$25 donations are requested in exchange for the plans

Benefits:

Great way to strengthen and build construction skills, plans offered for one day and multi-day projects, donations go to charitable causes
2. Tiny House Design
Tiny House Design is an excellent resource for free tiny house plans. The plans are available to download as a PDF. You'll find plans from the small 5' by 8' Tiny Market House to the Homesteader's Cabin at 12' by 24'.
There are even solar house plans available. Know before you download that these plans are not 100% complete. You won't find plans for some features, like headers over windows and doors, but you'll get the basic building plans.
If you know you can fill in the gaps when needed, this can be a great option for you. Check out the website to browse the seven free tiny house plans available.
Cost:

Free plans for seven different designs

Benefits:

Plenty of design and size options, freedom for customization, solar and energy-efficient build options
Using Tiny House Plans to Build Your Tiny House
Building your own tiny house is incredibly rewarding. If you're not a designer, you'll want to start with tiny house plans created by designers and approved or certified by engineers.
This will ensure your completed tiny home will be sturdy, safe, and durable. Keep in mind that some of the tiny house plans included here will come with construction guides and step-by-step instructions on building, but some don't.
If you're a novice builder, you may want to enlist the help of a handy friend or family member to build your tiny house from the plans you've purchased.
Overall, if you can follow instructions and know-how to use basic tools (or can get someone with experience to help), building a tiny house using quality plans is by far the best option. Also be sure to get a solid table saw, as you'll be cutting a lot of wood.
Consider This
If buying tiny house plans seems expensive, remember the overall cost savings over buying or building a traditional house.
If you pay $175 to $700 for tiny house plans and spend an average of about $23,000 to build it, your total investment is still just a fraction of the cost of building an average-sized home.
We recommend starting with the best possible plans to ensure your tiny house turns out just like you envision it.
You Might Also Like: