Have you ever checked out the tiny houses Amazon sells?
If not, you're in the right place. We've compiled a list of our favorite models, their features, and which we like best. Read on to learn more.
Amazon Tiny Homes: Crazy, Right?
It may sound crazy, but you can actually buy a tiny house on Amazon these days. If you've been thinking about buying a tiny house but weren't sure where to start looking, this guide is for you.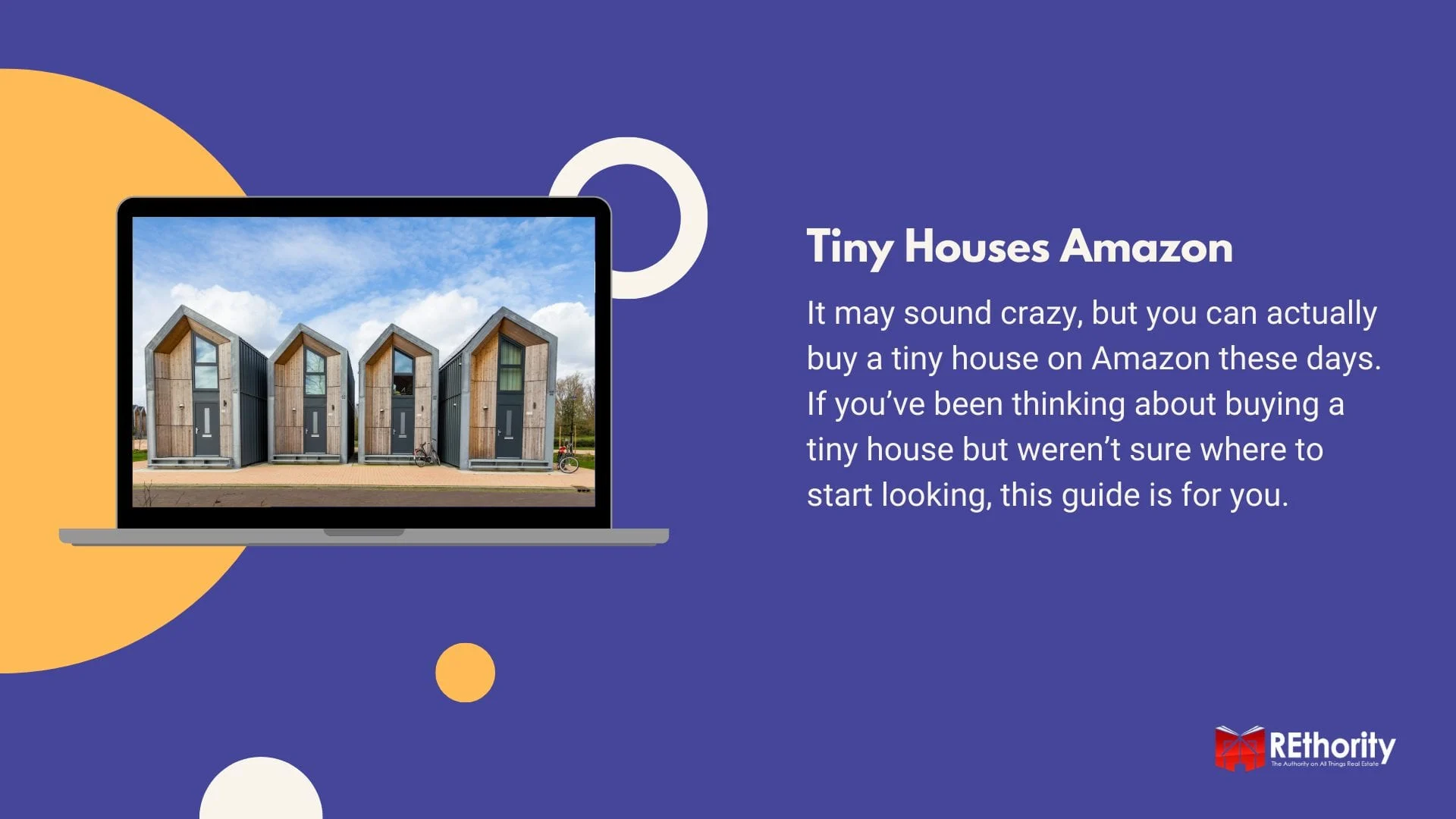 Some of the tiny houses Amazon sells are prefabricated modular homes that are already built and delivered to your location in separate pieces that join together.
Some are kits that include everything you need to build a tiny house with a specific floor plan. Some are shipping container homes that are delivered to you in one piece.
We scoured the website to find the ten best tiny houses Amazon sells to show you how many great, affordable options are out there.
In fact, many of these homes will have you ready to click "Add to Cart"! Here are the best tiny house models we found, their prices, best features, and more.
10 Best Tiny Houses on Amazon
Wait until you see the wide range of tiny house options you can find on Amazon. These are incredibly cool, fairly priced, and available in a range of sizes and designs.
1. starENERGY 648 Sq. Ft. Tiny Home Kit
starENERGY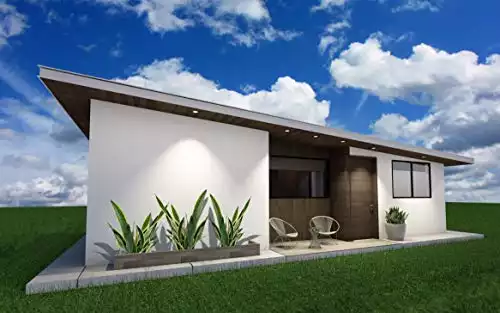 It's easy to imagine yourself living in this modern, unique tiny home. This one has interesting exterior features and is constructed with structurally insulated panels (SIP) that make it supremely energy efficient.
With a roomy 648 square feet, you'll have room for a good-sized living room, full kitchen, pantry, bedroom, bathroom, walk-in closet, and laundry room inside.
The manufacturer has been around for 30+ years. What you're ordering with this kit includes everything you need to construct the "shell."
You'll have to get the materials to build out the interior the way you want. You can opt to leave certain rooms and closets out to create more living space.
The kit includes the following:
Floor plans and assembly instructions

Wall and roof panels

Metal roof sheets

Lumber

Nails, adhesive, and screws

Windows, doors, and knobs

4 X 2 interior framing pieces

Optional: SIP floors
starENERGY will deliver for a fee. This model is $21,900 and has a 4.5-star rating on Amazon.
2. Allwood Claudia 209 Sq. Ft. Cottage Kit
Allwood
This charming cottage-style cabin is ideal for a single person. It has 209 square feet, lots of custom options, and is made from sturdy Nordic Spruce wood.
No interior finishing is needed because the attractive wood grain looks great inside. Because it's smaller than some of the other kits, it only takes one full day to build the kit with two adults.
When you order the Claudia kit, you're getting the shell of this cottage. The only things you're not getting with this kit are the foundation and roofing shingles. You can add any interior features you want.
Here's what you get with the kit:
Assembly instructions

Floor and roof materials

Pre-hung, glazed doors and windows

Pre-assembled gables

Nails, screws, fixings, handles, and door locks

Optional: Canopy roof storage, extra planks for loft
You can add a little square footage and additional sleeping space with a loft. To increase the ceiling height for a loft, Allwood sells extra wall planks separately. Each layer adds about 4.5 inches to the wall's height.
If you're looking for a tiny home on the smaller side, this is a great pick. This tiny home kit is $9,700. Best of all, you get free shipping in the contiguous United States!
3. Cliff Premium Prefabricated 774 Sq. Ft. Modular Smart House
Cliff
The Cliff Premium Prefabricated House is top of the line. It's equal parts form and function. This is a modular home, so two large pieces are delivered ready to be connected together to build the house.
This one has everything you could want in a tiny home, from a full bathroom to a large living room and kitchen. It even comes equipped with smart home capabilities, like smart door locks and heating.
There are dozens of custom options available with this house, from an optional sauna to upgrades for flooring, hardware, faucets, and doors. This model comes with three bedrooms and one bathroom with a bathtub or shower.
Price-wise, yes, it's more expensive than most tiny houses. But it comes with so many luxurious amenities that the price tag doesn't seem unfair.
After all, at $119K, it's still much cheaper than buying a traditional house. Plus, almost everything you need is included. You won't have to buy appliances, furniture, or interior finishing materials.
Here's what is included in the price:
Assembly instructions (or have Q-Haus install it for you)

2 finished insulated house modules

Windows, doors, flooring, everything

All appliances (choose bath or shower)

Built-in and included furniture (including beds)

Water, sewage, and electric connections

Large front porch
All you have to do is hire a contractor to set the foundation for you and plumb and wire the house. It's a beautiful house, and with all that it includes, it's worth every penny of the $119,000 price.
4. Nomad Cube 182 Sq. Ft. Micro Home Kit
Nomad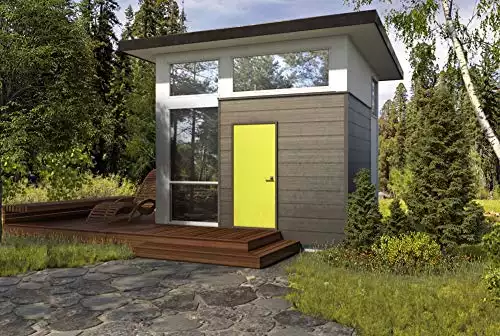 The Nomad Cube is a tiny modular home that offers two levels of living space. Inside and outside, it has an almost futuristic vibe. The sturdy frame is made of 3D-printed steel.
There's enough room inside for a living room, kitchen, bathroom, and sleeping loft upstairs. If 182 square feet is a little small for you, this model can be joined to another tiny house with a single piece called the Nomad Connect.
Here's what you get when you order the kit:
Steel framing

Insulated exterior metal panels and fasteners

Exterior finish (flashing, fascias, panels)

Double-glazed windows

Exterior doors with deadbolt

Flooring

Ikea cabinets

Counters

Toilet, sinks, faucets, and shower

LED lighting
All you need to do is add any interior finishes you want, like drywall or loft access. You'll also need to have it wired and plumbed once it's assembled.
Most kits don't come with the extras this one does, like a shower, cabinets, sinks and faucets, and a wet-flush toilet. The Nomad Cube is $38,800 plus a shipping and delivery fee that varies based on your location.
5. ECOHOUSEMART Timber 1,000 Sq. Ft. Cabin Kit
ECOHOUSEMART
If you're looking for a tiny house that isn't so tiny, this 1,000-square-foot kit could be perfect. The unique design of this house makes it one of our favorites.
The glass front and sides can be modified with walls added for more privacy. When you order this kit, you're getting the pieces you need to build the frame of the home.
You will need to purchase materials to finish the exterior and interior. The kit includes:
Sill plate board

GLT (glued laminated timber) for construction

Internal framing elements

Imitation log beam for internal wall cladding

Engineered wood structural posts
The kits are made to order according to your specifications and custom options. For this reason, this kit takes about 120 days to be shipped to you.
You will need to get interior and exterior materials to finish the house, including windows, doors, roofing, siding, flooring, plumbing, and electrical connections.
Shipping is free if you're within 100 miles of any major U.S. sea port. You can get the kit for $42,417.
6. Weizhengheng 20 ft Expandable Container House
Weizhengheng
This neat little house is made from steel shipping containers. It starts out at 20 feet and expands outward for more room inside. Solar panels on the roof can power the appliances inside and reduce or eliminate electric bills.
We like the small covered porch, which adds a little more space you can enjoy. Unlike some of the other tiny house kits on Amazon, this one takes only about 2 hours to set up.
You can do it yourself, but you will need a contractor to help get water, sewage, and electrical connections set up.
Galvanized steel home

Covered porch

Finished roof, floor, and ceiling

Solar panels

Sinks, shower, counters, toilet

Dining table

Air conditioner

Hydraulic expansion (operate with a remote)

Ready for water, sewer, and electric connections
Because the house is made of galvanized steel, it's fire-resistant, waterproof, anti-seismic, and wind-resistant. For the foundation, you can use concrete blocks.
We couldn't find any clear square footage information for this model, but our guide to shipping container houses mentions that 20-foot models are 8 feet wide.
This means this model would be around 160 square feet, depending on how much it expands. You'll pay $36,800 (plus shipping) for this expandable, solar-powered tiny home on Amazon.
7. Allwood Avalon 540 Sq. Ft. Cabin w/ Loft Kit
Allwood
The Avalon cabin is a unique twist on a traditional cabin. It's a great option for families with plenty of space—540 square feet downstairs and 218 square feet in the loft.
The cabin is built with Nordic Spruce wood, so the outside and inside don't need to be finished to look great.
The thick wall planks make the Avalon more energy-efficient, holding cool air or heat inside better. Two adults can build this kit in less than one week.
When you order this kit, you're going to get most everything you need to build it (minus the foundation and roof materials):
Assembly instructions

Lumber

Hardware, including nails, screws, fixings, handles, and door locks

Triple glass windows and doors

Floor decking
You'll need to get your own materials to finish out the interior, like cabinets, appliances, and electrical and plumbing fixtures. It's a good value for the size at $33,990.
8. Vermont Pre-Cut Timber 330 Sq. Ft. Cabin Kit
Jamaica Cottage Shop
This kit includes everything you need to build this rustic cabin. The pre-cut, color-coded lumber makes it much easier to assemble.
On top of the ease of assembly, this cabin includes a loft that can sleep more people and add a few square feet to the living space. The wood used in the construction is hemlock and eastern white pine.
When you order this kit from Jamaica Cottage Co., you will get the following materials:
Pre-cut lumber and beams with color-coded stickers for assembly

29-gauge metal roofing

2" thick pine door with window

Fixed sash windows with screens

Fasteners and hardware

Floor joists and decking

Materials for the porch, loft, and ladder
Two adults can build this design in about 40 hours. The first floor has 240 square feet of living space, the loft adds 96, and the porch adds another 80 square feet.
For a cute rustic cabin that can be built in less than 48 hours, this is a great choice. The kit is $18,916 (plus shipping) on Amazon.
9. MODS 320 Sq. Ft. Tiny Container Home
MODS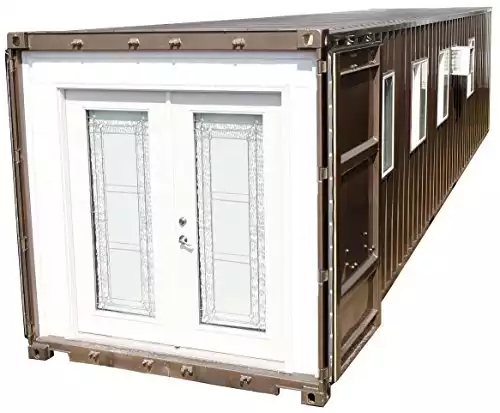 This MODS tiny home is more spacious than it looks, with 320 square feet inside. The entire interior is finished inside, and it even comes with furniture and kitchen appliances.
There's a heating and air conditioning system already installed to keep it comfortable inside. There's one bedroom, a shower, toilet, sink, kitchenette, and living area.
The living area opens up to the outside with large patio doors. It is made from a shipping container, so it's incredibly strong and durable. Fire-, wind-, and water-resistant, it's solid and almost impervious to damage.
It comes with sewer, water, and electric connections ready to be hooked up. For a move-in-ready all-in-one house, the MODS 40-foot container home is an excellent option. It's $36,000 on Amazon, plus shipping.
10. Expandable 480 Sq. Ft. Container House
Weizhengheng
This expandable tiny house features two bedrooms, one bathroom, a living room, and a full kitchen. It's spacious, and lots of windows let in natural light.
The galvanized steel frame makes it strong and weatherproof. It expands with the touch of a remote control thanks to the hydraulic expansion system.
This model is ready to be hooked up to electricity and plumbing. We like the added features like a sliding patio door, bamboo flooring, kitchen cabinets, and included appliances.
Here's what's included:
Steel-framed house

Shower, toilet, sink, and plumbing

Air conditioner

Cabinets

Appliances

Sliding windows

Sliding patio door
It's roomy inside and has 8-foot ceilings for an open feel. It's $30,000 (plus shipping).
Is It a Good Idea to Buy Tiny Houses on Amazon?
With so many options listed on Amazon's website, it's easy to find a tiny house you like. But is it a good idea to actually buy one there? We think so, as long as you keep the following in mind:
Look for reviews.

Some of the newer models or manufacturers' products won't have many (or any) reviews directly on Amazon. If that's the case, search online for other reviews about the company and house model.

Know what you're buying.

If you're looking for a prefabricated home you won't have to build, make sure you're buying a modular or container home and not a kit. Also, be aware of what is included with the house: appliances, roofing, flooring, plumbing/electric, windows, doors, etc.

Compare pricing.

You may find some pricing differences in tiny houses on Amazon vs. other sites. Sometimes the Amazon price is lower. Be sure to check around online to see what other prices the house may be listed for before buying.

Read the fine print.

Most of the tiny homes we found on Amazon had comments from the manufacturer that listed requirements like a foundation already in place at the time of delivery, free shipping only within certain parameters, and the amount of time from your order to the actual delivery. Read everything and communicate with the seller to make sure you're informed about the whole process.
Of course, Amazon isn't the only website where you can buy tiny houses, so keep these tips in mind if you look on other sites like Home Depot, Wayfair, and even Walmart.
Now that you can buy a house online and have it delivered to you just like you could a book or lamp, it seems like we really are living in the future.