We'll walk you through the range of washer and dryer dimensions, highlight some important things to keep in mind, and share a few tips to help make the most of your laundry room space.
Let's get started!
Standard Washer and Dryer Dimensions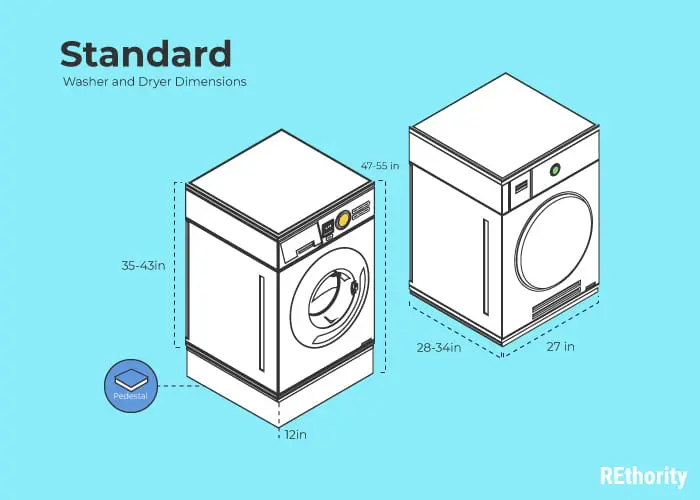 Front-loading and top-loading washing machines and dryers are about 27 inches wide by 35-43 inches high and 28-34 inches deep (without pedestals). Washing machines with a pedestal base are about 27 inches wide and anywhere from 47-55 inches high.
Pedestals usually measure about 12 inches high. A note about clearance space: For proper air circulation, you need at least 1″ of clearance on either side of the machine, or 2″ of clearance per machine.
How Much Space Do You Need?
So if you're placing a standard washer and dryer side-by-side, you'll need at least 58″ of space. If you don't have this much space, scroll down to read about compact and stackable washer and dryer dimensions.
Standard washing machines/dryers measure about 27″ wide by 35″-43″ tall and 28″-34″ deep
Standard washing machines/dryers with pedestals measure about 27″ wide by 47″-55″ tall and 28″-34″ deep
Pedestal alone measures about 27″ wide by 12″ tall
Standard washer and dryers side-by-side require at least 58″ of space
Standard washer and dryer capacity is about 3.1-4.0 cubic feet
Compact Washer and Dryer Dimensions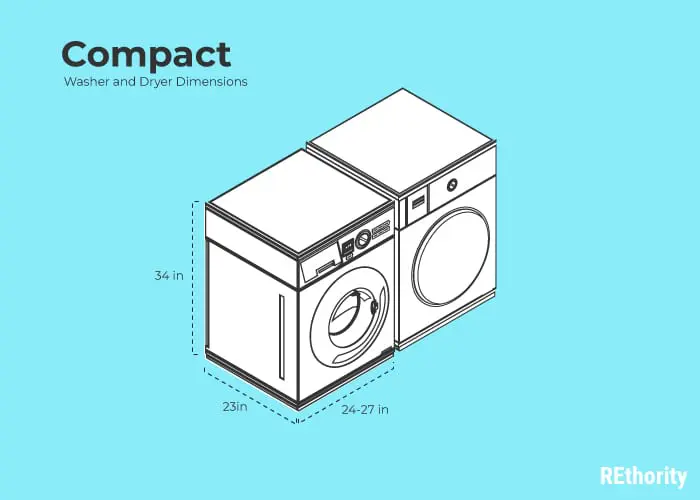 If you're short on space, you'll want to consider a compact washing machine and dryer. They take up a little less space than standard machines and are perfect for small areas where larger machines won't fit.
Compact washing machines are approximately 24-27 inches wide, 34 inches tall, and 23 inches deep. This cuts the amount of side-by-side space you'll need by 6 inches, from 54 inches minimum with standard machines to 48 inches with compact machines.
Six inches doesn't sound like a lot, but it can make a big difference in a small area. Compact washers and dryers are similar in size to a dishwasher and are usually front-loading machines because they fit under standard countertops.
Their capacity is less than a standard machine, usually around 1.5-2.5 cubic feet compared to 3.1-4.0 cubic feet for a standard-size machine.
Compact washers and dryers measure about 24″-27″ wide by 34″ tall and 23″ deep
Compact washers and dryers side-by-side require at least 48″
Most compact washing machines and dryers are front-loading
Compact machines are designed to fit under a standard countertop
If you're dealing with a small area that is taller than it is wide and don't think compact machines will fit, you'll probably need a stackable washer-dryer set or washer-dryer combo.
Stackable Washer and Dryer Dimensions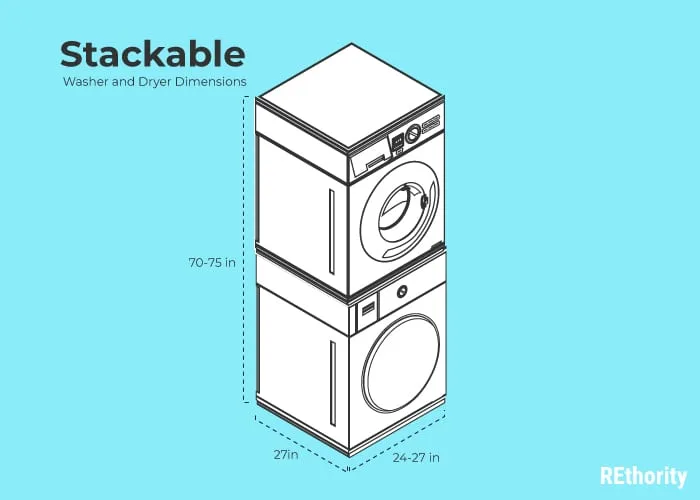 Common in condos, apartments, and small homes, unitized washer-dryers (also called unitized laundry center or all-in-one washer-dryers) and stackable machines are a brilliant space-saving alternative.
Instead of requiring 48-54 inches of space to accommodate two machines side by side, these options allow you to stack the machines and take up half the floor space.
Unitized Washer and Dryers
Because the washer and dryer machines are stacked, you'll need plenty of vertical space. These units are more compact than standard machines.
Unitized machines typically have a top load washer and a front loading dryer. They are usually about 24-27 inches wide, 70-75 inches tall, and 27 inches deep.
Machine capacity will vary based on the size of the machine, usually in the 1.5-3.0 cubic foot range with smaller machines holding less than larger ones.
Unit will be about 24″-27″ wide, 70″-75″ tall, and 27″deep
Unit capacity ranges from 1.5-3.0 cubic feet
Keep in mind that unitized washer and dryers are different from stackable washer and dryer sets (read more below). The main difference: Stackable machines are full-size.
This means they can be used side-by-side or stacked. Unitized washer-dryers are compact, smaller units, must be stacked and can't be used side by side.
Stackable Washer and Dryers
Stackable machines are closer in size to standard machines than a unitized washer-dryer set, but are much shorter. They are approximately 27 inches wide by 24 inches high.
This means a washing machine and dryer stacked together using a stacking kit will be about 48 inches tall.
When these two units are stacked, the dryer always goes on top and the washing machine goes on the bottom to evenly distribute the weight.
Stackable washers and dryers are about 27″ wide by 24″ tall
Together, a stackable washer and dryer measure about 27″ wide by 48″ tall
Capacity varies from 2.0-4.0 cubic feet
Stacking kits can be purchased to safely and securely stack your machines
You can purchase a stacking kit for some washing machines and dryers. Never try to stack your standard washing machine and dryer without doing some research and locating the proper kit for your machine.
Tips for Finding the Right Washer and Dryer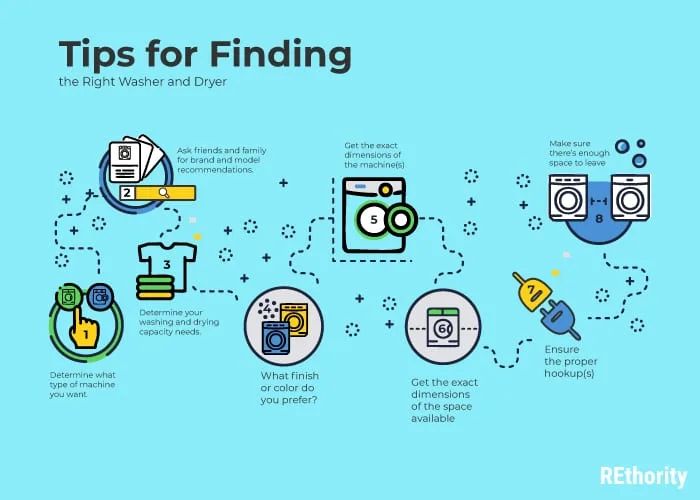 To be sure your washing machine and dryer will fit perfectly in your space, there are a few measurements you'll want to make and things to keep in mind during your search.
Determine what type of machine you want: Energy star certified, top or front loading washer, High Efficiency (HE), compact, stackable, gas or electric dryer and washer, Maytag, Samsung, etc.
Ask friends and family for brand and model recommendations. Browsing online reviews are also an excellent way to research the machine you're interested in
Determine your washing and drying capacity needs. Do you have a large or small family? How many clothes do you wash a lot of clothes at once? Do you need a large capacity machine to handle items like comforters? Are there specific wash cycles you will need to use?
What finish or color do you prefer? Stainless steel and white are popular options
Get the exact dimensions of the machine(s) you're planning to put in and review the specs thoroughly
Get the exact dimensions of the space available – width, height, and depth
Ensure the proper hookup(s) exist where you want the machines
Make sure there's enough space to leave 1-3″ between your machines if they aren't stacked
Armed with this information, you'll be able to find a washer and dryer that not only fits the dimensions of your space, but also fits your needs and lifestyle.
In Summary
What Is the Standard Size of a Washer and Dryer?
The standard size for a washer and dryer is 27 inches wide by 35-43 inches high by 28-34 inches deep (long). They take up slightly more space if they have pedestals, but these dimensions are the industry standard.
But what about a washer-dryer combo appliance?
Washer-dryer combos are more compact than separate washer and dryer sets, so they're perfect for smaller homes. Most combos have the washer on the bottom and the dryer attached to the top, not "stacked," but attached.
The width and depth do not change much, as the width is usually 27 inches, and the depth is about 34 inches. So the depth and width are only slightly smaller. As for the height, washer-dryer combos can be between 70 and 76 inches tall.
What Are the Dimensions of a Washer and Dryer Side by Side?
A standard washer and dryer side-by-side dimensions are 54 inches in width, 30 inches deep, and 37 inches high. Since your washer and dryer go together, you need to ensure you have enough space to fit both of them into your laundry room or wherever you plan to put them.
Since the dryer and washer widths are almost always 27 inches wide, you need a minimum of 54 inches of space. Most washers and dryers are designed with one another in mind, so they can snugly fit next to each other without taking up extra space.
However, having a 55-inch+ space is a safe bet in case there is a small gap between the washer and dryer. If the washer and dryer are stacked, the dimensions will be 77 to 80 inches high, 27 inches wide, and around 30 inches deep.
What Are the Dimensions of a Large Washer and Dryer?
Washers and dryers are already pretty big, but you can get extra-large ones. Extra-large washers and dryers are usually 46 inches high, 29 inches wide, and 35 inches deep. These dimensions are the biggest of the biggest without veering into the world of commercial washers and dryers.
But even larger washers and dryers come in different shapes in sizes, so you can find a large washer that is 46 inches high and 35 inches deep but only 27 inches wide.
Or you can find slender washers 46 inches high and 20 inches wide but only 27 inches deep, so they don't extend off the wall as much.
Resources: