If you are living in an apartment or a condo, a stackable laundry unit is something that you must have.
However, you're probably wondering what size to order. Read on to learn about the most common stackable washer and dryer dimensions.
Single Unit Appliances
The smallest units have a washer and dryer within the same unit. These are known as "all-in-one units."
Most of these washer/dryer combos are electric, because few multifamily properties allow gas dryers.
This is because they are a liability to the property owner. Because these are niche products, the dimensions vary. Most units are enclosed, and as a result are ventless.
Ventless means the dryer does not have a hose that vents out air out the side of the unit. These range in capacity from 1.5 cu. ft. to 2.7 cu. ft.
Let's take a look at some popular models so you can know what is available in the marketplace:
1. Deco high-efficiency ventless electric all-in-one washer dryer combo
This little guy is not only my favorite color, but is a modest size. It's not a stackable washer/dryer combo.
But sometimes you don't have room for both. So, you're left with an all-in-one unit. Its dimensions are as follows:
Capacity: 1.57 cubic feet
Depth: 22 inches
Height: 33.5 inches
Width: 23.5 inches
2. Summit Appliance all-in-one washer and electric dryer
Slightly bigger, this simple white all-in-one dryer has a bigger drum.
But it's still small compared to similar stackable washer and dryer unit dimensions. This one measures:
Capacity: 2.7 cubic feet
Depth: 23.25 inches
Height: 33.5 inches
Width: 23.38 inches
3. LG 2.3 cubic foot front load washer and electric dryer
Last but not least, the cream of the crop is made by LG. Maybe you've read about stackable washer/dryer dimensions.
Or you are simply concerned about space. Either way, you'll still to be able to wash a medium sized load, this is your machine.
Capacity: 2.3 cubic feet
Depth: 25.25 inches
Height: 33.5 inches
Width: 24 inches
Freestanding Units
When researching stackable washer and dryer dimensions, your other option is to choose a freestanding unit.
These dimensions vary by manufacturer, but are typically 27 inches wide and up to 80 inches tall. We've included some examples below, along with their dimensions.
1. LG 4.5 cubic foot ultra large capacity front load washer
If you're looking for a solid unit that is not too big, look at this one. Its total height is 38.69 inches, and it's perfect for a narrow space in a home.
However, it's over 3 feet tall, so space can't be a limitation. Its full dimensions are below:
Capacity: 4.5 cubic feet
Depth: 31.5 inches
Height: 38.69 inches
Width: 27 inches
2. LG 7.4 cubic foot large capacity dryer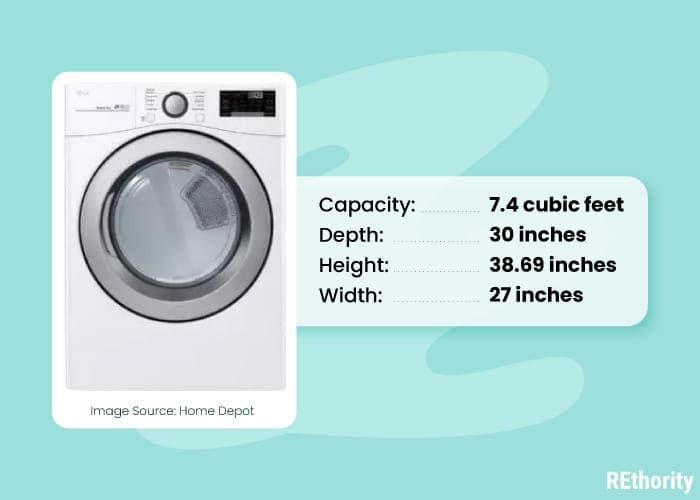 We couldn't mention the LG stackable washer without mentioning its partner in crime, the large capacity dryer.
The total stackable washer dryer dimensions are 27 inches wide and 77.38 inches high. So keep that in mind if you are anything less than tall and don't have stilts.
Capacity: 7.4 cubic feet
Depth: 30 inches
Height: 38.69 inches
Width: 27 inches
3. Whirlpool electric stacked laundry center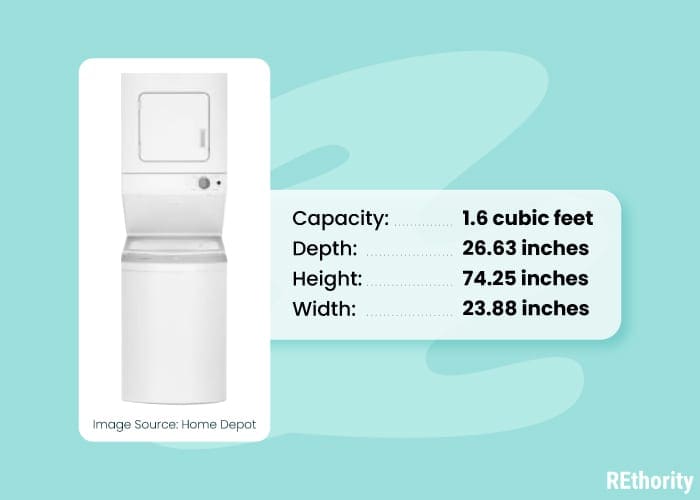 Offering perhaps the best dimensions for an apartment, condo, or small home, this unit sticks out for its utility and price.
Having an all-in-one unit means you'll save space, but also will be out of luck if one of the units breaks. Make sure to keep that in mind if you're keeping this long-term.
Capacity (washer): 1.6 cubic feet
Depth: 26.63 inches
Height: 74.25 inches
Width: 23.88 inches
Stackable Washer and Dryer Dimensions
As you can see, stackable washer/dryer dimensions vary by product and manufacturer.
Unit dimensions range in width between 23 and 27 inches. Most are at least 33 inches high.
But others peak out at nearly 80 inches. Before you buy your own stackable washer and dryer, make sure to consider the product dimensions, and ensure your space can accommodate them.
Resources: