If you have ever bought an electric garage door opener from Sears, chances are that you'll need a replacement clicker.
Unfortunately, Sears is going bankrupt, which makes it harder to order one.
But don't worry, we'll tell you exactly where to buy a Craftsman garage door opener remote and how to program it.
Can You Still Buy a Craftsman Garage Door Opener Remote?
Decades ago, Sears was the best place to buy anything home-related.
Unsurprisingly, decades of severe financial mismanagement have caused many stores to become as extinct as the dinosaurs.
Fortunately for you, the remote control technology used in many garage door remotes is universal. Most systems use a 315 MHz transmitter and radio.
The remote sends a signal to the opener itself, which syncs up with the radio in the garage unit. However, nearly everyone has a garage door, so this presents a problem.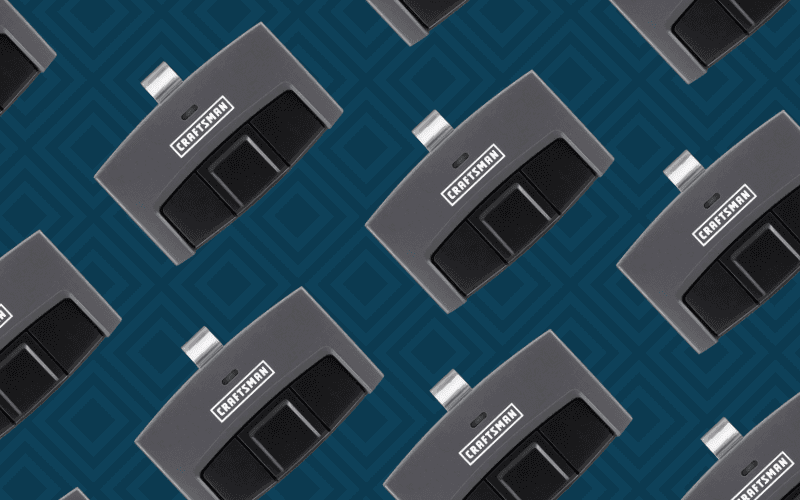 After all, you don't want your neighbor's opener talking to your door. To solve this problem, manufacturers use a "rolling code."
This allows the opener unit to sync with the remote control to recognize a code that changes with every use.
But enough with the tech talk. What you're here to learn is how to get your Craftsman garage door remote synced up with a replacement remote. Don't worry, we'll get there in a second.
Before we do, however, you should know that many garage openers are universal. In fact, so are most keypads and key chain remotes.
The benefit to you is that you can buy a single universal garage door opener. With one tap of the "learn button" you'll be synced with any of the following brands:
Liftmaster
Genie
Sears/Craftsman
Chamberlain
Of course, a universal remote control will work on nearly any system, including some generic units from home improvement stores.
The Best Craftsman Garage Door Remote Controls
We couldn't do an article on Craftsman garage door opener remotes without actually including some of the best places to buy your own clicker.
Here are the three top universal remotes that we love. Even better, you can find them at Home Depot, who ships directly to your home.
Best Universal Clicker: Chamberlain Universal Clicker in Black
Our top picks for the best universal remote is the Chamberlain universal clicker.
With 2 buttons and a rigid plastic design, this clicker syncs with practically any common system. This can operate two doors, including a Craftsman garage door unit.
Powered by a long-lasting lithium battery, this is a favorite among realtors and investors across the country.
Best Universal Door Keypad: Chamberlain Universal Clicker Garage Door Keypad in Grey
Best Door Keypad
There's no better way to avoid getting locked out of your home than a garage keypad. They are simple, secure, and easily installed.
This unit links to nearly all major garage door brands. Even better is that it's highly reviewed, with over 500 people giving it an average of 4 stars. Pretty good!
Best 3 Button Opener: GENIE G3T-R 3-Button Remote with Intellicode
Our final pick is from Genie. This little keychain opener syncs to 3 separate units, including Craftsman garage door openers.
Its rigid design is meant to handle abuse, and it's small enough to clip onto your key ring.
It's even advertised as one of the smallest openers available. Get your very own by clicking the button below.
How to Program a Craftsman Garage Door Opener Remote
If you think this is a daunting task, you are probably overthinking this. While it may seem like a lot of steps, the process is actually quite easy, given you follow these instructions.
We have included the steps to program a 1/2 HP Craftsman garage door opener, as this is the most popular size. We are also including an instructional video from "You can Fix It!".
We just love their detailed instructions. Nice work guys! Make sure to check out all of their videos on their Youtube channel.
Step 1
Locate your Craftsman garage door opener. This is the metal box to which the garage door is attached. There will usually be a red string hanging from the box, and it will be plugged into the wall or ceiling.
Press and hold the "learn button" on the back of the garage door opener. With Crafstman garage door openers, the button is blue/purple. This will clear all codes from the opener unit.
So make sure to have multiple remotes handy so you don't leave your friends or family stuck in the rain. After holding for a few seconds, the unit will blink. This means all codes are cleared from the system.
Step 2
Immediately after clearing all codes, press and release the "learn button" on the garage door motor. You should now see the light glow steadily. Now, press the "learn button" on your garage remote.
Please note that depending on which model of opener you select, the button you need to push will vary. reference the setup instructions for your specific model. With most openers, you should be able to select any button. This will be the button you'll use to open your door.
Step 3
Your garage door opener light will blink to confirm that you've successfully synced your universal remote control to your Craftsman garage door opener.
If you need to program multiple remotes, complete steps 2-3. DO NOT complete step 1 again. Doing so will clear out the remote you just programmed.
Step 4
Test your new garage remote by clicking the button that you synced to your Craftsman garage door opener. You should see the garage door open. At this time, you've done it!
Replace Your Craftsman Garage Door Opener Remote
As you can see, it's easy to replace your Craftsman garage door opener remote. Simply order online from Amazon. Then, follow our step-by-step guide to programming your remote.
Make sure to let us know which model you chose, and check out our other detailed articles about practically any other topic you can imagine.
Resources: