If you're searching for a real estate agent's job description, you came to the right place. Our complete guide will help you determine if you have what it takes to succeed in this field.
Real Estate Agent Job Description
If you're considering getting your license and becoming a real estate agent, you're probably wondering what specific tasks are involved in the role.
A real estate agent walks their clients through the purchase, rental, or sale of a property. They advise clients about market conditions, conduct walkthroughs, and provide guidance and assistance through the process of buying, selling, or leasing properties.
The real estate industry can seem a little intimidating and complicated from the outside, but once you understand a few key phrases and duties, the role of real estate agent may naturally fit your skills.
We've put together a thorough real estate agent job description to go over the daily tasks, expectations, and processes a real estate agent or realtor must complete to do the job well.
Read our real estate agent job description to find out if getting your real estate license is right for you!
Typical Job Description
Seeking a motivated real estate agent who will represent clients in the rental, purchase, or sale of property. You will increase our customer list through word-of-mouth, online, and print advertising.
Because this is a licensed position, you must have or be willing to obtain a real estate license. To succeed in this role, you'll need to meet our local requirements and pass a criminal background and fingerprint check.
Prerequisites
High school diploma or GED

At least 18 years old

Real estate pre-licensing education

Real estate license in the state you'll work in

Post-licensing education if required in your state
Real Estate Agent Traits and Characteristics
Excellent interpersonal and communication skills

Comfortable with negotiating

Very familiar with the area/region of work

Confident

Resourceful

Financially responsible

Organized

Punctual
Now, let's look at the different tasks and duties an agent is responsible for in this job. After all, there's far more that goes into the job than just what we've listed.

Real Estate Agent Job Description in Detail
If you're someone who needs more detail about a job description, we're here to help. We've broken down the job of a real estate agent by its many pieces.
Generate New Leads
Lead generation is a vital part of this job. When new agents get started, their sphere of influence is usually limited to friends and family.
Being successful requires expanding beyond that sphere of influence to find people who are ready to sell or buy a home.
Finding leads can be tricky, especially in highly competitive markets, so most real estate agents use lead generation platforms platforms to help them capture home buyer and seller leads.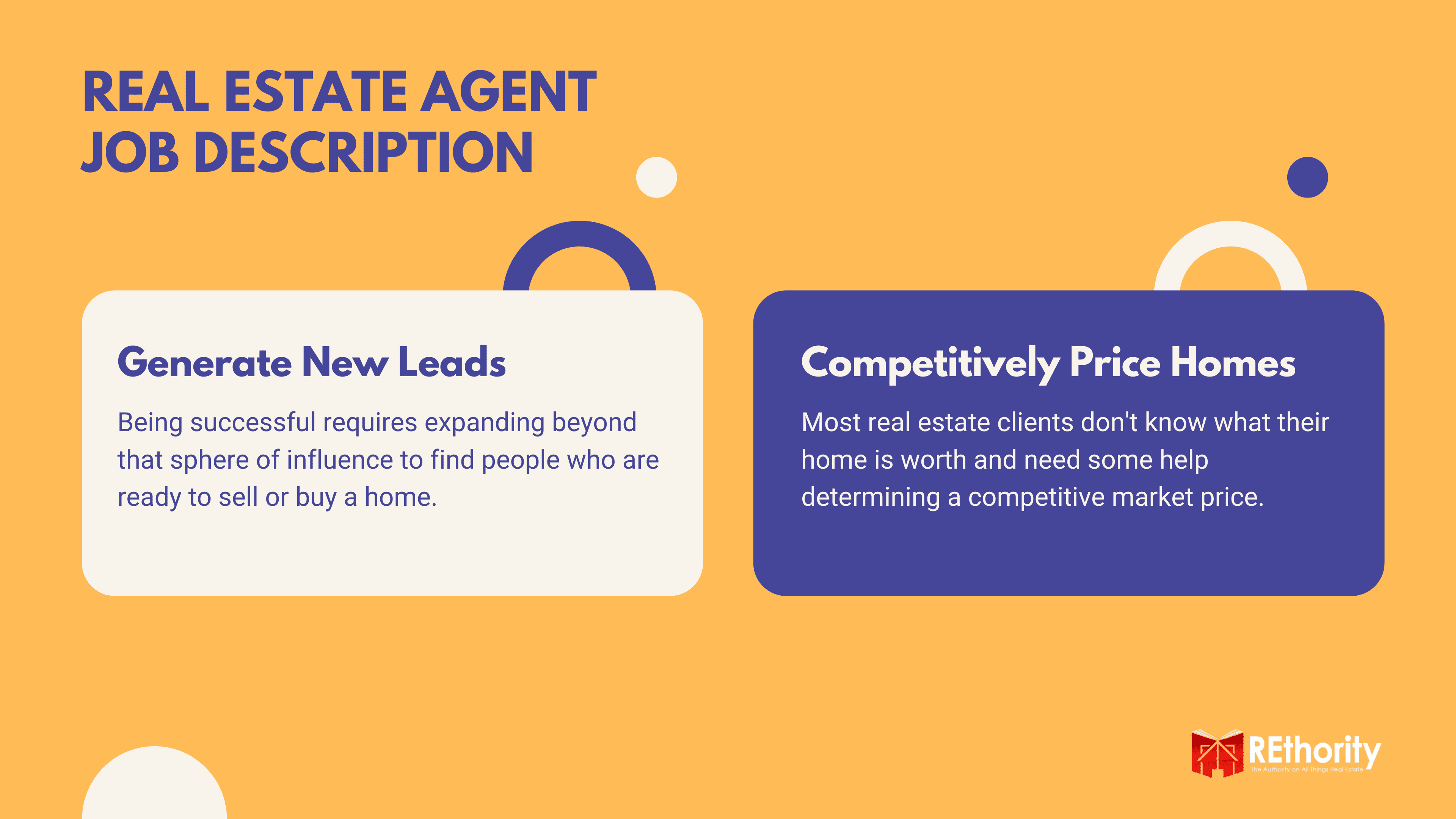 Competitively Price Homes
Most real estate clients don't know what their home is worth and need some help determining a competitive market price.
With access to comps and Comparative Market Analysis Reports (CMAs), agents can find out how much similar homes and properties have recently sold for (or listed for sale).
This ensures the home can sell faster because no time is wasted with a price that's too high to appeal to potential buyers.
Prepare Homes for Listing
Once a seller decides to list the home, the agent will be in charge of helping get the house prepared to sell. This means you've got to know what kinds of features help sell a property.
This might include staging the home with furniture and decor, hiring a professional to take appealing photos of the home, and identifying issues that need to be disclosed or fixed.
It's also important to create a good description of the home for the listing. When everything is ready, you'll be listing the property on your local Multiple Listing Service.
Market Listings
Once a property is listed on the MLS, it has to be marketed to potential buyers. That's harder than it sounds, especially if you're new to the industry.
Marketing listings can be done in many ways, and a good agent uses multiple channels to get listings out to the public.
Social media, an IDX real estate website, flyers, yard signs, and advertising (print and online) are just a few means you might use to market a listing.
Another part of marketing listings is knowing who the audience is. The audience will be vastly different for a small starter home on a .3 acre lot and a palatial lake home.
Good agents find out where the audience is and target those areas to get homes sold faster on behalf of clients.
Show Homes
When someone is interested in walking through and seeing a property, they're getting more serious and become a highly qualified lead.
The seller's agent (listing agent) must make themselves available to show properties and help sell the home by highlighting great features and positive aspects of the home.
Buyer's agents will accompany their clients to see houses that interest them, and a good agent will always point out potential problems or issues with a property.
Research Market Conditions
It's an agent's job to know how the housing market is performing locally and on a national level. There's so much information available to potential buyers and home sellers online.
So one of the reasons they look for an agent is to benefit from their industry-specific knowledge and experience.
You should be able to tell a client what the market conditions are like in your area and look at projections to understand how the market will change in the coming months and years.
Coordinate Meetings and Appointments
Real estate agents do a lot of coordination because so many people are involved in real estate transactions.
Everything from hosting open houses to meetings with clients and setting appointments for contractor services is an agent's responsibility.
Being organized and managing your time well is part of coordinating so many moving parts. This is why many agents rely on software to help manage their schedules and calendar.
Prepare Offers, Contracts, and Paperwork
Paperwork often gets a bad rap, but it's a big part of working as a real estate agent. Some paperwork or contract backs each step of the transaction.
When it's time to submit an official offer, closing paperwork, or negotiate details in contracts, the agent will be the one to do it.
Understand the Financials
Real estate agents work a lot with mortgage lenders and need to know about the financial side of buying or selling a home to help clients feel prepared and comfortable.
Your clients will look to you for guidance on one of the most significant purchases of their lives, and the more you're able to tell them, the better.
Communicate and Interact with Others
Interpersonal skills and communication skills are some of the necessities for real estate agents. This is a role that requires a lot of interaction and communication with others.
Agents deal with such a variety of people from clients to vendors day in and day out. You'll be interacting with other listing or buyer's agents, attorneys, lenders, home inspectors, and more.
Learning to communicate well with many different types of people is essential to do well in real estate.
Leave a Great Impression
Not every client you land will approach you to help them buy or sell a property the first time you meet them. Most won't.
That's why every interaction you have should be positive and leave a great impression. Interpersonal communication skills are vital to success as a real estate agent.
Being highly regarded in your community will help keep you top of mind the next time someone is ready to buy a home or put theirs on the market.

Is Real Estate Right for You?
With these prerequisites, duties, and responsibilities in mind, how do you feel about pursuing a career in real estate?
Does the thought of helping clients with some of the biggest milestones in their lives excite you?
Remember that as long as you meet the basic requirements, everything else can be learned along the way.
If your goal is to become a real estate professional, you can get started today by taking online courses that meet your state's requirements.
You Might Also Like: