People are drawn to the real estate industry for an obvious reason: It can be very lucrative. But competition is fierce. That's why is essential to have a steady flow of leads coming your way from a variety of sources.
Increasing your lead generation is crucial, but just how do you do it? Well, we've come up with this guide to real estate leads that you can use as your roadmap to lead generation victory.
What Are Real Estate Leads?
A real estate lead is someone that has expressed interest in your real estate business. Lead generation is the method of attracting these people and then converting them into clients.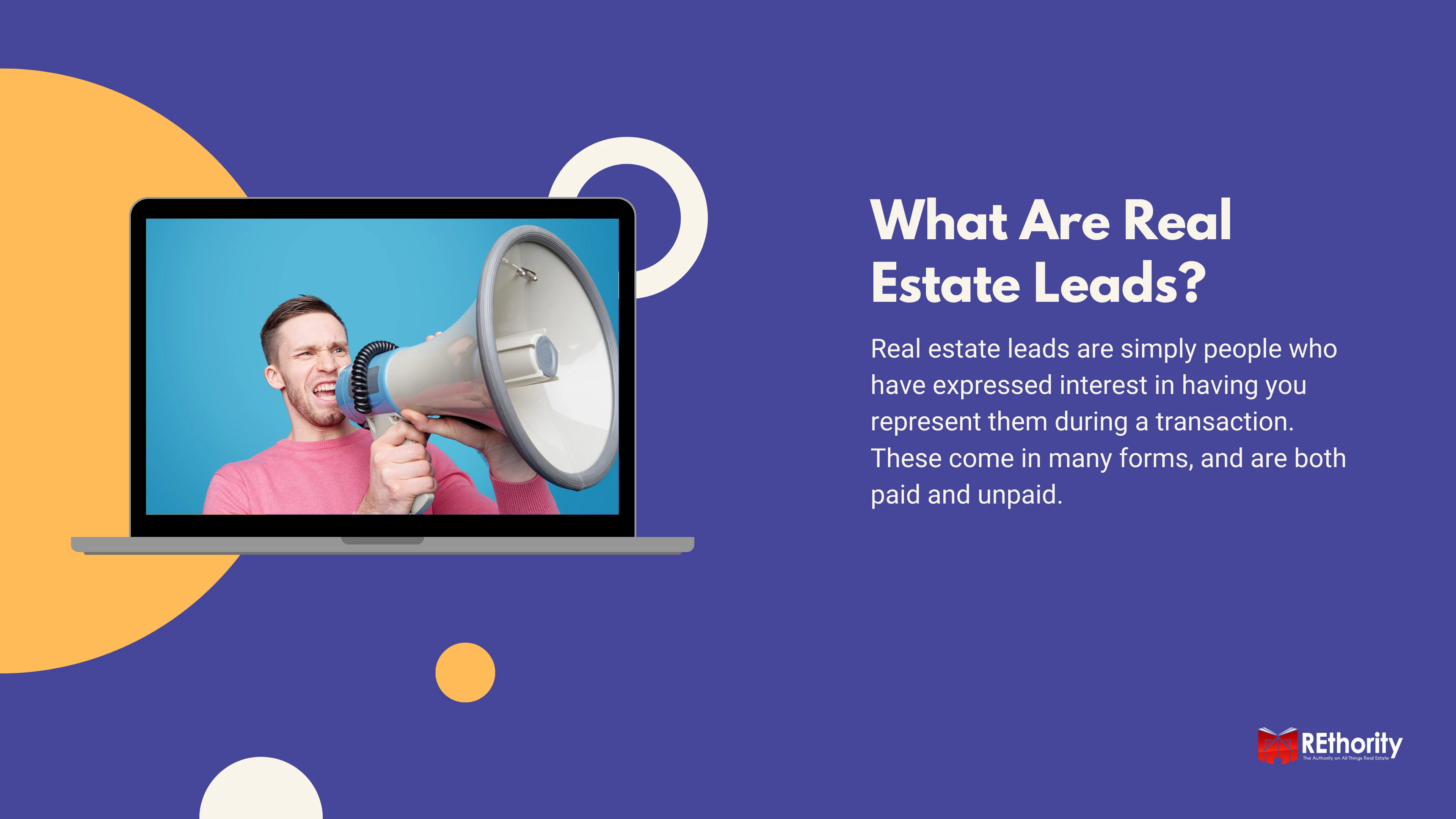 How do you get real estate leads? Well, they come from a variety of sources. These include things such as:
Referrals from past or present clients
Networking at trade shows
And other marketing strategies
Most successful real estate professionals use one or more of these methods. But which is better, and are free or paid real estate leads best? Read on to learn answers to this and more.
Why Real Estate Leads Matter
There are a few avenues you can take to generate leads. There are free platforms you can use, there are paid platforms, and then there's good old-fashioned ingenuity. Before you decide which is best for you, there are a couple of things you should consider.
Time
You get a better return on investment when you dedicate to nurturing potential leads and networking than you do from simply advertising.
Just think of it this way: The more time you spend following up on leads and building a network, the higher quality your leads will be.
Money
It's important to think about your ROI when it comes to real estate lead generation too. This is not a problem you simply throw money at and consider it solved. Your success depends on your reputation as a knowledgeable and honest real estate professional.
So, understand that while you'll likely need to spend a little money to make money, lead generation tools are not a magic wand you wave and then *poof* you have clients and, more importantly, an income.
Does this mean you shouldn't invest money and time on lead generation? No, not at all. But what it does mean is that the getting leads is only the first step in this process. Turning them into clients another step – that we'll cover in a bit.
Effective Lead Generation
There are two basic marketing categories for generating leads: outbound and inbound.
Outbound marketing begins with a little bit of basic knowledge of the audience you wish to target. It's a more traditional way to market yourself, utilizing things such as cold calling, event marketing, email marketing, and direct mail campaigns.
Inbound marketing is the way to attract people to your business through incentives and the promotion of content. It's a modern version of marketing that utilizes social media marketing, advertising, search engine optimization (SEO), and content marketing to bring in leads to you.
For a lead generation system to be successful, it has to use a mix of both outbound and inbound marketing to attract potential clients and convert them into leads.
Free vs Paid Lead Generation
There are two main ways to generate leads, you either pay for them or you use free resources available to you. You may want to start with the latter if you're unsure of your budget just yet.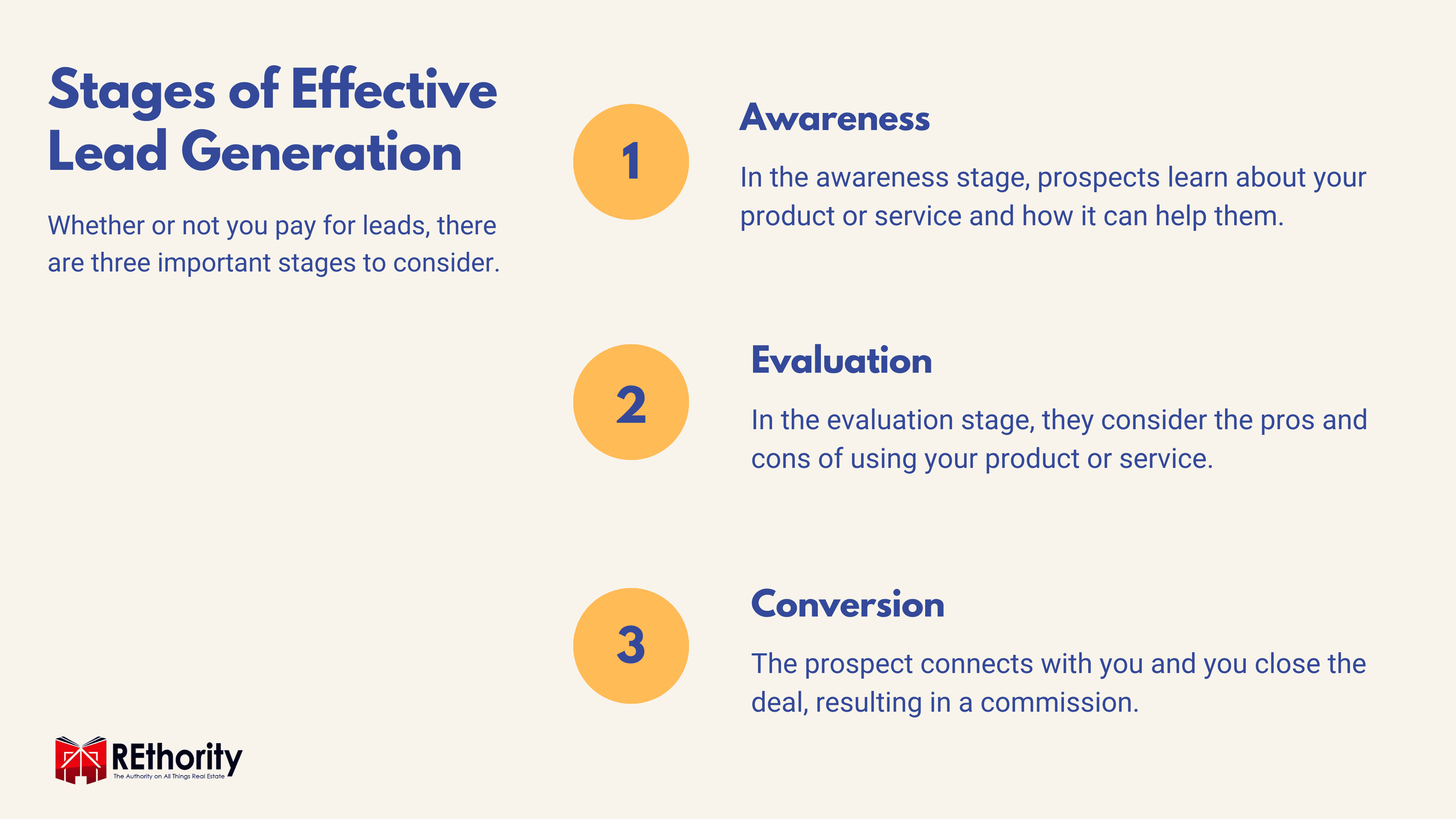 What you're trying to achieve is to lure potential clients into your sales funnel. You do this in three stages:
Awareness – This is the top of the funnel. Basically, the potential client is out there looking to solve a problem. Perhaps they are a first-time homebuyer and aren't sure where to start.
Evaluation – This is the middle of the funnel. This is the point when a potential client becomes aware not only that you exist, but that you have the solution to their problem. But, they're still weighing their options in this stage.
Conversion – This is the bottom of the funnel. At this point, a potential client is almost ready to commit to you helping them solve their problem but may have a few questions first.
Your real estate marketing activity will dictate how you capture leads. Pay close attention to the ways in which the lead generation tools you use to do this.
It might be through a printed form, an online form, or perhaps a request online for more information on one of your properties.
Once you have these leads, then they must be consolidated into one system where you can track their progress – the customer relationship management system (CRM).
This allows you to view your leads and follow up with them all in one place. A good CRM also lets you see social media profiles, interests, and more.
Free Real Estate Leads
Many agents think that real estate leads are expensive. But that's simply not the case. There are many ways to get free real estate leads. Here are a few of our favorite (and effective) methods.
Referrals
Most people find their real estate agent through referrals from a relative, neighbor, or friend, or they've used an agent before to buy or sell a home.
Referrals are at the top of the list when it comes to free ways to generate leads because they cost you nothing. All you need to do is stay connected so that you're at the top-of-mind when they need a real estate agent.
This tends to work best for established agents with a long list of past clients, but if you're committed to building a strong sphere of influence, then you can take advantage of referrals in the here and now, no matter how new to the real estate game you are.
Social Media
If you're not a frequent flier of social media, welcome to the 21st century! In this day and age, you need to utilize social media to put your name out there. Facebook is a great place to start and Instagram has a lot of users, too.
Instagram is actually a great advertising tool. It allows you to share high-quality images of your properties as well as post videos and give out your contact information to a wide audience.
After all, according to Clipchamp, there are more than 500 million active users on the platform each day. That's a lot of opportunity to get in front of an audience.
You can also advertise your other content there, such as your blog. You can develop a devoted following on both Facebook and Instagram that scoop up some leads for you.
Websites
A properly optimized website is a very important tool in attracting potential leads. If you can flex your search engine optimization muscle (SEO), then you can get the word out about your brand.
Make your website simple and easy to understand. If you're not a website wizard, no worries. If you're a member of the National Association of Realtors, then Placester can help you create a website for free.
Reviews
Online reviews today are what word of mouth once was. It's been discovered that nearly 70 percent of consumers check online reviews before purchasing something or choosing a service. You, my friend, are the service.
Great reviews online can make or break your lead generation, so encourage your clients to leave reviews for you on your website or Facebook page.
Blogs
A real estate blog is another useful tool in the world of lead generation. If you regularly update and commit to creating a blog, then it'll eventually start producing leads for you.
Especially if you can maximize your SEO to rank high in Google search results. If you enjoy writing and researching, then set up a real estate blog about events or news in the community.
Post at least once a week and it'll be a new avenue for people to discover you. You can also try tools such as CityBlast or Keeping Current Matters that charges you a monthly fee to:
Publish blogs
Produce email content
Post updates on your social media
And create downloadable guides for your area.
Craigslist
Yes, Craigslist. Posting on Craigslist can help bring in a steady stream of free leads to you. Check out expired listings and find FSBOs here.
You can also create listings for your properties here. Just make sure to include all the information as well as high-quality photos to help your listing stand out.
FSBOs
For sale by owners can be a really reliable source of leads. The trick to turning them an FSBO lead into a client is to listen and offer them some value in your services.
Start out by talking to the owner about why they're selling to build a connection, then offer insight into the market or advice that's relevant.
If you can help them feel as if they're being listened to, then they may just bite when you ask if they'd like help finding a potential buyer. There can be a lot of rejection at first when taking this route.
But that's OK. Simply ask if you can check back with them in a few weeks to see how it's going, then do a friendly follow up. It may take weeks or even months to convert them, but it can happen.
Paid Lead Pros and Cons
Lead generation tools are plentiful and at your disposal to help you buy quality real estate leads. Should you take this route? If you're a newer agent, then yes, they can be an invaluable tool.
But before you jump in, let's examine the pros and cons of buying leads. After all, your money is tight, and you don't want to just throw it away.
Pros (the good)
The best things about buying real estate leads? They put you in contact on a regular basis with clients who are interested and can help to keep the clients coming in.
They also provide you with some immediate action in your sales funnel, especially if you are new to the area and haven't established a database of clients or put a marketing plan in place.
Basically, it's low hanging fruit that you can easily grab.
Cons (the bad)
The biggest con to buying leads? It's expensive, especially if your conversion rate is low. The source of the leads can also be a big con if it's not reputable.
It's important to think about the amount of referral fees you can afford and work within your budget until you get the real estate ball rolling.
Real Estate Lead Generation Companies
While there are free advertising channels available, paid services unlock a whole new realm of possibilities. Expand your reach with the following methods:
---
BoldLeads is a leading platform for lead generation. It works by using customized Facebook ads and advertising on Google to entice sellers and buyers to click on its landing page.
Then, it offers a free listing guide or report in exchange for their email address. Its biggest selling point is that it only assigns leads to one broker or agent within the same ZIP code.
So it helps to reduce overlap that way. Exclusive leads like this are important for agents who are worried about competition.
With BoldLeads, you can be sure you're going to be the only agent in your ZIP code because it only accepts one agent in your area.
Training — BoldLeads offers training webinars and videos to help you understand how to effectively use their tool to nurture lead generation. It's integrated customer relationship manager (CRM), prewritten drip campaigns for follow up, and automated texting separate it from other tools out there.
Number of Leads to Expect — How many leads you get depends on a few factors such as season, market conditions, and ZIP code. BoldLeads claims that users get a minimum of 20 real estate leads per month.
Cost
This platform charges a flat fee of $299 per month to create and manage an online advertising campaign for you, with another $250 charge for an ad budget to run ads on major platforms such as Facebook and Google.
If you decide to sign up for buyer and seller leads, then they give you a small discount and charge a total of $589 per month.
These types of programs are expensive, but can be effective as an addition to an existing marketing campaign. We suggest focusing on the free avenues if you're an agent just starting out.
---
Almost everyone has heard of Zillow, which is one of the things that may draw you into this lead generation platform. Zillow Premier Agent works very simply.
It allows real estate agents to purchase leads by featuring their own Zillow profile next to the properties they have listed on Zillow.
This makes it easy for the average home buyer to reach out to you directly about a specific listing since you're Zillow's recommended contact for the property.
Both Zillow subscribers and non-subscribers can view your profile, with a lead capture built right in on the listings and a CRM that stores the information for you to monitor and track leads.
Inbound Leads — Zillow also offers Premier Agent Direct, a relatively new advertising option that allows agents, brokers, and teams to capture leads that Zillow acquires in partnership with Facebook.
CRM — Zillow Premier Agent offers an internet data exchange (IDX) website along with their CRM to help you track leads.
Cost
The cost of this platform can be a bit tricky since the costs tend to fluctuate depending on the ZIP code you're in, competition, and market conditions. Most of the leads you get through this platform will cost between $20 and $60.
It's expensive, especially when compared to BoldLeads, but you're getting more with the IDX website to help generate quality leads with Zillow.
You don't need to sign a contract with Zillow for these services. They allow agents to buy leads on a monthly basis, which can help you budget. But you can sign a contract if desire, you simply must contact Zillow for an estimate.
---
Market Leader is a lead generation tool that provides a guarantee to users that it won't resell leads to other area agents. It uses online advertising through Google and Facebook to capture leads, but the leads can vary in cost and in quality.
Cost
The leads sold by Market Leader can cost you anywhere from $20 to $60 per lead, but again – the pricing can vary due to market conditions and ZIP code.
You will need to contact Market Leader directly to find out pricing. They charge per lead and do not offer monthly contracts.
---
The REDX offers leads for FSBO properties, for rent by owner (FRBO) properties, and expired leads. It pulls data from places like public records, multiple listing services (MLS), and proprietary sources to provide leads.
They can also provide pre-foreclosure and foreclosure leads. Think of REDX as offering an easy way to prospect for leads that other agents won't dedicate the time to pursue.
Cost
The number of leads you get each month from REDX depends on the type of leads you want, how often you buy leads from their database, and the number of leads available in your particular area.
Prices start at $39 per month and go up to $79 per month based on the type of lead you're interested in. For example, FSBO leads cost $39 per month, but expired leads will cost you $59.
---
Zurple uses online advertising to generate leads. They custom create IDX landing pages for you, then run Facebook and Google ads to push the leads to your pages. The new leads land in Zurple's CRM, which you take from there.
Cost
The number of leads you can expect from Zurple depends on the number of ads and landing pages you're running. Zurple's pricing starts at a $349 per month flat fee, with an onboarding fee that can cost you $199 to $499 extra.
It all depends on how many landing pages you need. You also must pay for online advertising. Facebook or Google will cost you a minimum of $250 per month.
---
You Have Real Estate Leads – Now What?
Once you have all these real estate leads, whether you got them for free or paid for them, what do you do now? The key to turning leads into clients is speed.
The faster you respond the more business you'll have and the better customer service you can provide.
Follow Up Immediately
OK, let's be honest, you can't follow up on every single lead the minute you get it, but it's important to realize that the speed at which you respond has a direct impact on your conversion rate.
You simply need to be the first agent to reach out to a lead to stop their real estate agent search. On average, consumers will browse several websites before speaking to an agent.
That means your number one goal has to speak with them and essentially stop them from pursuing other avenues.
Utilize CRMs Wisely
You must choose customer relationship management technology that's smart enough to incorporate lead response time into its follow-up.
A CRM that can adjust to the lead, using more aggressive messaging with same-day leads and milder informational messaging with slower leads, is what you want to have.
Also, remember that relevant content will always be what influences the people you're trying to bring on as clients.
Intelligent lead technology can help give you insight into what kind of content people are looking for in order to help you make connections with people before your competition does.
Integrate, Integrate, Integrate
Did we mention you should integrate? No matter where your leads come from, they won't do you any good if you don't give them attention.
That's why it's wise to make sure all of your tools are integrated together and streamlined with your marketing automation.
Once you get a system in place, then it should come together and make it easy for you to take action.
Which Real Estate Lead Method Is Best?
It's simply not possible to use all the lead generation tools we've talked about here all at once. The most important thing you can do is be consistent in whatever it is you choose to use.
Select methods that fit your needs best and suit your business, then refine them until you've got them running like a well-oiled machine. Make sure to write to let us know which real estate lead idea you liked best.
You Might Also Like: