PropStream uses big data to help property investors quickly find and evaluate investment opportunities. But what does this software cost, and is it worth buying? We say absolutely, and then some. Read on to learn why.
What Is PropStream?
PropStream is an all-in-one real estate tool designed for real estate agents, brokers, and real estate investors, though we think investors are most likely to use the platform.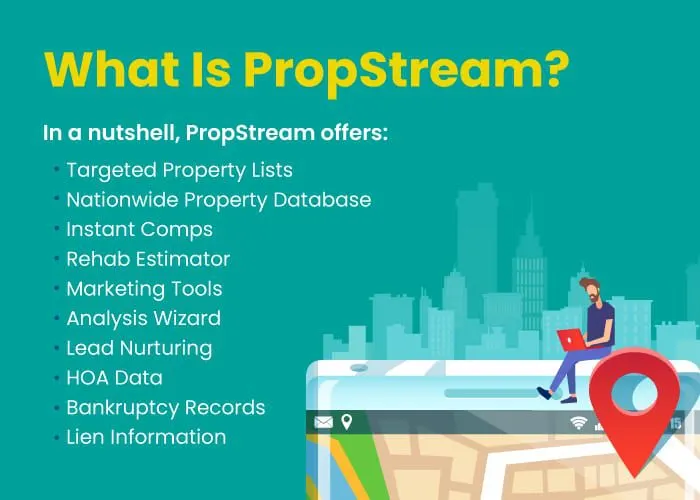 It's focused on helping you save time by automating time-consuming tasks associated with generating motivated seller leads and finding properties across the country.
Special Offer
Start Your Free 7-Day Propstream Trial
The best real estate investing software. Period.
Pros:
Extremely powerful & stackable filters

Find motivated sellers easily

Extensive property database (MLS, private, & more)

Very accurate comp tool & filters

Very low $97 monthly price (less than others)
Cons:
Not a 30 day trial (but 7 days is more than enough)
Click to Start Your Free Trial
We may earn a commission when you click this link, at no extra cost to you.
In a nutshell, PropStream offers:
Targeted Property Lists

Nationwide Property Database

Instant Comps

Rehab Estimator

Marketing Tools

Analysis Wizard

Lead Nurturing

HOA Data
Bankruptcy Records
Lien Information
The website states that these Propstream software features give you "The entire real estate market at a glance."
Could it really be this useful and seamless for agents, brokers, and investors?
If you're seeking an answer, you came to the right place. In this post, we'll review the PropStream features, pricing, and pros and cons to help you decide.
PropStream Features
We like that Propstream only includes features you need, so you're not paying for those you don't. Regardless, this all-in-one property investing tool packs a mean punch.
There are many great features to the platform, and listing every one would take up more space than we have available (in an investing platform, that's a great problem to have).
To save you time, we've complied the standout features that we think are most beneficial to your business.
Targeted Property Lists
PropStream real estate software enables you to generate and view property lists that meet the criteria you're interested in. You'll get a notification when a new property matches your criteria.
PropStream uses multiple MLS data that can be sorted and organized with hundreds of filters and criteria. Creating targeted property lists allows you to perform a search for any type of property, even those that aren't yet on the market:
Expired listings

Pre-foreclosures

Cash buyers

Involuntary liens

High equity

Bankruptcy

Divorce
You'll end up with a dynamic, always-updated marketing list that tells you which seller leads may be highly motivated to sell based on circumstances or listing status.
This helps you find more properties and opportunities that are right for your portfolio.
Nurture Leads
Once you've located and reached out to new leads, PropStream helps you nurture them long-term with this strategic, automated feature. It takes an average of 8 touches to get a meeting with a new prospect.
But many investors give up before then. With this feature, you can consistently reach out and stay top of mind to convert more leads.
You'll be able to send customized emails to leads and past clients and set the intervals they're sent in. So no lead is forgotten or given up on too soon. Staying in touch with leads and past clients is vital for two reasons.
First, it results in more conversions and more referrals. Second, when you first reach out to a lead, they may not be ready to sell right away.
Automated Follow-Up
That's okay. Establishing contact early on and remaining consistent makes you more likely to be the buyer they think of when they're ready to move forward.
In fact, the National Association of Realtors found that 72% of real estate sellers only interviewed one professional- usually, the first one that they had contact with.
In the same study, 85% of sellers said they would use their professional again. Still, only 33% reported that they've actually used an agent they've worked with before. Why the gap?
It's often a lack of contact after the sale. Without communication, you're no longer top of mind. That makes you less likely to be selected by a lead, earn referrals, or get repeat business.
The ability to automatically nurture your leads long-term with features like this could help you increase your chances of success.
Nationwide Property Search
Investors that work all over the country want to view more properties than the ones in their immediate area. With the ability to do nationwide property searches, you can find detailed information.
This includes things like:
Property

Owner

Past transaction details

Loan balance

And much more
Also, keep in mind you'll see for about any property address in the United States. Your location doesn't matter, and you can perform unlimited searches.
Another benefit is that you can pick a property and search the sales records for cash buyers. That's right, you can see the contact information of cash buyers. How is this possible?
It's simple. The software filters for cash sales within a set radius of the subject property. Then, it'll give you the contact information of that homeowner.
It sounds impossible, but this is the type of functionality that big data brings you. Welcome to the digital age!
Instant Comps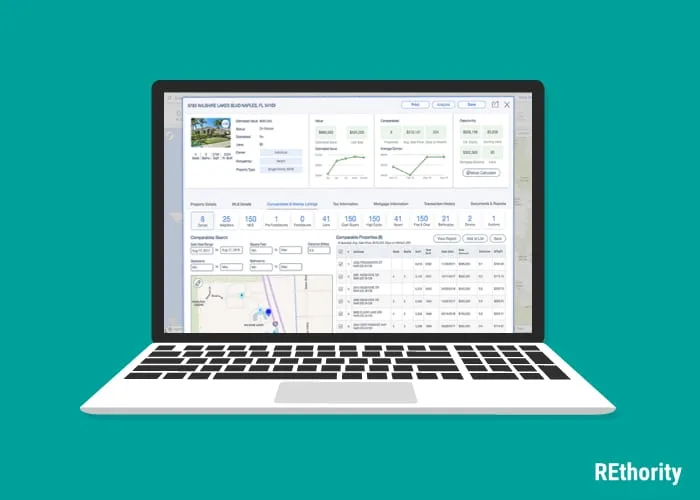 PropStream's Instant Comps feature can help you instantly determine the overall value of a property by showing you the average values of similar homes nearby.
It uses the most current data from multiple MLS' paired with county recordings to give you the ability to run your own comparable market analysis.
You can change and toggle options like:
Date range

Square footage

Distance from the subject property

Number of bedrooms

Number of bathrooms

Last sale date
If you think a specific property is throwing the analysis off, you can select or deselect any property from the list to instantly change the results.
Rehab Estimator
Going into the rehab process blind always costs more than expected and rarely ends well. The Rehab Estimator tool offers a solution to help you avoid costly miscalculations in real estate investing.
Note: This is the same calculator that insurance companies use to estimate their costs, so it's accurate. VERY accurate. This is one of our favorite features.
This tool uses real-time data to help you estimate the ARV (After Repair Value). It also enables you to evaluate the actual rehab costs on an investment property will be before you're in too deep.
Every type of repair and improvement is included: Flooring, roofing, plumbing, electrical, and more. Local labor and materials costs from your area are used to develop two estimates.
The first, your DIY rehab estimate, tells you what you'll pay if you decide to tackle the repairs yourself. The second, your Contractor estimate, tells you what you can expect to fairly pay a contractor in your area to get the job done.
With this tool, you can make better-informed decisions about your real estate investments and repairs.
Analysis Wizard
The step-by-step Analysis Wizard offers a simple way to get detailed information on every aspect of the transaction and investment process. Use it to calculate every figure related to a property:
Total purchase price

Mortgage amount

Projected rental income

Property expenses
You can use the Analysis Wizard to get market overviews, including nearby property sale prices, local rental price trends, general market performance in the area, and sought-after home features and trends.
The Analysis Wizard can help you determine and manage:
Cash flow

Detailed mortgage analysis

Expense analysis

Rental analysis

Tax information and deductions

Property sale reports

Billions of document images like assessor's maps
Marketing Tools
PropStream's marketing tools cover a lot of areas, but all are focused on helping you find and connect with more prospects.
From creating custom website landing pages to sending automated emails and ringless voicemails, these tools are meant to help you quickly reach out to prospects and stay top of mind.
Find property owner information

Create, schedule, and send automated emails

Send customized postcards to prospects

Send ringless voicemails

In-browser online advertising

Create website landing pages
Creating custom website landing pages can help you capture and convert more leads. With these landing pages, you can target and speak directly to each of your niches instead of sending every lead to the same page or website.
Customized postcards and online ads can help you stand out and be remembered by prospects. Email drip campaigns enable you to nurture leads and stay in touch with your prospects regularly.
Mobile App
Many real estate investing platforms don't have a mobile app. But Propstream is not you typical software. Using your mobile phone, you can bring the same powerful functionality to the field.
See a property you like while you're driving for dollars? Just open the app, enter the address, and get comps, ownership information, and loan information to help you decide whether to pursue the lead.
To take it one step further, the app features drive logs (to make sure you aren't canvassing the same area twice), over 7 Billion document images (of financial documents), and filters that integrate with your phone's GPS.
Skip Tracing
At its core, skip tracing is simply tracking down a property owner's information. While this is a cumbersome process, PropStream makes it easy. How?
In the property search, it'll aggregate all public information including names, emails, phone numbers, mailing addresses, court records, and others.
Then, it'll give you the opportunity to automatically call the prospect. Now, there are strict robocalling laws in place. But don't worry, PropStream has thought of this too.
What they'll do is send the call straight to voicemail. Let's face it — the markets for direct mail and bandit signs are extremely saturated, which means they're highly ineffective.
However, with this service, you can still reach the owners without needing to spend unnecessary funds on direct mail. These are the types of features that make this product stand out from the rest.
Special Offer
Start Your Free 7-Day Propstream Trial
The best real estate investing software. Period.
Pros:
Extremely powerful & stackable filters

Find motivated sellers easily

Extensive property database (MLS, private, & more)

Very accurate comp tool & filters

Very low $97 monthly price (less than others)
Cons:
Not a 30 day trial (but 7 days is more than enough)
Click to Start Your Free Trial
We may earn a commission when you click this link, at no extra cost to you.
PropStream Pricing
With so many features, what does Propstream cost? It must be a lot! Actually, it's one of the most affordable investing platforms available. And they let you test drive it before buying.
PropStream offers a 7 day free trial for new subscribers. Once the trial period is over, you will automatically begin a monthly subscription unless you cancel before the trial ends.
There is one monthly subscription option. While the company website is limited on pricing information, we've verified that this is the most up-to-date subscription offering.
PropStream Cost: $97/month
What the monthly subscription includes:
7-day free trial

Unlimited property searches

Nationwide property search (up to 10,000 monthly property data exports)

Targeted property lists

Marketing and lead nurture tools

Analysis Wizard

Rehab Estimator

Instant Comps
Plans are offered every month, and you can cancel at any time.
Propstream's Free Trial
We'll explain next why Propstream is the best deal around. With inflation going like gangbusters, you'd expect it to increase in price. Right? Wrong! My contact at the company assured me that rates are going to stay the same into the foreseeable future.
That said, Propstream's free trial is something to be excited about. Using one of the buttons on this page, you can claim your free 7 day trial. That's right — spend a week test driving the platform for free.
Don't like it? Just cancel before your subscription kicks in. That's it. This is just one more reason that we think Propstream is perhaps the best REI Deal of the decade. Start your free trial today!
Propstream Coupons/Promo Codes
Currently, Propstream does not offer any discounts, promo codes, or incentives. I am a top-referring affiliate and asked if my readers could have a special price.
While the company was unable to give me a special price or discount, the reason is simple: they keep the price low for all users.
If they were to offer any discounts on their software, that would mean that someone would be overpaying. And at $97, the price is amazing as it is.
So instead of Propstream offering a discount to incentivize users to sign up, they just keep the price lower than the competition.
This way, you won't sign up for the discount and get slapped with a price increase after a year. We think that's a heck of a value proposition, and is great business.
Propstream Pros and Cons
As with any well-balanced review, it's important to be objective. For this reason, we've highlighted the pros and cons of this platform. Read on to learn what we like and what we think can be improved.
Pros (what it does well)
Pricing is lower than major competitors. To get similar functionality with someone else, you'll need to spend at least $125 per month.

The ability to target seller leads anywhere in the country and send emails, postcards, and voicemails to them is really beneficial for real estate investors.

The Analysis Wizard feature bundles many of a transaction's complex calculations into a simple, step-by-step format that could be great for new investors.

Using the Rehab Estimator feature to get real-time, local pricing, and cost estimates for property repairs and improvements can save a lot of time and provide an accurate working budget.
Cons (what can be improved)
No pricing information is actually listed on the website. You have to sign up for a 7-day trial to view pricing information.

We were able to locate monthly pricing information only by reading the company's terms and conditions. Additional fees and setup costs are not mentioned but might apply.

You're limited in how many searches you can save and export. If you exceed the 10,000 monthly property data save/export limit, you will be asked if you want to upgrade plans to allow more searches.
Special Offer
Start Your Free 7-Day Propstream Trial
The best real estate investing software. Period.
Pros:
Extremely powerful & stackable filters

Find motivated sellers easily

Extensive property database (MLS, private, & more)

Very accurate comp tool & filters

Very low $97 monthly price (less than others)
Cons:
Not a 30 day trial (but 7 days is more than enough)
Click to Start Your Free Trial
We may earn a commission when you click this link, at no extra cost to you.
PropStream Competitors
PropStream offers a unique product, but there are a few other options available in the market.
Realeflow is an all-in-one real estate investing tool that allows investors to source, fund, rehab, and list deals, all in one place. If you're looking for greater functionality than Propstream, the best choice is Realeflow. However, it's more expensive at $197. But a higher cost equals greater functionality.
REIPro is a transaction management and information platform geared toward real estate investors. It's like Realeflow without the lead generation or listings. It's more expensive, too. We think Propstream is a better product than REIPro, at least for the price.
PropStream for Agents
PropStream's main use is investors seeking to connect with motivated sellers. But who else can use this software? Agents. PropStream's software is an untapped goldmine of motivated seller leads.
Not too many agents are using this platform, but that's understandable. Agents wouldn't typically think to buy real estate investing software.
For that reason, savvy agents see an opportunity in the void. In fact, more than one agent we've spoken with began giggling with excitement after we explained the doors this software opens.
Traditional Lead Generation Services
Think about it — with companies like Boomtown!, Zurple, or Bold Leads, you'll pay thousands of dollars per month for Facebook ad leads.
These ads are designed to target someone likely to move. This means the owner has high equity, is an absentee owner, has owned the property for a long time, is in pre-foreclosure, and more.
How PropStream Helps
With PropStream's stackable filters, you can find these exact same sellers. But instead of paying $300 per month for a "management fee" along with the cost of Facebook ads (usually another $500), you'll pay $97.
Here's how a standard workflow goes (this entire process only takes about 10 minutes):
Set up a filter in the software to target specific demographics, geographic areas, or seller types
Take the list of properties and skip trace it (usually about $0.3 per owner)
Send the owners a postcard, email, or leave voicemails in bulk
Connect with inbound leads and list their property
Free 7-Day Trial
To be successful in real estate, you need to turn over every rock possible. Fortunately for you, most agents are behind the curve on new lead generation methods.
Even better? An entire year-long subscription to PropStream is less than you'll spend on a single month of Facebook ads.
This software offers a goldmine of opportunity, but only savvy agents will capitalize on it. Sound intriguing? Try it out with a FREE 7-day trial by clicking the button below.
Special Offer
Start Your Free 7-Day Propstream Trial
The best real estate investing software. Period.
Pros:
Extremely powerful & stackable filters

Find motivated sellers easily

Extensive property database (MLS, private, & more)

Very accurate comp tool & filters

Very low $97 monthly price (less than others)
Cons:
Not a 30 day trial (but 7 days is more than enough)
Click to Start Your Free Trial
We may earn a commission when you click this link, at no extra cost to you.
Final Thoughts on PropStream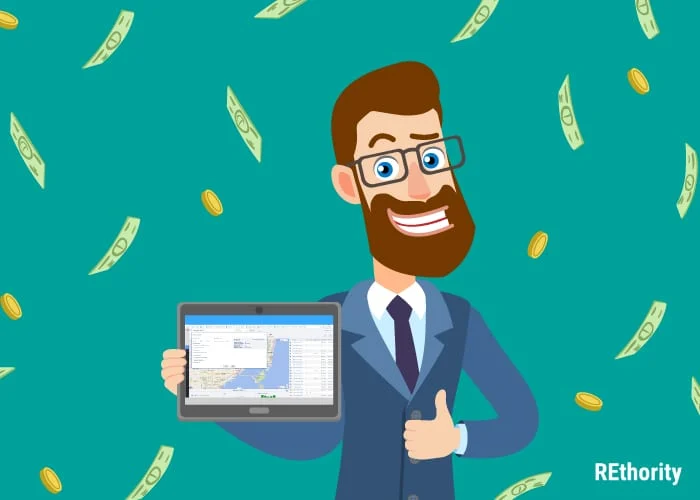 So, does PropStream really give you an accurate overview real estate market at a glance? That depends.
If you're a new real estate investor, being able to locate new seller leads before the competition contacts them, run your own comps, and do essential calculations in the software may help build your book of business.
This platform is built for new and experienced investors. And it does not disappoint. If you're a real estate investor who purchases and sells properties across the nation, this tool is incredibly useful.
The standout features include an accurate rehab calculator, integrated skip tracing tools, ringless voicemails, and many others. I think any serious investor should have this weapon in their war chest.
Overall, we love PropStream. The platform is well-designed, pricing is reasonable, and it has a bunch of useful features without the ones you don't need. As with any product that sources public information, the data may be slightly outdated.
But that's nothing a seasoned property investor can't work around. After all, you are using the service to get leads. And that's exactly what it does.
You Might Also Like: