How would consistent access to motivated sellers change your real estate career? If you've been struggling to find and convert motivated seller leads, it's time to flip the script.
Looking for Motivated Seller Leads?
As a real estate investor or agent, generating motivated seller leads with traditional methods can be hit or miss. Finding motivated seller leads can feel like trying to see into the future.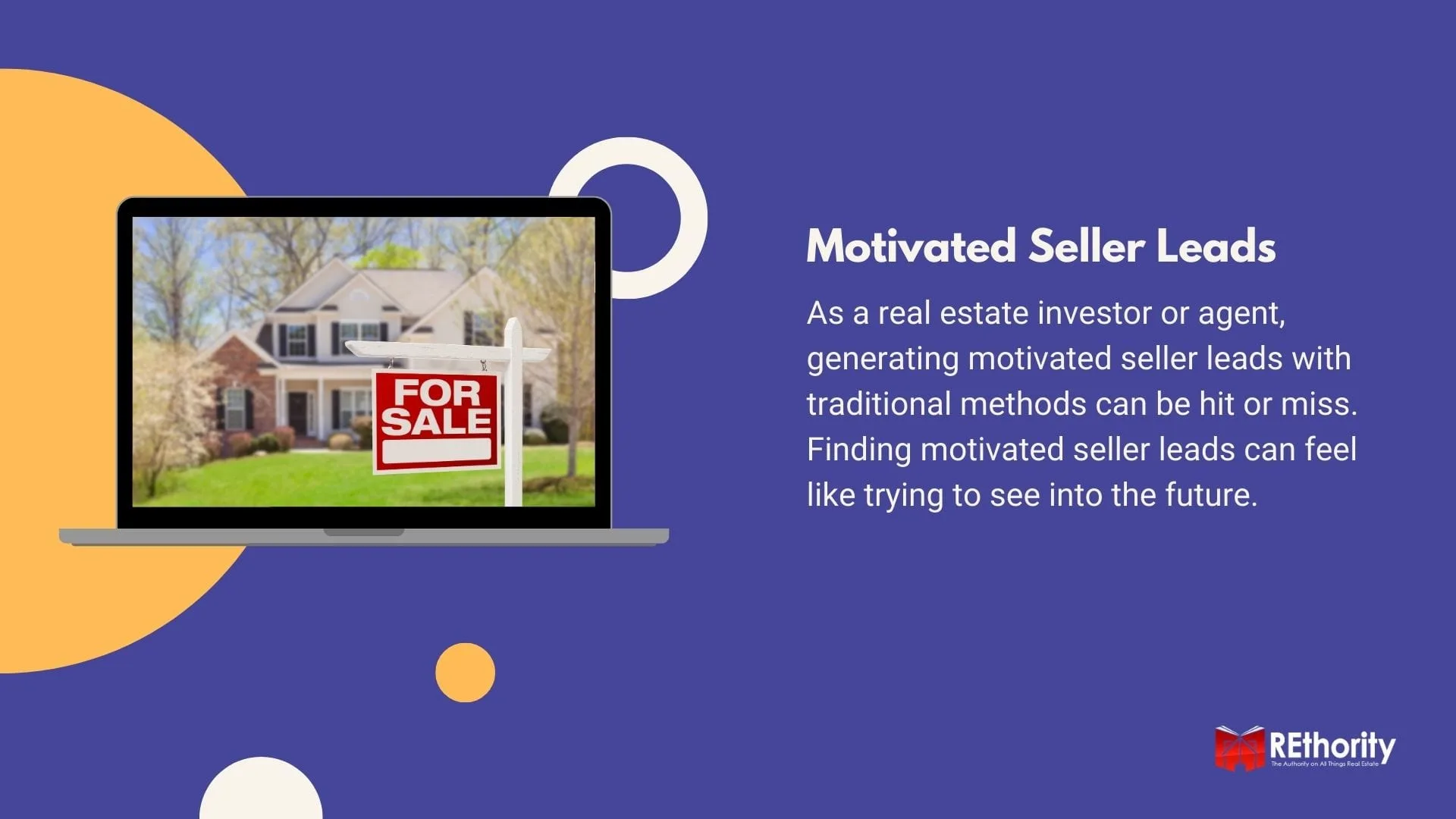 How do you uncover motivated leads that have not yet consciously decided to sell?
You have to adopt a bird's eye view to successfully and consistently generate motivated seller leads.

You need to anticipate the circumstances that make a homeowner want to sell quickly.

You've got to learn the signs and criteria that indicate a homeowner's willingness to sell.

Most importantly, you need to use the most effective methods and scripts to convert them.
What We'll Cover
In this guide, you're going to learn the three keys to converting motivated seller leads. By combining proven best practices with your real estate expertise, you will position yourself as a supportive advocate who can help homeowners who are eager to sell.
We'll address the keys to converting motivated seller leads by covering these topics:
What is a motivated seller?

How to find motivated sellers

Converting motivated sellers

Motivated seller script tips
Let's start with the basics. How do you know if a seller is motivated?
What Is a Motivated Seller?
Motivated sellers come in many forms. Essentially, a motivated seller is a homeowner who is ready and willing to immediately sell their home.
They don't always make themselves known, which creates a bit of a challenge for investors and agents who want to find them before anyone else.
A motivated seller lead must be captured quickly before they reach out to a real estate agent to list their home for sale. This is why you have to know how to consistently and continually find motivated seller leads.
Once a motivated seller contracts with a listing agent, the opportunity diminishes for both investors and agents. Motivated sellers want to sell their home quickly, but the driving force behind their desire to sell varies.
Who Are Motivated Sellers?
They might be:
Ready to relocate

Looking for a larger or smaller home

In or facing foreclosure

Owners of storm-damaged homes

Owners of homes in need of extensive repairs

New owners of inherited properties

FSBO sellers

Homeowners whose listing expired

Former real estate investors

Going through a divorce

Dealing with the loss of a loved one

Recently unemployed

Free and clear homeowners

Absentee owners

Unable to pay property taxes
A variety of circumstances can put a homeowner in the motivated seller category. Depending on their reason for selling, the homeowner may be looking to get top dollar for their home or accept a lower offer to sell quickly.
For a real estate investor, sellers willing to accept much less than the list price are more desirable. For a real estate agent, those who want to get top dollar leave more "meat on the bone" for commissions.
Being able to tell the difference between these two general types will help you identify motivated seller leads that are most likely to work with you.
Using the right methods to find them will give you the best chance of converting them. That's what we'll address next.
How to Find Motivated Sellers
Finding motivated sellers starts with knowing which motivated sellers you want to attract.
If you're a real estate investor, you want to generate motivated seller leads that will entertain a lowball offer. Typically, these will be owners of distressed properties, absentee owners, owners with tax liens, those going through a divorce, remarrying, relocating for a job, or facing other time-sensitive circumstances.
If you're a real estate agent, you want to find motivated seller leads who can't afford to accept a lowball offer that would reduce your commission. These are usually sellers at risk of foreclosure, looking for a larger home, heirs of inherited property, FSBO sellers, homeowners with expired listings, ex-investors, and free and clear homeowners, or recently unemployed.
Fortunately, the same methods can be used to find both investor and agent leads. Before you can start working on converting a motivated seller lead, you have to find out who they are and how to contact them.
You can find motivated seller leads with any of these methods.
Outbound Seller Lead Generation Methods
Outbound methods rely on you getting contact information for homeowners who may be motivated sellers, then contacting them with your pitch.
Access a complete database of homeowner contact information that can be filtered and sorted according to your needs (often included in

real estate investor software

).

Purchase prepared lists of motivated seller leads that meet your criteria (available for purchase from real estate data providers like

ListSource

).

View public records indicating pre-foreclosure,

tax-delinquent properties

, and newly divorced homeowners (available in your county recorder's office).

Contact homeowners with FSBO listings and expired MLS listings.
Inbound Seller Lead Generation Methods
Inbound methods bring motivated sellers directly to you through advertisements, marketing campaigns, and lead magnets.
Advertise "We Buy Homes" or your real estate business with signs and in print

Targeted marketing and advertising online and on social media

Seller lead magnets and contact forms on your website (like RealGeek's

instant property valuation tool

, a downloadable seller's guide, local market analysis,

real estate landing pages

, etc.)
If you want to consistently generate motivated seller leads, you'll use a combination of these methods.
3 Keys to Converting Motivated Sellers
Once you have contact information for motivated sellers you want to contact, or have captured motivated seller leads with inbound methods, the next step is critical.
Making contact with a prospect needs to happen fast. The first contact should give them a briefing of what you're offering to do and why it will help them.
You should be transparent and direct to establish trust. Here are the keys to converting motivated seller leads.
Key #1: Be Prepared to Act Quickly
The first key to actually converting motivated sellers is acting quickly. You don't have any time to waste. If your motivated seller lead hasn't been approached by another investor or real estate agent yet, they will be soon.
And if you've captured an inbound seller lead, they won't wait around for long. They want to hear from you fast. But acting quickly without a plan is very rarely successful.
So make sure you're always prepared to make that first contact with a motivated seller lead. Knowing the circumstances they're facing will ensure you adopt the right approach without delaying.
A seller with an expired listing may be frustrated and distrustful of agents; a homeowner facing foreclosure or going through a divorce may not be in the mood to have a long chat.
Keeping their circumstances in mind will help you choose the right script (Key #3) to quickly engage them in an appropriate way.
Key #2: Show You Can Solve Their Problem
If you've done your research or the seller lead has come to you, you probably know what's leading them to try and sell quickly.
You can immediately establish a personal connection and start building trust (2 necessary ingredients to convert leads) by showing that you understand their situation and know exactly how to help.
This is effective whether their circumstances are exciting or disappointing for the seller. If you have experience working with or helping sellers in similar situations, mention it.
Talk about their pain points, solutions you can offer for problems they're worried about, things you know they're in a hurry to do, or little things they haven't yet considered.
The seller is already motivated by some external force – a new job, a looming foreclosure, or a growing family – and all you have to do is deliver a pitch that shows them you're the right person to guide them through the process.
You're either the real estate investor who appears with cash in their hour of need or the real estate agent with the experience and knowledge to help them quickly get the best offer for their home.
Either way, you can help solve the seller's problem. You just need to show them how. Remember, a good salesperson effectively highlights how you'll solve a pain point, whether or not they know they have one.
Key #3: Flip the Motivated Seller Script
Did you know that only 18% of people say they trust salespeople? Keep this statistic top of mind as you prepare your motivated seller scripts.
Assume the person on the other end is eying you a little suspiciously. Do your best to put them at ease by being transparent and honest
Even great pitches fall on deaf ears when the prospect doesn't trust you. You'll convert more motivated seller leads by flipping the script and focusing on trust first, purpose second.
Powerful Example
You might remember the Seinfeld episode where George Costanza started doing everything the opposite of how he normally would.
At one point, he meets an attractive woman and introduces himself by saying, "My name is George. I'm unemployed and I live with my parents."
George's bold honesty lands him a date, a job with the Yankees, and his own apartment. He proclaims "the Opposite" as his new personal philosophy.
Take a page out of George Costanza's book when you write your seller lead scripts. Be honest and direct to get past your prospect's distrust. If your cash offer will be below market value, don't pretend you'll pay the asking price.
If you're trying to schedule a meeting in hopes of turning a FSBO seller into a client, say so.Be transparent about your intentions, and watch how prospects appreciate your honesty.
Don't say: "I noticed your FSBO listing hasn't sold. I'm a real estate agent here in (city), and I can help you get your listing sold in no time. I don't expect you to hire me – I just want to help you sell it! Would you have time this Wednesday or Thursday for a quick meeting? I can come by and give you tips on what makes a successful FSBO listing."
Do say: "I'm calling about your expired For Sale By Owner listing. I'm a real estate agent here in (city), and I have to be honest, I see FSBO listings fail to sell all the time. It's nothing you did wrong – it's just the colossal exposure that broker listings get in comparison.
Listen, I just sold a similar house on (neighboring street) for 35% more than what you were asking. It's a great market right now, and I've got a plan to get the maximum dollar amount for your home if you're ready. How about we meet for coffee tomorrow or Thursday to go over my plan?"
Don't say: "I buy homes for cash and I'm interested in yours. I'll pay you what your home is worth on the market today, and if you accept my offer, you'll have the cash this week. How does that sound?"
Do say: "I'm a real estate investor interested in paying cash for your home. I've done some research on your home and the neighborhood to get an idea of what it's worth. I usually pay around 70% to 80% of a home's market value in cash. If you decide to accept my offer, we'd be able to close on the house within a week instead of a month or more. How does that sound?"
Motivated Seller Leads: Your Secret Weapon
Learning how to generate, nurture, and convert motivated seller leads is a skill that will change your real estate career.
Whether you're an investor or an agent, knowing how to find motivated sellers will enable you to have a constant stream of prospects and potential investments.
Motivated sellers might be in a hurry to sell due to a life change, financially distressed, or the need to downsize. They might be free and clear homeowners who want to liquidate their equity and are ready to move someplace new.
Our favorite method for finding motivated seller is to use an investing platform like Realeflow or Propstream. For under $100, you're able to create filtered lists to hyper-target your audience.
As long as you know which motivated seller types you're looking for, use a variety of methods to find them (inbound and outbound), and understand the three keys to converting them, targeting motivated sellers can be a secret weapon that makes you a more successful real estate professional.