If you're searching for the best software for real estate investors, you're in the right place. We'll explain your options and which platform we think is best for different businesses.
Looking for Real Estate Investing Software?
Every software platform for real estate investors may claim to be the best, but there are three that truly stand out. We'll rank the three best software options for real estate investors and give you an overview of how each platform works in our complete guide.
Software for real estate investors typically exists to help with some of the biggest challenges investors experience, whether it's steady lead generation, intuitive Customer Relationship Management (CRM), or an all-in-one platform that does it all.
The software we're looking at in this guide are all-in-one platforms for real estate investors that can help simplify and automate essential tasks like lead generation, marketing, locating and analyzing viable properties, and accurately estimating repair and rehab expenses.
Special Offer
Start Your Free 7-Day Propstream Trial
The best real estate investing software. Period.
Pros:
Extremely powerful & stackable filters
Find motivated sellers easily
Extensive property database (MLS, private, & more)
Very accurate comp tool & filters
Very low $97 monthly price (less than others)
Cons:
Not a 30 day trial (but 7 days is more than enough)
Click to Start Your Free Trial
We may earn a commission when you click this link, at no extra cost to you.
What Kind of Software Do Real Estate Investors Need?
Even if you can handle your day-to-day tasks without the help of software, there's something important to be said for automation: It can increase your profits and productivity as an investor by giving you more time to concentrate on the work that directly produces income.
Real estate automation allows investors to boost profits, scale-up, and grow their business to an entirely new level. Let's face it, the majority of time spent in real estate is for non-revenue producing tasks like administration, bookkeeping, management, and marketing, which leaves less time for doing deals and growing your portfolio. -Brad Cartier, Stessa
Most real estate investors will benefit from using an all-in-one platform rather than piecing together the features and functionality of two or more platforms that may not integrate or be compatible.
Using a good all-in-one platform will simplify your work as an investor, keep all your information and data organized in one place, and give you a central dashboard to track your tasks and activities.
Let's look at the top three software options that help real estate investors automate recurring tasks and focus on making more deals.
Propstream
Propstream is arguably the best software platform for real estate investors. It's loaded with features, affordable, and includes functions that many other platforms charge additional fees for or don't offer at all.
If you're looking for software that allows you to access targeted lists of motivated sellers, skiptrace property owner contact information, boost your marketing efforts, and make more informed investment decisions, Propstream is it.
Let's explore the best features Propstream has to offer along with their pricing options.
Special Offer
Start Your Free 7-Day Propstream Trial
The best real estate investing software. Period.
Pros:
Extremely powerful & stackable filters
Find motivated sellers easily
Extensive property database (MLS, private, & more)
Very accurate comp tool & filters
Very low $97 monthly price (less than others)
Cons:
Not a 30 day trial (but 7 days is more than enough)
Click to Start Your Free Trial
We may earn a commission when you click this link, at no extra cost to you.
Propstream Features
Targeted Seller Lists: By combining listing data from more than one MLS, Propstream can show you properties and sellers that are likely to be motivated to sell. There are hundreds of search criteria and filter options that let you narrow or broaden your list as much as you'd like.
You can search for expired listings, cash buyers within a certain radius, bankruptcy, properties with liens, homes about to be foreclosed on, sellers who have recently divorced or changed jobs, and more.
Nationwide Property Search: If you're not focusing your property search in one local area, you know how difficult it is to get access to nationwide listings that are up-to-date and accurate. With this Propstream feature, you can look at detailed property information anywhere in the country by setting a few criteria.
When you select a property that matches your search criteria, you'll be able to see everything about it – from the last buyer, whether they financed or bought with cash, the owner's contact information, and more.
Analysis Wizard: This feature can help you in multiple categories, from mortgage calculations and expenses to viewing assessor's maps and estimating future cash flow from a property.
You can perform rental analysis to see what kind of rental income you could generate from a property and look at tax information associated with the property in previous years.
The Analysis Wizard helps arm with you tons of information about a property so you can make the best investment decision.
Lead Nurturing and Follow-Up: Leads are a big part of investing in real estate, but keeping track of them all and ensuring you follow-up regularly can be tedious. This feature automatically sends an email you've prewritten to your leads.
Not everyone is ready to sell right away, so continuing to follow up and nurture your leads can make sure you're still top of mind when the owner does decide to sell.
Rehab and Repair Estimator: Propstream gives you access to the same tool insurance companies use to estimate repair costs so you can be sure your estimates are accurate. You'll also be able to view how much the property will be worth after repairs are completed (the ARV – After Repair Value).
Generate Instant Comps: No idea how to value a property? You can instantly generate comps with Propstream, giving you an overview of how much similar properties nearby have sold for.
Marketing Tools: Propstream has a robust group of marketing tools you can use to get in touch with more sellers. Skiptracing, direct mail campaigns, automated email marketing, ringless voicemails, and website landing pages are all useful marketing tools that are included with every plan.
Propstream Pricing
All-Inclusive Plan | $97/month
Every Propstream plan starts with a 7-day free trial, so you can learn the platform and decide if you like it before you pay for your first month. There's only one plan offered, so it's not really customizable, but you get all the above features for one, low price.
For less than $100 per month, you get lots of great features, including up to 10,000 property data exports each month, unlimited searches, all the marketing and lead generation tools, the Analysis Wizard, Instant Comps, and the Rehab and Repair Estimator.
Read our full review of Propstream
REsimpli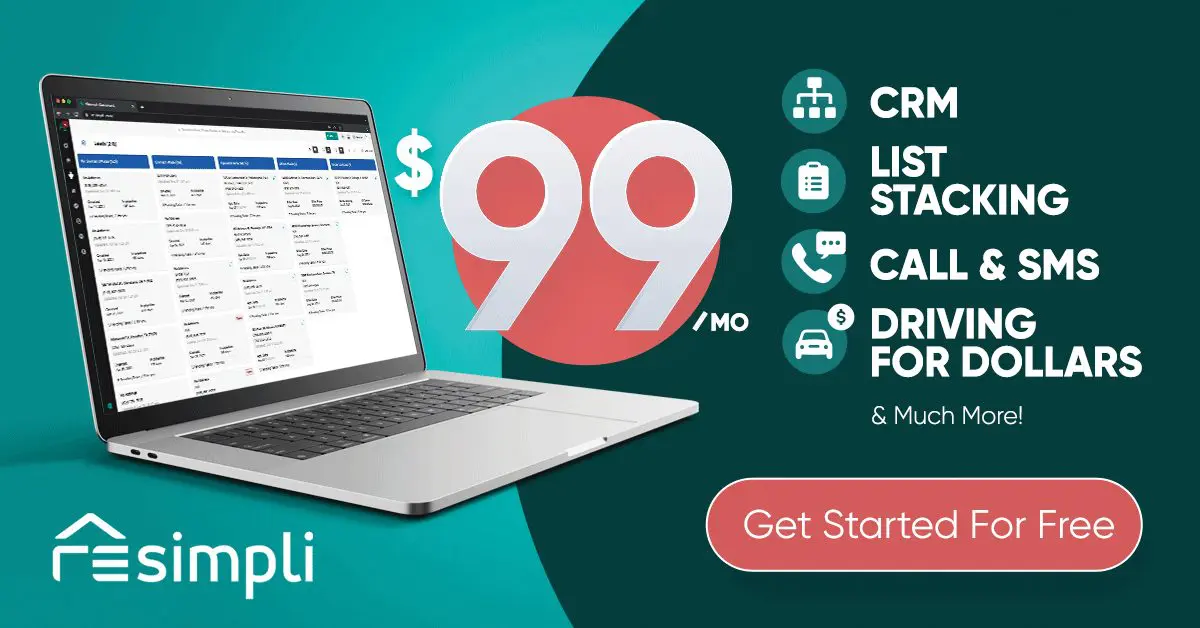 REsimpli is an all-in-one real estate CRM software solution, which needs almost no customization or onboarding. It will take a real estate investor less than one minute to get well on their way to generating great profits while keeping back-end costs low because everything is in one place.
Special Offer
Start Your Free 14-Day REsimpli Trial
Helps Real Estate Investors Close More Deals. Fact.
Pros:
Real estate CRM software with no need/ cost of multiple platforms

Super easy to use list stacking

Intuitive comms with drip campaigns and skip tracing

Unique "Driving for Dollars" feature for route tracking

Run by fellow investors who constantly respond to market changes

Secret Facebook group for all users!
Cons:
Not a 30-day trial (but 14 days is enough to get a feel for the benefits)
Click to Start Your Free Trial
We may earn a commission when you click this link, at no extra cost to you.
REsimpli Features
CRM: Manage your properties, buyers, and marketing campaigns with this comprehensive and intuitive CRM. Responsive support is on hand at all times.
Simple List Stacking: Stack all your lists in one place—say goodbye to extra costs and extra space for other software. You can choose from various data sets so your work is easy to navigate, swift, and super-efficient.
Phone System: We all have something that works for *us*, so you can choose from REsimpli's phone, SMS, and RVM integration to get into your own flow.
Drip Campaign: Your juggling days are over, my friend—this CRM automates follow-ups via email, SMS, RVM, direct mail, and more.
Driving for Dollars: One of our favorite features, the Driving for Dollars functions (shorthand "D4$") include route tracking and other expert functionalities for optimum team efficiency.
That's not all: As well as being one of the most effective CRM tools and best bookkeeping software for real estate investors, REsimpli has tons of other time-and stress-saving features like accounting, cash buyer management, skip tracing, e-sign, clear file storage, organization tools, email, and a bunch more.
REsimpli Pricing
Basic plan | $99 per month
Includes Calling, SMS, File storage, Driving for Dollars, List stacking, etc.
Pro plan | $199 per month
Everything on Basic plus Bulk email and SMS to buyers and 2-way Google calendar integration.
Enterprise plan | $499 per month
Everything on Pro plus Advanced dialer for leads for all users, Unlimited markets, In-app answering (for web, iOS, and Android)
Start Your FREE 14-Day REsimpli Trial
More than 100,000 real estate investors use Realeflow. It's an established platform that has been around since 2007, with features continually being added.
Realeflow is a truly all-in-one platform that combines lead generation, online and offline marketing, property prospecting, and repair estimates into one platform.
Realeflow is one of the best because of its wide range of features just for investors: Finding motivated sellers in specific locations, analyzing potential deals and determining a fair offer, and accurately estimating the cost of rehabbing and repairing a property.
But it doesn't stop there. When you use Realeflow, you get a professional real estate investor website included, multiple marketing options, and easy seller lead generation. Below are the best Realeflow features that make it number one on our list.
Realeflow Features
Leadpipes: This feature allows you to search for motivated sellers with some of the most advanced search criteria in the industry. Maybe you're looking for sellers that have recently inherited property.
Or maybe you're seeking bored investors, low equity properties, or sellers experiencing a life change (divorce, job change, etc.), Realeflow can connect you directly to them. You can also do simple searches by zip code, county, and city to see a broader range of properties.
DealAnalyzer: One of the stand-out Realeflow features is the DealAnalyzer. When you use it, you'll be able to compare the current asking price of a property with how much it's been sold for in the past.
Quickly determine your potential profit, get an instant recommendation for a starting offer, and input information about your own circumstances (financing, holding times, etc.).
Hammerpoint Property Rehab and Repair Estimation Tool: This unique feature gives you an accurate estimate of how much you can expect to spend rehabbing and repairing a specific property.
The figure is based on local contractor rates, materials and tools needed, and specific issues with the property. As you walk through the property using the Hammerpoint, the software will guide you to check specific areas for problems.
You'll note any additional repairs you want to have done, and the tool will generate an instant estimate report. The report includes estimates for the cost of materials and hiring local contractors.
A really useful part of Hammerpoint is the link with Home Depot that gives you the exact barcodes of the items you'll need so you can bring your report to the store and know you're leaving with the correct materials.
Real Estate Investor Website: Every Realeflow user gets a lead generation website included with the monthly plan. Once you enter your text and information on your website, you can "set it and forget it" – no maintenance or design required.
Realeflow websites are easy to customize, but if you want to leave it as it is, you can. No web design experience is needed to get your investor website online and start pulling in new leads.
You can add lead forms (give your leads a place to enter their contact information), drag and drop any element on the page where you want it, add new landing pages to advertise specific listings, and more.
Marketing Tools: You have a few marketing tools you can take advantage of with Realeflow, including email marketing automation and direct mailing features. Prewrite emails that will automatically send to leads.
These leads include owners who submit their contact information on your website, have Realeflow print, stamp, and mail your direct mail materials, or generate your own postcards to print, mail, and send on your own.
Realeflow Pricing
Lite Plan | $75/month
Includes one user, a website, motivated seller search, marketing tools.
Pro Plan | $125/month
Includes ten users, ten websites, motivated seller search, marketing tools, plus a few other tools.
Team Plan | $175/month
Includes unlimited users, unlimited websites, motivated seller search, marketing tools, full access to all other tools (Hammerpoint, repair and rehab estimator, etc.).
Read our full review of Realeflow
What Software Is Really the Best?
Most Powerful
Looking through the features offered by each of these software platforms for real estate investors, you can see that the two with the most functionality are Propstream and Realeflow.
These platforms are all-in-one and designed for investors who want to centrally manage every aspect of their deals, from lead generation and marketing to estimating rehab and repair costs and generating accurate comps.
Best for New Investors
For most investors, Propstream or Realeflow will prove to be a better choice. For $97 per month, Propstream offers the best value on this list.
Not to mention the considerable number of robust features that can help investors automate and organize nearly every aspect of their work.
Lowest Price
Starting at $75 per month (though the $125/month plan offers more features), Realeflow gives investors a lot of bang for their buck. In fact, Realeflow and Propstream can go head-to-head on most features, but Realeflow includes a lead generation website with all of its plans.
Other Considerations
At the same time, Propstream only offers website landing pages for an existing website. Still, with unique capabilities like skip tracing and the ability to send automatic offers, it's worthy of being on the list of the best software for real estate investors.
Overall, using real estate investor software to automate recurring tasks that are time-consuming and simplify more important ones, like lead generation and seller outreach, is one of the best decisions you can make as an investor.