If you're wondering how to write the perfect expired listing letter, you're in the right place. We'll cover what to include, how to frame it, and other things to consider. Read on to learn more.
What Are Expired Listing Letters?
Expired listings can be your bread and butter as a real estate agent if you're willing to put in a little initial work to get a good system set up. Some agents rely on expired listing scripts to contact the seller via phone (check out our complete guide to expired listing scripts here).
But that method can be hit or miss because agents will be contacting the seller in droves once their listing expires. Instead, you might consider writing an expired listing letter.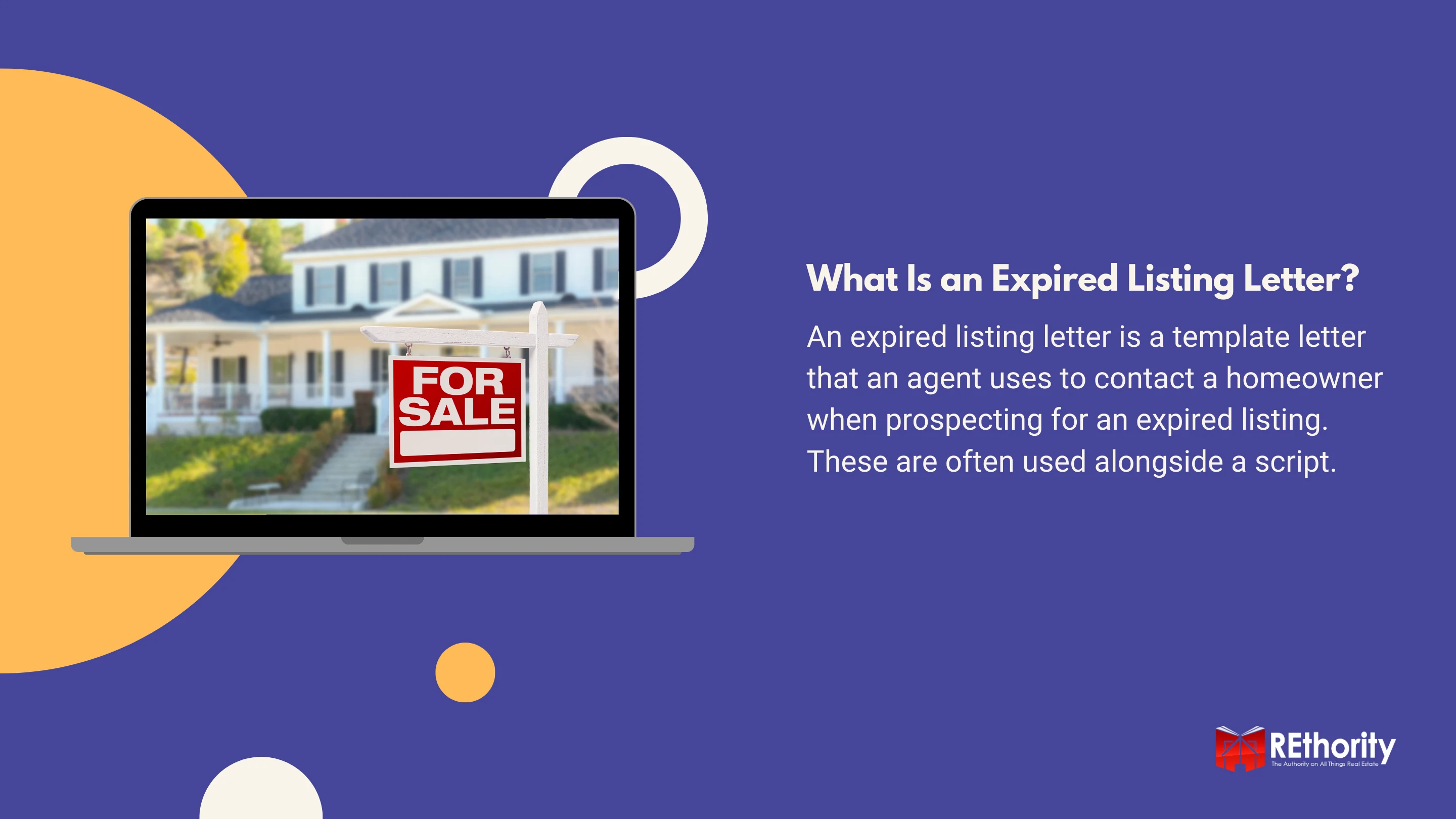 As long as you're clear, to the point, and friendly in your letter, you can get through to a seller who might already be exhausted with dozens of high-pressure phone calls from agents who want to take over the listing.
Writing and sending expired listing letters can:
Give you a competitive edge over agents who are simply making calls

Help you stand out as an agent with a fresh perspective by using an alternate channel of communication

Enable you to communicate your proposal to the seller in a less intrusive way than a phone call
While the concept is simple, it's not always easy to write an expired listing letter. Fortunately for you, we've made a complete guide so you're not left in the dark.
6 Elements Every Expired Listing Letter Needs
Reaching out to a seller who's experiencing a lot of disappointment and frustration over the listing's failure to sell should be done with care.
Writing a letter gives you the perfect opportunity to communicate clearly with the seller without calling and potentially interrupting them from another activity.
Every expired listing letter is different, but they all need to have a few essential elements in it. Let's go over these essential expired listing letter elements:
1. Short But Sweet
This isn't the time to write a lengthy letter. Remember that you're speaking to a seller who isn't happy with their failed listing and keep your letter short, sweet, and focused.
2. Warm, Friendly Introduction
Sellers aren't likely to keep reading if you greet them with an overly stiff opening that sounds like a prewritten template. Treat this introduction like you would in person.
Do this by using a friendly, warm greeting that sets the tone for your letter.
You want the seller to feel like they're reading an offer from a helpful, experienced friend, not an aggressive agent who wants to take over the listing at all costs.
3. Evidence of Your Expertise
You know about your expertise, but the seller doesn't – yet. Take this opportunity to quickly and confidently address why you're a good fit. Maybe you've successfully sold two other homes in the neighborhood.
Maybe you have an impressive track record of finding buyers in less than a week. Whatever makes you stand out as an expert in this area, make sure the seller knows about it.
4. Answers for Their Questions and Concerns
You don't have the opportunity to hear the seller's specific questions when you write a letter, but you can offer them solid answers to questions you know they have.
You know they're wondering what went wrong with their listing. They're unsure about whether or not FSBO was the right way to go. They're thinking they may have priced the home too high.
They're considering contracting with the listing agent again because they're not sure what to do. You know what's on their mind, so address their questions and concerns upfront, so they know you're the real deal.
5. A Plan of Action
The seller may be hearing from a lot of agents who are making empty, generalized promises without offering any sort of a plan of action. You can set yourself apart by providing a few specific ways you can help.
You might suggest having new, professional photos and videos taken of the home, talk about how you'll market the listing, offer a free market analysis report, or make them a solid guarantee about selling within a shorter time frame.
The seller is dealing with a lot of uncertainty right now, so if you can offer a clear, solid plan of action, you'll be solving a problem for them.
6. A Summary of Your Proposal
Once you've introduced yourself, showed the seller why you're a good fit for this listing, provided answers to some of the questions and concerns they have, and proposed an effective plan of action to help them get the home sold, tie it up neatly with a summary of your proposal.
If the seller happened to skip over any parts of your expired listing letter, they'll read about it in the summary. This will keep all your suggestions top of mind for the seller and make your offer and action plan abundantly clear.
An Effective Expired Listing Letter Example
Let's pull the six essential elements for an expired listing letter together in an example.
Hi (Name)!
I'm (Agent Name), a local real estate agent, and saw your listing is no longer on the market. I worked with (seller's neighbors) to sell their home in record time just a few months ago!
I've lived in (City, State) all my life and have been working as an agent here for more than a decade. I wanted to send you a quick action plan we can use to get your home sold quickly.
Here's what I'm planning on:
Making sure your home has professionally done aerial, interior, and exterior photos
Reaching out to my professional circle to connect you with a buyer fast
Setting a (Short Timeframe) goal to have the right buyer ready to close
Reducing my standard commission fee by X%
I'm reducing my commission because your home is in such a desirable neighborhood, I know we'll have no trouble finding a buyer quickly. In fact, I already have a few clients who are in the market for a place like yours!
Let's link up and talk about relisting your home with better photos and more precise marketing to get it in front of the right buyers. I can swing by any afternoon this week to drop off a market report for your neighborhood – you're going to like what you see!
Please give me a call at (Phone Number), send me an email at (Email) or stop by my office on (Address) to let me know a convenient time for you. The sooner we can get it relisted, the faster we can sell it!
All the best,
(Agent Name)
(Brokerage Name)
Writing Your Own Expired Listing Letter
Looking at the example above, you see where the different elements made their way into the letter. Your six essential elements don't have to happen in order.
But you should try to make sure they're all covered somehow. When you write your own expired listing letter, a big part of getting through to a disappointed seller is by talking about your own expertise and authority in the area.
Think of things that make your experience in real estate a valuable thing to a seller. Have you lived there a long time and know all the neighborhoods well?
Do you have a track record of quickly finding buyers? Are you well-connected in town with a large circle of influence that you can market listings to?
Do you have a close connection with a photographer who takes beautiful shots? This is the time to mention it. Be mindful of the tone and voice you use in your letter.
While the example above can make a great base to build from, its tone may not match yours. If you get the opportunity to meet with the seller, is your voice and tone going to match the way you wrote the letter?
Make sure you try to convey your unique personality through the letter as much as possible. Finally, have someone read over your draft to let you know if it's hitting the target.
You want to make sure your letter doesn't come across as desperate, pushy, or too casual. There's a careful balance you need to strike.
Plan to Follow Up
After you send your initial expired listing letter, you need to have a follow-up plan ready to spring into action. Not every letter will get a response, whether it be in the form of a phone call, visit, or written response.
Remember that you may be one of several agents currently contacting the seller. Following up has to be part of your plan to stay top of mind with the seller!
When you initially reach out through a letter, you're including some way for the seller to get in touch with you quickly.
In the example above, we mentioned both the agent's phone number, email address, and office address. No matter how much contact information you supply, though, don't assume they'll eventually get in touch with you.
The follow-up is essential. If you have access to the seller's phone number or email address, try following up using a different method the next day.
Don't send more than two letters in a week's time. The length of time you wait before following up is up to you, but your chances of being able to take over the listing really diminish after a few days.
Your Source for Expired Listings
If you want to put your perfectly-crafted expired listing letter to work right away, you need to have a simple way to gather a list of soon-to-expire listings.
You can always use your MLS to do a manual search for listings that will expire soon, but that's time-consuming and requires a lot of work on your end.
A better option is to use a platform like REDX to locate expired listings and all the associated information you'll need to send an expired listing letter.
Such information includes:
The seller's first and last name

Their current phone numbers

A home address

And the date of the listing's expiration
Having instant access to this information without manually tracking it all in a spreadsheet makes the process very simple and significantly reduces your time commitment.
Read our full review of REDX here and see how you can start discovering tons of expired listings in your area.
You Might Also Like: