Expired listings are a powerful way to prospect for home seller leads. But do they work? And what's the best way to get them? Read on to find out.
What Are Expired Listings?
How competitive are you when it comes to finding seller leads? Do you enjoy the challenge of competing with other agents for the best leads, or do you prefer to hang back and look for the easier option?
Competition tends to gather around the most rewarding real estate strategies and lead sources and expired listings are some of the most competitive sources you can target.
If you're up for the challenge, buckle in. We're here to talk about expired listings from the basics to the little-known secrets you need to succeed.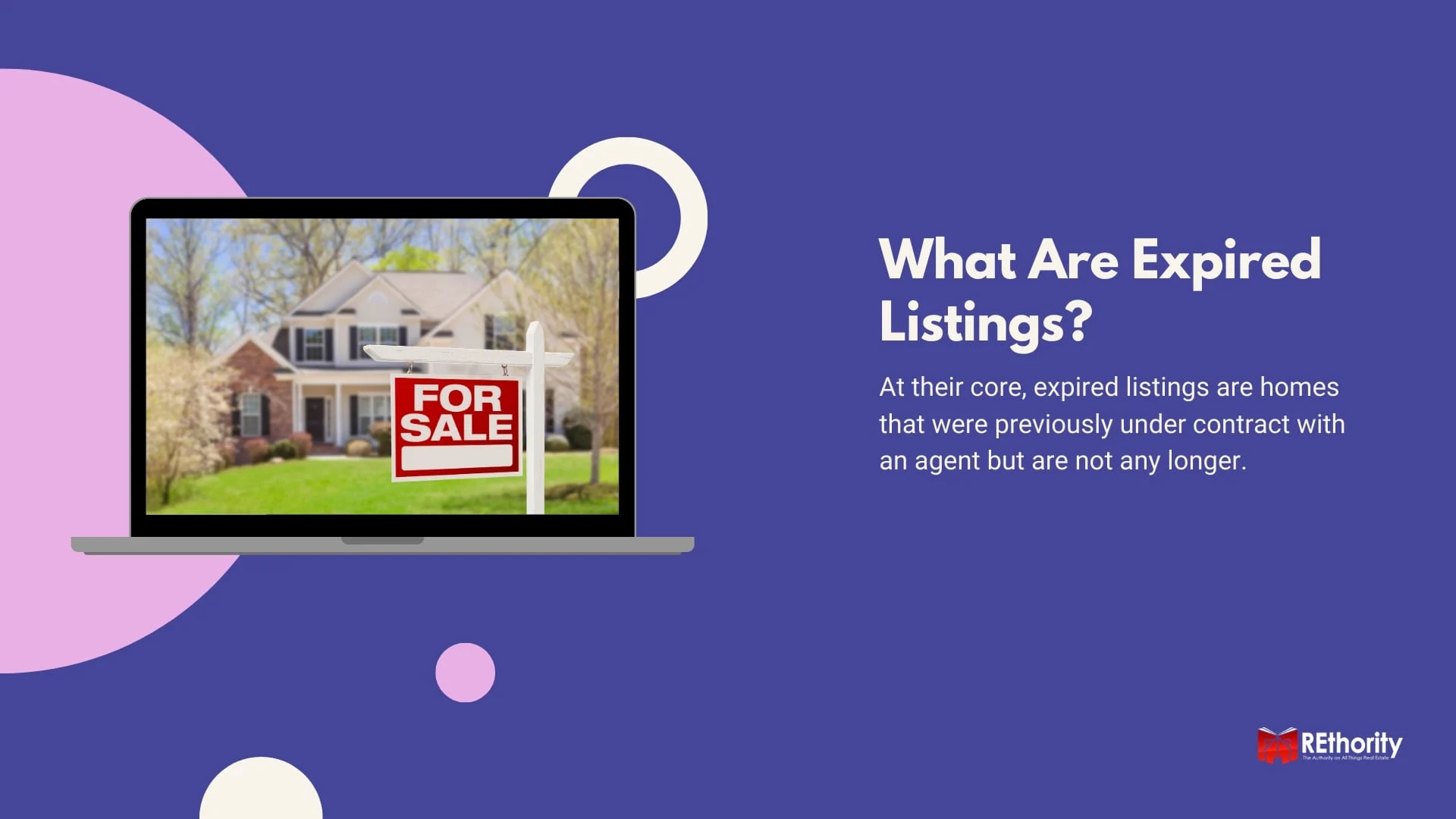 At its core, an expired listing is a property that was previously under contract with an agent, but that contract is no longer active.
In our guide, you'll read about why they're important and learn how to find them, their typical cost, what to say to the seller to win the listing, and how to supercharge your seller leads list with them.
If finding and converting expired listings were easy, you wouldn't need this guide. It's a challenge no matter how you look at it.
But the results are sweet if you can rise above the competition and nab these seller leads. Let's start with the basics: Why you should be relying on expired listings for the best seller leads.
Why Expired Listings Matter
Real estate agents have a few options when it comes to finding and pursuing seller leads. For example, they can:
Use generalized outbound marketing to find them (Ads, direct mail, etc.)

Use pervasive inbound marketing to find them (Lead magnets, social media, etc.)

Target seller leads who are impatient to sell their home because the listing already flopped (Expired listings)
There's nothing wrong with any of these approaches, but there's an important distinction between them: Marketing costs more money and takes time.
Going directly to the source by contacting sellers who have expired listings can not only get you closer to highly motivated sellers.
But if you can crack the code, it will slash your marketing budget in the meantime. Let's talk about how to find these listings and crack the code of the expired listing.
Finding Expired Listings Manually
You can find expired listings manually through your MLS or with the help of real estate software like REDX (we'll talk more about this in a bit).
If you choose to look for these listings manually, you're in for a lot of work. You can use either the MLS or public records to do it on your own for free.
Using the MLS
First, you'll need to search the MLS for listings near you that are about to expire. Searching for listings that have already expired means dozens of other agents have already contacted the seller and cuts your chances of getting the client.
Leave out pending listings and those that are labeled "Closed". Choose the expiration date to make sure you're viewing listings that will expire soon, no more than one month away.
Next, it's time to track these potential leads. You can do this by adding each one of your soon-to-expire listings to a list or spreadsheet so you can keep track of them over the days or weeks before the listing officially expires.
When the date of expiration comes, you'll have to check again to make sure the listing did indeed expire. And also that it wasn't re-listed by the same (or another) realtor.
If the listing did expire, they're fair game, and you can reach out to them with a phone call in an attempt to get them to re-list with you as their agent.
The problem: Time consuming, multiple steps involved, limited seller information
Using Public Records
It's even more time-consuming than using the MLS, but you can dig through public records to find expired listings. You'll start by going to your local records archive (courthouse, city hall, etc.) and request the listing records for the area.
You might be given paper documents or access to online documentation. Either way, you'll have to manually sort through this information to find expired listings and the seller's contact information for each one.
You might spend hours searching to end up with one viable seller's phone number. In addition to the seller's contact information, though, you might find helpful information that can offer clues as to why the house was on the market or what the original purchase price was.
The problem: Extremely time-consuming, inconvenient, all leads have likely been contacted by other agents
Finding Expired Listings with REDX
REDX – the Real Estate Data X-Change – has developed quite a powerful reputation in the world of real estate lead generation and prospecting.
Many agents consider it the number one source for real estate leads. You can skip the hours spent trudging through the MLS or public records to find expired listings and let REDX do the work for you.
What exactly does REDX do to make it easier to locate expired listing leads? This online platform is one of the largest real estate data aggregators, meaning it compiles and sorts huge amounts of MLS data into manageable, comprehensive chunks.
You can use REDX to find all kinds of seller leads – pre-foreclosure, For Sale By Owner (FSBO), and yes, expired listings. But the real time-saver isn't just that it will sort through mountains of data to find the types of listings you want.
It finds the current contact information for the listings you search, including:
Seller name, first and last

Current phone numbers (cell and home phone)

Date of listing expiration
What's more, when you've found your leads and are ready to save their information and contact them, REDX offers comprehensive solutions called Vortex and Storm Dialer.
Vortex helps you manage your leads by tracking their information (name, phone number, address, tax information, listing information, and last contact you had with them) and their progress through your seller funnel.
Vortex automatically checks the Do Not Call list to ensure you're contacting the right people. REDX's Storm Dialer is an automatic dialer built into Vortex that can help you efficiently get in touch with each lead from your Vortex list.
When you use Storm Dialer, it calls the numbers on your list. If the seller doesn't answer, it automatically leaves a voicemail with your information.
You're left with a list of pre-qualified leads who are willing to speak with you about relisting their property. That puts you one step closer to becoming their next listing agent!
Read Our Full Review of REDX and Its Features
Calling and Converting Expired Listings
Whether you do it yourself or use software like REDX to access contact information for expired listings, the next step is placing calls and converting the leads into clients.
To stay on track and make sure you address the most critical points, you'll want to use an effective expired listing script.
Before we address what should be part of your script, we need to think about the mindset of the homeowner you'll be talking to.
Consider the Seller's Mindset
Imagine the way the seller feels after going through the complicated, time-consuming, and possibly expensive (remodeling, repairs, etc.) process of listing their home for sale only to have it fail to sell.
They trusted their listing agent to market the home and find a buyer who was willing to pay the listing price. In short, their hopes are dashed from their recent bad experience.
They might be hesitant to go through the ordeal again. They might believe they've picked the wrong time to sell. In any case, you can't expect the seller to welcome the next agent with open arms.
That's the core principle your script should be crafted from: Alleviating their concerns and showing confidence that the home can sell if you're in charge of the listing.
Expired Listings Scripts
Craft your script with the seller's mindset as your guide. Use your position to build trust with the seller by being friendly, confident, and showing your expertise.
After you warmly introduce yourself and confirm you're speaking with the homeowner, don't beat around the bush. Jump right in and tell them how you can help them sell their home.
Here are some points you might want to address in your call script:
I know you're disappointed with this situation and I can help

Your previous agent made some mistakes that I can quickly fix

FSBO listings are complicated, but I have a marketing plan that can help sell your home

I've sold a lot of homes like yours in our area (and I have examples/data)

Here are some things I can do to help sell your home quickly (Order better photos of the home, take a flat fee instead of a commission, etc.)
Read Useful Examples of Expired Listing Scripts Here
Follow Up Persistently
No matter how good your script is, you'll inevitably run into sellers that aren't interested in working with you, at least initially. That's why your follow-up game has to be strong.
If you're using REDX, their Vortex lead management system will track the last time you've contacted leads on your list and show you where they are in your sales funnel.
This can help you develop a strategy for a follow-up to help you convert more leads. If a seller was hesitant to work with a new agent at first, a friendly but persistent agent who doesn't give up right away can be just the push they need to put the home back on the market.
Expired Listing Costs
So, how much do expired listings usually cost? That depends on the method you use to find them.
DIY Expired Listings Pricing
Manually searching for leads through your MLS or public records is free, but it takes time.
REDX Pricing
Using REDX to access expired listings costs $59.99/month if you choose to pay monthly, but there are some serious discounts available if you sign up for more than one of their products (and we recommend the Storm Dialer).
REDX Pricing
Expired leads: $59.99/month
Add another REDX product and

save $9.99/month

Pay quarterly and get a

5% discount

Pay semi-annually and get a

10% discount

Pay annually and get a

15% discount
Storm Dialer: $99.99/month
Example
If you pair expired leads with Storm Dialer and pay annually, you can pay $126.00/month (15% annual discount + $9.99 monthly discount for bundling) instead of $159.68/month.
Remember: The real divide between using software like REDX and manually searching for expired listings isn't price. It's the investment of time.
We all know the phrase "Time is money," and nothing is more true for a real estate agent. Time spent digging for the same information that can be found in seconds with REDX can hurt your ROI in the end, even if the leads are "free."
Expired Listings: The Bottom Line
There are multiple ways to uncover expired listings and those that are about to expire. If you're reading this, you're likely you're ready to take on the competition and try to win listings from homeowners.
But before you begin calling on those who may be a little disillusioned with the home selling process, you'll need to develop your plan.
Decide whether you'll manually search for expired listings or use software like REDX to access them quickly.
Determine how you'll keep track of those leads and their contact information (Manually in a spreadsheet? Automatically through REDX Vortex?).
Come up with a few expired listing scripts to rely on when you contact homeowners, and develop a persistent follow-up schedule that will give you the best chance at getting a yes.
Take your real estate business to the next level with an effective expired listings strategy that elevates you from the competition and wins you more listings.
You Might Also Like: