Are you searching the web for a guide on, "when to replace water heater?"
If so, read on. Our complete guide covers signs of an aging water heater, when to replace it, and much, much more.
When Do You Need to Replace a Water Heater?
Water heaters typically last anywhere from 10 to 20 years. One day, your hardworking water heater will start showing signs that it's time to replace it.
It might start to deliver lukewarm water, emit strange sounds, or spring a leak. If you're familiar with the signs that it's time to replace a water heater, you'll pick up on potential problems before they become a disaster.
Water heaters rarely just stop working altogether. A series of small issues indicate that your water heater may be on its way out.
It's important to know these specific signs because they can easily be confused with other, easily fixed problems.
Not every water heater issue means you'll need to replace it.
Keep reading to learn the difference and see the signs that let you know it's time to replace your water heater.
When to Replace Water Heater: 10 Signs to Look For
Keep an eye out for any of these tell-tale signs that your water heater is ready or almost ready for replacement.
We'll also talk about water heater problems that mimic these and may be easy fixes.
1. It's 10+ Years Old
Let's start with the most obvious sign it's almost time to replace your water heater: It's getting old. If you've had your water heater for ten years or more, it'll likely need to be replaced soon.
If your water heater is more than ten years old and you notice one or more of the other symptoms listed here, it's time to start looking for a new unit before something goes wrong.
2. There's No Hot Water
If there is absolutely no hot water coming from your water heater, it's a good indication that it may be on its way out. A complete lack of hot water could be one of several issues.
This is different issue than lukewarm water (see #6 for that). It could be something as simple as a tripped circuit breaker.
But it might be a faulty part like the thermocouple, high-temperature cutoff switch, heating elements, or a dangerous gas supply problem.
Often, the inner components of a water heater start to fail one after the other as the water heater gets close to the end of its lifespan.
3. It's Making Weird Sounds
If you hear popping, banging, crackling, or other strange sounds coming from your water heater, it's not a good sign. Sounds like these are caused by a buildup of scale or sediment inside the water heater tank.
Minerals and debris settle to the bottom of the tank, and when the burner or heating elements begin to heat up, the sediment releases steam bubbles and moves around in the tank.
This is the source of any strange sounds you might hear coming from the water heater. There's no need to panic, even though the sounds can be unsettling.
It's not going to blow up, but the sounds are a sign that there's a considerable amount of scale and sediment.
If the water heater isn't drained so that scale and sediment can be cleaned away, it's only a matter of time before it stops working.
4. The Hot Water Is Rust-Colored
It's not visually appealing, but rusty or cloudy water can indicate something is going wrong with your water heater.
The good news: If you take action right away, you may be able to save the water heater (and put a stop to the strange-colored water).
If the water coming out of the hot taps in your home looks rusty, there are two possible causes.
First, it might be actual rust mixed with other sediment in the water heater. These may be from tank corrosion, which means the entire water heater will need to be replaced.
Or, the rusty sediment may be present in the water supply and build up over time. If it's at the point where the water coming out is rust-colored, it has to be drained and flushed right away.
A professional can take a look at the water heater and let you know if the rust is coming from a corroded tank that needs to be replaced or if a quick drain and flush will take care of the problem.
Second, rust-colored water can be caused by bacteria living inside the water heater tank. The bacteria feeds on and reduces the iron in the water, which results in the strange coloration of the water.
This bacteria can be dangerous for anyone with a compromised immune system or chronic illness. It's also capable of wearing down the anode rod inside the tank, resulting in tank corrosion and rust.
Overall, if you see rust-colored water, it's a sign that something is wrong inside your water heater tank. It may need to be replaced depending on if the rust is truly coming from a corroded tank.
5. The Water Temperature Fluctuates
If the water temperature changes from hot to lukewarm or cold, or if you find that you have to change the thermostat setting often, it's a sign that your water heater may need to be replaced soon.
It could be a problem with the water heater thermostat or heating element (for electric water heaters). A professional plumber will be able to replace any faulty element for you.
But if your water heater is more than ten years old, more and more components will likely start to fail soon, and that gets expensive.
A professional will determine if it's more cost-effective for you to have the thermostat or heating element replaced or replace the entire water heater.
6. Your "Hot" Water Is Lukewarm
A sure sign that something is wrong with your water heater is lukewarm "hot" water. You'll find that even turning the hot tap on won't result in hot water.
If you have an electric water heater, it could be a faulty upper heating element. Again, this part can be replaced by a professional, but an aging water heater means more part replacements like this are in your very near future.
If you have a gas water heater, there's one easy-to-fix problem to check first: Your gas valve. Make sure it's set to On.
If it's been moved to the Pilot or Vacation setting, it could be causing lukewarm water that runs out quickly. These settings won't allow the burner to light and keep the pilot light lit.
The pilot light creates just enough heat to make the water in the tank lukewarm overnight (or anytime hot water isn't used for several hours).
Once that initial burst of lukewarm water is used, cold water begins to refill the tank, and your shower will suddenly turn cold.
If this is the issue, turn the gas setting to On and listen for the burner to start up with a whoosh sound. It's also possible that the dip tube – the tube that brings cold water into the water heater – may be cracked or broken off.
This results in cold water being dumped at a higher level in your water heater, close to where the hot water leaves the tank.
When cold water is constantly being mixed with the heated water in the tank, you get lukewarm water that won't warm up no matter how long you leave it on.
Dip tubes can be replaced, but many experts recommend replacing the water heater itself instead. It's considered an advanced repair that takes a full day to complete.
7. Something Smells or Tastes Off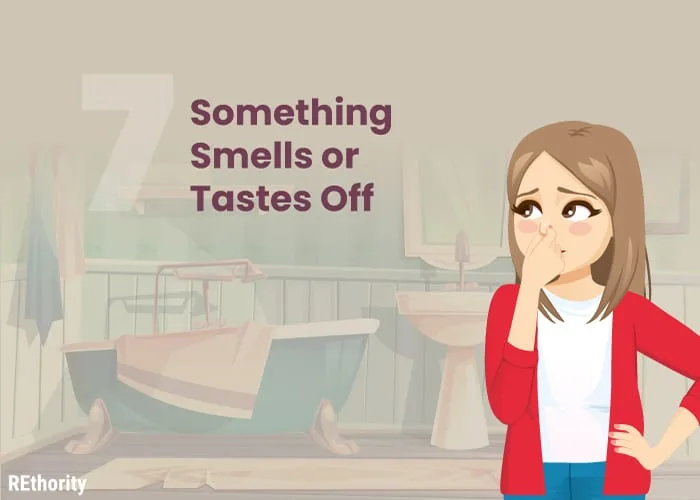 If your hot water smells or tastes metallic or like rotten eggs, it may be time to replace it. But there are a few possibilities of what can cause these odors.
When there's a metallic smell or taste in your hot water, the worst-case scenario is that your water heater tank is corroded and breaking down (which will eventually result in major leaks).
In this case, the water heater will need to be replaced to avoid water damage and other hazards. You could also smell a rotten egg odor if there is sulfur in your water.
Sulfate bacteria can cause this in your tank (especially if you have well water). Treating well water with chlorine can alleviate the sulfuric smell and shouldn't require you to replace the water heater just yet.
A rotten egg odor may also be caused by using a water softener combined with a magnesium anode rod inside the tank. The two react to make sulfate gas, which smells like rotten eggs.
If you or a professional deem this to be the problem, you can have the tank drained and flushed and replace the anode rod or stop using the water softener.
8. A Lot of People Live in Your Home
If you're experiencing any of the signs and symptoms listed here and there are many people in your household, there's a good chance it's time to replace your water heater.
The more people living in a household, the more the water heater is used. More hot water use means the components and parts will burn out and fail faster than usual. You may not hit the 10-year mark with your water heater if you have a large household.
So if you have five or more people in your household and notice any hot water problem, odor, sound, or leak, it's probably time to replace your water heater.
9. Repairs Are Needed More Often
A sure sign that your water heater is failing is an increased need for repairs and part replacements. One month, it might be the thermostat or heating element, and the next, it could be the anode rod or pressure-relief valve.
You might have a professional inspect the water heater and find multiple pressing issues with it. Any of these situations indicate that you're better off replacing the water heater.
Making lots of repairs to a water heater with lots of problems will be much more expensive in the long run than just buying a new one with a good warranty.
10. It's Leaking
Water heaters often leak when there's a serious problem with the tank. You may be due for a replacement if you notice your water heater leaking from the top or bottom.
Even small leaks can become bigger and result in expensive water damage or create safety hazards. Leaks from the bottom can be caused by a corroded or rusted tank, leaky drain or pressure-relief valve, or even condensation.
You need to find out the exact cause because a rusted or corroded tank means it's imperative to replace the water heater right away.
Leaks from the top can indicate a faulty ball valve, TPR valve, expansion tank, pipe connection, or anode rod port.
Some of these issues may warrant a full replacement of your water heater, while others can be fixed by a professional.
When to Replace Water Heater and When to Call a Pro
Finding out when to replace a water heater can be tricky. It's one of the most important and relied-on appliances in your home.
You don't want to take chances with it, so it's best to err on the side of caution when in doubt.
We covered the following signs that it might be time to replace your water heater:
10+ years old
Lack of hot water
Strange sounds
Rust-colored water
Strange water odor or taste
Large household size
Increased number of repairs
Leaks of any kind
Not every issue with a water heater is an indicator that it needs to be replaced. But it's important to know the most important signs so you can replace it before a problem gets worse.
Knowing when to replace a water heater will also keep you from spending money on repairs when the water heater will fail in a short time.
Above all, keep safety top of mind when you experience a problem with your water heater. Working with electricity, gas, and water together creates a very dangerous mix.
Any repair or inspection is best left to a professional. If you're concerned that your water heater may be close to going out, a professional can provide you a good recommendation on what to do next.
Resources: