Wondering about spray on grass seed but aren't sure if it's worth the added cost?
You're in the right place. We'll show you what it is, when to use it, and whether or not we think you should spend the extra money on it.
Wondering About Spray On Grass Seed?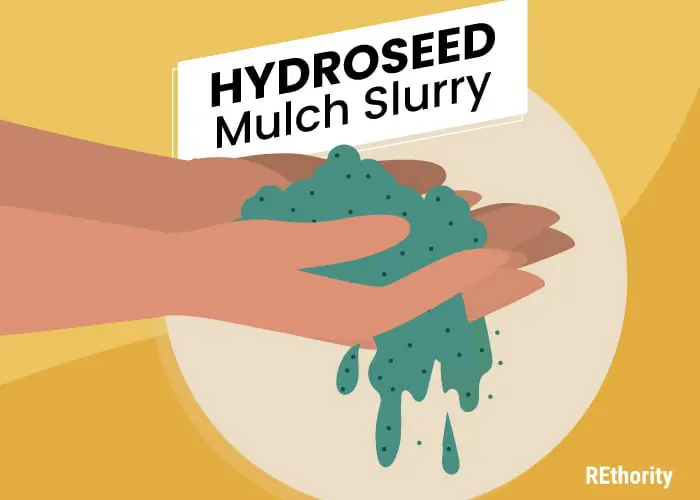 In a world built upon convenience, spray on grass seed is the next step in saving you time and money on lawn care. Spray on grass seed, also known as hydroseeding, helps with erosion control, but it can have other benefits too.
By following these tips on understanding, applying, and managing spray on grass seed, you'll be on your way to efficiently landscape your lawn in no time.
Before using any chemicals in your yard, knowing what you are purchasing and putting down is important. It is also essential to consider what factors matter most to you when choosing a spray on grass seed.
Our Top Pick
What Is Spray On Grass Seed?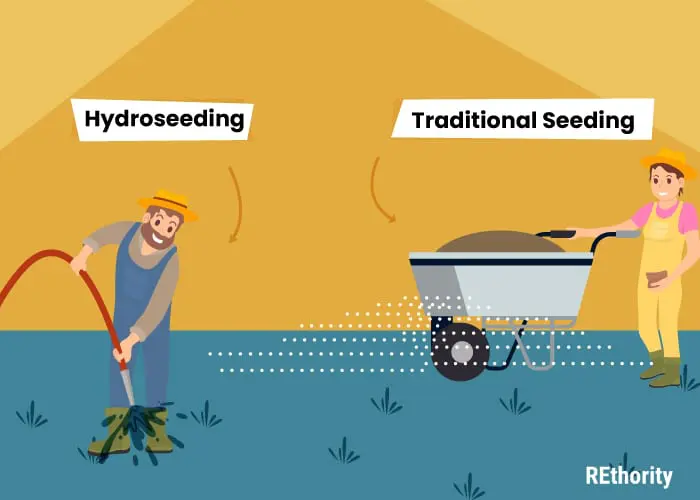 Spray on grass seed is a mixture of grass seeds, mulch, water, fertilizer, and biostimulants. This fruit salad of good-for-your-lawn materials is then spread over any bare ground in your yard to grow grass and prevent soil erosion.
What makes this combination of ingredients so effective is the way they mix.
The mulch within the mixture bonds the seeds to the soil and protects them from the elements. Once the fertilizer has boosted the seeds' growth, the mulch decomposes and adds nutrients to the growing grass.
How to Choose a Spray On Grass Seed Mixture
Well-landscaped homes can add one to ten percent value to your home. This means that spending a pretty penny on the right spray on grass seed mixture will not go to waste in the long run for your home.
Your yard is also the first part of your home that people notice when walking through the front door.
It's important to put in the money to have a show-stopping yard. Look into these factors to start on the right path to choosing the right mixture.
Shade Levels – Look at the amount of natural light the majority of your lawn receives. Some grass thrives in shadier environments, whereas other kinds of grass won't do so well in less sun.
Usage – Think about what activities you will be doing on the grass as grass comes in many different textures.
For example, if there are children playing in the grass, opting for a softer variety is better. Having a self-mending type of grass can also be beneficial but will require more care than other grass varieties.
Lawn Size – Although you should invest in good grass seed, if the yard is too big, this can be risky financially if the grass ends up not being a good fit.
Time Commitment – Think about the amount of time you are willing to dedicate to taking care of the lawn. It wouldn't make sense to purchase an expensive seed mixture and let it wither away due to a lack of care.
Mulch and Fertilizer Type – Most mulches work for a specific purpose (soil erosion prevention, slopes, etc.) Be sure to choose a fertilizer that isn't harmful to animals or the environment.
It's essential to choose the mixture that will best suit your needs while still being mindful of protecting your yard's ecosystem.
How to Correctly Apply Spray On Grass Seed
After choosing your grass seeds, you're ready to start spraying on grass seed your lawn. Keep in mind, the best time to apply spray on grass seed to your yard is between March and October. Follow these steps to get started with your spray on grass seed:
Take the PH of Your Soil – Most grasses won't grow unless the soil PH is between six and seven. You can buy an at-home PH test or hire a lawn care company to take the PH.
Create a Clean Slate – The spray on grass seed needs bare ground to be most effective. Be sure to pull any weeds, rocks, or other obstacles that pose a threat to your new lawn.
Grade the Soil – Grading soil is the act of leveling soil to protect your house from the properties of the spray on grass seed. Try to create a grade two to three inches below what you want the final grade to be.
Topsoil Time – Begin to apply about two inches of topsoil and compost. Using topsoil and compost gives the new grass a strong base of nutrients to grow.
Regrade the Soil – Regrade the soil you just put down. New grass will grow better on smoother soil.
Prepare Your Hydroseeder – Add your choice of mulch, grass seed, fertilizer, and other chemicals to the seeder. Turn on the agitator to mix the ingredients.
Spray On Grass Seed to the Lawn – Thoroughly and carefully spray the soil.
Things to Consider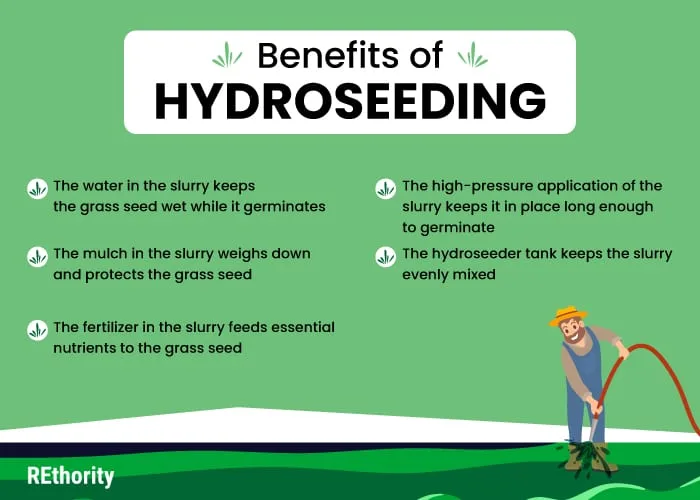 Here are some factors to take into consideration when using spray on grass seed on your lawn:
Spray On Grass Seed Is Best for Large Areas
Spray on grass seed is best for use on large lawns due to the cost of ingredients and equipment.
Despite the cost of the fertilizer, mulch, and grass seed, you'll save money in avoiding the cost of labor. Traditional grass seeding can quickly get to be pricey once labor costs come in.
Consider Calling Professionals
It is possible to obtain your own grass seed, fertilizer, mulch, and grass seed spraying equipment. Still, it may be better for some to hire a lawn care company to take care of the job.
Generally, it costs about 15 cents per square foot of lawn to hire a professional lawn company to spray grass seed on your property.
In comparison, renting a hydroseeder runs about $250-300 per day. Professional lawn care is a great option for those who are less comfortable working with machinery or can't physically do yard work.
Spray the Grass Seed at the Right Time
Although you can technically spray on grass seed to your lawn anywhere between March through October, the best time to seed will be in the spring or fall.
The rain and warm soil will help the young grass grow strong roots. The lack of rain in the summertime can be problematic when the grass is trying to grow.
Be Cautious
There is a lot of room for error when using spray on grass seed on your lawn. If you have any doubts or concerns regarding your hydroseeding equipment, call a lawn care professional.
You do not want to risk breaking the hydroseeding equipment due to what it will cost you. Additionally, not using the equipment right can cause your new grass not to grow correctly.
Frequently Asked Questions
You can never be too cautious when it comes to dealing with expensive machinery.
Being well-educated on spray on grass seed will also guarantee that if something does go wrong, you'll have a vague idea of how to fix the issue.
Here are some frequently asked questions about spray on grass seed:
What Maintenance Does My Lawn Need after Spraying On Grass Seed?
There is a lot of aftercare involved after you use spray on grass seed on your lawn. For the first few weeks, be sure to water the lawn two to three times per day.
Gradually water the lawn less over the next six weeks. It is also important to keep the grass as clear of traffic as possible.
Try to keep family and guests off the grass. This rule also extends to pets. After four weeks, you can start mowing the new grass.
How Long Will It Take for My New Lawn to Come In?
It will take about 10-15 weeks for your new grass to grow fully, but after about a week, you should start seeing growth.
Will Rain Wash My New Spray On Grass Seed Layer?
Even in torrential rain, most sprayed seed layers will stay stationary. This is due to the mulch and glue holding the grass seeds in place.
If the soil is not compacted enough, there is a risk that the soil will wash away and take the spray on grass seed with it.
This is why it's essential to take extra care during the soil grading steps of hydroseeding your lawn.
How Much Sun Does Spray On Grass Seed Need to Grow?
How much sun the grass seeds need to grow will vary depending on what kind of grass seeds you choose during the seed choosing process. In general, most grass does need some sun to grow well.
Why Spray On Grass Seed Better than Hand Seeding?
Spraying on grass seed guarantees that the grass seeds have a good starting point to grow efficiently.
Using natural materials also anchors the grass seeds to the dirt, whereas hand seeding involves using nets to hold the seeds down.
Although hand seeding costs less, the amount of work and worse growing conditions make it the worse choice of the two.
Can You Use Spray On Grass Seed Over Dead Grass?
No, you cannot place new grass seed over dead grass and expect it to grow. It is always best to start with freshly graded soil to help the fresh grass have the best chance of thriving.
Our Top Pick
Should You Use Spray On Grass Seed?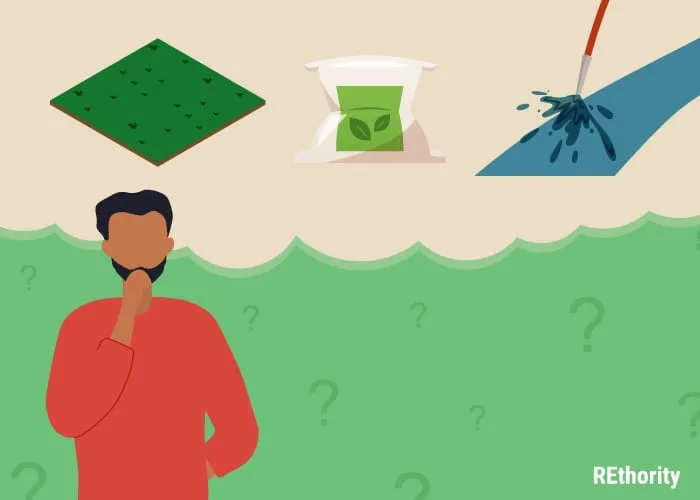 Spray on grass seed offers many benefits that other grass planting methods lack, including saving you from worrying about your lawn's nutrients and whether the grass will stay in place or not.
Despite its price, spray on grass seed is a great way to help your lawn be the envy of the neighborhood.
Resources: