Looking for unique front door décor ideas?
You're in the right place. We're home design experts and have combed online stores to find the 7 best options to make your home pop.
After all, your front door is the first look guests get at your house. It becomes the first impression of your home and your family, so naturally, you want it to look warm, welcoming, and reflective of your personality.
Decorating your front door is essential, but it can also be delightful! If you're stuck when it comes to front door décor ideas, we've got you covered.
7 Unique Front Door Décor Ideas in 2023
When it comes to your front door, you know best how it fits into your house and neighborhood.
If you want to make your front door stand out and welcome guests in, you'll have to use your creativity and create the perfect welcoming atmosphere.
Let's go over some ideas to get you started.
1. A Bright Splash of Paint
Before you start to add things to your door to decorate it for guests, consider what your door looks like on its own.
When compared to the color of your house and surroundings, does your front door stand out?
Is it easy to find when new guests come? One of the simplest ways to make your front door stand out is to paint it.
A fresh coat of paint on your door will change the entire look of your house and boost your curb appeal.
Try a different color than brown, white, black, or tan. Instead, go for bright red, teal, or even lilac!
2. Seasonal Wreaths
Our Top Pick
Wreaths are a very common way to decorate a front door. However, you don't only have to put up a poinsettia wreath in December and leave your door empty the rest of the year.
Instead, you can try seasonal wreaths, like a gorgeous Hydrangea and Grapevine Spring Wreath.
Buy several different wreaths for the year and replace them as the seasons change. You can even find holiday-themed wreaths for your favorite days of the year.
If you get multiple wreaths, make sure you grab a wreath organizer or two to keep track of the unused ones and store them without damaging them.
3. Hanging Plants
Our Top Pick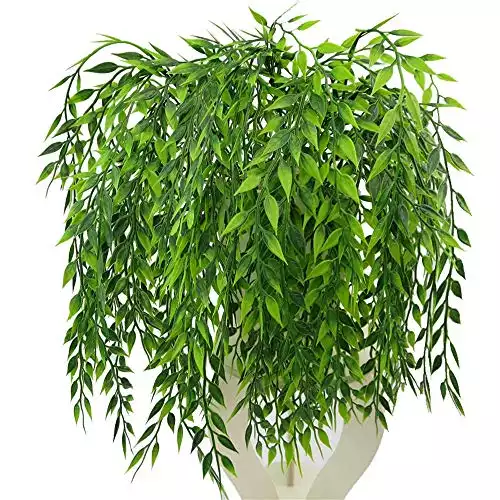 We are all used to the idea of plants by front doors. Whether it's a single pot to welcome visitors or a veritable garden of flowers, front porches are often decorated with jars and pots of plants.
However, have you ever considered hanging plants not just from your porch, but from your door itself?
There are a few ways to make it look like your door is covered in live plants. The easiest way is to use fake planters to create the illusion of greenery.
Try to avoid hanging live plants on your door. They'll require watering and constant care, and that can end up damaging the paint job on the door itself.
4. Painted Signs
Our Top Pick
With a painted sign on or near your front door, you have endless creative possibilities. You can make a sign the centerpiece of your door and welcome guests with a metal personalized nameplate.
However, you could go the other route and post a small sign that is only one part of your front door décor. Door signs, painted or otherwise, only work for you as far as they reflect your personality and atmosphere.
If you want to be warm and welcoming, get a "Welcome to our Home" sign on your front door (you can change them out seasonally!). You are in charge of the destiny of your sign, just like you are in charge of your front door.
5. Statues
Our Top Pick
Front door décor is never just about the door. It's about all of the space leading up to the door and around it. If you have a porch or landing outside of your front door, you might want to consider statuettes as part of your décor.
You can add them to your existing plants and signs or have them on their own. Statues bring a front door area to life.
If you are going for an elegant and simple look, paint your door black and use marble statues with some ferns. However, for a charming and natural look, you can set up some plants with an animal statuette that reflects your personality.
6. Doormat
Our Top Pick
No front door is complete without a proper doormat! It might seem like common sense, but there's more decorating power in a doormat than you might have thought possible.
Think about all the clever, "cutesy," or plain doormats you've seen when walking into someone's home.
It's up to you to decide what kind of first impression you'll make on guests.
When choosing a doormat, think about the rest of your front door décor. Is it stately and majestic?
If so, you're probably not going to go with a mat that has a cheesy or funny saying.
You can go for functionality and get a basic mat for cleaning shoes, or choose something lovely, simple, and floral to establish a welcoming first impression.
7. Mini Waterfall
Our Top Pick
With probably the most extravagant idea on this list, you could enlist the help of running water to make your front door seem welcoming and graceful.
You might be surprised how easy it is to purchase and set up a mini waterfall in your garden or on your porch. Putting one by your front door is a unique and calming way to welcome visitors to your home.
Things to Consider
If you're ready to decorate your front door with some of the items listed above, keep these considerations in mind.
What color scheme is your house and front porch?
Does your front door or porch need a cleaning or paint job before decorating?
How much of your front door do you want visible?
What's your budget?
How much space do you have around your front door?
Will you be able to care for live plants?
How often do you plan to change the decoration (this will help you decide whether to get seasonal decorations)?
Will the weather affect your decorations?
Did Our Front Door Ideas Inspire You?
When it comes down to it, these are just ideas to inspire you to create your front door décor.
Whether it's the beauty and grace of a mini waterfall or the simplicity of seasonal wreaths, these front door decorations will let all visitors know your personality and sense of style before they ever set foot in your home.
Resources: