We all know the most common screwdriver types out there. Most of us can at least point out a Phillips and a flat head.
But unless you work in construction or engineering, you may not be aware that there are several different screwdriver types equipped for a wide range of uses.
Let's take a look at each one in detail and when to use them.
Screwdriver Types: In a Nutshell
If you're short on time, we understand. Below is our quick list of the different screwdriver types for your convenience:
Flathead
Phillips Head
Spanner
Jewelers
Pozidriv
Hex
Japanese Industrial Standard (JIS)
Torx
Robertson
Clutch
Security Torx
Specialty
What Are The Different Screwdriver Types For?
Learning about tools and their intended use is super important for the success of the job, the longevity of the tool, and safety during use.
Without further ado, let's take a closer look at these screwdriver types.
1. Flathead Screwdriver
Our Top Pick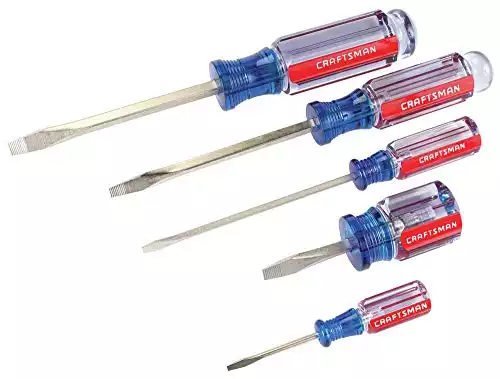 The flathead screwdriver is one of the most common screwdrivers, and it's also the easiest to identify. As the name states, this type of screwdriver has a flat head.
This type of screwdriver fits into screws that have one single indent across the head. They are often used for general home projects, construction, and hobby work.
2. Phillips Head Screwdriver
Our Top Pick
The Phillips head screwdriver is another typical type of screwdriver. The flathead and Phillips's head typically go hand-in-hand: if you own one, you own the other.
Prevalent screws usually fit either a flat head or a Phillips head screwdriver. A Phillips's head has a pointed tip that expands to four flutes. It secures screws that present an x or a t shape.
3. Spanner Screwdriver
Our Top Pick
The spanner screwdriver is also referred to as the snake-eyes screwdriver due to its unique shape. This tool has two prongs on either side with squared ends.
This specific type of screwdriver is to remove and drive tamper-proof screws. Tamper-proof screws usually have two round pin holes that discourage people from undoing them.
4. Jewelers Screwdriver
Our Top Pick
The term "jewelers screwdriver" encompasses a wide range of tools that are – you guessed it – used by jewelers. These screwdrivers are far tinier than the standard screwdrivers you would use in your home because their primary purpose is to work on jewelry, watches, and even glasses.
Pieces, like the ones mentioned above, are miniature. So, any screws involved will be way too tiny for a standard screwdriver to work on.
5. Pozidriv Screwdriver
Our Top Pick
A Pozidriv screwdriver is easily confused with a Phillips head screwdriver. This tool has a very similar shape to the Phillips, but many users consider it an upgrade to the old classic. This screwdriver was only created after the patent on the Phillips head expired.
This design is to resolve one of the biggest problems with the Phillips head, which was a slipping issue called cam-out. With more surface contact between the screwdriver head and the screw, the pozidriv makes it harder to slip.
6. Hex Screwdriver
Our Top Pick
The hex screwdriver is another very conventional screwdriver type that goes by many names: hex key, Allen wrench, hexagon, and the rest. The most recognizable hex screwdriver comes as a simple piece of metal bent into an L shape.
If you've ever ordered furniture you need to assemble yourself, then you have probably used one of these Ls. It's probably pretty obvious, but the hex screwdriver gets its name from the hexagon-shaped head that it has.
Many of us tend to toss that L tool once we assemble our products, so it's a good idea to have a real hex screwdriver on hand, just in case.
7. JIS Screwdriver
Our Top Pick
The Japanese Industrial Standard (JIS) screwdriver features a cross-tip head much like a Phillips head. This screwdriver is also similar to the pozidriv screwdriver because both have seemed to mitigate the camming-out issue that the Phillips head commonly presents.
JIS screwdrivers ensure that Japanese products follow a uniform standard. In Japan, quality is crucial, so Japanese companies will ensure that most products use this kind of tool.
You can identify a JIS screwdriver by locating the small dot near the slot that they all have. You may also be able to use a Phillips head with these products, but you could damage the tip of your screwdriver.
8. Torx Screwdriver
Our Top Pick
A Torx screwdriver is similar to a hex screwdriver in that it features six points. But this tool has more of a star or flower shape, rather than a hexagon shape.
Torx screwdrivers are significant in commercial fields like manufacturing and security. The idea is that the screws used with this tool make it more difficult to take things apart, making the final product safer and harder to tamper with.
9. Robertson Screwdriver
Our Top Pick
The Robertson screwdriver also goes by the name square head. Why? Well, because it has a square tip, of course. This screwdriver matches up with fasteners that have a square cutout in the top.
This type of screwdriver is incredibly durable, so it's popular among international companies that ship unassembled products in a set.
10. Clutch Screwdriver
Our Top Pick
You'll notice that many screwdrivers have technical names, along with nicknames that identify the shape of the tool. The clutch screwdriver is also commonly called the bow tie because its head looks like a bow tie.
A clutch screwdriver is a prevalent tool in the automotive industry because it fits fasteners used in recreational vehicles and even some older cars. It's designed for optimal torque.
11. Security Torx Screwdriver
Our Top Pick
Security Torx screwdrivers boast the same shape as a standard Torx screwdriver except for one component. Also known as security T screwdrivers, these tools are the only ones that work with tamper-proof Torx screw heads.
Tamper-proof Torx screw heads have an extra pin at the center. The pin prevents anyone from using a standard Torx screwdriver to pull them out.
You probably guessed it by the name, but the idea here is to include an additional level of security when needed. Security Torx screwdrivers feature a slot in the middle of the head, which allows them to operate on security Torx screws.
12. Specialty Screwdrivers
Our Top Pick
As if there aren't enough screwdrivers already, there's also a category of specialty screwdrivers that's worth including in our list.
Specialty screwdrivers are specifically used on custom-made bolts and screws, so they could technically look like anything. However, the most common specialty screwdrivers are:
Tri-point screwdrivers
Tri-wing screwdrivers
Triangle screwdrivers
These kinds of screwdrivers are most commonly used on aircraft, electronic hardware, and other unique screws and bolts.
Frequently Asked Questions
It's natural for beginners to have questions about tools like screwdrivers, so we've included some frequently asked questions to help you learn more.
Is it bad to use the wrong screwdriver for a job?
Yes. Using a screwdriver with the improper shape, size, or fit can be dangerous to both you and your project. If your screwdriver doesn't align with the screw or bolt properly, it can slip and cause injury to your hand.
Using the wrong screwdriver can also strip a screw, rendering it useless. It's always best to use the correct type of screwdriver during any project, large or small.
What are screwdriver handles made of?
The most common screwdriver handles use plastic, but some of them use wooden or even metal materials. The best screwdrivers will have handles that are long enough to accommodate an adult's hand size.
What are magnetic heads on screwdrivers?
Some more "high-tech" screwdrivers include a magnetic head. All that this means is that the tip of the screwdriver has magnetic material in it. Plenty of handymen and DIYers like the magnetic heads because they hold onto the screw and make it easier to keep it in place.
What's better: a screwdriver or a drill?
It depends on the project! The chief purpose of a screwdriver is to push screws in or pull them out of existing holes. While drills can perform this action as well, they're also used to create pilot holes for screws.
In many cases, a drill can also drive a screw into place without the existence of a pilot hole. Of course, this depends on the material, screws, and project in question. Both tools are worth having on hand.
What is an insulated screwdriver?
An insulated screwdriver performs the same way as any other kind of screwdriver, but its body is entirely insulated. The purpose of an insulated screwdriver is to minimize the risk of electrical shocks during work on specific equipment.
If you aren't working with electrical equipment, it isn't necessary to have an insulated screwdriver. But when you do have this kind of project, it's best to be safe rather than sorry.
So, Which Screwdriver Is Right for You?
So, how many different screwdriver types are there? From our research and experience, we were able to show you and define 13+ types of screwdrivers – along with their best uses.
If you're someone who uses tools frequently, you might find this information beneficial someday. You never know when a good screwdriver will come in handy!
Resources: