Real estate classes come in many shapes and forms. Some are online, while others are in physical locations.
Either way, there are things to consider before signing up. Read on to learn more.
First, What Are Real Estate Classes?
Before you sell your first property as a real estate agent, you must take real estate classes from an accredited real estate school. Then, you'll need to pass your state real estate licensing exam.
How many hours of classes you need varies from state to state, but no matter how many you need, these classes play an important role in your career.
If you've done a search for real estate classes online, then you're well aware that there are a lot of options to choose from. But should you take classes online or in person?
Let's take a look at these options to help you better understand what they have to offer. Then, you can decide which one is right for you.
Online Versus In-Person Real Estate Classes
Online pre-licensure real estate courses are very popular, but in-person classes also have a dedicated following. There are a few pros and cons to each learning experience.
Online classes are popular because:
They save time and money.

Real estate courses taken online tend to be a lot more affordable than in-person classes. Plus, you save time traveling since you can do it from the comfort of your own home. There is no need to pay a babysitter, take time off of work, or deal with traffic.

They're flexible.

Real estate appeals to people because it's a flexible job that allows you to make your own schedule. Online classes have that same appeal since they're designed to let you go through the course material when you have the time. You can also take the classes from anywhere, as long as you have an internet connection.
Of course, there are some drawbacks to the online learning experience, such as:
They practice self-discipline.

Online courses allow you to choose when and where you do the coursework, but that can be an obstacle for some people if they lack the self-discipline to actually do the work. If you don't manage your time well, then online classes may not be right for you.

There's no interaction.

If you love to network and have discussions as a part of the learning process, then that's much more difficult to find in an online class.
In-person classes may be more appealing to you, and they definitely have some solid pros, such as:
Social interaction:

being able to meet and talk with your teacher, having the ability to ask questions as they arise, and taking part in class discussions are valuable learning tools for many people. Plus, you can also network with people who will one day be real estate professionals, a valuable thing in the world of real estate.

Learning face-to-face:

Reading a bunch of material on a computer screen isn't for everybody. Onsite, in-person learning may be better suited to your learning style.

Scheduled classes:

Online courses tend to be unstructured, but in-person classes take a more traditional approach that you may be more comfortable in. Plus, having a set place and time to attend classes can make it easier for you to finish the required hours of coursework and get your certification.
In-person real estate classes do have some distinct drawbacks, though. These include:
Lack of flexibility:

If you have a lot going on in your life and need a more flexible schedule, then in-person classes may not be the best choice.

Additional costs:

When you have to travel to a location for a class, it's important to think about the costs associated with it. These costs can eat into your budget and take time away from work you could be doing to actually earn money.
How to Find an Online Real Estate School
Online real estate schools offer web-based classes to help you pass your licensing exam. It's important to note that you have to do your due diligence to ensure that your state accepts licensing courses from online schools.
If you're unsure where to start, your state's real estate commission website should have a list of approved real estate schools to choose from.
Also, check that the online school you're using is accredited by The Association of Real Estate License Law Officials (ARELLO). Accreditation by this body can help give you peace of mind that the courses you take are legit. Check to make sure the online school:
Operates in the green and on a sound financial basis

Employs instructors that are qualified

Has an approved program of study

Advertises its coursework factually
Find out how long the school has been operating; that can give you an idea of how smoothly things will run. Plus, the longer they've been around, the more familiar they'll be with state and federal regulations.
Best Online Real Estate Classes
There are a lot of online options out there to choose from, so we've whittled the field down to a few we think are the cream of the real estate coursework crop. Some online real estate schools you may want to explore further include:
---
This online education provider offers pre-licensing classes as well as test prep. Where they really shine is in their real estate continuing education classes, hence their moniker.
They offer pretty good deals on their pre-licensure classes. Again, depending on your state, you're looking to pay somewhere between $129 and $959 for their classes.
---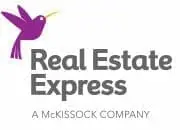 This affordable online school stands out for a variety of reasons. They take a comprehensive approach to your real estate education.
In this, they provide you with information about your career path and guidance on how to make the most of your career after you earn your license.
Pricing for Real Estate Express varies by state. It can be as low as $389 but as high as $649; it all depends on where you're trying to earn your license.
They also offer promos online that can save you money, so make sure to look for those if you decide this is the right school for you.
---
How to Find In-Person Real Estate Classes
While finding general information about online courses is relatively easy, you're going to have to work a little harder to find a brick-and-mortar real estate school near you.
Many people simply search for real estate schools in their town or city to find classes to attend. But you can make sure you're getting a lot of bang for your classroom buck by digging a little deeper into any schools near you.
Before committing to a real estate school, you should look at:
The school's standing with the Better Business Bureau

Any recommendations or reviews of the school online

The exam pass rate for the school

If the school offers real estate exam preparation,

If the school takes payment plans

What will the total cost of your education with them be?

If the school offers any additional insights into your career, such as coaching to help you start your real estate career strong,
One popular option for live instruction that's a sort of hybrid between online instruction and live instruction is Kaplan Real Estate Education.
Their virtual classrooms provide you with a live instructor and also allow you to ask questions and interact with other students, much like a webinar.
They offer pre-licensure classes across the country and can offer a more traditional approach to learning if that appeals to you.
Which Real Estate Class Is Right for You?
Working toward your real estate license exam is a commitment of time as well as money, but if you're successful, then it can be the key to a rewarding profession that offers a lot of opportunities for growth within the industry.
However, our favorite is Real Estate Express. With their intriguing instructors, flexible courses, and affordable pricing, you can't find a better value for the buck.