A no-drill blind is a type of window treatment that you attach to any window, door, or opening without the need for drilling.
But when should you use them, and what are the benefits? We'll show you this and more below.
Hundreds of Styles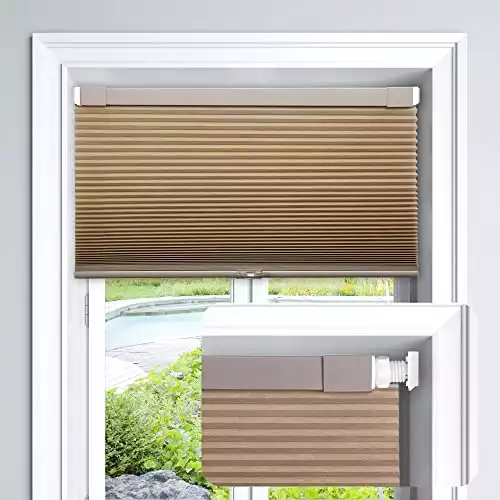 What Is a No-Drill Blind?
A no-drill blind works by securing your blinds to the wall without drilling a hole. They come in a few different options like magnetic, clip-on, and adhesive.
Some no-drill styles are meant to be permanent, while others are designed for a temporary window treatment. First, let's look at the benefits of no-drill blinds and how the different styles work.
Easy To Install
No-drill blinds are easy to install. You can stick them onto your window, door, or any other openings in your home without the need for drills and screws like traditional curtain rods would require.
They are versatile and can be adjusted by either folding them up, down, left, or right depending on what you want to show from the inside of your house. They also work great for sliding glass doors.
Saves You Time
No-drill blinds have been around for several years now, and most DIY'ers will use this type of cover due to how quick and easy they are to install. This is because it saves time and doesn't require any tools.
Still, one issue to consider with this type of blind is that they can leave damage to your wall or the surface of the window or door when taken off.
This is due to some adhesives not being as forgiving to remove as others. Therefore, it is essential to keep the temporary adhesive affixed to the wall only when you need to use the window hangings.
While they're quick to go up and will save you time in installation, don't regret leaving them up too long and suffering damage to your wall.
Various Colors and Prints
No-drill blinds also come in various colors and prints. So if you're looking for a modern look, then no-drill blinds may just be what you're looking for. You can find these blinds at Home Depot or other home improvement stores that sell DIY kits and finishing accessories.
Best Option For Renters
No-drill blinds are also great for renters who can't put holes in the walls because they're easy to install and take down if needed.
These blinds allow renters to decorate the way they want without worrying about paying fees for unsightly holes and expensive deductions from their deposits.
May Not Work With Some Climate Types
Blinds suitable for no-drill application typically weigh less than regular blinds, and their thinness means less coverage from the sun.
One of the major problems with no-drill blinds is that if they are used in an area with too much sun exposure (such as the Southwest) and you're not getting ample shading, it can make your house very hot to live in.
May Not Last Very Long
No-drill blinds are a temporary solution, meaning they aren't meant to be used permanently. They may be a great solution if you are one of those people that change your blinds every season.
However, plan to have the blinds up for five years, especially those secured with adhesive. They will eventually start to drop. Clip-on blinds, for example, tend to wear down over the years and fall off their clips.
In some cases, the clips break as well. After the season is over, you will need to remove it before it starts damaging the window, wall, or door's surface.
Types of No-Drill Blinds
There are four popular types of no-drill blinds that work well.
Magnetic
Clip-On
Adhesive
Command Hooks and Strips
Magnetic
Magnetic blinds are made from a heat-resistant fabric that's very easy to install and can be used on all smooth, clean surfaces without damaging them in any way.
Clip-on
Clip-on blinds are very easy to install and can be used on all smooth, clean surfaces without damaging them in any way. There are no tools needed for this type of cover, and we recommend it as the best alternative to magnetized covers.
Clip-on blinds clip onto a hook inside of the window. Each blind clips onto a separate hook. Since no drilling is necessary, you can move them around the house whenever needed.
Some clip-on kits are an excellent option for patio doors and can be adjusted to open wide or just tilt to allow the sunshine to come in. They also come with little metal weights to ensure they remain straight throughout use.
Adhesive
Adhesive blinds press onto the side of your window. They are recommended for windows that generally stay closed, as raising and lowering the blinds and causing lots of movement to the window treatment can wear out the adhesive.
We recommend that you stick with the rubberized adhesive. It is much cheaper and does a better job at holding up under extreme weather conditions.
Adhesive no-drill blinds are best used as a privacy screen on windows that you don't plan on moving very often. But, again, the more you move them, the more the adhesive wears down.
Command Hooks and Strips
Command hooks are the easiest and most cost-effective way to hang no-drill blinds or curtains over any type of home window.
They use a very forgiving adhesive to affix to the wall, making it easy to get your window coverings up in no time at all. Simply add hooks on each side of the window, with a third hook in the middle for support.
Command strips, similarly, are easy to install and renter-friendly as they're simple to remove without leaving any residue or damage to the wall. These can be used for other types of no-drill window blinds that wouldn't hang as well using hooks.
Hundreds of Styles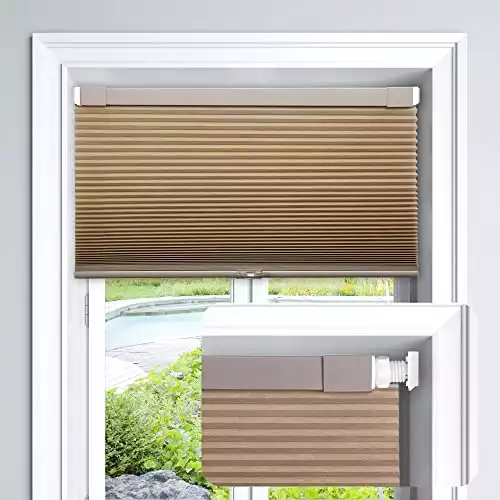 Things to Consider
Here are some things to consider when deciding if no-drill blinds are the best option for your home improvement project:
Hiring a Professional
If you are good with tools, installing window treatments may be an easy task for you. However, it's best to hire a professional if you are not. Especially if you plan to install these on windows where you need to use a ladder.
Whether this type of blind is cheaper than regular blinds, hiring someone who has experience in handling these types of materials is worth the price of never having to worry about replacing them soon.
Measure Your Windows
Also, make sure to measure your windows and doors before seeing how much material you will need. It is easy to misjudge the actual size of your window. Save yourself time and effort by measuring them beforehand.
Pets Can Damage No-Drill Blinds
It is safe to say that having a pet is a consideration in purchasing no-drill blinds. Cats specifically tend to climb and pull on blinds. If they continuously do this, they can pull the blinds down. In this case, permanent blinds are a better option.
Frequently Asked Questions
Can you put up a blind without a drill?
Yes, you can, but that doesn't mean they don't require any work at all. No-drill blinds are tools that have to be glued or clipped onto the surface of your window or door to hang them.
So depending on how high your windows or doors are, this might prove challenging to do by yourself.
These adhesive glues usually take time before they are set. Before installing your blinds, it's best to prepare ahead to avoid the area until they are set for at least 24 hours.
Can I use no-drill shades on exterior doors?
Yes, you can use no-drill shades for exterior doors if they aren't exposed to the elements much. These types of blinds are specially made from a high-tenacity polyester-based material, making them tough enough to withstand extreme heat or cold without losing their adhesion properties.
However, there is still a chance that the length and weight combined with the elements might cause them to become loose in time.
Even though these types of blinds don't require any drilling, we recommend hiring someone experienced with handling these types of materials for installation and checking on them occasionally to make sure they haven't fallen off.
Can I put up no-drill window treatments alone?
You will have a hard time with no-drill window treatments alone, but with a bit of help from a friend, you should be able to get the job done with ease.
No-drill window treatments require special adhesive glues or clips that can take up to 24-48 hours before they dry up. You won't be able to use your blinds for at least this amount of time until it is fully set in place.
How do I put up no-drill blinds?
No-drill blinds are very similar to regular blinds, with minor exceptions when it comes to installation. Since these types of blinds don't require any drilling, putting them up requires special adhesive glues and clips.
Once the clips are in place, they will need time to dry before hanging blinds on them. If you want to save yourself time and money, it is best to get a second opinion on the best option for your home.
We recommend getting someone experienced with handling these types of materials for your project. But if you want to go at it alone, make sure you do your research to choose the best option that will last the longest for your home.
How do you hang blinds without putting holes in the wall?
Hanging blinds without putting holes in the walls can be done using adhesive to affix them to your walls instead.
No-drill blids have been treated with special adhesives that can hold onto any smooth surface without causing damage over time, so this means you will only need adhesive glue to get them up on your wall or door frame.
You can also opt for magnetic blinds, Command strips and clips, or clip-on blinds. Remember that Command strips generally are used as a temporary window treatment solution.
Can you hang blinds with Command strips?
Hanging blinds with Command strips can be done by placing the adhesive strip on top of your window or door frame and then hanging your blinds. However, this can be a little bit difficult depending on where you want to hang it.
Still, since the adhesive uses no drilling, this means you won't need any nails or screws to keep them up, which is precisely what command strips are designed for.
Hundreds of Styles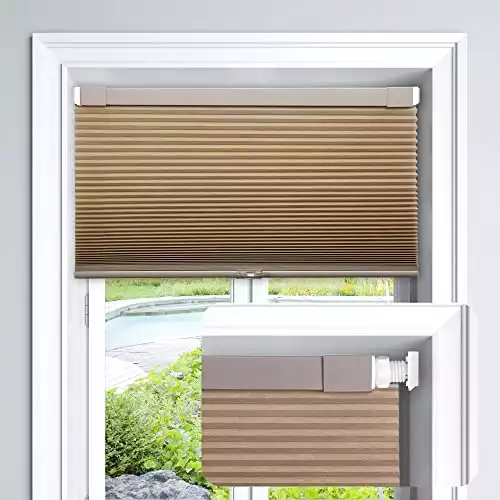 Are No-Drill Blinds Worth It?
No-drill blinds are perfect for anyone that wants to hang up window treatments but doesn't want to mess around with drilling into their walls or window frames.
No-drill window treatments only require special adhesive glues or clips to get the job done. They operate very similarly to regular blinds for daily usage.
Resources: