Metal studs are used for building anything from a treehouse to a warehouse.
There are many sizes of metal studs that you can use, as they are used for a wide variety of projects.
They're the preferred material to use when building the walls of a structure because they are light and durable.
There are many different sizes of metal studs to choose from. We've broken down the numerical list into material thickness, flange width, and member depth.
Using these measurements will help you find the right one for your project.
Standard Metal Stud Sizes
Metal stud sizes vary in width, thickness, and depth. It's important to consider the thickness of the frame, the size of the webbing, and the size of the flange.
Webbing in metal studs is the space in between the studs where plumbing and electrical wires are situated.
You also have to consider the flange size and lip size, which are both other measures of the metal stud that can affect their sizing.
The flange is the area where you will apply drywall or another enclosing material to the stud. The lip is the part of the stud where they connect with a screw.
Steel Framing Thickness
You need to know how thick you need the metal studs to be for your project. In general, the thicker the metal, the more heavy-duty the project. This is because heavy-duty projects require a stronger foundation.
Here are some examples of metal stud sizes as it relates to the thickness:
26 gauge (0.551 mils)
24 gauge (0.701 mils)
22 gauge (0.853 mils)
20 gauge (1.006 mils)
18 gauge (1.311 mils)
16 gauge (1.613 mils)
14 gauge (1.994 mils)
The higher the gauge number, the thinner the stud is. The thicker the stud, the stronger the structure will be.
Various Flange Sizes and Lip Sizes
Flange sizes are expressed in 1/100th of an inch, and the thickness is expressed in 1/1000th of an inch. This measurement is also known as "mils."
Here are some typical flange sizes:
1 1/4 inch (31.75 mm)
1 3/8 inch
1 5/8 inch (41.3 mm)
2 inches (50.8 mm)
2 1/2 inches
3 inches
3 1/2 inches
Lip sizes are also one of the most important things to know because they determine how the pieces of metal studs will fit together. Here are a couple of typical metal stud sizes as it relates to lip size.
1/2 inches (12.7 mm)
3/4 inches (19.1 mm)
Different Web Sizing
As with the thickness, the flange sizing, and the lip sizing, the webbing size is crucial to the successful outcome of your project.
Understanding which size webbing you need on your metal stud is one of the most important aspects.
The webbing determines how far apart your studs are. Below are a few standard webbing sizes:
1 5/8 inch
2 1/2 inches
3 1/2 inches
3 5/8 inches
4 inches
5 1/2 inches
6 inches
8 inches
10 inches
12 inches
14 inches
16 inches
As with any DIY project, it's best to research as many sources of information you can find before you begin the project. Here are a few things to consider during this process:
After covering all the basics of the many types of metal stud sizes, consider the type of project you are doing to the right stud size.
For example, if you are building a small child's playhouse in the backyard that needs to withstand a little weather, a stud with less thickness would be just fine.
If you build a full-sized house for a family of four, a metal stud with a wider web size and larger thickness would be necessary for stability.
An example on the scale is something like a commercial retail building with many floors. These buildings need the most durable metal stud with wide web sizes, thick studs, and bigger flange sizes.
Things to Consider
Regardless of the size of your project, you must know everything you can about which type and size stud you need.
You must be aware of anything that could turn your project upside down because you picked the wrong size.
Here are a few things that you should consider when taking on a project like this:
Price point – be sure if you are on a tight budget that you don't sacrifice quality to get the job done
Research on the best brand to use for your project
Decide on the sizing based on this research
Be sure to get the correct size for your project, or it may not hold up
Consult another source if you need help with installing metal studs or deciding which studs to use
Be sure you know how to not only install the metal studs but also be sure you know how to enclose the walls after the studs are in place
Use a level to be sure it's straight when working on a curved area
Frequently Asked Questions
Now that you know more about metal stud sizes, here are some frequently asked questions that may come up as you start working on your project.
What size studs are available?
The most common size studs available for a home are 2x6 and 2x4. In homes with 8 foot walls, studs are 92 inches apart. In homes with 9 foot walls, studs are 104.5 inches apart.
How wide do steel studs come?
Most big-box home improvement stores carry 3-5/8 inch wide studs (which is comparable to lumber 2x4 dimensions) in 25 gauge steel with 8 through 10 foot lengths.
What gauge do metal studs come in?
Metal studs typically come in 25-gauge steel with 1 1/4 inch flanges and are meant to be used for non-load bearing walls. You'll need to visit an industrial supply store for heavier-duty studs.
How wide is a 6 inch metal stud?
A 6 inch metal stud measures 6 inches on its long face. This equated to 1 5/8 by 4 inches.
Are metal studs nominal dimensions?
No, metal studs are referenced by actual size, not in nominal terms (like you're used to with wooden lumber). For example, a 2x4 is actually 3-1/2 inches by 1-1/2 inches.
Which Metal Stud Size is Right for Your Project?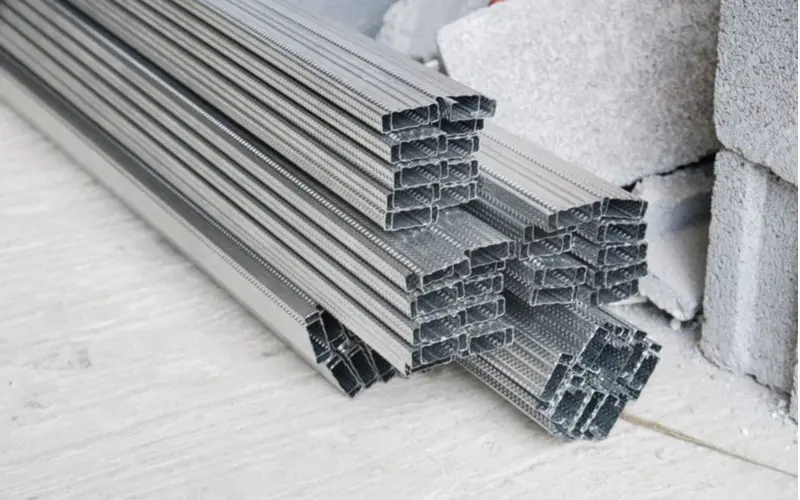 You've learned about the various sizes and uses for metal studs. Now it's time to decide what is best for your project.
Be sure to account for how much it will cost, how expansive the space is, and if you have all the specifications necessary to accurately buy the size of stud you need.
Take measurements with you to the retailer for expert help if you are not sure. Metal studs are a simplified method of building walls than wood studs.
You'll be able to knock out your renovation project in a timely fashion with lighter materials by using metal studs versus wood studs.
Resources: