Wondering how to clean vinyl siding? In that case, you're in the right place.
Our complete guide covers cleaning tips, how to remove stains from siding, and more. Read on to learn everything you need to know.
How to Clean Vinyl Siding
If you put vinyl siding on a house, you'll probably never need to replace it.
Some manufacturers even allow the warranty to be transferred to the next owner. However, you'll need to know how to clean vinyl siding to keep it looking nice.
There are many reasons to use vinyl siding. In addition to being long-lasting, vinyl siding resists warping and rotting due to moisture.
When foam insulation is installed beneath the vinyl siding, it improves energy efficiency.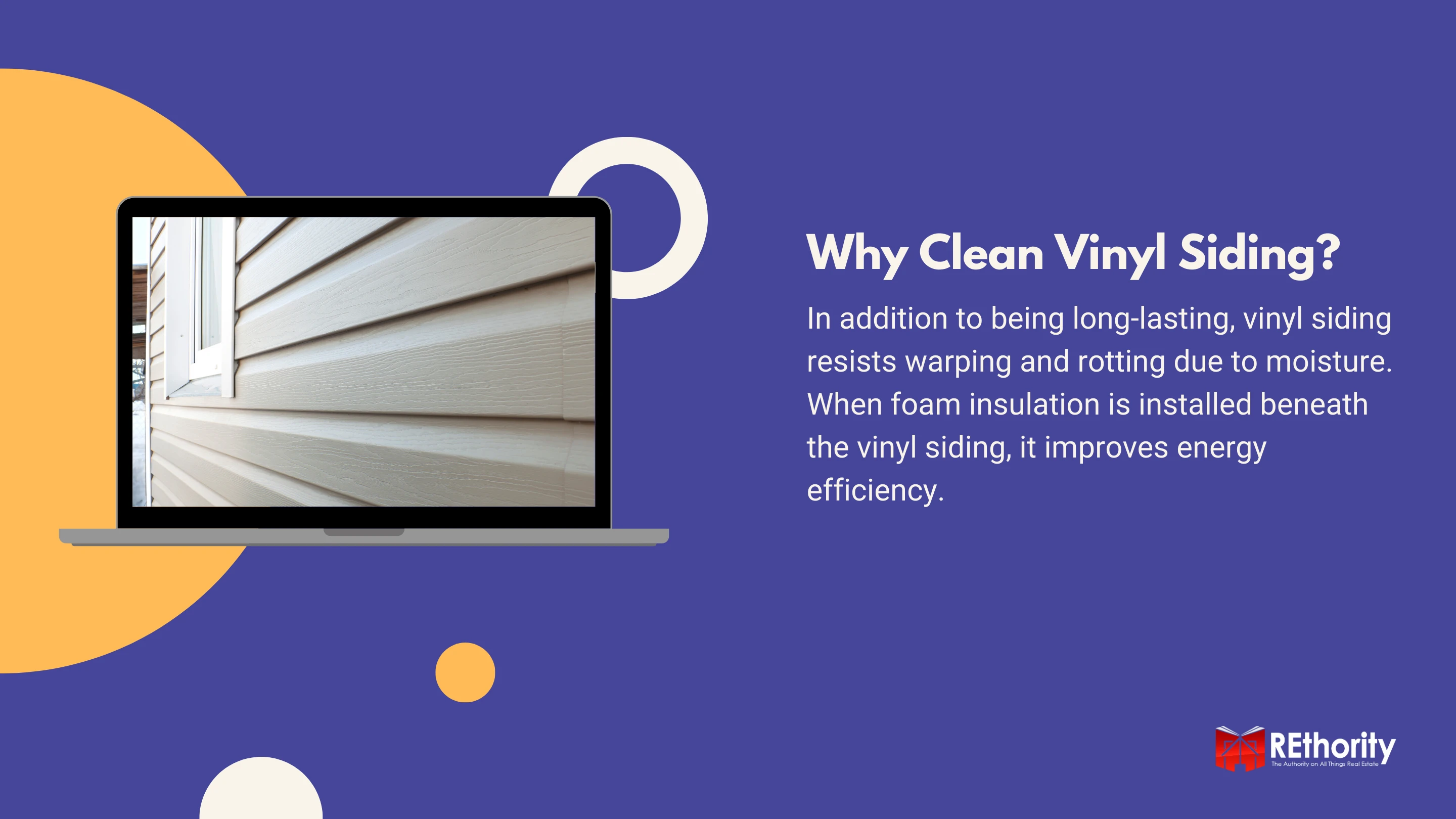 There are about 400 colors of vinyl siding certified to resist ultraviolet fading. Even darker-colored vinyl fends off the sun's effects with UV-resistant coatings.
Hail stones, as well as errant baseballs, bounce off without a dent. Insects ignore it. Vinyl siding is typically rated to withstand winds of at least 110 miles per hour.
Maintenance is not a problem with vinyl siding. One thing vinyl isn't immune to, however, is dirt. Over its long life, vinyl siding can accumulate lots of grime.
In addition to typical mud and dust, it may also have:
Pollen
Bird and insect droppings
Spider webs
Rust
Mold
Mildew
Discoloration from pesticides and fertilizers
Finish damage from motor oil, paint and other substances
At some point during vinyl's time in your home, you'll likely want to clean it. When that moment arrives, here are vinyl siding cleaning solutions.
Pressure Washing
It's hard to beat a pressure washer for speed and ease of cleaning vinyl siding.
However, some vinyl siding manufacturers recommend against using power washers on the siding.
Others recommend only low-pressure washing. If your siding allows for it, you can clean it with a pressure washer like this:
Hold the washer wand at eye level. This will keep the water on top of the siding for the most effective cleaning.
Don't aim upward. This can force water behind the siding.
Be careful around openings such as windows, doors, plumbing, and electrical wiring. You can probably use water only in your pressure washer.
If that isn't getting the siding clean enough, you can mix detergent in to improve cleaning.
If you don't own a pressure washer, you can rent one. Many hardware and home improvement stores, like Home Depot, offer rental units at reasonable prices.
Manual Cleaning
You can also clean vinyl siding manually by applying a little elbow grease.
The job requires little in the way of tools. You can do a fine job with any of a number of popular brand-name cleaners.
Or, if you prefer, you can mix up your own cleaner with common household chemicals. To do the job right, you'll need:
Garden hose
Bucket
Hose-end sprayer or pump garden sprayer
Vinyl or nitrile gloves
Eye protection
Soft cloth or towel
Long-handled, soft-bristled brush
To apply the cleaner, you can use the hose-end sprayer or garden sprayer. Spray it on an area no larger than you can clean in a few minutes.
Wait a few minutes before scrubbing with a brush or cloth. Start soaping and scrubbing at the bottom and work your way up. This will help prevent streaking.
Use the brush on textured vinyl surfaces. You can also work the bristles into corners and crevices to root out stubborn dirt.
After scrubbing, rinse the cleaning solution promptly. Don't give it a chance to dry. If soil remains, repeat the cleaning.
Be aware of other materials, such as brick, that may be discolored by the runoff. Cover these surfaces if necessary to keep them clean.
Also, consider covering plants and keeping kids and pets out of the area. Even natural substances like vinegar can harm some landscaping.
Vinyl Siding Cleansers
You can make an effective vinyl siding cleaner by combining two parts water and one part white vinegar. This should remove light mold and mildew stains.
Mixing a cup of oxygen bleach with a gallon of water will increase the cleaning power.
You may also consider mixing some baking soda with a small quantity of water to make a paste. You can apply this paste to especially stubborn stains for additional scrubbing force.
For even tougher jobs, start with a gallon of water. Add a quart of bleach, one-third cup of laundry detergent powder, and two-thirds cup of household cleaning powder.
For siding that's turning green from mildew, this is a recommended cleaner. The Vinyl Siding Institute suggests the following name-brand and home-made cleaners for specific vinyl cleaning jobs:
Cleaning Job
Cleanser
General vinyl siding cleaning
Simple Green, Nice & Easy, Armor All and other general cleaners for dirt, bird droppings, and spider webs
Bubble gum
Fantastik, Murphy Oil Soap or a solution of 30 percent vinegar, 70 percent water and Windex
Crayon marks
Lestoil
DAP oil-based caulk
Fantastik
Felt-tip pen marks
Fantastik, water-based cleaners
Lithium grease
Fantastik, Lestoil, Murphy Oil Soap, Windex
Motor oil
Fantastik, Lysol, Murphy Oil Soap, Windex
Paint
Brillo Pad, Soft Scrub
Pencil marks
Soft Scrub
Rust
Fantastik, Murphy Oil Soap, Windex
Tar
Soft Scrub
Top soil
Fantastik, Lestoil, Murphy Oil Soap
Different manufacturers may have slightly different formulations for vinyl siding.
Check your manufacturer guidelines for recommendations for or against any cleaning chemical or technique.
Also test any cleaner on a small inconspicuous section first. Rinse it off and wait a day or so to see if anything untoward happens.
Vinyl Siding Cautions
There are some things even vinyl may not stand up to. Those include straight chlorine bleach, nail polish remover and some organic solvents.
You can also damage the vinyl surface with overly aggressive cleaning tools. Avoid using steel wool or other highly abrasive scrubbers.
And there are some kinds of grime that you probably won't be able to remove once they're set. For instance, artillery spores from fungus that may grow in mulch can permanently stain the siding.
How to Clean Vinyl Siding
Vinyl siding is an affordable, attractive solution to permanently protecting a home.
With a small amount of effort, occasional cleaning can keep this durable and efficient material looking good long after installation.
Resources: