When decorating your home, there is nothing more important than the finer details.
Everyone remembers the more prominent household pieces like countertops, appliances, paint, and tiles.
However, rods and curtains can be overlooked simply because they aren't the focal point of most home styles.
These familiar cylinder rods and attachments threaded through the top of the curtain aren't the only option. Most people overlook or forget that the traverse rod and curtain combination even exists.
What Are Traverse Rods?
When describing traverse rods, most people picture one of two things: the curtain rod in the hospital that ticks and clacks across a track around a patient's bed or shower curtains.
These rods are usually round, and a series of rings hang from them to hold on to the curtain. They were invented in 1928 by Michigan man Charles W. Kirsch. He also designed the flat, telescoping curtain rod in 1907.
Traverse Rods and Curtains
Created specifically to hold different kinds of curtains, traverse rods are often associated with showers. When found in a bathroom, the traverse rods tend to be telescopic, collapsing within themselves and with self-fixing properties.
You can check out a solid version that is not telescopic with decorative brackets. There are several different shapes of rods as well, some of them straight and others are curved or even circular.
You can shape traverse rods for specific use, and some newer designs are shaped like a crane or exhibit a swinging-arm design.
Traverse rods are made of varying quality and at fluctuating prices. Companies fabricate some of the higher-end traverse rods for interior designers and architects. They make these out of more expensive materials like:
Copper

Bronze

Stainless steel

Treated wood
The cheaper alternatives are usually aluminum rods that telescope and hang on simple aluminum or steel brackets. Of course, the most integral part of traverse rods are rings needed to hang the curtain.
These can vary in style, material, and price and can sometimes add a pop of color or a unique design aspect to a room.
What Are Traverse Rods Made Of?
Traverse rods are made of varying materials depending on your style and budget. Wooden rods are often carved into shapes on the ends, and workers sand them into a cylindrical shape. It may have a stain on it, or it may be painted, resembling a plastic rod.
Plastic rods are cheapest, often colored or made to look like metal. They can add many color accents to the room you're using them in or mimic a more expensive metal rod.
The metal rods are the most costly and can be made from any metal you prefer. You can use gold, silver, copper, iron, steel, aluminum, and even obsidian – it just depends on your style and budget.
What Type of Curtains Can You Use?
Traverse rods require a specific form of a curtain. There are several varieties you can choose from, which we've mentioned below.
Regular rod pocket curtains only have a channel sewn into the top of the fabric where the rod passes through to hang.
Grommet curtains are attached to a pole using several metal rings that go through eyelets sewn and fastened into the tops of the curtain.
There are also eyelet curtains with a large grommet or ring made of metal, plastic, or rubber evenly spaced at the top of the curtain. There are usually a few centimeters between the grommets and the top edge of the curtain.
These allow the rod to pass right through the grommets, creating a tightly pleated look for your curtains. The final kind you can use with a traverse rod is tab top curtains, which have narrow straps that loop or tie at the top edge and hang from the pole.
There are also several kinds of textiles you can make these curtains out of. Polyester, silk, nylon, and cotton lace are all sheer or net curtain fabrics that are light and don't insulate.
Other uncoated materials offer more heat insulation and light absorption and consist of a cotton-polyester blend. Coated fabrics are usually made with an opaque rubber backing applied to a fabric traditionally called "blackout curtains."
Best Curtains for Traverse Rods
There are many different styles, but we've chosen the top 5 options for their options, make, and durability. You can also make your own traverse rod curtains.
H.Versailtex Traverse Rod Curtains
H. Versailtex
These patterned multi-sized curtains are grommet style, made of microfiber. They offer triple inner woven natural microfiber fabric and are considered blackout curtains, and they come in geometrically shaped patterns with a handful of color combinations.
These curtains are hassle-free because they are machine washable and thermal insulated to save a bit on your heating and cooling bill.
Wontex
Traverse Rod Curtains
Wontex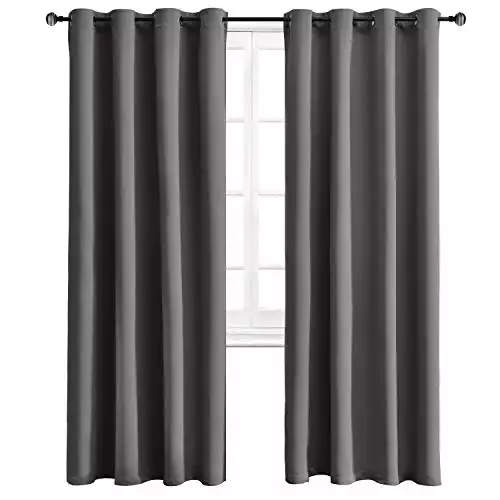 With a variety of colors and sizes, this 100% polyester blackout curtain is a top choice. Triple weave fabric keeps rooms insulated and blocks most natural and unnatural lighting.
Trimmed and wrinkle-free, both sides of the curtain are the same color and made for machine wash, keeping it low maintenance and fade resistant.
Rutterllow Traverse Rod Curtains
Rutterllow
Eyelet style with fewer grommets, this design creates looser wrinkles for a more modern-looking curtain. In a variety of colors, pastel and dark, these curtains insulate and are made of polyester.
As a heavy quality curtain, these cold-water machine washable curtains are a popular choice for modern and minimalist design lovers.
Nicetown Traverse Rod Curtains
Nicetown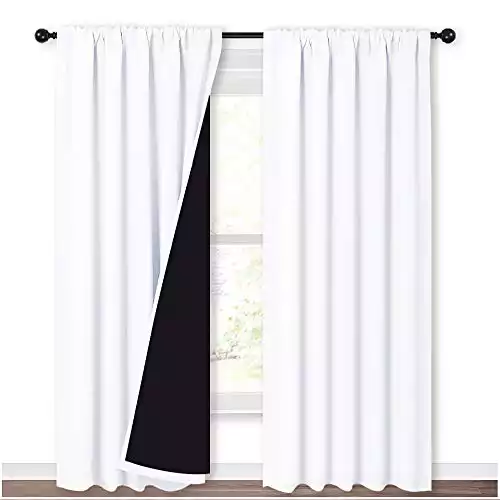 This imported polyester grommet-style curtain comes in several solid colors and are 100% blackout curtains. Sewn outer rubber liner keeps out sunlight and UV rays which insulates any room in the house.
Adjustable in length using rings and hooks, these easy-care machine washable curtains are long-lasting and quality guaranteed.
Miuco Traverse Rod Curtains
Miuco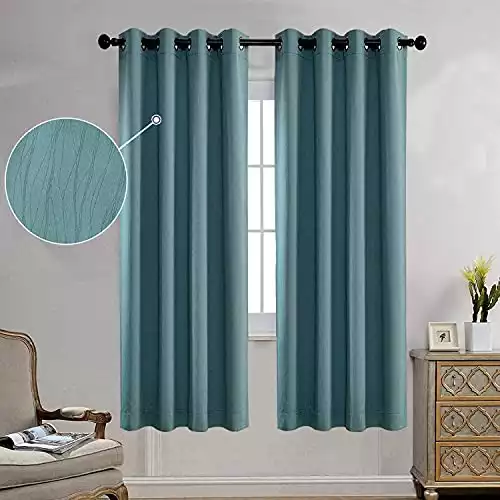 A unique addition to any home, these textured blackout curtains come in pastel, dark, and even metallic colors. Made of a polyester and polyester blend material, the multiple sizes available.
They're also available with a traditional pleat are perfect for bedrooms or living spaces for privacy. It is also helpful in reducing noise and is machine washable for ease of care.
Homemade Curtain Creativity
You can make your curtains to use with traverse rods. Finding the style of the grommet, particularly one that matches the material your rod consists of, is a good idea. Finding a preferred pattern and make of fabric is another crucial step.
Once these things are acquired, the process is as simple as measuring and lining the fabric for curtain use. Don't be afraid to purchase a pattern or find a free one online!
Frequently Asked Questions
Here are some of the most frequently asked questions about traverse rods:
Why choose traverse rods?
Other than the unlimited options available in the material of the rod and the design, the curtains are just as variable.
You can find this variability in many different styles of rods. The pleated look of these curtains allows for texture and color variation.
They also allow you to be more creative with your design choices regarding the traverse rod itself. Made of metal, plastic, or wood, you can get varying kinds of options.
Where can I purchase traverse rods and curtains?
Various companies make these rods and their curtains, ranging from designer companies to mass producers.
You can buy traverse rods and corresponding curtains from Walmart, Amazon, Target, Etsy, and just about any other store that sells home décor.
Finding a company that caters to designers and architecture lovers is a great way to go for a more personalized design. You are guaranteed quality for the price.
What Are the Best Curtains for Traverse Rods?
So there you have it — curtains for traverse rods. Traverse rods are telescoping or solid rods made of varying materials such as wood, metal, and plastic. They hold specific types of curtains attached with rings or grommets and eyelets sewn into the curtain itself.
These can vary in make, ranging from lace and silk to heavy rubber and polyester blends for insulation. The best way to buy them is to do some research at your favorite home décor store or outlet.
You can always depend on quality and uniqueness with the artistic companies that sell to interior designers and architects. You'll find your personalized rod design and unique curtain patterns within these places, but you can get creative and make your curtains as well.
Resources: