If you're thinking about buying a duplex as an investment that generates rental income, you're on the right track.
This single investment can provide you with cash flow from two sets of tenants, and that alone is hugely beneficial.
You can often find great deals on duplexes if you know where and how to look for them. However, buying a duplex as a real estate investment isn't for everyone.
In this guide, we'll walk you through the process step-by-step. We'll look at what makes buying a duplex a little different from other types of real estate investments.
We'll also cover common problems you may run into, and when this kind of commercial, multi-family home investment is a good idea. Read on to learn more.
Why Buy a Duplex?
A duplex is a type of multi-family property that has two similar units contained inside the same structure. Those units might be side by side or on the first and second floors.
If your goal is to turn your cash into more by renting out real estate, a duplex is one of the best choices because it provides you with the potential for two rental incomes from a single property.
If you're ready to invest in real estate but are weighing your options, here are some of the reasons you might consider buying a duplex instead of a single-family home.
There are a many reasons you may want to buy a duplex. But there are some key considerations you should keep top of mind to determine if this is the right real estate investment for you.
One of those considerations: Finding duplexes in the right location. Never blindly assume your agent knows the area. Remember, they're incentivized to close deals, and some unscrupulous agents will sell you snake oil for a buck.
Where to Find Duplexes to Buy
In most areas, a majority of the properties for sale fall under the single-family home category. This means that not as many available properties will be duplexes – and those that are on the market might not be in a great location.
Because you're targeting a type of home that isn't on the market as much, you have to accept that the duplexes you can find may not be where you want them to be.
"For example, where I work in San Diego, multi-family units really aren't found in many of the suburban cookie-cutter type neighborhoods. To find one in San Diego, you'd have to look in the more urban/downtown type areas or expensive beach communities like Ocean Beach or Pacific Beach."
It's not uncommon to find a great duplex for sale that is a little further out of town than you wanted, or to find one for sale at a ridiculously high price in a highly-trafficked area, like near a beach.
So how can you find a suitable duplex investment property in your area? Read on to learn our favorite ways to source these unique homes.
Check Real Estate Listing

Sites
Use marketed listing sites like Zillow, Trulia, and Realtor.com to search for duplexes that are currently available for sale near you.
If you're not having much luck, search auction sites and browse local sales sites like Craigslist and LSN.
Most sites allow you to filter your search criteria and change the type of property to "multi-family" to see properties including, but not limited to, duplexes.
This is a great way to find triplexes and fourplexes (3 and 4 units under one roof). You can also search "duplex" with your zip code to see 2-unit duplexes nearby.
From your searches, you should be able to find a few properties, jot down an address, and schedule a showing with the seller's agent.
Look For Off-Market Listings
As an investor, your best bet will be finding a duplex that isn't on the market yet. You can avoid real estate agent commissions this way.
You also have more negotiating power with the seller, and cut down the competition because no one has seen the For Sale listing yet.
Sounds great, right? First, you have to identify which duplexes are not for sale yet, but might be soon. This can be tricky. Consider using something like Loopnet to help you in your search.
This website features all the sold commercial properties that have ever been on the system along with property owner information.
The great thing about this is it gives you the ability to filter your search to look only at sold duplexes, and narrow your focus to those that were sold years ago.
The owner may be willing to sell now. The downside to using Loopnet is that the old seller information may be inaccurate as numbers and addresses change over time.
Browse For Sale By Owner Properties
Checking your local newspapers and classified websites can show For Sale By Owner (FSBO) properties near you.
Taking a drive around and just outside your town can also reveal FSBO properties that may not be advertised in print or online.
FSBO properties can present an excellent opportunity for you to get a great price on a duplex and avoid paying realtor commissions to agents to facilitate the sale.
Join Your Local REIA
While other investors may technically be your "competition" when it comes to a great investment opportunity, it's invaluable to build connections.
Networking allows you to learn more about investing in your area. Do this by joining your local Real Estate Investors Association. Find your local group by clicking here.
You'll only be able to develop relationships with other investors who are used to working in your area, but you'll also get access to a lot of benefits and discounts that will help you as you invest in properties.
Once you're checking the right places to find duplexes for sale near you, you can keep tabs on your searches by saving your search on sites like Zillow and Loopnet.
You can also keep in touch with owners who weren't ready to sell yet but may change their mind, staying active with your local REIA, and continuing to look for new FSBO properties that meet your criteria.
Pros and Cons of Buying a Duplex
A duplex investment strategy isn't a good fit for every investor. There are benefits and drawbacks to focusing on duplex investments instead of single-family homes or other types of commercial real estate.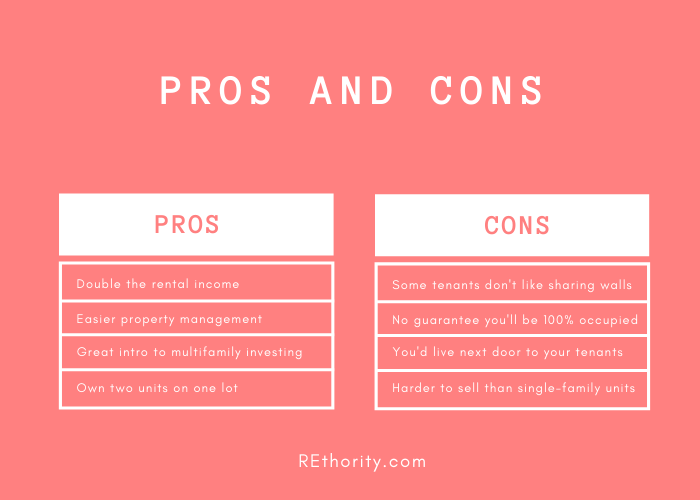 Let's take a look at the pros and cons of investing in duplexes. We've broken down both the pros and cons (we do like to write balanced reviews, after all).
Pros (why to buy them)
It's the most significant benefit to duplex investment:

Double the rental income

, every month – if you can keep both units filled, that is. Being able to purchase one property and generate double the monthly cash flow from it is a huge benefit.

Easier property management

is another benefit to buying a duplex. You can make one visit to the property on a scheduled basis and be able to make a quick check on both units at once.

If you're

house hacking

and living in one of the duplex units while renting the other out, you're always close by should anything go wrong, and can keep tabs on your tenant and the way they treat the property.

It's a

great way to start investing in real estate

. You get two units (and twice the monthly cash flow) for one price, on one lot, with one real estate transaction. There's no better way to get started!

If this is your first time investing and you're unsure about being able to show your lender that you have enough cash flow to mortgage the property, purchasing a duplex that is already rented by a tenant or two

can help you get financing

. The monthly rent your tenants pay will

increase your total income

.
Cons (why to avoid them)
With two units under one roof, you can

potentially have double the renovations or issues.

If you found a duplex for a great deal and need to renovate or fix things before tenants can move in, it can

delay your cash flow

.

There's

no guarantee that you'll be able to keep both units rented out

, so while cash flow is a high probability, it's not a certainty.

If you're house hacking and living in one unit while renting the other, you'll be

closer to your tenants than most landlords are

. That could include unacceptable noise levels, personal differences, and opening the door to increased tenant complaints and requests.
Should You Buy a Duplex?
Considering these pros and cons, does it seem like buying a duplex as a real estate investment is the right choice for you? You can look forward to excellent cash flow and easier property management in the best circumstance.
But you can't guarantee that your units will be occupied at all times, and your cash flow potential could suffer. If you're planning to live in one unit while renting out the other, are you prepared to live so close to your tenants?
Using sites like Zillow, Realtor.com, Craigslist, and Loopnet can help you locate hard-to-find duplexes that can be excellent investments. Don't forget to look for FSBO listings near you and join your local REIA to open your possibilities even more.
If you start your search in the right place and keep an eye out for reasonably priced duplexes in good condition, you can turn a duplex investment into a never-ending flow of cash.
This will act like a bonus that helps you build wealth while you get the best kind of real estate investment training there is: Experience.