If you're looking for the best gutter guards, you came to the right place. Our complete guide covers product recommendations, why we love each one, and things to consider before installation.
If you are tired of cleaning your gutters, you need to look into installing a gutter cover. We've scoured the market to find the best five gutter guards for your home.
The 5 Best Gutter Guards At A Glance:
1. Raptor 5" Stainless Steel Micro-Mesh Gutter Guard
2. FlexxPoint 5" 102ft Gutter Cover System
3. Amerimax Home Products 86670 Snap-in Filter Gutter Guard
4. Home Intuition Plastic Gutter Guard
5. GutterBrush Simple Gutter Guard
Then, we used several parameters to rank these products, including performance, material, installation, lifespan, maintenance, and price. With that said, let's jump in.
Raptor 5" Stainless Steel Micro-Mesh Gutter Guard​
Best Overall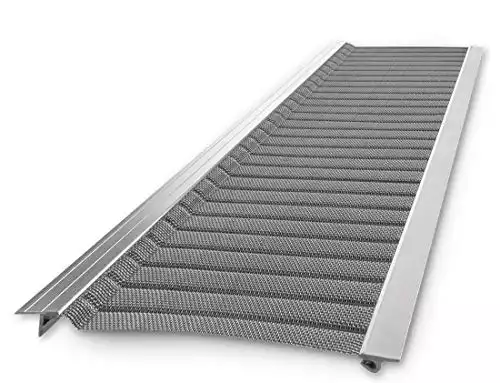 This five-inch wide micro-mesh model has all the makings of the top gutter guard in our review. The unit installs on virtually all roofs, including a flat roof.
And its micro-mesh design stops even small debris like roof particles from entering your gutter. Its heavy-duty construction handles inclement weather without any problems.
Overall Score: 28/30
Performance: 5/5
At the risk of sounding superfluous, this Raptor model offers exemplary performance. The micro-mesh design does a great job at only letting water through and stopping debris.
Material: 5/5
The frame is made from contractor-grade aluminum that easily withstands the elements even in the harshest conditions. The micro-mesh is made from high-quality stainless steel reinforced with V-Bend Technology.
This keeps the mesh from sagging over time and also makes it sturdy enough to handle the weight of large debris and pests such as squirrels.
Installation: 4/5
You need intermediate to advanced DIY skills despite the advertised "easy installation." The package comes with a magnetic head driver and corrosion-resistant screws for installation.
You will need additional tools, including a hack saw or oscillating multi-tool to size the frame. You will also need tin snips for the mesh. This model fits standard 5" gutters.
Lifespan: 5/5
Stainless steel micro-mesh gutter guards last the longest of all the types out there. You can expect to keep this one for many years to come.
This model also retains its performance and aesthetics despite heavy rains, hard knocks from tree branches, and ice. The product also comes with a 25-year warranty.
Maintenance: 5/5
Raptor micromesh gutter guards require minimal maintenance aside from brushing them a few times a year. You get a free gutter guard brush when you register your warranty. You also don't need to remove the gutter guards for maintenance.
Price: 4/5
There's no doubt that these gutter guards are pricey. This is hardly a surprise, given their effectiveness and durability. You will be paying for a premium product that delivers on its promise.
FlexxPoint 5" 102ft Gutter Cover System​
Second-Best
If you are looking for similar performance to the Raptor gutter covers at a lower price, you can hardly go wrong with the FlexxPoint 5" 102ft Gutter Cover System.
Unlike the Raptor above, this FlexxPoint also comes in additional colors, including white, black, and matte aluminum.
Overall Score: 26/30
Performance: 4/5
FlexxPoint gutter guard features an aluminum mesh screen with a 3-Point Design that slows water flow over the cover to allow it to drain into the gutter system. The holes are small enough to filter out small debris, including pine needles.
Material: 4/5
FlexxPoint gutter guard is made from domestic-grade aluminum. The frame is sturdy enough to handle storms, wildlife running over the cover, and heavy debris.
The aluminum screen isn't quite as good as stainless steel micro-mesh, but the difference is negligible in most cases. In fact, it might be just as good as our top pick in mild weather.
Installation: 4/5
This option is quite easy to install if you have intermediate DIY skills. The package comes with zinc plated screws for securing the front and backside of the covers. A power drill will make the installation process easier.
Lifespan: 5/5
FlexxPoint gutter guard is solidly constructed, and it will last for many years to come. The product comes with a 30-year warranty that covers product defects and performance.
Maintenance: 5/5
This gutter guard requires very little maintenance, especially if you don't have many trees around your house. For the most part, the wind blows debris off the cover's surface. You can brush off the remaining debris a few times a year. You do not need to remove the gutter guard to clean it.
Price: 4/5
FlexxPoint gutter guards offer terrific value for money. They are slightly more expensive than many other options on the market but are definitely worth the price tag.
Amerimax Home Products 86670 Snap-in Filter
Third-Best
While our top 2 picks are high-performance gutter guards, they may be considered overkill in some applications. The Amerimax 86670 can match the performance of the more expensive options in mild weather and for a fraction of the price.
Overall Score: 26/30
Performance: 4/5
The Amerimax 86670 features a mesh design that keeps out most debris, including maple tree seeds. The holes are still large enough to let water through to the gutter system even in heavy rain.
We strongly suggest that you use this model in milder climates, or you will be replacing your gutter protectors sooner than expected.
Material: 3/5
Amerimax gutter guards are made from rigid PVC. This material is lightweight and very easy to work with. Naturally, there is a concern about longevity. PVC doesn't stand up well to long-term exposure to the sun. Still, this model will serve its purpose in milder climates.
Installation: 5/5
These gutter protectors are easier to install than the previous two options. You can easily cut to size with a fine-toothed saw blade. The pieces also easily snap into place during installation.
Lifespan: 4/5
Again, these gutter covers are designed for milder climates. There have been occasional reports of the product lasting up to 15 years, but this is an exception rather than the rule. This product does not come with a warranty.
Maintenance: 5/5
Just like other mesh screen-type covers; you only need to brush the debris off the unit a few times a year. Get a brush with an extension, so you don't have to climb a ladder for maintenance. Otherwise, you do not need to remove the gutter cover for cleaning.
Price: 5/5
This model is affordable, especially given its performance. As long as you set your expectations right, this is the best value for money gutter cover in this review.
Home Intuition Plastic Gutter Guard​
Fourth-Best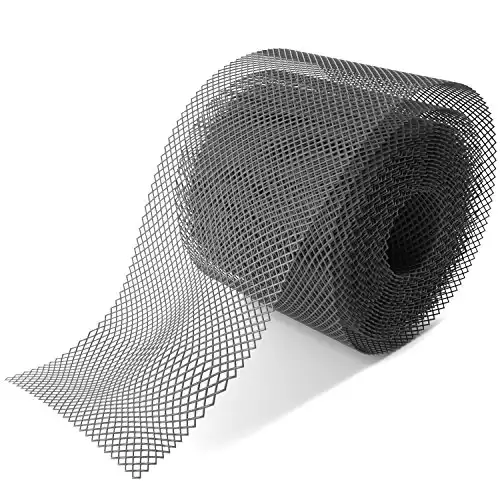 The Home Intuition Plastic Gutter Guard is a quick and inexpensive solution to your gutters clogging. The product comes in a roll measuring 6 inches wide by 20 feet long.
Overall Score: 24/30
Performance: 4/5
Home Intuition Plastic Gutter Guard has a mesh screen design that easily lets water drain into your gutters. It also traps debris quite effectively, especially if you are worried about large leaves.
Smaller objects such as pine needles and maple seeds may find their way through the mesh. So while you won't have to clean leaves, you may have to clean other debris.
Material: 3/5
This model is made of PVC. PVC is not the most weather-resistant material, but it works well in mild climates. This product is also strong enough to handle most knocks from heavier debris, including small branches.
Installation: 4/5
PVC is a lightweight material, so the Home Intuition Gutter Guard is straightforward to install. You can do it on your own with basic DIY skills. You can also cut the material using regular scissors and secure the installation with sheet metal screws.
Lifespan: 3/5
PVC can last up to 15 years in a mild climate, but you are likely to get 3-5 years from this product. Home Intuition comes with a three-year warranty.
Maintenance: 5/5
Mesh screen gutter guards only need minimal maintenance, and this model is no different. You only need to brush the debris off the mesh a few times a year. The wind will blow away most of the debris.
Price: 5/5
This option is affordable and great value for money. You don't need expensive gutter guards if you live in a mild climate. Some people also don't mind replacing their inexpensive units every couple of years.
GutterBrush Simple Gutter Guard
Fifth-Best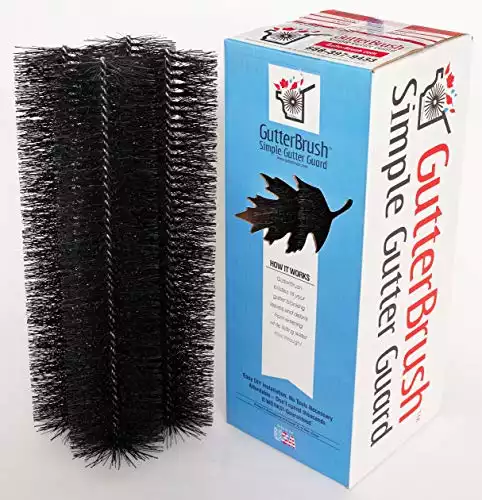 For people who don't want complicated installations, the GutterBrush Simple Gutter Guard is as simple as it gets. The UV-protected bristles offer year-round protection from debris clogging your gutters.
GutterBrush is also one of the oldest brands in the business and has an extensive track record of creating high-quality products.
Overall Score: 20/30
Performance: 3/5
This GutterBrush does its job efficiently. The bristles trap all kinds of debris, including small objects like pine needles and maple seeds.
Material: 4/5
GutterBrush has polypropylene bristles that are UV protected to withstand constant exposure to sunlight. The stainless steel frame doesn't rust and can handle the constant assault of debris and the elements.
Installation: 5/5
This GutterBrush model is incredibly easy to install. You don't need to drill holes or use fasteners. Slide the protector in your gutters end-to-end. It also comes in different sizes to find the perfect fit for your gutter.
Lifespan: 3/5
Since the bristles come into constant contact with debris and water, the gutter guard can deteriorate over time. This product does not come with a warranty.
Maintenance: 2/5
GutterBrush is maintenance intensive and is the weakest point of this product. Depending on weather conditions and tree cover, you may need to manually clean the protector often.
You also need to remove the gutter cover to clean it, and you may also need to clean the gutters.
Price: 3/5
This product is quite pricey for a brush-type gutter guard. You can get a PVC gutter guard (such as the Amerimax or Home Intuition) at a lower price, depending on how many pieces you need.
Finding the Best Gutter Guard
Many homeowners put off cleaning gutters until there is an obvious problem, such as a blockage. Neglecting your gutters can lead to a host of problems.
These include rotting soffit and fascia, pests, roof damage, basement flooding, and mold and mildew growth, among other problems. Choosing the right gutter protector doesn't have to be a headache if you know what to look for.
How Gutter Guards Work
Gutter guards support the gutter system's main function, which is to divert rainwater away from the base of your home. Gutter guards prevent debris.
Leaves, twigs, and seeds won't enter the gutter system and causing a blockage. A blocked gutter can overflow, negating the function of the system in the first place.
Types Of Gutter Guards
Gutter guards come in several different designs, each with its own advantages and disadvantages. The most common types of gutter covers include:
Mesh Gutter Guards
Mesh-style gutter guards are also sometimes called screen gutter guards. They have thousands of tiny holes that allow rainwater to drain into the gutter system while keeping out debris.
Some units have a special design to slow down water flow to ensure rainwater doesn't run off the gutter guard. A good pitch also ensures that water flows into the gutters rather than simply sliding off the cover and onto the ground below.
The screen is typically made from stainless steel, although the frame may be made from some other metal such as aluminum. Some models are made from PVC, which is cheaper, lighter, and easier to work with.
Be sure to check the quality of the material since some mesh-style gutter guards are flimsy. Poor quality covers are easily damaged by ice, heavy snow, and falling branches, and other weighty debris. These gutter guards also need very little maintenance except occasionally brushing or hosing debris off the cover.
Micro-mesh Gutter Guards
This design is similar to the mesh guards, except the holes are much smaller, sometimes too small for the human eye to see. Micro-mesh gutter guards are the most effective and keep out even small debris like pine needles and other seeds.
The mesh is typically made from stainless steel with an aluminum frame. You can also find plastic micromesh covers, although the latter is the more durable option.
Micro-mesh gutters can be pricey but are a worthwhile investment. They perform optimally and last for many years. Most vendors offer a warranty of up to 30 years.
Brush Gutter Guards
Brush gutter guards look like giant bottle brushes. They have bristles, typically made from polypropylene, which traps the debris. This system sits inside the gutter rather than on top of it and is easy to install by sliding it into the gutters.
This design is mid-priced depending on the brand you choose. On the downside, brush gutter guards require regular maintenance. You need to take them out of the gutters and shake off the debris.
You may also need to clean the gutters. Some people wonder why they shouldn't just skip the gutter guards and clean the gutters as usual.
Gutter Cover Pitching Guide
The pitch of the gutter cover affects how well the system works. Getting this crucial step wrong can cause water to slide off the gutter cover rather than drain into the gutters below. For this reason, you don't want to install the covers at the same angle as the roof.
As a rule of thumb, you want your gutter guards to slope between 5 and 25 degrees. The table below refers to your roof pitch and the corresponding gutter guard angle.
Things to Consider When Buying Gutter Guards
You can't go too wrong if you follow the same criteria that we used to rank the best gutter guards in this review.
Performance – The performance of a gutter guard is measured by how effectively it keeps debris out of your gutter system. Micromesh designs are the most efficient and come highly recommended.
Mesh or screen-type covers are also quite effective but may not protect against smaller debris such as seeds. Brush gutter guards aren't too bad, but they have their problems in other areas.
Material – The gutter guard material affects how long your system will last. You want to go for an aluminum frame. This is the strongest, and some contractor-grade aluminum frames can last as long as your gutter system. Stainless steel is perfect for the mesh material.
These systems can take heavy hits from falling branches and withstand storms. Plastic or PVC will give you a few years of reliable service, but you can expect to replace the covers every three to five years. We only recommend PVC for regions with mild weather; otherwise, you will be replacing the covers a lot sooner.
Installation – Professional installation can set you back between $15 and $19 per linear foot. This is the safest bet if you have the money. You are guaranteed a professional job. The installer may also offer a warranty for their work.
If you are doing a DIY installation, brush gutter guards are the easiest to put together. Plastic or PVC is also relatively easy to install since it is lightweight and easy to work with. Stainless steel models require intermediate to expert DIY experience, but the effort is often worth the hustle.
Life Span – Many people prefer the set-and-forget approach to home improvements. Stainless steel and aluminum are the most durable options. Plastic or PVC can last a long time in mild weather but doesn't stand up well to storms and other harsh conditions. Bottle guards are the least durable.
Maintenance – You get gutter covers in the first place is so you don't have to clean your gutters. Brush gutters are the worst for this purpose since you have to take them out and clean them every so often. Mesh and micromesh covers are basically maintenance free aside from the occasional brushing off debris.
Price – Depending on your budget, you want to get a good deal on your home improvement project. Stainless steel micro-mesh covers are the most expensive. Screen covers are slightly cheaper, while brush covers are the least expensive. Plastic micromesh and screen covers are also quite affordable and are sometimes even cheaper than brush gutter guards.
So, What's the Best Gutter Guard?
The best gutter guard is the one that keeps leaves out of your gutters and you off your roof. It's as simple as that. Any of the products above will do the job, but it's up to you to decide which one works best for your home and trees.