Finding the best refrigerator brands in the U.S. can be difficult. After all, there are many to choose from.
Fortunately for you, we've built a complete guide to help you navigate these murky waters.
Wondering About the Best Refrigerator Brands?
A new refrigerator is a big purchase that you'll use every day for years. To make sure you end up with one that:
Doesn't need regular repairs

Keeps food and drinks at the right temperature

Makes everyday life easier
Be sure to begin your search by checking out the best refrigerator brands. Some have been around long enough to become almost synonymous with the word refrigerator, like Frigidaire.
Others, like Samsung, are relatively new on the scene but get rave reviews from customers and dominate the refrigerator market.
Either way, reading our guide will help you get a close-up look at the types, features, and brands of refrigerators that have earned the trust of millions of Americans.
Start with the type you want, then look over some of the most-requested features available. Then, browse through the best-rated brands to see which one offers the style and features you're looking for.
Best Refrigerator Brands
Frigidaire
LG
Samsung
General Electric (GE)
Maytag
KitchenAid
Want to get straight to the good stuff? Click on one of the best refrigerator brands above to see the pros and cons of each.
Types of Refrigerators
Have you thought about the type of refrigerator that would best suit your needs? There are a few different configurations available. Here's what you should know about each.
1. Top-Freezer Refrigerators
Top-freezer models are built with the freezer up top (close to eye level) and the refrigerator portion below. To access the fridge, you'll need to bend down a bit.
They're usually available in widths anywhere from 28 to 33 inches with capacities as large as 23 cubic feet (cu. ft.).
What's great:

They have the best capacity-to-size ratio, meaning they're roomier inside than other types. The single fridge door can swing open wide for easier access. They tend to cost less than other types.

What's lacking:

The location of the fridge portion is lower than eye level, so you'll have to bend down to reach inside.
2. Bottom-Freezer Refrigerators
Bottom-freezer models are laid out with the fridge portion up top at eye level and the freezer below. They range in size from about 24 inches wide up to 36 inches wide.
So you should be able to find one that perfectly fits your space. The capacity inside can be as much as 30 cu. ft., which is more than the top-freezer models.
What's great:

More capacity means more room for groceries, and the more convenient placement of the most-used portion (the fridge) is a bonus if you don't want to bend down to access the contents.

What's lacking:

The larger capacity doesn't always mean extra space inside, according to Consumer Reports. They tend to cost a little more than top-freezer models. While you won't have to bend to reach the fridge, getting stuff out of the freezer will require some bending.
3. Side-by-Side Refrigerators
Side-by-side models are configured with the fridge space on one side and the freezer on the other. They're anywhere from 33 to 36 inches wide.
But the narrow doors make it possible to use these types in smaller spaces. You'll find models with as much as 28 cu. ft. of capacity inside.
What's great:

These offer plenty of capacity and can squeeze into smaller kitchen spaces. Narrow compartments keep the items within reach and offer more vertical space than other types.

What's lacking:

The narrow compartments make it difficult to fit wide items inside, and the smaller doors don't provide as much storage. Reaching items at the back of shelves is harder due to the narrow opening.
4. French Door Refrigerators
French door models are similar to side-by-side, but instead of the freezer taking up one side, both French doors open at eye level for easy access to the fridge compartment. The freezer is located on the bottom.
They're available in widths anywhere from 28 to 36 inches and tend to offer the most capacity (up to 34 cu. ft.). For energy efficiency, these can be a good choice because one door can be opened at a time.
What's great:

Bigger French doors make them easier to access than side-by-side, and the freezer's location puts the fridge compartment comfortably at eye level. These can be a good choice for energy efficiency.

What's lacking:

The freezer on the bottom requires bending to access, and actual capacity is much less than reported by manufacturers due to the layout of this type.
5. Compact Refrigerators
Compact models are the only choice for very small spaces. The variety of models made by top brands mean that even the most compact refrigerators are a great addition to a kitchen or kitchenette.
They have much less capacity than their full-size counterparts (about 1/4 capacity) and aren't as accurate in the temperature control area.
What's great:

You can squeeze a compact model into an area that may not look big enough for a fridge. If you only need storage for small amounts of food/drinks, or if you rarely use the fridge at all, this may be all you need.

What's lacking:

There's just not much room in these models, and they're notorious for being unreliable when it comes to temperature control.
Read next: Standard Refrigerator Sizes
Most Requested Features
The best brands are often hailed for the features they add to different models. While you're shopping and looking at the different brands available, keep an eye out for the most-requested features that can make life in the kitchen a little easier.
Water and Ice Dispenser
It's not a new feature or one that's particularly exciting, but Consumer Reports found that water/ice dispensers are the most requested feature in the fridge market. It's nice to be able to hold your cup to the door to get crushed or cubed ice or a glass of water.
Be aware that fridges with this feature have a little less space in the freezer, are associated with more repairs, and have higher energy costs than models that don't have it.
Door-in-Door Access
If you're trimming energy costs wherever you can, or just have a family member that tends to open the doors 20 times each hour, this feature can be great.
With door-in-door access, there's a smaller door inside the main door that opens for limited access to the contents. With it, you can open the smaller door to grab a soda or snack without letting as much cold air out.
WiFi Connectivity
WiFi connectivity turns these normal appliances into futuristic kitchen helpers. There are so many applications for this feature.
You can get notifications when you're running low on specific items, alerts when there's a problem with any part or component, and adjust temperature settings when you're on the way home with a load of food.
Some models even let you order on GrubHub on nights you don't want to cook and play music through built-in speakers. And the ability to create your grocery shopping list directly on your fridge door? Perfect.
Enhanced Freshness
The top brands often include little features and options that enhance the freshness of your food and allow you to customize the way your fridge works.
Look for options like air purifiers to keep it smelling fresh and nix bacteria and mold, vacuum-sealed crisper drawers for freshness, and dual evaporators that boost humidity.
Customizable Layout
You'll find that most of the brands listed below offer ways to customize each model's layout with moveable shelving, adjustable drawers, or pull out shelves.
Some feature bins and special areas meant for items like eggs and butter, while others secure jars and bottles to shelving for added safety.
The more you can customize the interior of your fridge, the better you can make it fit your lifestyle and needs.
Best Refrigerator Brands
With the types and most-requested features in mind, let's look at the best refrigerator brands in the U.S. and what makes each one a reliable customer favorite.
Frigidaire
About 18% of Americans have a Frigidaire refrigerator in the home, which is the most market share of any fridge brand. It's trusted for a reason. Frigidaire has been around since about 1916.
And the company is credited with being the first to make a self-contained electric refrigerator, home food freezer, and offer its appliances in multiple colors.
But Frigidaire isn't stuck in the past. Today, they make modern refrigerators with features that rival other brands for affordable prices.
You'll see features like fingerprint-resistant stainless exteriors, customizable layouts, water and ice dispensers, and roomy interiors with door bins that almost double the fridge capacity.
Consider Frigidaire If…You want a reliable appliance that offers great value for the money, and you're not looking for anything too flashy or high-tech. If you're looking for an appliance that is dependable, solid, and energy-efficient, this is the brand for you.
LG
With about 6.9% of the global refrigerator market, LG is a major player in the refrigerator market in the U.S., too.
The LG brand is associated with sleek and modern appliances and devices, and their refrigerators are no exception.
The brand has been around under the name LG since 1995. LG refrigerators are high-tech, with different models offering features like InstaView™ screens that light up the fridge's contents when you knock twice while the doors are shut.
Door-in-door access, artisan round Craft Ice™ dispensers, built-in Keurig coffee makers, and drawers that can be set to chill or freeze the contents are other innovative feature options. Life's Good is their motto for a reason!
Consider LG If… You're willing to spend a little more to get innovative, modern features that go far beyond chilling and freezing. The most high-tech LG models are a little pricier than some other brands, but if cutting-edge is what you're looking for, this is where you'll find it.
Samsung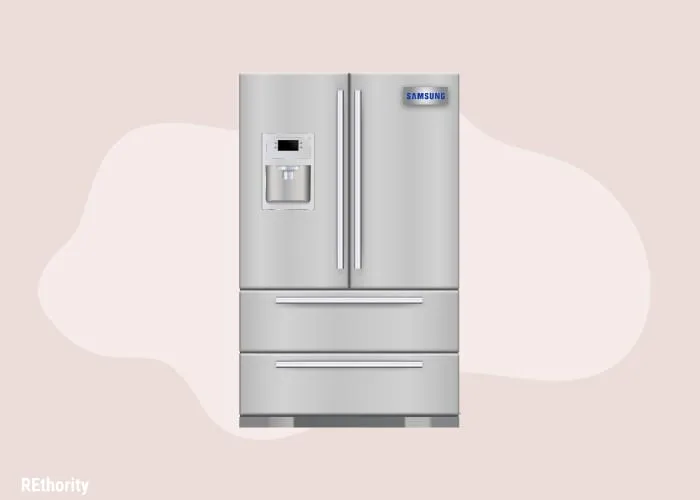 Just behind LG, with 6.1% of the global market, Samsung is a trusted refrigerator manufacturer that combines form with function. When you opt for a Samsung model, you're getting built-in features that are top of the line.
Since 1938 (it started as a trading company), the company has been around and quickly became a respected refrigerator manufacturer. Samsung models combine their leadership in the digital and smart home markets with sturdy hardware and parts that last.
The result is premium refrigerators that are visually appealing and incredibly high-performance while earning the ENERGY STAR certification.
With notable features like Samsung Family Hub, which allows touchscreen total smart home management right from the fridge, and Flex Zone cooling to set different temps for specific areas of the fridge, you're not just getting high-tech.
You're getting a high-performance refrigerator and supercomputer in one. They're on the high end price-wise, but the included features more than justify the price.
You can preheat the oven, check your video doorbell, start and stop other appliances, and order groceries with one touch straight from a Samsung fridge. This is a brand that turns an essential household appliance into something new and exciting.
Consider Samsung If…You want to run the household like a tight ship straight from your kitchen. If refrigerator performance and energy efficiency are just as important to you as the look and design, and you're all about smart home devices, Samsung is your best bet.
GE
General Electric, known as GE, is a household name in the refrigerator market. You'll see their models in any store that sells appliances, and they're one of the most common brands in American homes.
The GE brand is synonymous with quality, reliability, and innovation. GE refrigerators are always attractive and sleek, with a wide range of designs and models that will fit into any kitchen décor.
When it comes to customer reviews and ratings, multiple sources (like Consumer Reports and Good Housekeeping) have found that GE ranks at the top in durability.
Fewer repairs are needed on GE fridges, and their appliances tend to last longer than other brands. For a big purchase like a fridge, that's good news. Options are endless with GE refrigerators.
Choose from a range of multiple types (side-by-side, french doors, top- or bottom-freezer, etc.) and unique exterior options like matte black or white colors, stylish handles in a range of finishes.
Reviewers appreciated features like built-in Keurig coffee makers and convenient auto-fill water dispensers that fill your cup the right amount, all hands-free.
Consider GE If…You want a durable refrigerator made by a company you know and trust. GE offers high-end performance and style at a more affordable price point than similar brands.
Maytag
Maytag makes refrigerators that are top-rated in performance but aren't overly ambitious – they're not trying to be the most modern or high-tech brand on the market.
It started as a washing machine company back in 1893, so it has a rich history in the appliance industry. Whirlpool now owns the company.
If you had to describe the Maytag brand in just two words, it would be power and durability. Design is still a major draw to Maytag refrigerators.
They're sleek, fingerprint-resistant, and look great in any kitchen – but the real benefit this brand brings is the performance level of their appliances.
They're anything but basic when it comes to features. The PowerCold feature drops the temperature down to 34 degrees for up to 24 hours with one touch when you load the fridge with food.
Gallon-size door bins increase the storage capacity, water/ice dispensers make it easy to grab a glass of cold water, and the FreshFlow and FreshLock features keep produce fresh longer.
Maytag back their fridges with a 10-year warranty because they know they're top-notch appliances that last for a long time. And the lower price point means you can afford more features and capacity when you shop this brand.
Consider Maytag If… You're on a budget, but you have serious refrigeration and freezing to do. Large families, anyone who likes to entertain and cook, and bulk grocery shoppers will appreciate the Maytag brand the most.
KitchenAid
KitchenAid makes refrigerators that are focused on freshness and form. They're packed with features that are designed to keep foods fresher longer with innovative extras.
And KitchenAid's fridge models are known for being stylish and sleek enough to belong in even the most modern kitchen. They offer some of the largest capacity refrigerators on the market.
Choose from french door, side-by-side, top- and bottom-freezer, and built-in refrigerators when you shop KitchenAid models. You're sure to find a style you like.
And look for features like dual cooling, specialized storage for herbs and food prep, slide-away shelving, and targeted temperature control zones.
You can customize the look with exterior and interior options like black stainless steel, platinum interiors, interior wood accents, and the PrintShield™ finish to resist smudges.
The price point ranges from mid-to-high, but for a brand that is proven to be reliable and durable, many customers say it's worth it.
Consider KitchenAid If… You're looking for a refrigerator with massive capacity, sleek appearance, and tons of little extras that you'll still be discovering for weeks after you buy. If you can fit it into your budget, a KitchenAid model will be your new favorite household appliance.
Which Refrigerator Brand Is Right For You?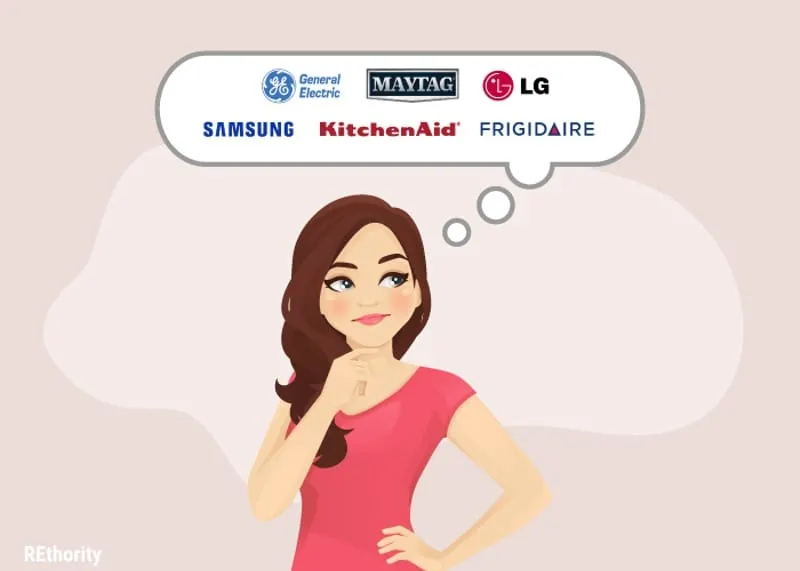 We've looked at the different types of refrigerators, the top features, and the best brands you can buy. But which one is best for your home? Here's what you should consider as you make your choice.
Frigidaire is the best brand for reliability and dependability. They're not high-tech, and you won't get as many features as with other brands, but you'll get a solid appliance that won't need as many repairs and will last for many years.
LG is the brand to check out if you want a model that blends technology with cool, innovative features that make it a little more costly upfront.
However, it'll save on energy costs down the road (like InstaView technology and door-in-door access, for example). Samsung is hard to beat in the smart home category.
If you're already using smart home assistants and have multiple devices connected (like a video doorbell, smart lights, and smart outlets), you'll love the futuristic convenience of running it all from the Samsung Family Hub right on your refrigerator.
Granted, you'll spend more upfront on models like these. GE is always a top contender in the refrigerator market, thanks to durable products and some of the best performance ratings in the industry.
If you want to buy a fridge from a reliable household name that will outperform your expectations for the price, check out GE. Maytag is a great option for anyone with a large family, a tendency to "overload" the fridge, or who does a lot of cooking.
Their models are available at one of the lowest price points, and their large capacities make them the best value on the list.
KitchenAid should be on your list if you need a mega-capacity refrigerator that looks sleek and modern while performing almost as well as a commercial model.
If you want a fridge that you can both show off and squeeze a ton of food into, KitchenAid won't disappoint.
You Might Also Like: