Many people think getting a real estate license means you have to become a real estate agent or broker, but that's just not the case.
Whether you're already licensed or are just thinking about getting your real estate license, it's smart to keep your career options open.
Becoming a real estate agent or broker can be an excellent career choice, but these options are not for everyone. There are many ways to use a real estate license professionally without selling real estate or relying on commissions.
In this guide, we'll explore what you can do with a real estate license full-time or part-time, working independently, or as an employee.
What Can You Do with a Real Estate License? 9 Career Options
What can you do with a real estate license? There are the obvious choices – like real estate agent or broker – but if you'd like to think outside the box, there are several career options to consider.
We've included the most common real estate careers that require a license here, along with unique careers and job options you may not have considered.
1. Residential or Commercial Real Estate Agent
License needed:

Real estate salesperson license
The most common career choice when you get a real estate license is becoming a real estate agent. This level of licensing can have different names depending on the state you live in.
In most, however, it's called a real estate salesperson. You must be licensed to become a real estate agent because the role is pretty complex.
You'll be guiding home buyers and sellers through a legal transaction, marketing properties for sale, constantly generating leads, and keeping up with numerous deadlines.
While most people associate real estate agents with those who sell residential properties, you can also use a real estate license to sell commercial real estate.
Real Estate Agent Salary
Nationwide, real estate agents make about $41,289/year. However, in states like New York, they can make an average of $100,000+ per year. Read more in our guide: How Much Do Real Estate Agents Make?
2. Real Estate Broker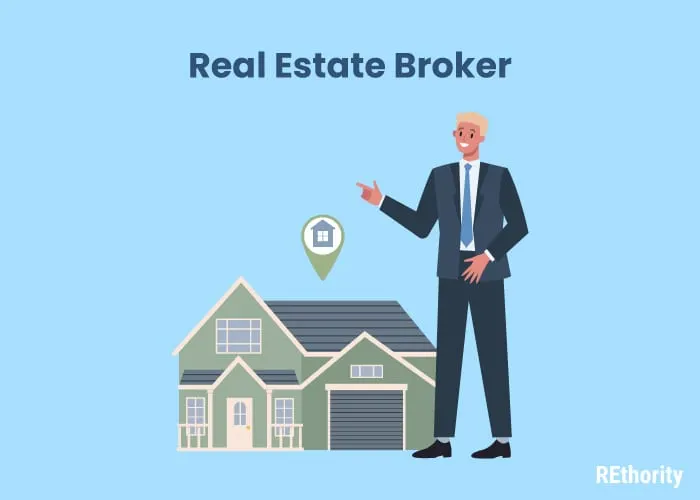 License needed:

Real estate broker license
If you've been a real estate agent and are ready for new challenges, or just want to open your own firm, you can upgrade to a broker's license.
This usually requires first being a licensed real estate salesperson for at least 2-3 years. There are several advantages to upgrading your real estate license to the broker level.
First, it allows you to manage other real estate agents, so you can operate your own brokerage. Second, it means you don't need a broker sponsor to sell real estate.
For many, the appeal of becoming a broker is the freedom to back off from selling to manage other agents. It's also a higher-paying role.
Real Estate Broker Salary
Real estate brokers make more than real estate agents, but pay differs due to several factors. On average, real estate brokers in the United States make around $65,000/year.
3. Residential or Commercial Appraiser
License needed:

Licensed or Certified Residential or Certified General Appraiser
Becoming an appraiser is another career choice for someone with a real estate license. Being an appraiser involves inspecting and examining a property to compare it to other, similar properties nearby to come up with an accurate estimate of its worth.
Appraisals are used by lenders, sellers, homebuyers, corporations, and the government, so there are plenty of options as to where you can work.
You can also choose whether you'd like to be a residential appraiser, certified residential appraiser, or certified general appraiser (all of which have different real estate licensing requirements).
Appraiser Salary
Pay varies by the appraiser licensing level you choose, who you're working for, and where you're located. Residential appraisers make about $50,000/year, while certified general appraisers make about $100,000/year.
4. Real Estate Course Instructor
License needed:

Any real estate license
For a unique career that goes beyond being a real estate agent, broker, or appraiser, consider becoming a real estate course instructor.
Real estate schools, public universities, and colleges all hire licensed individuals to teach their real estate courses and help others prepare to get their own real estate license.
At one time, becoming a real estate course instructor meant teaching on-campus, in-person classes at scheduled times throughout the week.
Today, thanks to advances in technology, many real estate course instructors teach classes virtually. You may never have to step foot on campus.
Different real estate schools will have varying requirements for their real estate course instructors. Still, in general, anyone with teaching experience (or interest in teaching) and a real estate license could be a good fit.
Real Estate Course Instructor Salary
Real estate course instructor salaries depend on the learning institution. Those teaching at universities and colleges make more money than those working at real estate schools.
On average, though, real estate course instructors make about $50,500/year. That's not a bad salary considering many teach during the nights and weekends.
5. Leasing Agent
License needed:

Salesperson license (some states)
Becoming a leasing agent is another career option for someone with a real estate license. Leasing agents work for apartment and condo complexes, residential property owners, commercial real estate holders, and more.
Their main function is to convert showings into tenants by selling prospects on the property and its amenities. The work leasing agents do combines real estate knowledge with marketing and sales expertise.
Many states require leasing agents to possess an active real estate license. Having a real estate license makes candidates more desirable to employers in states where licensing is not required.
Leasing Agent Salary
Leasing agent salaries depend on the amount of experience, the type of real estate being leased, and whether the agent is licensed. On average, leasing agents make about $38,154/year. Licensed leasing agents make about $45,000/year.
6. Foreclosure Proxy Bidder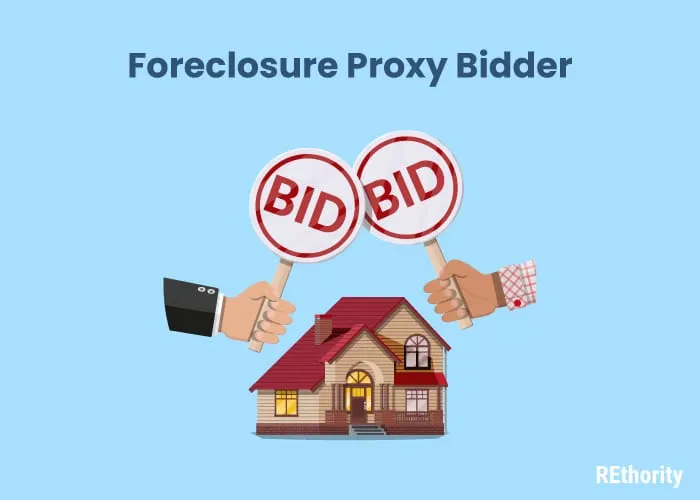 License needed:

Any real estate license (some states)
Foreclosure proxy bidding can be a smart career choice for someone with a real estate license who likes variable work.
Trustee sales where foreclosed properties are auctioned off provide an opportunity for someone with real estate knowledge and time on their hands to make good money as a foreclosure proxy bidder.
The idea is that an investor can't or doesn't want to attend tons of foreclosure auctions to find low-priced properties, so they send a proxy bidder with a real estate license in their place.
With clear instructions on the maximum bid and what the investor is looking for, the bidder stands in for the investor and tries to buy the property on their behalf.
Many states require that proxy bidders have a real estate license to provide this service.
Foreclosure Proxy Bidder Salary
The nature of foreclosure proxy bidding makes it hard to estimate an annual salary. The amount you make depends on many variable factors – how many foreclosure auctions you attend, how many investor clients you have, the fee you charge, etc.
However, it is common for proxy bidders to charge about 5-6% of the end purchase price. Typically, they'll set some sort of minimum (like $10,000) to cover their cost in the event a very low-priced property is purchased.
7. Transaction Coordinator
License needed:

Any real estate license
Typically employed by large brokerages, transaction coordinators do the paperwork and back-end real estate transaction management.
A real estate agent generates the leads, connects with clients, and arranges the sale and purchase of properties. Then, the transaction coordinator handles the rest of the process.
Transaction coordinators must be licensed because they're handling complex information and processes for real estate transactions.
They need strong organizational and time management skills. If you're a real estate agent who isn't big on the social side of selling, becoming a transaction coordinator can be the perfect compromise.
Transaction Coordinator Salary
Transaction coordinator salaries vary by location and employer. On average, a transaction coordinator with a real estate license makes around $46,084/year.
8. Real Estate Attorney
License needed:

Real estate license and attorney license
Here's a career option for those with a real estate license who want to continue their education – or for current licensed attorneys who want to specialize in real estate.
It's easier to get a real estate license as a licensed attorney in most states. Being a licensed attorney typically exempts you from needing pre-licensing education to take your state's real estate licensing exam.
You can specialize in many different areas of practice, from landlord/tenant law and contract law to consulting for investors or companies who buy a lot of real estate.
Real Estate Attorney Salary
Real estate attorney salaries vary widely, but on average, a real estate attorney makes about $118,000/year. Working for large firms or becoming a partner will enable you to earn a higher salary.
9. Broker Price Opinion Consultant
License needed:

Real estate salesperson or broker license
Licensed real estate agents and brokers can work on a freelance or employed basis as a broker price opinion consultant.
Essentially, broker price opinion consultants provide a service similar to appraisers at a lower price. But their reports are a little less in-depth.
Professional BPO reports outline a home's features, pros and cons, needed repairs, and comparable nearby properties to arrive at an estimated value.
Lenders regularly hire or work with licensed agents and brokers to obtain this information for pre-foreclosure properties or removal of private mortgage insurance requirements.
Broker Price Opinion Consultant Salary
BPO consultants can make anywhere from $50 to $250 per appraisal/price report. If you freelanced doing 5 BPOs each week at $150/each, you could make $36,000/year.
You could easily make more by doing more reports each week or working with an employer who pays a salary.
What Can You Do with a Real Estate License? A Lot
There's so much more to a real estate license than the standard salesperson or broker career. In fact, there are endless doors that open once you get a license.
Go into commercial real estate, become an appraiser, teach real estate courses, work as a leasing agent, act as a proxy bidder, coordinate real estate transactions, become a real estate attorney, or create BPO reports for lenders.
If you already have your real estate license, you can look into any of these promising career options. Many can be done part-time if you're not looking to stop selling or brokering real estate.
If you don't have your real estate license yet but have been considering it, it can be the key to a rewarding career with almost limitless earning potential.
You Might Also Like: