Are your tenants asking for proof they paid? We've created a free rent receipt template for landlords to provide tenants to show they paid.
Keep reading to download our free PDF template and learn things you should consider.
Download Our PDF Rent Receipt Template
Looking for a Rent Receipt Template?
Find the rent receipt template and more information on what to include in rent receipts in this article. As a landlord or property manager, you collect rent from tenants regularly.
Ideally, you have an organized system in place to track when rent is due and when you've received payment in full from each tenant. But it's equally important to provide your tenants with a rent receipt for their own records.
A rent receipt provides a tenant with a written record that includes the payment date, amount paid, the rental unit's address, payment period, and who received the rent payment.
It protects both the tenant and landlord by providing proof that:
The tenant paid the amount of rent due

The landlord received and confirmed the payment
When you pay for goods or services, you expect a receipt detailing the transaction. Tenants who pay rent in person with cash, check, or money order should always receive a receipt.
It's good practice to provide a rent receipt for online payments as well. Scroll down to find and download our free rent receipt template and learn why you should use rent receipts.
What Is a Rent Receipt?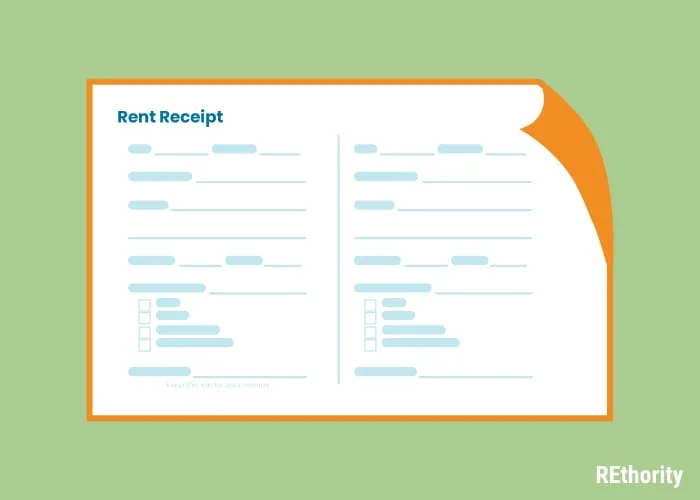 A rent receipt is a document that landlords or property managers provide tenants with after they've paid rent.
The rent receipt gives details of the rental transaction and should include the following information:
Date of payment

Receipt number

Tenant name

Tenant address

Amount paid

Any late fees

Form of payment

Any remaining balance

Receiver's signature
A rent receipt should always be provided to a tenant after a cash, check, or money order payment. It's a good idea to provide a rent receipt for online payments as well.
Although most online payment portals provide some type of receipt to the tenant, giving your own rent receipt enables tenants to keep consistent records in one place.
How Rent Receipts Work
If you've never created or provided tenants with rent receipts before, here's how the process works. After receiving a tenant rent payment, you will create (or just download our free template below) your rent receipt.
Fill it out with the correct information for the transaction. Note any special circumstances, such as late fees paid or whether a security deposit is part of the payment. Sign and date the rent receipt.
Mail it to the tenant, or if they've paid in person, provide it to them. Our template includes a rent receipt stub that can be cut away to provide the tenant, while you keep the other side for your own records.
A rent receipt can be used for any payment you receive from a tenant, whether it covers rent or not. Security deposits, pet rent, miscellaneous monthly fees, etc. can also be recorded using rent receipts.
Just make sure you note the total amount along with a breakdown of what the total payment covers, so there is no confusion.
Why Use a Rent Receipt?
Rent receipts provide important payment documentation for both the landlord and the tenant. They are important for property managers as well.
Providing rent receipts helps set expectations for tenants and keeps everyone accountable. Here are a few reasons you should use a rent receipt to record incoming payments.
Rent Receipts Make Payments Easier to Track
Sometimes tenants will pay in cash, other times with a check, and occasionally online or with a money order.
Tracking multiple payment forms is difficult, and without a rent receipt, it can be hard to prove a tenant paid with cash or delivered the payment on time.
Rent receipts make payments easier to track by providing documentation for all payments, no matter the format they're received in.
They also help protect you, the landlord, from any future audits by proving that you've received cash for rental payments.
Rent Receipts Help You Comply with Tenant/Landlord Laws
Your state or city may require you to provide rent receipts to tenants to comply with tenant/landlord laws. Some states and cities require that you provide a receipt for every rent payment received.
Others only require it if you receive a payment in cash or with a money order. Of course, this all depends on the state in which you live.
Either way, if you don't comply with these laws, you can be sued by your tenant and rack up legal fees while being forced to spend a lot of time in court.
Whether or not your state or municipality requires it, it's a good idea to provide these receipts anyway. It only takes a moment to fill out a rent receipt and saves you a huge headache later on.
Rent Receipts Strengthen Your Records
Even if you're using accounting software to track when rent is due and received from tenants, you still need to keep paper records, too.
Having both digital and paper records for every rent transaction will protect you in the event of an audit, lawsuit, or dispute with a tenant.
It will also ensure you're able to check every payment and transaction twice to ensure there are no errors. This makes your bookkeeping and records system stronger as a whole.
Even if a tenant's check bounces, a rent receipt is still beneficial to you as the landlord. It won't protect the tenant who wrote the check.
It simply shows that you initially authorized and confirmed the payment and later received a returned check. The returned check is more than enough proof that the payment wasn't valid.
Free Rent Receipt Template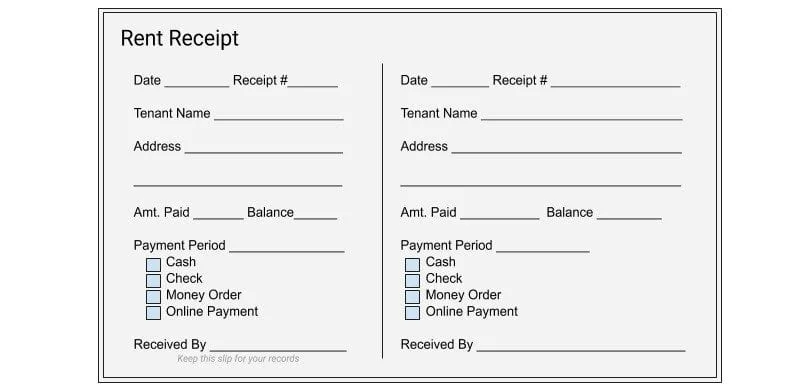 This is our free rent receipt template. You can download and print it to provide to your tenants after each rent payment.
Simply fill out the date, receipt number, tenant name, address, amount due, amount paid, payment period (such as October 1-31st), and form of payment.
Then sign the receipt and provide the left side to the tenant, keeping the right side for your own records.
If you'd prefer, you can provide the entire rent receipt to the tenant and make a photocopy of each one to keep for your own records.
How to Deliver or Send a Rent Receipt
You can ensure your tenants receive their rent receipt in a few different ways. It's usually a good idea to provide the rent receipt in the same format or manner in which you received the payment.
If a tenant paid in person, you can fill out the rent receipt and provide it to them in person.

If a tenant paid via mail with a check or money order, you can mail the rent receipt to them.

If a tenant paid online, you can email the rent receipt in a PDF format.
By providing the rent receipt in the same format you received the rent payment, you help ensure that the tenant will receive and save the receipt.
A tenant that prefers to pay online (like 57% of all tenants do) may be more likely to open and save the receipt if it comes to their email inbox instead of their mailbox.
Likewise, someone who pays in person or through the mail may not check their email inbox for a rent receipt if you choose to provide it that way.
Should You Use a Rent Receipt Template or Create Your Own?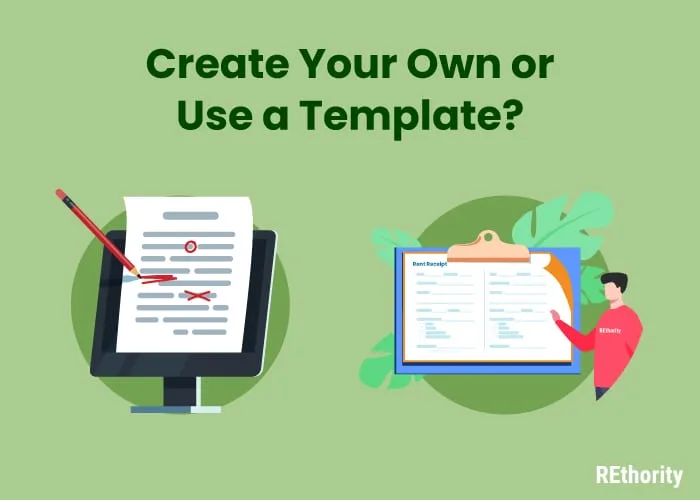 The rent receipt template we've provided above is a great start if you're ready to begin providing your tenants with proof of rent payment for their records.
But should you use a template instead of creating your own rent receipt? That depends on a few things.
Are your rent transactions complicated (lots of fees, variable charges, etc.)?
If you need a highly customized rent receipt, a template may not provide space for all the information you need to include. In this case, you might consider creating your own rent receipt to use.
Are you computer savvy?
Creating a digital, printable rent receipt template isn't too difficult, but it does require a little experience creating digital documents. If you're not sure where to begin, use a premade rent receipt template like ours instead.
Do you have more than one tenant?
If you have multiple tenants, you need to use a rent receipt template. This ensures you won't have to handwrite several rent receipts each month. It also ensures the same information is included in every rent receipt.
If you only have one tenant, you may be able to handwrite a rent receipt each month without issue – but it's still more convenient to use a printable template.
Download Our Free Rent Receipt Template Now
Download our free rent receipt template, save it, and print as many copies as you need. We recommend printing several copies right away.
This way, you'll have ready-to-use rent receipts available whenever you need them. Even better? We've made a free rent receipt template for you to download (find it below).
Download Our PDF Rent Receipt Template
Using rent receipts to provide yourself and your tenants with additional payment records helps build a stronger, more professional relationship with your tenants.
It bolsters your record-keeping system, ensures you comply with tenant/landlord laws, and helps you stay on top of your financial records as a landlord or property manager.
Just like the purchase of goods or services, rent payments need a receipt to provide a record of the transaction. With a free template like ours, it's easy to provide this to your tenants.