Sliding doors are a great feature on any home, but you want to keep them safely secured to avoid potentially dangerous situations.
But what are the different types of sliding door locks?
Read on to find out.
A Short Summary
It is essential to secure your sliding door with a strong lock. This US Department of Justice report found that summer was the most common time for home burglaries.
Summer is also the time of year when most of us love to enjoy the weather with our sliding doors open. Be safe and get a solid lock to secure your door.
There are many different types of locks that you can install on your sliding door.
Each type of lock will best fit different situations and different styles of doors. The most popular types of sliding door locks that we encounter regularly are the following:
Mortise Locks
Keyed Locks
Loop Locks
Double Bolt Locks
Toledo Locks
Security Bars
Guardian Locks
Sliding Track Locks
Barricade Locks
Smart Locks
Different Types of Sliding Door Locks Explained
Now that you know what types of sliding door locks are out there, let's delve into them in more detail to determine which type of lock is best for you.
1. Mortise Locks
Our Top Pick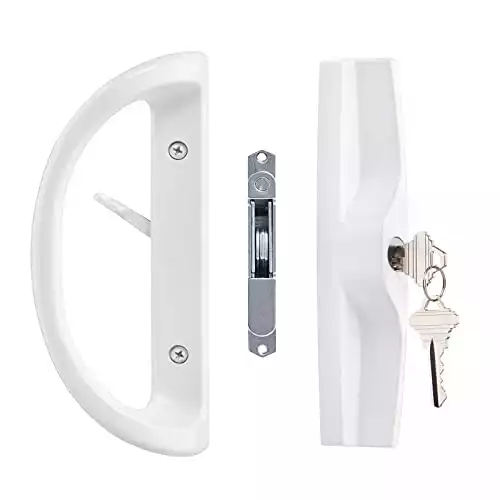 Mortise locks are the most common type of sliding door lock and come preinstalled on most sliding doors. They are installed on the inside door panel and can only lock from the inside.
Mortise door locks are an inexpensive option for those who aren't concerned with locking and unlocking their doors from the outside of the home.
They can be less durable than some of the other options discussed here but are an excellent choice for those looking to lock their doors without spending a small fortune on a fancy lock.
2. Keyed Locks
Our Top Pick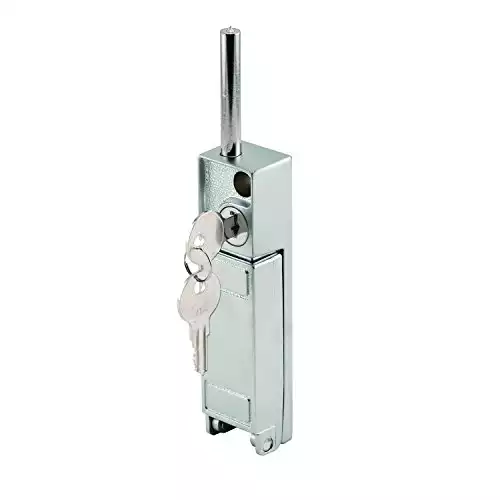 As you might guess from their name, keyed locks provide a lock for your sliding door that you can lock and unlock by a key from outside the home.
These are a promising option for anyone who wants a guaranteed way to open the door from outside, such as parents of children old enough to lock them out accidentally or people who are prone to locking themselves out of the house.
These locks aren't specific to sliding glass doors, so you'll want to double-check that whichever one you decide to purchase is compatible with your specific door. These locks can also pose a slight security risk because keyed locks are easier for criminals to pick and open using an alternative tool.
3. Loop Locks
Our Top Pick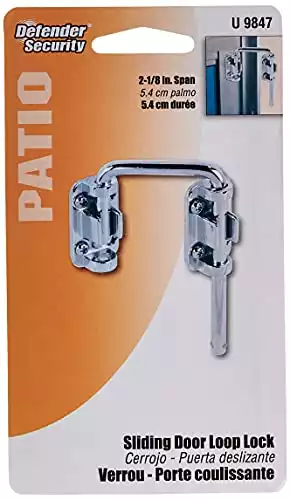 Loop locks are among the easiest to install and most durable options on our list. They consist of a mounting plate for you to install on the inside door jamb and a keeper to mount on the sliding door itself.
The concept is simple: the locking bar connects the mounting plate to the keeper, ensuring that you can't open the door from outside.
Loop locks aren't as secure as some harder options, such as a double-bolt lock, but it provides an affordable way to secure your door against most minor threats.
You can only unlock this one from the inside, so you might want to skip it if you need to be able to open your locked door from outside your home.
4. Double Bolt/Deadbolt Locks
Our Top Pick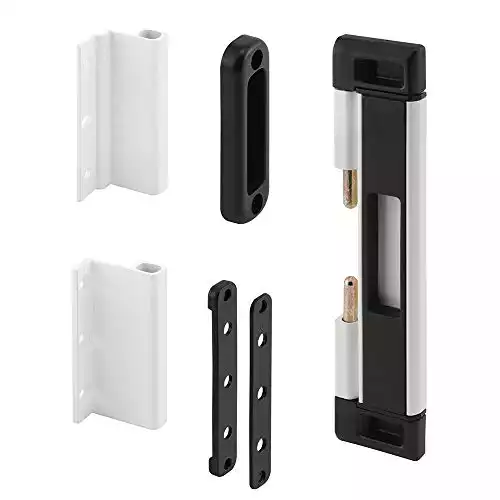 Double bolt locks provide an extra layer of security and are easy to install on most sliding doors.
They work by preventing the door from lifting or removing it from the track on which it slides. Because you'll install this lock about the handle, it can work with any other locks on your door.
To install a double-bolt lock, you mount the bolt part of the lock on the door above the handle and the fixed part of the lock on the door jamb. You secure the door by sliding the bolt closed. You can only open this lock from the inside.
5. Toledo Locks
Our Top Pick
Toledo locks are an affordable and very secure option if you are looking for additional security on your door.
You can easily install these in multiple places on your sliding doors and nearly any other type of door and window in your home. They come with a key to open and secure the lock.
Toledo locks are among the most secure locks on our list of options. They are hefty and resistant to bolt cutters and hacksaws because the bolt will spin under pressure.
The hidden nature of the mounting hardware makes them even more secure.
6. Security Bars
Our Top Pick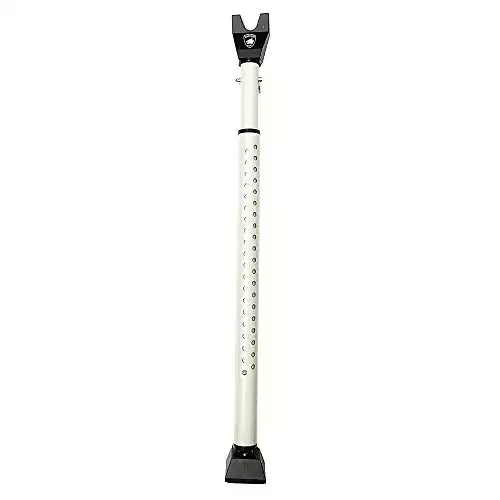 If you are no stranger to sliding doors, you've probably seen the age-old trick of sticking a piece of wood or other material behind the door, stopping it from sliding.
This foolproof trick has been around for generations because it works – Shy of pushing the door open with enough force to break the wood (unlikely), it'll stop people from entering your home.
Security bars take inspiration from the old wood-in-the-door trick and provide an affordable option to secure your sliding door from the inside. Most security bars are adjustable, so you can size them to fit your doorframe perfectly.
You can also purchase temporary or fixed options, depending on what you prefer. If you have young children in the house, this is a good option for you. A toddler's little hands will have difficulty prying a wedged security bar out of the door frame.
7. Guardian Locks
Our Top Pick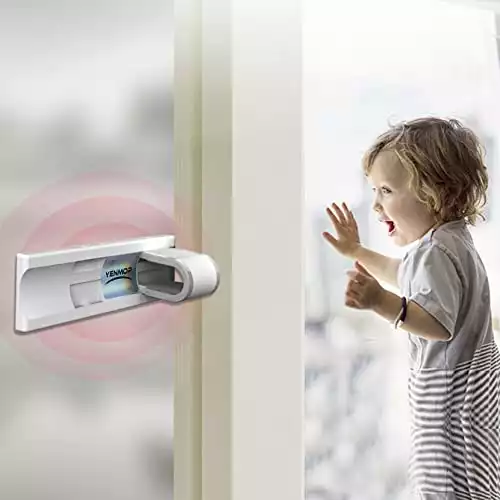 Guardian locks are another excellent option for child-proofing your sliding doors. There are a variety of child locks that can stop children from opening the sliding door, and some will even prevent unwanted guests from entering from the outside.
A benefit to child locks is that many options can secure the door in a partially open position instead of simply keeping it closed or open.
On the other hand, most child-locking options mean to stop children from getting through your door and might not be much help against an adult entering your home with malicious intent.
8. Barricade Locks
Our Top Pick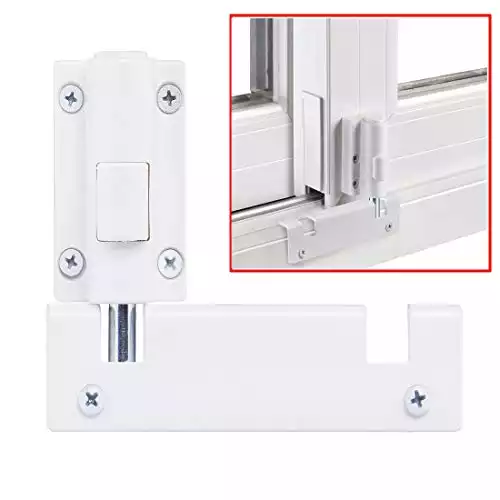 Once you secure the mounting plate to your floor, a barricade lock prevents the door from opening.
These locks are easy to install but require more equipment than some other options, namely a power drill. You'll want to ensure that you have one available before purchasing this type of lock.
These locks are very effective and durable but will only work on doors that slide on an inside track, so check your door track before choosing this type of lock. You'll only be able to open this lock from the inside of your home.
9. Sliding Track Locks
Oru Top Pick
Sliding track locks attach to the inside track of your sliding door to prevent the door from opening. Like barricade locks, you'll need to ensure that this is appropriate for your specific type of sliding door.
These locks are easy to install by simply attaching them to the track of your door.
However, they can be less secure because they are more flexible and easier to push off the track than other options. Some individuals will install multiple sliding track locks on one door to improve the likelihood of resisting pressure or break-in attempts.
10. Smart Locks
Our Top Pick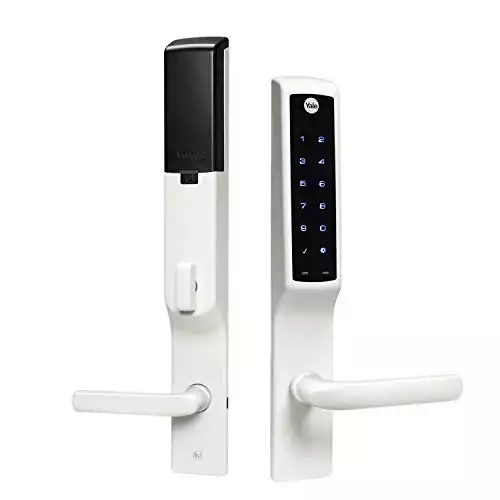 It should come as little surprise that there are smart options for your sliding door lock in this day and age. Although once a more difficult-to-find item, more companies are releasing smart locks for sliding doors.
Most of these will integrate with other smart home products, and you can control them from your phone or other personal devices.
Although a more expensive option, smart locks are a great option if you need to open your door from a distance, such as for your pet when you are away from home. These are the only locks on the list that usually require an expert to install.
After all, they are a little more complicated than your basic sliding door locks. You'll also want to consider that they are subject to misbehaving if your Wi-Fi or electricity is spotty, which can hinder your ability to control them from a distance.
11. Electromagnetic Locks
So, you already know that there are many types of locks. But that's not all You know about electromagnetic locks. They, as well as many other types, are very reliable and safe solutions.
They give you appropriate access control that is dependable. As a result, they add an additional layer of security to homes, companies, and other locations.
You can easily install these locks. You can install the system on standard doors with a two-part system:
An electromagnet;

Anchor plate.
When you install the two parts, they create a powerful static connection. Then, when you activate the lock, your area will be secure.
The door remains protected by the power of magnetism until it is deactivated. You can deactivate (open) the lock with a key card or code.
Electromagnetic locks can also have adjustable force parameters. It depends on your security needs. This way, you will provide better protection in case you need it. This reliability makes them the ideal choice for protecting any room from unwanted intruders.
12. Rim Locks
Many users think that rim locks need to be updated and updated. But today, these locks provide reliable protection for any house.
An undoubted advantage of these locks is that they are inexpensive. It provides extra security due to the critical configuration. It will also be easy for you to install the lock. It is almost impossible to pick.
Rim locks also provide an extra level of security for your home. All because it often requires a latch or deadbolt to open the door.
Even if the exterior lock is forced or breached, the interior safety still needs to be engaged to get into the house, making rim locks a very effective security solution.
Things to Consider When Choosing a Sliding Door Lock
There are many things to consider when choosing a sliding door lock that best fits your needs.
Do you want to be able to open your door from the outside?
How much money do you want to spend on your sliding door lock?
How secure does your lock need to be? Are you expecting burglars or other unwanted guests to test your lock?
Does your lock need to keep children in, as well as adults out?
Are you comfortable installing a complicated lock, or would you prefer a more simplistic style?
Frequently Asked Questions
Do I Need to Hire a Professional to Install My Sliding Door Lock?
For the most part, you'll be able to install your sliding door lock on your own. While you can always hire a handyperson to do the job if you are uncomfortable doing it yourself, installing a door lock is usually a small and straightforward job that you can quickly complete on your own.
How Can I Lock My Sliding Door From Outside?
Keyed locks and smart locks are the best options for locking your sliding door from the outside. However, keyed locks can be less secure than other locks, and smart locks are dependent on your Wi-Fi connection.
If My Door Did Not Come With a Lock, Can I Still Install One?
Yes. Most of the types of sliding door locks that we discussed here work separately from the locks that come installed on your door. They'll work perfectly well with or without a preinstalled lock.
Wrapping it Up: The Gist of Sliding Door Locks
There are many different types of locks that you can install to secure your sliding door.
Each type of lock best fits different scenarios, so you'll want to consider your individual needs before choosing a lock for your door.
Resources: