Are you looking for a user-friendly solution to help you find, attract, and follow up with more leads, turning them into new clients?
Then look no further than Real Geeks.
What Is Real Geeks?
Thinking of using Real Geeks to create a real estate lead generation website? Learn about the company and the products they offer here in our in-depth review.
Headquartered in Dallas, Texas, Real Geeks offers a suite of seven essential real estate software products and two services.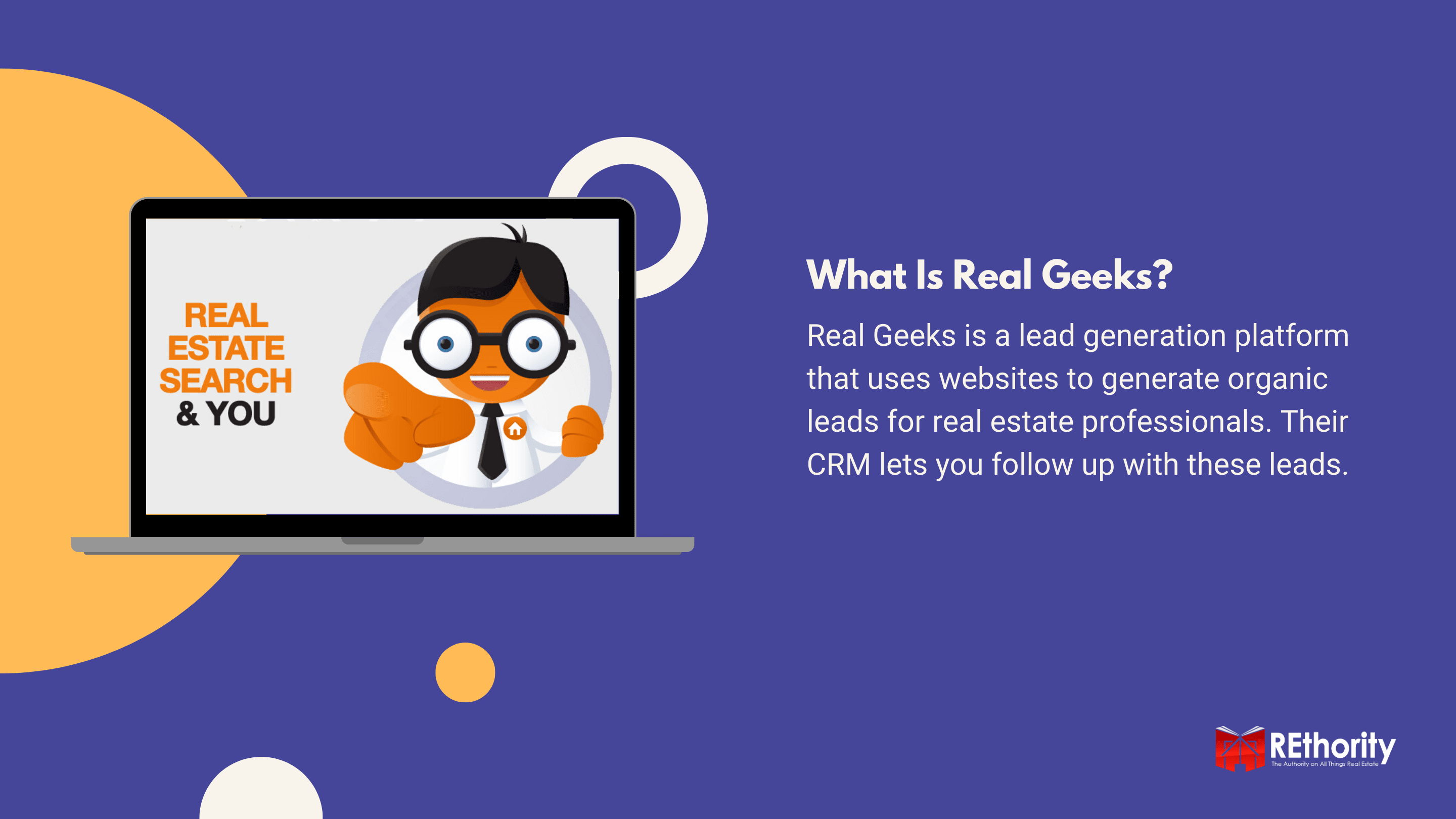 Their main objective is to help real estate professionals generate and manage leads and prospects. The company offers the following products and services:
IDX/MLS integrated real estate websites

Customer Relationship Manager (CRM)

Auto-generated market reports

Email marketing system

Facebook marketing tool

Home value/seller lead generation tool

Text message auto-responder tool

Real Leads PPC marketing services

Facebook marketing services
Every product and service can be used separately. Some of the products integrate with each other. Learn about each one, how it works, and details about pricing and monthly plans below.
Are Real Geeks products beneficial and cost-effective for real estate professionals? Read on to find out.
Real Geeks' Best Features
Real Geeks offers several different products. We compile and summarize the information about each one to give you a clear picture of how each one works and what features come with it.
Lead Manager CRM
The CRM is one of the most functional tools in the Real Geeks library of products. It is designed to help real estate agents generate, nurture, and manage leads as they move through the system. Here are some of the most notable features:
Real-time activity tracker

.

See leads that are active right now with the ability to reach out while they're browsing and searching on the website

Centralize all leads

.

Leads from every source can be imported and managed in the CRM, including leads from Zillow, Realtor, and Trulia

Text and email notifications

. Find out and follow-up instantly when leads engage with your website

Social profile match

.

Link new leads with their social profile to make connecting easier and more personal

Lead assignments

.

Route new leads to a pool of agents and lenders that meet the criteria (region and lead source)

Auto-reassign idle leads

. When new leads get assigned to an agent and are not contacted, the lead is considered inactive and automatically re-assigned to a new agent

Track and manage agents

.

See agent activity and productivity from a simple dashboard to help identify top-performing (quick lead responses, regular use) and under-performing (idle lead reassignments) team members

Auto-respond via text

.

Answer new leads with automatic text message replies that supply additional information and help qualify leads

Send to agent email

.

Track all lead conversations easily when they are sent to the agent's email address and linked with the CRM

Multiple views and filters

.

See specific leads that meet criteria with numerous views and search filters in the CRM (Examples: Viewed properties, home price range, time spent on the website)
Property Valuation Tool
The home valuation tool provides a smart way for agents to generate seller leads. Homeowners come to the site, enter their address, and are asked to complete a form to get the value information on their property.
Here are some exciting features that are part of the home value tool:
Address-only leads.

If the homeowner decides not to complete the form to get the property value, the address entered is still saved as a partial lead

Monthly market reports.

Users get an email containing a market report each month after entering their address or signing up for property value information – they can unsubscribe at any time

Embed anywhere.

Each listing, market report, and property detail page shows the home value tool (it can be added to any non-Real Geeks website page, too)
Text Auto-Responder
Automatically respond and reply to leads who have questions using the text auto-responder. This is significant for real estate professionals because SMS is a great way to communicate with leads.
In fact, about 97% of text messages are opened and read by users. Because of this, it's a great feature for busy agents who may be holding conversations with multiple leads at once.
The auto-responder ensures no lead is forgotten, and every text receives an immediate response to keep the lead engaged.
Market Reports
Market reports show neighborhood sale statistics and the general real estate market surrounding a specific property or zip code. Real Geeks market reports use MLS data that is up-to-date to give users timely, accurate information about their area.
Market reports are automatically generated, so they don't require any additional work from an agent. They are also bundled and automatically sent when users engage with other features, like the home valuation tool.
Market reports are a great way to keep in touch with leads or past clients and continually offer them additional value through information that applies to their property.
Automatically generated on request

Can be a seller lead magnet

Bundled with the home value tool

Add value and keep in touch with leads and clients
Automated Email Marketing System
Make sure you're communicating with leads at the most convenient times with email drip campaigns. Each email can be customized and set on a time-based or action-based trigger.
Here are some of the most useful features that are part of the email marketing product:
Every lead source (Zillow, for example) can have its own email drip campaign set up

Follow the drip campaign schedule or choose to send an instant email "blast" to specific groups

Stagger emails to send out based on an action or elapsed time to make sure users aren't getting bombarded with too many emails
Facebook Marketing Tool
The Facebook marketing tool is designed to make it easier for agents to set up Facebook ads.
The tool makes it possible to create and manage ads without the technical knowledge that would typically be required. Here's what the Facebook marketing tool does:
Automatically embeds the Facebook ad pixel on your website so you can actively track the people who click and engage with your ads

Cut ad creation time down to 3-5 minutes

Links up with the Facebook ad platform to track all ad engagement: likes, shares, link clicks, etc.
IDX Real Estate Websites
Real Geeks gives agents the ability to easily create lead-generation websites that attract new leads and help capture their information and user behavior. There are lots of features and marketing solutions embedded in the IDX-integrated real estate websites.
Below are some of the most useful features:
Landing pages.

You can create and add landing pages to the website for a variety of purposes to help track and separate leads from different sources, including:

Property landing page

Agent information landing page

Market report

Seller lead magnet page

Home value seller lead magnet landing page

Listing coming soon landing page

Custom landing page from any page on the website

Customize the website design.

Different elements of the website can be changed to reflect specific color schemes, website layouts, the placement of sidebars and navigational bars, and more. This ensures every Real Geeks website looks different.

Easy Content Management System.

The built-in CMS makes it possible for agents to add website pages, landing pages, a blog, and update all the text and content on the website from one central place.

Embed widgets and forms anywhere.

Widgets and forms can be added (embedded into the code) anywhere on the website and even outside of the website. Widgets include search bars, contact forms, home value seller lead forms, and more.

Up-to-date and accurate information.

The IDX database is continually updated every few minutes, so there is never any out-of-date information showing on your website. Users are always able to access the most accurate information in real-time.
Real Geeks Plans and Pricing
While the website is somewhat vague on pricing (it lumps leads into the monthly price), we've done some digging to clarify your monthly costs.
Basic Subscription: $249/month
Real Geeks offers some of its products bundled into the basic subscription. The cost is $249 per month, and users must sign a one-year contract to use the subscription.
Two users are included in the base price, but more users can be added for an additional fee. The home valuation and Facebook marketing tools also have an additional monthly cost.
Check out the pricing information for the subscription, add-ons, and services below.
2 users

Real estate lead generation website

CRM

Email marketing system

Market reports

Text message auto-responder

Home valuation tool
Facebook marketing tool
Services: $550/Month + Ad Budget
This price includes everything needed to manage your PPC ad campaign management (on Google or Facebook), but your ad budget costs extra.
An onboarding fee of $350 may also apply. Be sure to check with Real Geeks to confirm pricing information before signing up.
Add-Ons: Cost Varies
Additional users: +

$25/month
Our Take
With all this information in mind, is Real Geeks a good option for real estate agents looking to boost and supercharge their lead generation methods? We think so. Our favorite features:
A real estate website that attracts and gathers leads for you

The ability to create a huge variety of landing pages for targeted lead generation

Specific tools that help with lead generation beyond the website are the Facebook ad tool and the home value tool that can be embedded anywhere online

The text auto-responder makes sure leads always get an instant response
However, Real Geeks is not a perfect lead generation solution. Some of the problems we identified are:
Some of the useful features are not included in the base subscription price and cost an additional $50+ per month.

Signing a 1-year contract without the opportunity to use a free trial first can be off-putting

A lack of transparency about pricing on the website is frustrating for agents doing research to find the best deal
Should You Use Real Geeks?
For tech-savvy agents who have a little experience with website design, the layouts and website designs available through Real Geeks may not measure up to expectations.
However, Real Geeks is a solid choice for lead generation websites and lead magnets. After all, your job is to sell houses, not worry about details like web design.
And you can rest assured knowing that Real Geeks offers everything you need to make the most of your marketing budget.