From the corniest of the corny to the most inspirational, quotes about home have a way of, well, hitting home.
Use any of our favorite quotes on your timeline, instagram, or anywhere else you hope to stand out.
Looking for Quotes About Home?
Home is a comforting concept we're all deeply familiar with, but it's hard to put into words.
The dictionary defines "home" in a few ways:
The place where one lives permanently, especially as a member of a family or household.

The family or social unit occupying a home.

A house or an apartment considered as a commercial property.
These are all certainly true about home, but we like the fourth definition best: "A place where something flourishes, is most typically found, or from which it originates."
To you, home might be a feeling, your childhood house, the apartment you share with your family, your favorite place to visit, or wherever you are when you're with family.
It might be a place you haven't found yet, but are still looking for. In any case, these powerful quotes about home are wonderful reminders of what home means to each of us and why it's so special.
Keep reading to find the 50 best quotes about home from literature, famous speakers, celebrities, and movies from around the world. We've compiled a mix of both recent and ancient sayings and quotes about home.
Why Are Quotes About Home So Meaningful?
Some of the following quotes about home will be very familiar to you (like #1 and #50), but we've researched and read through thousands of quotes.
All to find those that best sum up what home means and why it has such a special place in our hearts. There's an old quote taken from the title of a Thomas Wolfe book from 1940: "You can never go home again."
It refers to how time changes people and places so that when you try to go back and capture the same feeling a place once gave you, you'll often find that it's gone or not quite the same.
But as you'll read in the quotes below, others believe that home isn't something that gets trapped in time. It's a memory or a feeling of comfort that we carry with us. It's a concept that can adapt and change over time.
The place you call home today can be just as much of a sanctuary as your childhood home. Any four walls can become home with the right family and friends.
When you read these quotes that explain what makes home a place of comfort and solace wherever it is, take some time to appreciate the different versions of home you've known and experienced throughout your life.
Our 50 Favorite Quotes About Home
Pliny the Elder
Home is where the heart is."
Maya Angelou
The ache for home lives in all of us, the safe place where we can go as we are and not be questioned."
Robert Frost
Home is the place where, when you have to go there, they have to take you in."
Johann Wolfgang von Goethe
He is happiest, be he king or peasant, who finds peace in his home."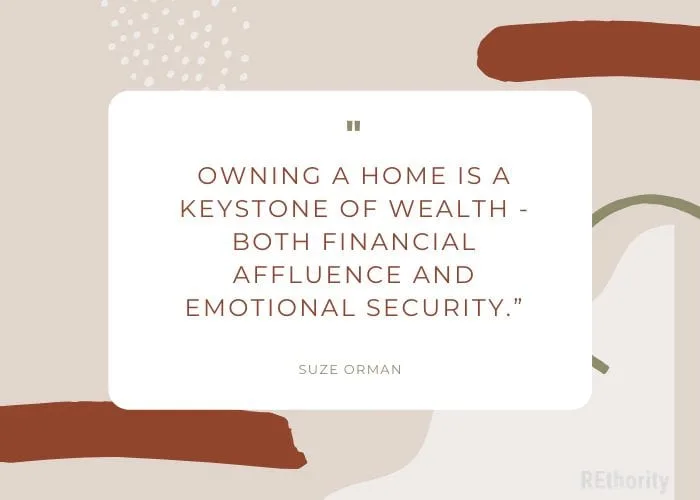 Samuel Johnson
To be happy at home is the ultimate result of all ambition, the end to which every enterprise and labor tends, and of which every desire prompts the prosecution."
Maryanne Radmacher Hershey
May your walls know joy; may every room hold laughter and every window open to great possibility."
Thomas Tusser
Seek home for rest, for home is best."
Kenny Guinn
There is something permanent, and something extremely profound, in owning a home."
Ali Bassam
Having a place to live is home. Having someone to live with is family. Having both is a wonderful life."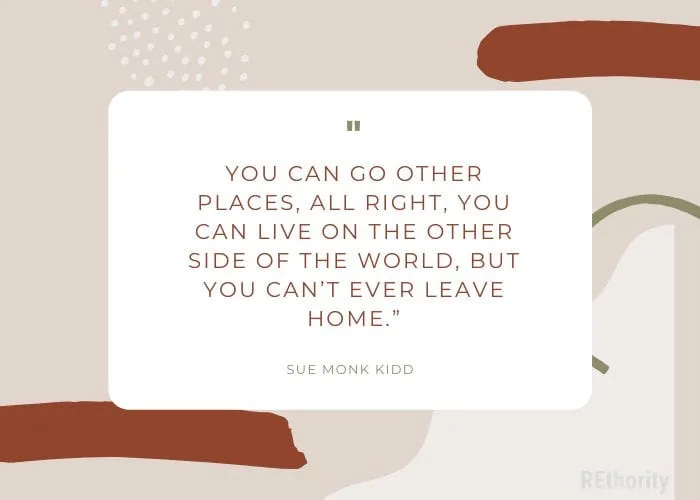 Edith Sitwell
Winter is the time for comfort, for good food and warmth, for the touch of a friendly hand and for a talk beside the fire: it is the time for home."
Thornton Wilder
When you're safe at home you wish you were having an adventure; when you're having an adventure, you wish you were safe at home."
Robert Southey
There is a magic in that little world, home; it is a mystic circle that surrounds comforts and virtues never known beyond its hallowed limits."
Dorothy Parker
The best way to keep children at home is to make the home atmosphere pleasant, and let the air out of the tires."
Ann Douglas
Home is an invention on which no one has yet improved."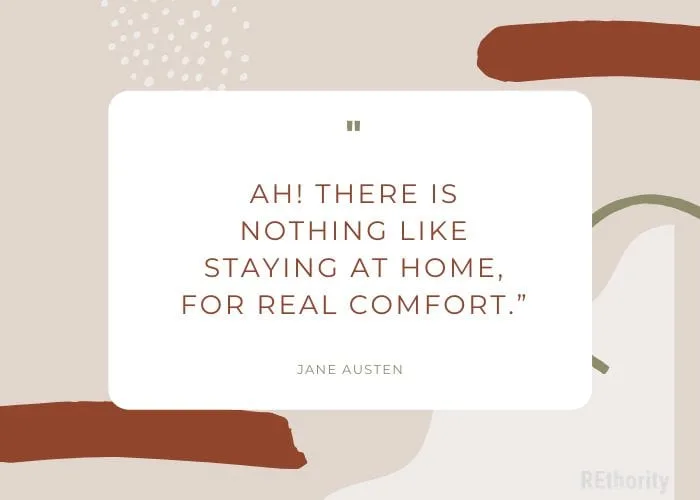 Dalai Lama XIV
A loving atmosphere in your home is the foundation for your life."
Leo Christopher
Home is wherever you leave everything you love and never question that it will be there when you return."
Irish Proverb
The longest road out is the shortest road home."
Laura Ingalls Wilder
Home is the nicest word there is."
George Moore
A man travels the world over in search of what he needs and returns home to find it."
Confucius
The strength of a nation derives from the integrity of the home."
Kathleen Norris
Peace – that was the other name for home."
Sydney Smith
A comfortable house is a great source of happiness. It ranks immediately after health and a good conscience."
Charlotte Perkins Gilman
The home is the center and circumference, the start and the finish, of most of our lives."
Barbara Johnson
The most important things in your home are people."
Maya Angelou
You can never go home again, but the truth is you can never leave home, so it's all right."
Charles Henry Parkhurst
Home interprets heaven. Home is heaven for beginners."
M. K. Soni
Home sweet home. This is the place to find happiness. If one doesn't find it here, one doesn't find it anywhere."
T.S. Eliot
Home is where one starts from."
Laura Marney
No matter who you are or where you are, instinct tells you to go home."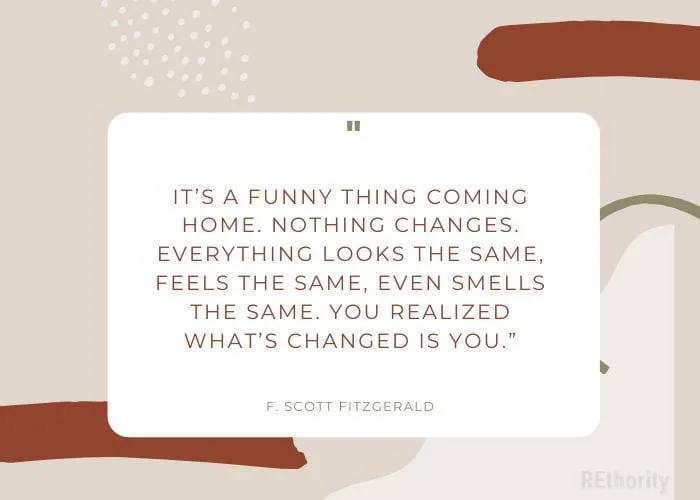 Pico Iyer
Home lies in the things you carry with you everywhere and not the ones that tie you down."
Nahguib Mahfour
Home is not where you are born; home is where all your attempts to escape cease."
Kin Hubbard
The fellow that owns his own home is always just coming out of a hardware store."
Irish Blessing
May your home always be too small to hold all your friends."
Dietrich Bonhoeffer
A home is a kingdom of its own in the midst of the world, a stronghold amid life's storms and stresses, a refuge, even a sanctuary."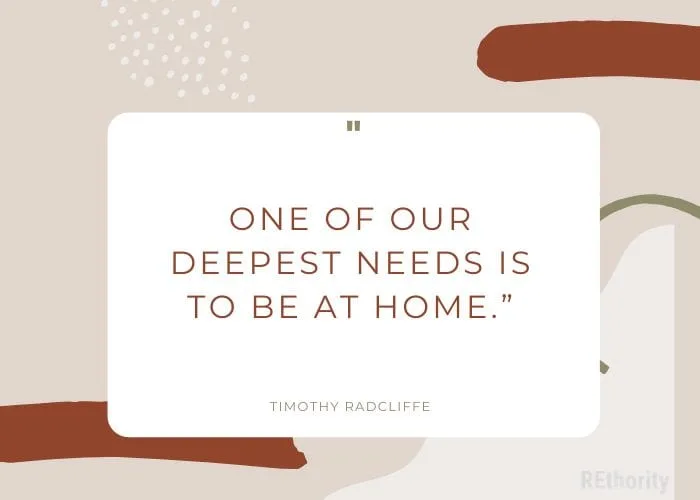 Michel De Montaigne
My home…it is my retreat and resting place from wars, I try to keep this corner as a haven against the tempest outside, as I do another corner in my soul."
Louisa May Alcott
The power of finding beauty in the humblest things makes home happy and life lovely."
William J. Bennett
Home is a shelter from storms — all sorts of storms."
Melissa McClone
Life takes you to unexpected places. Love brings you home."
Winston Churchill
We shape our homes and then our homes shape us."
Anthony Liccione
Everyone needs a house to live in, but a supportive family is what builds a home."
L. Frank Baum
There is no place like home."
Unknown
Our homes should inspire us to go out into the world to do great things and then welcome us back for refreshment."
What Are Your Favorite Quotes About Home?
We hope you enjoyed these 50 quotes about home. Which ones are your favorites? Home means something different to all of us, but comfort is the commonality.
Whether you're in the market to buy a home, missing home, or just searching for quotes that sum up how you feel about home, these quotes do a wonderful job of describing what it is that makes home so special.
As Frank L. Baum wrote in The Wizard of Oz, "There's no place like home." Did we miss your favorite quote about home? Let us know so we can add it to the list!